Build Your Own Portable SSD: Full Details
Building your own portable SSD is an affordable method to extend your storage space. It provides you with the flexibility to choose the right SSD and enclosure to meet your specific needs and preferences.
A portable SSD (Solid State Drive) is a storage device that uses integrated circuit assemblies to store data persistently.
Building your own gives you the capability to select components that cater to your particular usage, whether it is for gaming, content creation, or just for regular data backup.
Customizable: Build according to your specific needs and budget.
Cost-Effective: Often less expensive than pre-built portable SSDs.
Performance Choice: Choose an SSD that suits your speed requirements.
Enclosure Selection: Pick the enclosure that fits your aesthetic or durability needs.
Building a portable SSD is not as complicated as it might seem. It merely involves buying a suitable SSD and an enclosure, then assembling the two.
The enclosure is what allows the SSD to connect with your computer via a USB cable, essentially turning your SSD into an oversized thumb drive.
It gives you the flexibility to upgrade or swap out your SSD in the future, making it a sound investment.
5 Steps: Building Your Own Portable SSD
| Component | Description |
| --- | --- |
| SSD | The type of SSD (Solid State Drive) matters. NVMe SSDs are faster and more robust but might require more power. |
| SSD Enclosure | This is a case for the SSD. It should be compatible with the type of SSD you've chosen (NVMe or SATA). |
| Connector Cable | This is typically a USB 3.1 Gen 2 for faster data transfer, but it should match the outputs on your devices. |
| Screwdriver | You'll need this to secure the SSD into the enclosure. |
| Protective Case | Optional, but it can help protect the SSD from physical damage. |
5 Steps: Building Your Own Portable SSD
Key Takeaway
Building your own Portable SSD allows for flexibility and customization tailored to one's specific needs.
It can be cost-effective to build your own portable SSD as you may already have spare components you can use.
Choosing your own components enables you to ensure that you're using high-quality parts.
Understanding and learning how to construct your own Portable SSD can provide a valuable learning experience.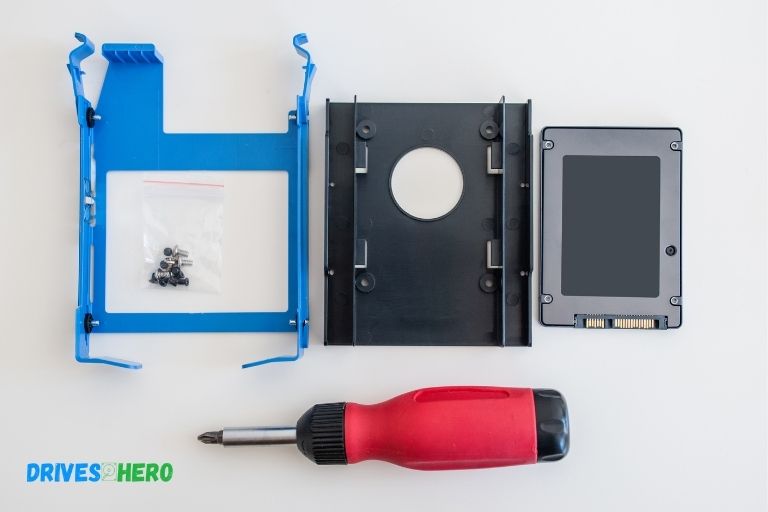 Five Facts About: Building Your Own Portable SSD
A portable Solid State Drive (SSD) is a device used to store data, it's portable because it can easily be carried around. source: Howtogeek
Building your own portable SSD involves purchasing and assembling your own components, such as the SSD itself and an external case or enclosure. source: Tomshardware
SSDs are faster and more reliable compared to hard disk drives (HDDs) because they have no moving parts. This makes them an optimal choice for portable storage devices. source: Howtogeek
It's essential to consider the interface of the SSD and the case when building a portable SSD. The most common interfaces are SATA and PCIe/NVMe, with the latter being the faster option. source: PCPartPicker
Some people may choose to build their own SSD to have more control over the quality of the components they are using, while others may be simply interested in the experience of building their own device. source: Tomshardware
Selecting The Right Ssd For Your Needs
Looking for the perfect SSD for your portable build? Discover how to select the right one that suits your needs and provides optimal performance.
Whether you're a gamer, designer, or professional, find the ideal SSD to enhance your portable storage solution.
There is a wide range of options available when it comes to selecting the right SSD for your needs. With different brands and models to choose from, it's important to consider various factors to ensure you make the best decision.
In this section, we will discuss the key factors you should keep in mind and recommend some popular SSD brands and models.
Factors To Consider When Choosing An Ssd:
Capacity: Determine how much storage space you require for your needs. Consider the types of files you will be storing, whether it's documents, photos, videos, or games. SSDs typically come in capacities ranging from 128GB to 4TB.
Speed: Look for SSDs with high-speed read and write capabilities. This will ensure faster file transfers and quicker system responsiveness. Pay attention to the sequential and random read/write speeds, which are measured in megabytes per second (MB/s).
Interface: SSDs utilize different interfaces, such as SATA, NVMe, and PCIe. SATA is commonly used and offers good performance, while NVMe and PCIe provide faster speeds. Consider the compatibility of the interface with your computer or laptop before making a choice.
Durability: SSDs are known for their durability compared to traditional hard drives. Look for SSDs with a high endurance rating or a longer warranty period. This will provide peace of mind and ensure your SSD can withstand frequent use.
Price: Determine your budget for an SSD. Prices can vary depending on the brand, model, and capacity. While SSDs are generally more expensive than hard drives, they offer superior performance and durability.
Recommended Ssd Brands And Models:
Samsung 970 EVO Plus: This SSD offers high-performance NVMe technology and comes in various capacities. It delivers fast read/write speeds and is known for its reliability.
Crucial MX500: A popular choice for both performance and affordability, this SSD offers excellent sequential read/write speeds and comes in capacities up to 2TB.
WD Blue 3D NAND: Known for its solid performance and reasonable price, this SSD is available in capacities ranging from 250GB to 4TB. It offers fast read/write speeds and reliability.
Kingston A2000: This NVMe PCIe SSD provides high-speed performance at an affordable price. It is available in capacities up to 1TB and offers fast data transfer rates.
SanDisk Extreme Pro: Designed for gamers and content creators, this SSD offers fast read/write speeds and robust endurance. It comes in capacities ranging from 500GB to 2TB.
Consider these factors and recommended brands and models when selecting an SSD for your needs.
Whether you need high-speed performance, ample storage capacity, or a balance between performance and affordability, there is a suitable SSD available for you.
Choosing The Perfect Enclosure For Your Ssd
Choosing the perfect enclosure for your SSD is crucial when building your own portable SSD. The right enclosure ensures optimal performance and protection for your data, allowing you to enjoy fast and reliable storage on the go.
Portable SSDs have become increasingly popular due to their fast data transfer speeds and compact design.
One of the key components of a portable SSD is the enclosure that houses the solid-state drive. Choosing the right enclosure is crucial as it determines the compatibility, connectivity options, and overall functionality of your portable SSD.
In this section, we will discuss the popular enclosure types and their features, as well as the compatibility and connectivity options you should consider.
Popular Enclosure Types And Their Features:
Aluminum Enclosure:
Aluminum enclosures are lightweight, durable, and provide excellent heat dissipation. They are designed to protect your SSD from physical damage and ensure stable operation even during intense usage.
Plastic Enclosure:
Plastic enclosures are budget-friendly and lightweight, making them suitable for users seeking an affordable portable SSD solution.
However, they may not offer the same level of protection and heat dissipation as aluminum enclosures.
Waterproof Enclosure:
If you often find yourself using your portable SSD in outdoor environments or near water, a waterproof enclosure is a wise choice.
These enclosures are specially designed to protect your SSD from water, dust, and shock, ensuring reliable performance even in harsh conditions.
Tool-Free Enclosure:
Tool-free enclosures come with a convenient sliding design or snap-in mechanism that allows you to install or replace your SSD without the need for any tools. This makes it incredibly easy to set up your portable SSD and swap drives whenever needed.
Encryption Enclosure:
If security is a top priority for you, an encryption enclosure is worth considering. These enclosures come with built-in hardware or software-based encryption, providing an extra layer of protection to your data. Some models even offer biometric authentication for added security.
Compatibility And Connectivity Options:
USB 3.1 Gen 2: USB 3.1 Gen 2 is the latest USB standard and offers blazing-fast data transfer speeds of up to 10 Gbps. It is backward compatible with older USB standards, ensuring compatibility with a wide range of devices.
Thunderbolt 3: Thunderbolt 3 is a high-speed connectivity option that provides data transfer speeds of up to 40 Gbps. It's particularly beneficial for professionals working with large files and demanding applications, as it allows for seamless video editing and fast data backup.
USB Type-C: USB Type-C is becoming increasingly common in modern devices. It offers a reversible connector, eliminating the hassle of figuring out the correct orientation when plugging in your portable SSD. Additionally, USB Type-C ports can support various protocols, such as USB 3.1, Thunderbolt, and DisplayPort.
ESATA: Although less common nowadays, eSATA offers faster data transfer speeds compared to USB 3.0. It's a suitable option if you have older devices with eSATA ports and wish to achieve maximum performance.
When choosing an enclosure for your portable SSD, ensure that it aligns with your specific requirements.
Consider factors such as durability, compatibility, connectivity options, and additional features like encryption.
With the right enclosure, you can build your own portable SSD that caters to your needs for fast, reliable, and secure storage on the go.
Essential Tools And Accessories For The Diy Portable Ssd Project
Discover the must-have tools and accessories for building your own portable SSD. Create a customized storage solution with ease using these essential items.
Are you ready to take on the challenge of building your own portable SSD? Before you dive into this exciting project, it's important to have all the essential tools and accessories at your disposal.
Whether you're a seasoned DIYer or a beginner, having the right tools can make all the difference in the success of your project.
In this section, we will explore the must-have tools and accessories that will help you create your own portable SSD.
Screwdrivers And Other Basic Tools:
To assemble your portable SSD, you will need a few basic tools. Here are some recommendations:
Small screwdrivers: Choose a set of precision screwdrivers with various sizes and interchangeable heads. This will ensure that you have the right tool for different types of screws found in the SSD enclosure.
Tweezers: A pair of tweezers can come in handy when handling small components or attaching delicate cables.
Anti-static wrist strap: This accessory is crucial to protect your SSD from electrostatic discharge (ESD) which can damage sensitive electronic components. It helps to ground you and prevent the buildup of static electricity.
Cleaning cloth: Keeping your work area clean is important when handling delicate electronic components. A microfiber cleaning cloth can help you wipe away dust and debris without scratching the surface of your SSD.
Magnifying glass or headlamp: These tools can assist you in inspecting small details or working in low light conditions.
Cables And Adapter Considerations:
In addition to the basic tools, you'll also need to consider the cables and adapters required for your portable SSD project.
Here are a few things to keep in mind:
USB cables: Choose cables that are compatible with the USB connection on your SSD enclosure. USB-C cables are becoming more common and offer faster data transfer speeds.
USB adapters: Depending on the connectors available on your motherboard or laptop, you may need USB adapters to connect your portable SSD. Make sure to select adapters that support the desired USB version and have a solid build quality for reliable performance.
SATA to USB adapter: If you're building your SSD from scratch using an internal SSD drive, you'll need a SATA to USB adapter to connect the drive to your computer and ensure compatibility.
External power supply: Depending on the power requirements of your SSD enclosure, you may need an external power supply to ensure stable operation.
By having these essential tools and accessories at your disposal, you'll be well-equipped to tackle the DIY portable SSD project with confidence.
Remember to choose high-quality tools and cables to ensure the best performance and longevity of your portable SSD.
Get ready to embark on this exciting journey of building your very own portable SSD that suits your needs and preferences.
Preparing The Ssd For Installation
Before installing your portable SSD, make sure to prepare it properly. This involves formatting the drive, checking for any updates, and setting up the necessary software. Take these steps to ensure a smooth installation process for your SSD.
Before you start building your own portable SSD, it's essential to prepare the SSD for installation. This involves two crucial steps: data backup and secure erase, as well as firmware updates and optimization.
Let's take a closer look at each of these steps.
Data Backup And Secure Erase
To ensure the safety and integrity of your data, it's crucial to follow these steps before installing your portable SSD:
Backup your data: Transfer all important files, documents, and media from your computer's hard drive to an external storage device or cloud storage. This will prevent any data loss during the SSD installation process.
Secure erase: Perform a secure erase on your existing SSD or hard drive to ensure that no personal data remains. This will help protect your privacy and prevent any potential data breaches. Follow the manufacturer's instructions or use specialized software to securely erase your drive.
Firmware Updates And Optimization
Updating the firmware and optimizing your SSD's performance are important for stability and efficiency.
Here's what you need to do:
Firmware update: Check the manufacturer's website for any available firmware updates specific to your portable SSD model. Firmware updates often improve compatibility, fix bugs, and enhance overall performance. Download the latest firmware version and follow the provided instructions to update your SSD.
Optimization: Once the firmware is updated, it's time to optimize your portable SSD for better performance. Here are some steps you can take:
Enable TRIM: TRIM is a command that allows the SSD to mark blocks of data as no longer in use, improving overall performance and prolonging the SSD's lifespan. Make sure TRIM is enabled by checking your computer's settings or using third-party software.
Disable hibernation: If your computer uses the hibernation feature, consider disabling it. Hibernation generates a large file equal to the amount of RAM installed, which takes up valuable space on your SSD.
Adjust power settings: Configure your computer's power settings to optimize SSD performance. For instance, you can disable the "Turn off hard disk after" option to prevent unnecessary spin-down of the SSD.
Enable AHCI mode: Advanced Host Controller Interface (AHCI) mode allows your computer to take full advantage of SSD features. Ensure that your computer's BIOS settings are set to AHCI mode for optimal performance.
By following these steps, you can properly prepare your SSD for installation, ensuring data backup, security, and optimal performance.
Assembling The Ssd And Enclosure
Discover how to assemble your portable SSD and enclosure effortlessly. Learn step-by-step instructions on building your own high-performing storage solution in just a few simple steps.
Building your own portable SSD can be a rewarding project that allows you to customize your storage solution while saving money. One of the key steps in this process is assembling the SSD and enclosure.
In this section, we will guide you through the process, from opening the enclosure to ensuring proper connection and alignment.
Opening The Enclosure And Installing The Ssd:
When assembling your portable SSD, the first step is to open the enclosure and install the SSD inside.
Here's a breakdown of the process:
Remove any screws or fasteners securing the enclosure. Use a screwdriver or the appropriate tool to carefully open the enclosure.
Gently insert the SSD into the designated slot or tray within the enclosure. Be sure to align the connection ports properly.
Once the SSD is in place, secure it within the enclosure using the provided screws or fasteners. Make sure the SSD is tightly secured to avoid any movement or damage.
Ensuring Proper Connection And Alignment:
After installing the SSD, it's crucial to ensure that the connection is secure and properly aligned.
Here are some essential steps:
Verify that the connection ports on the SSD align with the corresponding ports within the enclosure. This alignment is necessary for proper data transfer and functionality.
Double-check that the SSD is firmly seated and properly aligned within the enclosure. Any misalignment could affect the performance and stability of the SSD.
Connect the enclosure to your computer using the provided USB cable or other appropriate connection method. Ensure a secure and stable connection to avoid any interruptions or data loss.
Test the connection by accessing the SSD from your computer. Verify that it is recognized and functioning correctly. If any issues arise, double-check the alignment and connection, and consult the manufacturer's instructions if needed.
By following these steps, you can assemble your own portable SSD and enclosure with confidence. It's important to take your time and pay attention to detail throughout the process to ensure optimal performance and reliability.
Happy building!
Testing And Verifying The Portable Ssd
Discover the ultimate freedom of building your own portable SSD by testing and verifying its performance and reliability. Unleash the power of customized storage that meets your specific needs.
When it comes to building your own portable SSD, testing and verifying the drive is an essential step to ensure its performance and reliability.
This section will guide you through the process of powering on and checking the drive, as well as formatting and initializing the SSD.
Powering On And Checking The Drive
To begin, follow these steps to power on your portable SSD and check its functionality:
Connect the portable SSD to your computer using the provided USB cable.
Press the power button on the SSD to turn it on.
Wait for the drive to initialize and appear on your computer's operating system.
Next, perform the following checks to confirm that the portable SSD is working properly:
Check if the LED indicator on the SSD is lit up, indicating that it is powered on.
Listen for any humming or spinning sounds coming from the drive, which suggests that it is functioning correctly.
Ensure that the SSD is recognized by your computer's operating system and appears as a removable storage device.
If the portable SSD fails to power on or is not recognized by your computer, try the following troubleshooting steps:
Check the USB cable for any damages or loose connections, and try using a different cable if necessary.
Connect the SSD to another USB port on your computer to rule out any issues with the current port.
Restart your computer and try connecting the portable SSD again.
If the problem persists, it may indicate a hardware issue with the portable SSD. In such cases, contact the manufacturer for further assistance.
Formatting And Initializing The Ssd
Once you have verified that the portable SSD is working correctly, the next step is to format and initialize it to ensure compatibility with your computer's operating system.
Follow these steps:
Open the Disk Management utility on your computer. You can access it by pressing the Windows key + X and selecting "Disk Management" from the menu.
Locate your portable SSD in the list of drives and ensure that it is labeled as "Unallocated" or "Raw."
Right-click on the SSD and select "New Simple Volume" from the context menu.
Follow the on-screen prompts to format the SSD using the desired file system (such as NTFS, ExFAT, or FAT32) and allocate a drive letter.
Note: Formatting the drive will erase all existing data, so make sure to back up any important files before proceeding.
Once the formatting process is complete, the portable SSD will be ready for use. You can transfer files, install applications, or use it as a portable storage device for your data.
Testing and verifying your portable SSD is crucial to ensure its functionality and compatibility with your computer.
By following the steps outlined in this section, you can confidently build your own portable SSD and enjoy the benefits of fast and reliable storage on the go.
Tips For Safe Handling And Transportation Of Your Portable Ssd
Looking for tips on how to safely handle and transport your portable SSD? Check out this article for expert advice on building your own portable SSD and ensuring its safe handling and transportation.
Portable SSDs are valuable devices that allow you to carry your important data with you wherever you go.
However, due to their compact size and delicate nature, it is crucial to handle and transport them with care.
Whether you are a frequent traveler or simply want to protect your portable SSD during daily use, these tips will ensure that your device remains safe and your data stays intact.
Protecting Against Physical Damage
Invest in a protective case: Purchase a durable, shockproof case specifically designed for portable SSDs. This will provide an extra layer of protection against accidental drops, impacts, and other physical damage.
Handle with clean hands: Before touching your portable SSD, make sure your hands are clean and free from any dirt, oil, or moisture. This will prevent smudges, stains, and potential damage to the device.
Avoid exposing to extreme temperatures: Portable SSDs are sensitive to extreme temperatures, so it's crucial to keep them within the recommended temperature range. Avoid leaving your device in direct sunlight, near fire sources, or in extremely cold environments.
Secure the cable connection: When connecting or disconnecting the portable SSD to your computer or other devices, ensure that the cable is securely attached. A loose or flimsy connection can lead to data transfer interruptions and potential damage to the device's port.
Keep away from liquids: Accidental spills can be disastrous for your portable SSD. Avoid using the device near liquids and always keep drinks or other liquids at a safe distance to prevent any potential damage.
Preventing Data Loss And Corruption
Safely eject before disconnecting: To avoid data loss or corruption, always use the proper method to eject the portable SSD from your computer or device before disconnecting it. This ensures that any pending read or write operations are completed before removal.
Perform periodic backups: Regularly back up your portable SSD to an external storage device or cloud storage service. This ensures that even if your device is lost or damaged, your important data remains safe and accessible.
Protect against malware and viruses: Use a reliable antivirus software and regularly scan your portable SSD to prevent malware and viruses from corrupting your data. This is especially important if you frequently connect your device to different computers or networks.
Avoid magnetic fields: Magnetic fields can cause data corruption or loss in portable SSDs. Keep your device away from strong magnets or magnetic fields, such as those generated by speakers, magnetic phone mounts, or magnetic clasps on bags or wallets.
Check for firmware updates: Keep your portable SSD's firmware up to date by periodically checking for updates from the manufacturer's website. Firmware updates often include bug fixes, security enhancements, and performance improvements that can help protect your data.
By following these tips, you can ensure the safe handling and transportation of your portable SSD, minimizing the risk of physical damage and data loss.
Take care of your device, and it will continue to serve as a reliable storage solution for your valuable data.
Handling Common Issues And Errors
Learn how to tackle common issues and errors while building your own portable SSD. Discover effective strategies and solutions to ensure a smooth and efficient SSD creation process.
Building your own portable SSD can be a cost-effective and convenient solution for additional storage needs.
However, encountering issues and errors during the process is not uncommon. In this section, we will address some common problems you may face and provide troubleshooting tips to help you overcome them.
Troubleshooting Connection Problems:
Ensure that all cables and connectors are securely connected.
Check if the USB port you are using is functioning properly.
Try connecting the SSD to a different USB port or computer to rule out any port-related issues.
Update your device drivers and firmware to the latest versions.
If you are using an external enclosure, verify that it is compatible with the SSD you are using.
Consider trying a different USB cable or replacing the existing cable if it is damaged.
Test the SSD on another device to determine if the problem lies with the drive itself.
Addressing Performance And Capacities Concerns:
Check if your portable SSD is using the latest firmware version available.
Ensure that the SSD is using the appropriate USB connection type, such as USB 3.0 or USB-C, for optimal performance.
Avoid using the SSD while it is being charged, as it may impact performance.
Regularly update your operating system and drivers to keep them optimized for SSD usage.
Manage your storage by periodically cleaning up unnecessary files and organizing data.
If you are experiencing slow performance, consider using disk optimization tools to defragment the SSD.
Be cautious when reaching storage capacity limits, as it can affect the overall performance of the portable SSD.
Building your own portable SSD can be a rewarding experience, but it's important to be prepared for any potential problems that may arise.
By following these troubleshooting steps and implementing best practices for performance and capacity management, you can enjoy the benefits of your custom storage solution without any hassle.
Remember to stay updated with the latest firmware and regularly maintain your portable SSD to ensure optimal performance and reliability.
Upgrading The Ssd Inside Your Portable Enclosure
Upgrade your portable SSD enclosure with a new SSD for enhanced performance and storage. Build your own portable SSD with ease, allowing for seamless data transfers and increased productivity on-the-go.
Building your own portable SSD can be an exciting and cost-effective solution for increasing your storage capacity.
Whether you need more space for your files or want to boost the performance of your system, upgrading the SSD inside your portable enclosure is a great option.
In this section, we will guide you through the process of transferring data to your new SSD and highlight some compatibility considerations to ensure a seamless upgrade.
Compatibility Considerations
When upgrading the SSD inside your portable enclosure, it's essential to consider compatibility factors to avoid any issues or performance bottlenecks.
Here are a few key considerations to keep in mind:
Interface compatibility: Ensure that the new SSD you choose is compatible with the interface of your portable enclosure. Common interfaces include SATA, PCIe, and NVMe. Double-check the specifications of both the enclosure and the SSD to confirm compatibility.
Form factor: Verify that the physical dimensions of the SSD match the available space inside your enclosure. Common form factors for portable SSDs include 2.5-inch and M.2. Select a compatible form factor to ensure a proper fit.
Power requirements: It's crucial to ensure that the power supply of your portable enclosure can handle the power requirements of the new SSD. Some SSDs, especially high-performance models, may require additional power or efficient power management to function optimally.
Steps For Transferring Data
Once you have selected a compatible SSD for your portable enclosure, the next step is to transfer your data from the existing storage device.
Follow these steps to ensure a smooth data transfer:
Back up your data: Before undertaking any hardware changes, it's always a good practice to back up your important data to prevent any accidental data loss.
Prepare your new SSD: If your new SSD doesn't come pre-formatted, you will need to initialize and format it before transferring your data. Follow the manufacturer's instructions or use disk management tools to perform this task.
Connect your enclosure: Open your portable enclosure and connect the new SSD to the appropriate slot or port, depending on the enclosure's design. Make sure all connections are secure.
Clone your existing drive: Use cloning software to transfer the contents of your existing drive to the new SSD. This will create a mirror image of your data, including the operating system, applications, and files.
Verify the transfer: Once the cloning process is complete, carefully verify that all data has been successfully transferred to the new SSD. Compare file sizes, check system settings, and test the functionality of your applications to ensure everything is working as expected.
By considering compatibility factors and following the steps outlined above, you can easily upgrade the SSD inside your portable enclosure and enjoy increased storage capacity and improved performance.
Remember to handle your hardware with care and always have a backup of your data to minimize the risk of data loss.
Expanding Storage With Multiple Portable Ssds
Transform your portable storage game with the ability to build your own portable SSD using multiple devices.
Expand your storage capacity effortlessly while enjoying the convenience of portable storage. Upgrade and personalize your storage to suit your needs.
Are you tired of running out of storage space on your laptop or desktop? It's time to consider building your own portable SSD and expand your storage capacity.
With multiple portable SSDs, you can enjoy the benefits of increased storage space and enhanced performance.
We will explore two different configurations – RAID and JBOD – along with their advantages and disadvantages.
Raid And Jbod Configurations
Raid Configuration:
RAID stands for Redundant Array of Independent Disks.
By combining multiple portable SSDs in a RAID configuration, you can achieve improved performance and data redundancy.
Here are the different RAID levels you can choose from:
RAID 0: This configuration stripes data across multiple SSDs, resulting in enhanced performance and increased storage capacity. However, it offers no data redundancy, so a failure in one SSD can lead to data loss in the entire array.
RAID 1: In this configuration, data is mirrored across multiple SSDs, providing a backup in case one drive fails. While it ensures data redundancy, it doesn't offer additional storage space or performance benefits.
RAID 5: This configuration distributes data and parity information across multiple SSDs, offering both improved performance and data redundancy. However, it requires a minimum of three SSDs.
Advantages of RAID configurations:
Faster data transfer speeds.
Increased storage capacity.
Redundancy to protect against data loss.
Disadvantages of RAID configurations:
Higher cost due to the need for multiple SSDs.
Complexity in configuration and management.
Failure of a single SSD can impact the entire array.
Jbod Configuration:
JBOD stands for Just a Bunch of Disks.
In a JBOD configuration, each portable SSD is treated as an individual drive without any data striping, mirroring, or parity.
Advantages of JBOD configuration:
Simple and easy to set up.
Each drive can be accessed individually.
Lower cost compared to RAID configurations.
Disadvantages of JBOD configuration:
No enhanced performance compared to a single SSD.
No data redundancy or backup.
Limited storage capacity of each individual drive.
Both RAID and JBOD configurations offer their own set of advantages and disadvantages when it comes to expanding storage with multiple portable SSDs.
RAID configurations provide improved performance and data redundancy at the cost of increased complexity and higher investment.
On the other hand, JBOD configurations are simple and cost-effective but lack enhanced performance and data redundancy.
Consider your storage needs and budget when deciding which configuration is more suitable for you.
FAQ About Build Your Own Portable Ssd
What Materials are Needed to Build a Portable Ssd
To build a portable SSD, the materials needed include an SSD controller, NAND memory chips, DRAM chips, printed circuit board (PCB), connectors and cables.
How Long Does It Take to Build a Portable Ssd
It usually takes 1-2 days to build a portable SSD. The exact timeline depends on the configuration and manufacturer.
Is There an Optimal Method for Connecting the Components of a Portable Ssd
Yes, there is an optimal method for connecting components of a portable SSD. It includes using the appropriate cables and adapters to connect the device's power cable, USB port or SATA connection to its host computer. Additionally, users should ensure that their operating system is up-to-date and that all necessary drivers are installed before connecting the portable SSD.
Are There Any Software Requirements That Need to Be Met in Order to Successfully Build And Use a Portable Ssd
Yes, in order to build and use a portable SSD, certain software requirements must be met. These may include the operating system (OS) compatibility of the SSD, drivers for the device that are compatible with the OS, as well as specific software applications needed to access data stored on the drive.
Conclusion
To sum up, building your own portable SSD can be a cost-effective and customizable solution for your storage needs.
With just a few simple steps, you can create a portable storage device that suits your specific requirements.
By following the guidelines and selecting the right components, you can ensure optimal performance and compatibility.
Whether you need additional storage for your laptop, gaming console, or video editing software, a DIY portable SSD can provide the speed and reliability you desire.
Remember to take proper precautions during the assembly process to avoid any damage to the components.
Once you have completed your portable SSD, you can enjoy the convenience of having your files readily accessible wherever you go.
So why wait? Start building your own portable SSD today and take control of your storage requirements.
Bonus About The Topic: Build Your Own Portable Ssd
Can You Make Your Own External Ssd?
No, it is not possible to make your own external SSD. An SSD or Solid State Drive is a type of storage device that stores data in memory chips rather than on spinning disks like traditional hard drives.
Building an SSD involves complex processes and components that require specialized knowledge and expertise in order to be successful.

It also requires access to detailed schematics, firmware, hardware design tools and advanced manufacturing techniques which are generally unavailable to the average consumer. As such, building an external SSD from scratch is simply not feasible for most people.
Is It Cheaper to Build an Ssd?
Yes, it is typically cheaper to build an SSD than to buy one. The cost of components for creating a DIY Solid State Drive (SSD) can range from as little as $50 up to around $200 depending on the type and size of drive you are building.
This is significantly lower than purchasing a pre-built or branded SSD which can range anywhere from $100-$400 or more.

Additionally, building your own allows you to customize your storage solution in terms of form factor, speed, capacity and compatibility with other hardware components – all at a fraction of the price compared to buying premade drives.
Are Portable Ssd Worth It?
Yes, portable SSDs are worth it. Portable SSDs offer a number of advantages over traditional hard drives when it comes to data storage and retrieval.
They have much faster read/write speeds, meaning they can access and save files quicker than regular HDDs.

Additionally, they are more reliable since there are no moving parts which means fewer chances for mechanical failure or data corruption.
Lastly, due to their small size and light weight, portable SSDs make great options for carrying around large amounts of data without sacrificing performance or reliability.
How Do I Make My Ssd an External Ssd?
To make an SSD into an external SSD, you'll need to purchase or build a USB enclosure that is compatible with your device.
The steps for setting up the drive will vary depending on the model of enclosure and type of connection used.
Generally, though, it involves mounting the SSD in the enclosure and then connecting it to a computer via either USB-A or Thunderbolt 3 cables.

Once connected, you can use disk management tools to partition and format the drive before using it as normal storage.
It's important to ensure that your chosen enclosure supports both read/write speeds for optimal performance when transferring data.
Diy External Ssd Thunderbolt
DIY external SSD Thunderbolt is a great way to expand your storage options without breaking the bank.
It allows you to easily add additional high-speed data storage with just a few simple steps and provides an incredibly fast connection speed compared to traditional hard drives, allowing for quicker transfer rates and more efficient use of bandwidth.
With its compact size, DIY external SSD Thunderbolt also makes it easy to take your expanded storage with you wherever you go.
External Ssd Enclosure
An external SSD enclosure is a device that allows you to connect an internal solid-state drive (SSD) to your computer through an external connection such as USB, Thunderbolt or eSATA.
This enables you to use the speed and reliability of an internal SSD with your laptop or desktop without having to open up the system case.
External SSD enclosures come in various sizes and form factors so they can be used with 2.5″ SATA drives as well as mSATA and M2 drives, making them ideal for users who need fast data transfer speeds on the go.
Diy Ssd Pcb
A DIY SSD PCB is a printed circuit board that allows you to build your own solid-state drive. It consists of an array of components, including memory chips, connectors and other hardware, which allow the user to assemble their own storage device.
This provides a cost-effective option for those who are looking to upgrade or build their own custom system without sacrificing quality and performance.

With the right parts and instructions, anyone with basic electronics knowledge can quickly and easily create their own SSD PCBs