Diy Sata Power Cable: Step-by-Step Guide!
Making a DIY SATA power cable involves understanding the configuration of the connectors, acquiring the necessary tools and materials, and following a precise set of steps to ensure the correct and safe assembly of the cable.
Understanding the configuration: The SATA power cable has 15 pins across three voltage levels.
Gathering materials: Materials needed include connectors, wires, a crimper, and a soldering iron.
Assembling the cable: Following a precise order of wire connection is crucial to preventing damage to your components.
Testing the cable: After assembly, it's important to verify the cable's functionality with a multimeter before using it on your equipment.
A SATA power cable is used to connect the power supply of a computer to its hard drives. The SATA power cable has 15 pins and three voltages namely 3.3V, 5V, and 12V.
By making your own SATA power cable, you can customize the length and configuration to meet your specific needs.
When making a DIY SATA power cable, safety should be your top priority. Always verify you're connecting the correct wires to the corresponding pins and never work on your computer's internal components while it's powered on.
Ensure to test your DIY cable thoroughly before connecting it to your hard drive to prevent any electrical mishaps.
7 Steps, and Tips Of DIY SATA Power Cables
| Step No. | Tools Required | Instructions |
| --- | --- | --- |
| 1 | SATA Connector | Purchase a SATA connector. It should have 15 pins on it. |
| 2 | Wire Stripper | Use a wire stripper to strip the insulation off the end of the wire. |
| 3 | Crimper | Use a crimper to attach the pins to the wire. |
| 4 | Heat Shrink Tubing | Apply heat shrink tubing to cover the pins and protect them. |
| 5 | Heat Gun | Use a heat gun to shrink the tubing around the pins. |
| 6 | SATA Power Cable | Attach the SATA connector to the power cable. |
| 7 | Computer | Connect the other end of the cable to the SATA power interface on your computer. |
7 Steps, and Tips Of DIY SATA Power Cables
Key Takeaway
DIY SATA power cables can be a cost-effective solution for those who need to connect multiple drives but do not have enough power connectors in their system.
Making your own SATA power cable can be a skillful activity that requires a detailed understanding of electrical terms and computer hardware.
Custom-made SATA power cables give you the freedom to create the length you need, eliminating excess wires that sometimes lead to a messy setup.
Even though it's a DIY task, necessary precautions need to be taken to avoid any harm since it involves handling electrical equipment.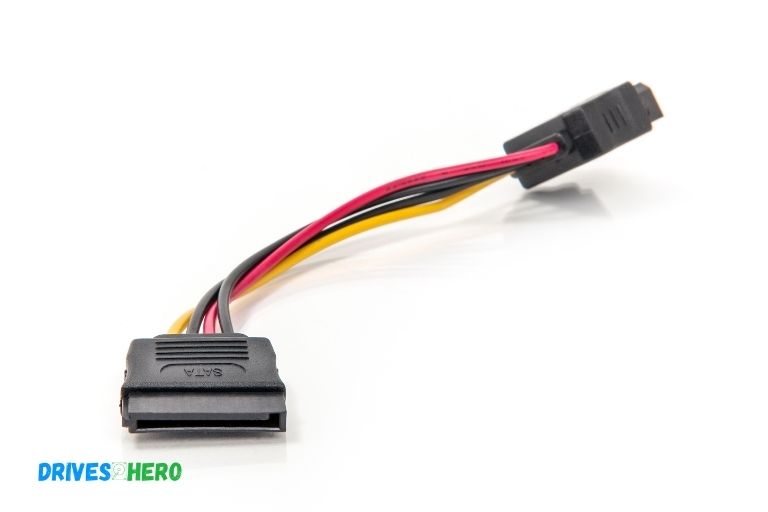 Five Facts About: Diy Sata Power Cable
SATA stands for Serial Advanced Technology Attachment. It is a type of connector that provides a connection between the motherboard and the hard drives in your computer.
DIY SATA power cables are an excellent solution for PC builders who need to add more drives but are limited by the number of connectors provided by the power supply.
With the guidance of tutorials or expert advice, you can create your own power cable. It requires basic electrical knowledge and equipment like wires, connectors, and a crimping tool.
Proper measurement of the wire's length is crucial in this task. It helps in avoiding any unnecessary clutter in your setup, which might lead to overheating or short-circuit issues.
While doing any DIY electrical task, it is advised to turn off the power supply, use isolated tools and follow all safety measures in order to prevent any electrical shock or damage.
Understanding The Basics Of Sata Power Cables
Understanding the basics of DIY SATA power cables can be a game-changer for tech enthusiasts. These cables are essential for connecting devices like hard drives and SSDs to your computer's power supply, giving you more control over your system's configuration and performance.
Learn how to make your own SATA power cables and enjoy the flexibility they offer in customizing your setup.
If you're a computer enthusiast or someone interested in building your own PC, understanding the basics of SATA power cables is essential.
These cables play a critical role in computer setups, ensuring reliable power supply to various components.
In this section, we will explore the importance of SATA power cables, the different types of power cables used in computers, and the advantages of DIY SATA power cables.
Importance Of Sata Power Cables In Computer Setups:
SATA power cables are crucial for supplying power to components like HDDs (Hard Disk Drives), SSDs (Solid State Drives), and optical drives in a computer system.
They provide a convenient and efficient means of delivering power, eliminating the need for multiple bulky power connectors.
SATA power cables are designed to be hot-swappable, allowing you to connect or disconnect devices without shutting down the system.
These cables offer a secure and stable connection, ensuring reliable power transmission without any voltage fluctuations.
Different Types Of Power Cables Used In Computers:
SATA Power Cables: These cables connect directly to the SATA power connectors on the motherboard or PSU (Power Supply Unit) and are commonly used to power storage devices such as HDDs and SSDs.
Molex Power Cables: Molex cables are older power connectors that were commonly used before SATA became prevalent. They are still used in some devices, like older optical drives and fans.
PCIe Power Cables: PCIe power cables provide power to graphics cards that require additional power beyond what the PCIe slot can deliver.
EPS Power Cables: EPS cables connect the power supply to the CPU, providing the necessary power for the processor to function properly.
Advantages Of Diy Sata Power Cables:
Customizability: Creating your own SATA power cables allows you to customize the cable length according to your specific requirements, minimizing cable clutter within your computer case.
Cost-Effectiveness: DIY SATA power cables can be budget-friendly, as you only need to purchase the necessary components, compared to buying pre-made cables that may have additional costs for branding.
Enhanced Cable Management: By making your own SATA power cables, you have better control over cable routing and management, optimizing airflow and aesthetics inside your computer case.
Learn New Skills: Crafting your own SATA power cables not only enhances your technical knowledge but also gives you a sense of accomplishment and the ability to troubleshoot any issues in the future.
Understanding the importance of SATA power cables, the different types used in computers, and the advantages of DIY options will empower you to make informed decisions when it comes to building or upgrading your computer system.
Tools And Materials Needed For Diy Sata Power Cable
To create your own DIY SATA power cable, you will need essential tools and materials. These include wire cutters, crimping tools, SATA connectors, heat shrink tubing, and a soldering iron for a secure and reliable connection.
SATA power cables are essential for connecting your SATA devices, such as hard drives or SSDs, to your power supply unit.
While you can easily purchase pre-made SATA power cables, some DIY enthusiasts prefer creating their own. It allows for customization, flexibility, and a fun hands-on experience.
Before delving into the DIY process, let's go through the tools and materials needed to craft your very own SATA power cable.
Essential Tools Required For The Project:
Wire strippers: A reliable pair of wire strippers will be necessary to remove the protective casing from the cables.
Crimping tool: You'll need a crimping tool to securely attach the connectors to the wires.
Heat gun or lighter: This tool is required to shrink the heat shrink tubing around the connections for added protection.
Multimeter: A multimeter will help you ensure that your cables are properly functioning and transmitting power as expected.
Precision screwdriver set: Depending on your power supply unit or devices, you may need a precision screwdriver set to access the necessary components.
Materials Needed To Create Sata Power Cables:
SATA connectors: These are the key components that will connect your power cables to your SATA devices. Ensure they are compatible with your devices.
Wiring: You'll require high-quality wiring to carry the electrical current. It's recommended to use stranded wires for ease of handling and flexibility.
Heat shrink tubing: This tubing provides insulation and security for the cable connections. Make sure it is the appropriate size for your cables and connectors.
Cable sleeving: While not mandatory, cable sleeving can add a neat and professional look to your homemade SATA power cables. It is available in various colors and styles.
Where To Source The Necessary Components:
Electronic supply stores: Local stores that specialize in electronics and electrical supplies are likely to have the required components. Visit or contact them to inquire about availability.
Online marketplaces: Websites such as Amazon, Newegg, or eBay offer a wide range of SATA connectors, wiring, heat shrink tubing, and cable sleeving. Ensure you read product reviews and compare prices before making a purchase.
Now that you know the essential tools needed, the materials required, and where to source them, it's time to roll up your sleeves and start creating your DIY SATA power cable.
By having full control over the process, you can customize your cables to suit your specific needs and preferences.
Happy crafting!
Step-By-Step Guide To Creating Your Diy Sata Power Cable
Looking to create your own DIY SATA power cable? This step-by-step guide provides simple instructions to help you successfully make your own SATA power cable with ease.
Creating your own SATA power cable can be a cost-effective solution for customizing your computer setup. Whether you need a specific length of cable or want to remove unnecessary connectors, building your own SATA power cable gives you the flexibility to meet your needs.
In this step-by-step guide, we will walk you through the process of creating your DIY SATA power cable.
Preparing The Cables And Connectors:
Gather all the necessary cables and connectors required for building your SATA power cable.
Ensure that you have a SATA power connector and the appropriate cables with the required number of pins.
Check the compatibility of your cables and connectors with your specific devices.
Choosing The Appropriate Cables And Connectors:
Select cables of appropriate length for your setup, ensuring they are long enough to reach your intended destinations.
Choose connectors that match your devices' power requirements.
Take into consideration the number of connectors you will need and the specific layout of your computer system.
Removing Unnecessary Connectors And Insulation:
Carefully remove any unnecessary connectors from your cables, making sure to preserve the integrity of the wires.
Strip away the insulation from the ends of the wires, exposing the bare metal for a secure connection.
Wiring And Soldering The Connections:
Refer to the correct wiring diagram for your specific cables and connectors.
Connect the appropriate wires of the SATA power connector to the corresponding pins on the cables.
Use soldering techniques to ensure a strong and reliable connection between the wires and the connectors.
Understanding The Correct Wiring Diagram:
Familiarize yourself with the correct wiring diagram to avoid any confusion during the wiring process.
Ensure that you connect the wires to the appropriate pins on the SATA power connector to avoid any malfunctions.
Step-By-Step Soldering Instructions:
Secure the wires to the connectors using a soldering iron and solder.
Apply heat to the wires and connectors, melting the solder and creating a strong bond.
Avoid excessive heat that may damage the wires or connectors during the soldering process.
Insulating And Securing The Cable:
Insulate the exposed wires and soldered connections using heat shrink tubing.
Slide the heat shrink tubing over the exposed areas and apply heat to shrink it, providing insulation and protection.
Ensure all connections are secure and free from any exposed wires to prevent short circuits.
Proper Cable Management Techniques:
Use cable ties or Velcro straps to keep your newly created SATA power cable organized and tidy.
Avoid any cable clutter that may hinder airflow or create difficulties during computer maintenance.
Make sure to secure the cable away from any moving parts or areas with high heat to prevent damage.
Building your own SATA power cable can be a satisfying DIY project that allows you to tailor your computer setup to your specific needs.
By following this step-by-step guide and utilizing the appropriate cables, connectors, wiring diagrams, and soldering techniques, you can create a reliable and efficient SATA power cable for your computer system.
Testing And Troubleshooting Your Diy Sata Power Cable
Troubleshoot and test your self-made SATA power cable to ensure it functions properly, avoiding common DIY mistakes. Identify and fix problems for seamless performance.
Ensuring Proper Electrical Continuity:
Proper electrical continuity is essential to ensure that your DIY SATA power cable functions correctly.
Here are some steps you can take to ensure proper continuity:
Inspect the cable for any visible damage or loose connections.
Use a multimeter to check for continuity between the connectors.
Ensure that there is continuity between the 5V and 12V pins on the power connector and the corresponding pins on the SATA connector.
Using A Multimeter For Testing:
A multimeter is a valuable tool for testing and troubleshooting your DIY SATA power cable.
Here's how you can use a multimeter for testing:
Set the multimeter to the continuity or resistance mode.
Place one probe on the 5V or 12V pin of the power connector and the other probe on the corresponding pin of the SATA connector.
If there is continuity (the multimeter beeps or shows a low resistance reading), it means the connection is good. If there is no continuity, it indicates a problem.
Troubleshooting Common Issues And Solutions:
Sometimes, issues may arise when building your DIY SATA power cable.
Here are some common issues and their solutions:
Loose connections: Check all connections to ensure they are securely fastened.
Incorrect wiring: Verify that the wires are connected to the right pins on the connectors.
Voltage issues: Use a multimeter to measure the voltage output of the power supply to ensure it meets the SATA power specification (5V or 12V).
Pin alignment: Ensure that the pins on the connectors align properly. Misaligned pins can cause connectivity issues.
Damaged connectors or cables: Inspect the connectors and cables for any signs of damage. Replace any damaged components as necessary.
Remember, it's crucial to follow safety precautions when working with electrical components. Double-check your work and seek help if needed.
With proper testing and troubleshooting, you can ensure a reliable DIY SATA power cable for your computer peripherals.
Safety Considerations And Best Practices For Diy Sata Power Cable
This DIY guide explores safety considerations and best practices for creating your own SATA power cable.
Ensure you follow these guidelines for a secure and efficient setup:
Safety Considerations When Working With Electrical Components:
Always ensure the power is turned off before working with electrical components.
Use insulated tools to avoid electric shocks.
Avoid wearing loose clothing or jewelry that could potentially get caught in the equipment.
Keep liquids away from electrical components to prevent the risk of short-circuits.
Work in a well-ventilated area to prevent overheating of components.
If you're uncertain about anything, consult an expert or professional for guidance.
Tips For Preventing Accidents And Damage To Your Computer:
Double-check the power cable connections to avoid loose connections that can cause power fluctuations.
Regularly inspect the cables for wear and tear, and replace them if necessary.
Avoid bending or twisting the cables excessively to prevent damage to the wires inside.
When plugging or unplugging the cables, hold onto the connector and not the cable itself.
Keep the cables organized and away from areas where they can be tripped over or tangled.
Additional Best Practices For Maintaining A Reliable Power Supply:
Use high-quality SATA power cables from reputable manufacturers to ensure stability and performance.
Avoid using extension cords or power strips with multiple devices connected, as they can overload the circuit.
Connect the power cable securely to the SATA power connector, ensuring a snug fit.
Regularly clean the connectors and remove any dust or debris that may affect the connection.
Perform regular checks on your power supply unit (PSU) to ensure it's functioning properly and providing adequate power.
Remember, safety should always be a priority when working with electrical components. By following these precautions and best practices, you can minimize the risk of accidents and damage to your computer while maintaining a reliable power supply.
Possible Upgrades And Customizations For Diy Sata Power Cable
Upgrade and customize your DIY SATA power cable with various options for enhanced performance and personalization. Explore different modifications to optimize power delivery and adapt to specific requirements.
Building your own DIY SATA power cable opens up a world of possibilities for customization and upgrades.
With a little creativity and know-how, you can explore different connector options, add connectors for multiple devices, and even upgrade the cable length for better cable management.
Let's dive into the exciting realm of possible upgrades and customizations for your DIY SATA power cable.
Exploring Different Connector Options And Their Benefits:
Right-angled connectors: These connectors have a 90-degree angle, making them ideal for tight spaces where a straight connector wouldn't fit properly.
Latching connectors: These connectors feature a locking mechanism that ensures a secure connection, preventing accidental disconnections.
Low-profile connectors: Designed to be compact and slim, low-profile connectors are perfect for situations where space is limited, such as in small form factor PCs.
Adding Additional Connectors For Multiple Devices:
Y-splitter cables: By using Y-splitter cables, you can connect multiple SATA devices to a single power source, saving you from having to install multiple power cables.
Power distribution boards: These boards allow you to distribute power to multiple SATA devices from a single source, simplifying cable management and reducing clutter.
Upgrading Cable Length For Better Cable Management:
Cable extensions: If your existing cable isn't long enough to reach your desired destination, you can use cable extensions to bridge the gap. These extensions maintain proper power delivery while giving you the flexibility to route the cables as needed.
Custom cable sleeving: While not directly related to cable length, custom cable sleeving adds a touch of personalization and can improve cable management by keeping them organized and tidier.
Remember to research and choose connectors and cable options that are compatible with your devices and adhere to safety standards.
Upgrading and customizing your DIY SATA power cable can enhance both the functionality and aesthetics of your system. So get creative and enjoy the satisfaction of a personalized and optimized power setup!
Real-World Examples Of Diy Sata Power Cable Implementations
Discover real-world examples of DIY SATA power cable implementations and learn how to create your own custom cables for your computer system. Take control of your power supply needs with these practical and cost-effective solutions.
Success Stories From Computer Enthusiasts:
Some computer enthusiasts have successfully built their own DIY Sata power cables, saving money and customizing their setups to their specific needs.
DIY Sata power cables have allowed these enthusiasts to connect their storage devices efficiently and neatly, reducing cable clutter inside their computer cases.
By creating their own Sata power cables, computer enthusiasts have gained valuable knowledge about the internal workings of their systems, giving them a sense of accomplishment and confidence in their technical skills.
Many DIY Sata power cable implementations have been shared on online forums and communities, inspiring others to embark on their own DIY projects.
Photos And Descriptions Of Diy Sata Power Cable Setups:
A computer enthusiast shared pictures of their DIY Sata power cable, showcasing the neatly organized cables and the sleek, professional-looking finish.
Another user provided step-by-step instructions along with detailed photos, making it easy for beginners to follow along and create their own custom Sata power cables.
The photos demonstrate how DIY Sata power cables can be customized with different color-coded wires, allowing users to create visually appealing and organized cable setups.
Descriptions accompanying the photos highlight the materials used, the precise connections made, and the benefits of opting for custom Sata power cables over pre-made ones.
Real-World Applications Of Custom Sata Power Cables:
Custom Sata power cables are not limited to computer enthusiasts but can also be used in various industries such as data centers, server rooms, and tech laboratories.
Companies can benefit from custom Sata power cables by reducing power consumption, improving airflow, and enhancing overall system performance.
In server rooms, custom Sata power cables can be designed to efficiently distribute power to multiple storage devices, resulting in faster data transfer rates and increased productivity.
DIY Sata power cables offer flexibility in terms of cable lengths, allowing users to maximize space utilization and achieve optimal cable management in both small and large-scale setups.
Creating your own Sata power cable is a rewarding experience that empowers computer enthusiasts to tailor their systems according to their unique requirements.
Sharing success stories, photos, and practical applications of DIY Sata power cables inspires others to explore this DIY endeavor and unlock the benefits it offers.
So why not embark on your own journey of creating custom Sata power cables and unleash the potential of your computer setup today?
FAQ About Diy Sata Power Cable
What is a DIY SATA power cable?
A DIY SATA power cable is a type of power cable that is used to connect the SATA drive to the power supply. It is made by the user from components such as a power supply, cabling, connectors, and power pins.
What are the components of a DIY SATA power cable?
The components required to make a DIY SATA power cable include a power supply, cabling, connectors, and power pins.
How do I make a DIY SATA power cable?
To make a DIY SATA power cable, first gather the necessary components and sources necessary to assemble the cable. Next, strip off excess insulation from the cabling and connect each wire to the appropriate pin on the connector or the power supply. Once all wires are connected, secure the ends with electric tape. Lastly, connect the cable to the SATA drive and the power supply.
Are there any potential risks associated with making a DIY SATA power cable?
Yes, there are some risks associated with making a DIY SATA power cable. These include the possibility of electric shock, improper connection of wires, and damage to the device. It is important to take all precautions when constructing a DIY SATA power cable, such as wearing protective gloves and eyewear and following manufacturer instructions.
How frequently should I check my DIY SATA power cable?
Periodically check your DIY SATA power cable to ensure that all connections are secure and that no wires have come loose.
Conclusion
To summarize, creating your own DIY SATA power cable can be a cost-effective and gratifying solution for those needing additional power connections for their computer peripherals.
By following the step-by-step guide provided in this blog post, you can confidently undertake this project without the need for professional assistance.
Not only will this provide you with the necessary power supply but it will also give you a sense of accomplishment for successfully completing a technical task. Remember to gather all the required materials before starting, take safety precautions, and double-check your connections.
By doing so, you can ensure a reliable power supply to your SATA devices, without the need to invest in expensive pre-made cables. So go ahead and give it a try, and unleash your inner DIY enthusiast to enhance your computer setup.
Bonus About The Topic: Diy Sata Power Cable
How Do I Make My Own Diy Sata Power Cable?
Making your own DIY SATA power cable is a relatively easy process.
Here are the steps to follow:
• Gather necessary supplies – You will need two end connectors, 24-gauge wires in any color you choose, a wire cutter and electrical tape.

• Cut the wires – Cut four of the same-colored wires into equal lengths. Make sure that each wire is 5 inches longer than needed for your connection.
• Strip ends – Strip 1/2 inch of insulation from both ends of each wire using the wire cutters or other tool.

• Place connectors on wires – Place one connector on each stripped end of all four wires then secure with electrical tape or other fastener if desired.
• Attached cables together – Connect one side of the cables to an unused SATA port on your computer's motherboard and connect the opposite end to a hard drive or CD/DVD player as needed for data transfer purposes or extra storage space .
Once complete, you now have created a DIY SATA power cable for use within your system!
Are Homemade Diy Sata Cables Reliable
DIY SATA cables are reliable if they are constructed properly and with the right materials.
Here is what you need to ensure a reliable DIY SATA cable:
High-quality, flexible wiring that can handle high speeds without heating up or degrading performance Connectors designed for SATA III compatibility
Protection against static electricity build-up and EMI interference. With good construction techniques and quality components, homemade DIY SATA cables can be just as reliable as those purchased in stores.

The cables are built with higher quality materials, which increases their durability and longevity.
This type of cabling also includes features such as shielding, ground wires, and twisted pairs that improve performance.
Using tested professional grade cabling ensures the highest level of reliability and performance for your connection needs.
Custom Sata Power Cables
Custom SATA power cables are a great way to give your system the stability and reliability it needs. These cables provide clean, precise power delivery to ensure that all of your components operate efficiently and reliably.
They can also improve airflow within the case, reduce clutter, and make wiring easier by allowing you to route the cables exactly where you need them.

With custom SATA power cables, you can be sure that your components have the steady supply of power they need for optimal performance.
Sata Power Wire Gauge
Sata power cables are designed to handle a maximum of 15 amps, and the appropriate wire gauge for this application should be 18 AWG or thicker.
The length of the cable is also important since longer wires require thicker gauges in order to maintain sufficient voltage levels.
It is strongly recommended that you use only high-quality Sata power cables when connecting your components as poor quality cables can cause damage due to inadequate insulation or poor construction.
Sata Power Male Connector
The SATA Power Male Connector is a 15-pin connector that provides power to SATA hard drives and other peripherals.
This connector features four different voltage levels, providing up to 12 volts of power for higher wattage devices; making it one of the most versatile connectors available today.
It's also compatible with both 5V and 3.3V systems, allowing for compatibility across a wide range of applications.

With its robust design, easy installation and great performance, this power connector is ideal for powering your SATA drive or other peripheral device in any system setup.