1. First, unplug and re-seat the SATA cable from both the drive and motherboard. This will ensure that it is properly connected to both components.
2. Check for any visible damage on the cable itself, such as fraying or exposed wires. If there appears to be any damage, replace the cable with a new one.
Check the SATA cable connection to ensure it is securely attached to both the motherboard and drive.
Replace any damaged, old or loose cables with a new one.
Ensure that your SATA cables are rated for the speed of your drives (e.g., 3 Gb/s vs 6 Gb/s).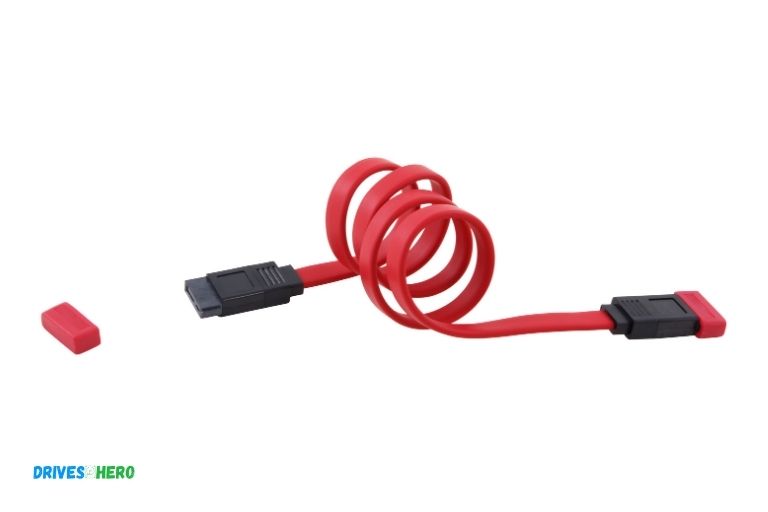 The most basic way to fix a SATA cable is to disconnect and reconnect it. This can help reestablish the connection between the computer and the hard drive, allowing data to flow freely once again.
Additionally, make sure that your cables are securely connected both at their ends and inside of your PC so they don't come loose.
Here is a step by step table:
| Step | Description |
| --- | --- |
| 1 | Turn off the computer and unplug it from the power source. |
| 2 | Locate the SATA cable on the motherboard and the device that it is connected to. |
| 3 | Gently detach the SATA cable from both the motherboard and the device. |
| 4 | Inspect the SATA cable for any signs of damage, such as frayed wires or bent pins. |
| 5 | If the cable is damaged, replace it with a new one. If not, proceed to the next step. |
| 6 | Reconnect the SATA cable to both the motherboard and the device. Make sure it is securely attached. |
| 7 | Turn on the computer and check if the device is recognized. |
| 8 | If the device is not recognized, try using a different SATA port on the motherboard or replacing the device itself. |
How to Fix Sata Cable
Can a Sata Cable Be Repaired?
Yes, a SATA cable can be repaired depending on the type of damage.
Here are some potential solutions:
-Replace connector pins if they become bent or broken.

-Check for corrosion due to moisture and clean contact points as needed.
-Inspect all connectors and clips for wear and replace any damaged components. In most cases, these simple repairs will restore your SATA cable's original performance levels.
How Do I Know If My Sata Cable is Damaged?
A SATA cable is used to connect a storage device such as an HDD or SSD with the motherboard. To determine if your SATA cable is damaged, consider these points:
• Check whether the connectors are bent or broken.

• Examine whether the insulation of the cord has been compromised.
• If possible, test out another cord in its place.
If any of these criteria are met, then it's likely that your SATA cable needs to be replaced in order to ensure optimal performance of your system components.
What If Sata Cable is Not Working?
If the SATA cable is not working, it could be due to several reasons.
* Check if the cables are connected properly.
* See if all pins on both ends of the cable are in place and undamaged.

* If possible, try using a different cable or port with your SATA device to determine if that's the cause of the problem.
If none of these steps resolve your issue, you may need to replace your existing SATA cable as it might have become faulty over time.
Watch Video on How to Fix Sata Cable
How Do I Fix a Sata Hard Drive Not Detected?
To fix a SATA hard drive not detected, follow these steps:
• Check the SATA cable connection to ensure it is firmly connected.
• Open Device Manager and see if the drive appears in Disk Drives or Storage Controllers.

• If it does appear, update the driver from within Device Manager.
• If there are no entries for your hard drive, boot into BIOS and check for any settings related to detecting storage devices such as PATA/IDE or AHCI mode.
• Also try unplugging all other storage devices while troubleshooting this issue.

If none of these steps resolves the issue, then you may need to replace your SATA cable or contact a professional technician for further assistance.
Broken Sata Connector on Hdd
A broken SATA connector on an HDD can be a major problem, as it will prevent the drive from being able to connect to the motherboard or other components of the computer system.
If this happens, then data stored on the drive may become inaccessible, and depending on how severe the damage is, it might not be possible to repair or replace the connector without damaging other parts of the hard disk.
It's important for users who experience this issue to take their machine in for servicing immediately; otherwise they risk losing access to all their valuable data stored on that HDD.
Sata Power Cable
Sata Power Cable is a type of cable used to provide power from the computer's power supply unit to internal components such as hard drives, optical drives, and fans.
It is designed with 15 pins on one end that plugs into the component, and 4 pins at the other end that connects to the PSU.
Sata Power Cables are available in different lengths ranging from 6 inches up to 24 inches depending on what your specific needs require.
Broken Sata Connector on Ssd
A broken SATA connector on an SSD can be a frustrating problem to have. The drive will not recognize when it is connected, or the connection may be poor and cause errors during use.
If you're experiencing this issue, the best course of action would be to take your laptop or desktop computer to a professional who can check and repair the connections if necessary.

Replacing the SSD itself might also be necessary in order to get your system back up and running again.
Frequently Asked Question
What are the Signs That a Sata Cable Needs to Be Replaced ?
The signs that a SATA cable needs to be replaced include slow data transfer speeds, frequent disconnects or read/write errors, and visible physical damage.
How Do I Know Which Type of Sata Cable Will Work With My Device ?
You can check your device's documentation or specifications to find out which type of SATA cable is compatible with it.
Is It Necessary to Use an Esd-Safe Replacement When Replacing a Sata Cable ?
Yes, it is necessary to use an ESD-safe replacement when replacing a SATA cable in order to protect the sensitive components from electrostatic discharge.
Can I Fix a Damaged Sata Cable Or Do I Need to Buy a New One?
No, you cannot fix a damaged SATA cable. You need to buy a new one.
Conclusion
This blog post clearly outlined the steps needed to successfully repair a SATA cable. With these instructions, you should be able to identify and fix any issues that are causing your SATA cable not to work properly. If you need additional assistance with troubleshooting or replacing your cable, it is recommended that you seek professional help from an experienced technician.

In conclusion, following this guide can help keep your data safe and ensure long-term use of your SATA cable by diagnosing and repairing any problems in a timely manner.