Windows on Ssd Vs Nvme: Which One is Better?
Windows on SSD vs NVMe: NVMe drives provide faster performance and shorter boot times compared to SSD drives when running Windows OS.
SSD and NVMe are two types of storage devices used for running Windows OS. SSD, or Solid State Drive, is a type of non-volatile storage that utilizes NAND-based flash memory to store data.
NVMe, or Non-Volatile Memory Express, is a newer technology that uses a more efficient protocol to access data stored on the SSD, resulting in faster performance.
SSD drives use SATA interface, while NVMe drives use PCIe interface.
NVMe drives have lower latency and higher input/output operations per second (IOPS) compared to SSD drives.
Windows on NVMe generally offers faster boot times and quicker application loading.
SSD drives are more cost-effective, while NVMe drives offer higher performance.
When deciding between Windows on SSD vs NVMe, it ultimately depends on the user's needs and budget.
If performance is a top priority, an NVMe drive would be the better choice due to its faster speed and lower latency.
However, if cost is a significant factor, an SSD drive may be more suitable as they are more affordable and still provide satisfactory performance for most users.
9 Features: Windows on Ssd Vs Nvme
| Feature | SSD | NVMe |
| --- | --- | --- |
| Storage Type | Solid State Drive (SSD) | Non-Volatile Memory Express (NVMe) |
| Interface | SATA | PCIe |
| Speed | Up to 600 MB/s (SATA III) | Up to 3500 MB/s or more (Varies with PCIe generation) |
| Latency | Higher (compared to NVMe) | Lower (compared to SSD) |
| Price | Generally lower (compared to NVMe) | Generally higher (compared to SSD) |
| Compatibility | Wider compatibility with older systems | Requires specific motherboard support (UEFI BIOS) |
| Form Factor | 2.5-inch, mSATA, M.2, U.2 | M.2, U.2, AIC (PCIe Add-in Card) |
| Power Consumption | Generally higher (compared to NVMe) | Generally lower (compared to SSD) |
| Best Use Cases | General computing, upgrading older systems | High-performance computing, gaming, professional workloads |
9 Features: Windows on Ssd Vs Nvme
Key Takeaway
Faster performance with NVMe drives compared to SSDs
Reduced latency when using NVMe drives
Increased lifespan and reliability for NVMe drives
The price difference between SSDs and NVMe drives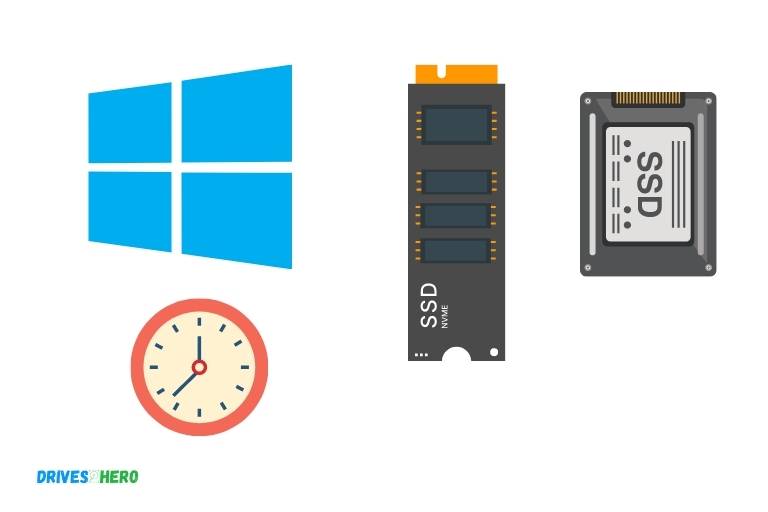 Five Facts About Ssd and Nvme
NVMe (Non-Volatile Memory Express) is a newer storage protocol designed specifically for solid-state drives (SSDs), offering lower latency and higher efficiency compared to traditional SSDs with SATA or SAS interfaces. (Source: PCMag)
The performance of NVMe drives is significantly better than that of standard SSDs. They are capable of processing up to 65,000 queues of data simultaneously, while SATA-based SSDs can handle just one. This results in quicker data transfers and improved overall system performance. (Source: PCWorld)
Latency is one of the critical factors in determining storage performance. NVMe drives are designed to have lower latency than their SSD counterparts due to better I/O performance, resulting in faster boot times and application launches. (Source: Intel)
NVMe drives tend to have an increased lifespan and reliability compared to SSDs. They use more advanced flash memory technology.
Understanding The Basics Of Ssd And Nvme
Windows on ssd vs nvme: understanding the basics of ssd and nvme
For years, hard disk drives (hdds) were the go-to choice for computer storage. However, with the introduction of solid-state drives (ssds) and the next-generation nvme (non-volatile memory express) technology, we now have faster and more efficient options.
We'll discuss the differences between ssd and nvme technologies, how they work, and the key advantages of each.
Differences Between Ssd And Nvme:
Ssds use nand-based flash memory to store data, while nvme is a protocol designed for fast access to solid-state storage.
Nvme uses the pcie (peripheral component interconnect express) interface to maximize speeds, while ssds use sata (serial ata) interface.
Nvme can offer significantly faster read and write speeds than ssds.
How Each Technology Works:
Ssds work by storing data on flash memory chips, which are non-volatile and can store information even when there is no power. The controller chip in an ssd manages reading and writing to the nand flash memory chips.
Nvme utilizes the pcie interface and has a more direct connection to the cpu. It bypasses the legacy sata interface and allows for significantly faster data transfer rates, resulting in better performance and lower latency.
Key Advantages Of Each Technology:
Ssds:
Ssds offer fast read and write speeds compared to traditional HDDs.
They are not susceptible to mechanical failures since there are no moving parts, making them more reliable in the long term.
Ssds consume less power and generate less heat compared to traditional hdds, resulting in improved battery life and better thermal management.
Nvme:
Nvme can offer significantly faster read and write speeds than ssds.
It offers lower latency and higher iops (input/output operations per second) compared to ssds, resulting in faster application load times and better overall system responsiveness.
It can scale up to meet enterprise-level storage requirements.
Understanding the differences between ssd and nvme is essential in choosing the right storage solution for your needs.
While both technologies offer significant improvements over traditional hdds, nvme's raw speed and low latency make it the clear winner when it comes to high-performance computing.
Why Choose Nvme For Windows Os?
When it comes to selecting the right storage device for a windows operating system, the options are numerous.
However, solid-state drives (ssds) and non-volatile memory express (nvme) drives stand out as the most popular storage devices. In this blog post, we will explore why you should choose nvme drives for windows os.
Advantages Of Using Nvme For Windows
Nvme drives offer many advantages for windows users, including:
Boot time and application load speed:
Nvme has a faster data transfer rate than ssds, which means that boot time and application load speed are significantly faster.
Nvme can read and write more data per second than an ssd. As a result, it allows the operating system and applications to load and perform faster.
Productivity and performance improvements:
Nvme drives give a significant boost to the performance of desktop and laptop computers, enhancing productivity.
Nvme drives facilitate faster file transfer speeds, resulting in faster data backup and recovery, quicker installation of new applications, and rapid access to frequently-used files.
Real-world testing and benchmarks:
Nvme drives outperform ssds in benchmark tests, with a performance boost of up to six times faster than regular sata ssds.
In real-world testing, nvme drives offer a more significant speed improvement over an ssd, particularly when it comes to boot and application loading times.
Cost Vs Benefit Of Nvme For Windows
However, all these advantages come at a cost. Nvme drives are relatively more expensive than traditional ssds.
So, it is essential to weigh the cost-benefit before making the decision to choose a nvme drive for a Windows operating system.
The benefits of nvme drives outweigh the cost if you're looking for improved performance, faster load times, and increased productivity.
If you want to get the most out of your windows operating system, consider upgrading to an nvme drive.
The faster boot times, application load speeds, and performance improvements will undoubtedly make up for the extra cost.
Video On Windows on Ssd Vs Nvme
The Benefits Of Ssd For Windows
Advantages Of Using Ssd For Windows
Solid-state drives (ssds) are popular because they offer many benefits over traditional hard disk drives (hdds). When it comes to using ssd for windows, there are numerous advantages that users can benefit from.
Here are some key points:
Enhancements to read/write speed and overall performance: Ssds are known for their faster read/write speeds, which can lead to significant performance improvements. In comparison to hdds, ssds have no moving parts, which allows them to access data faster, improving overall system performance and reducing load times.
Long-term stability and reliability: Ssds are more reliable than hdds since they have no moving parts that can break down. Since, ssds use digital storage instead of magnetic disks, they have higher durability and resistance to physical shock, making them an excellent choice for users who need a stable storage solution.
User experience and performance improvements: Ssds provide an overall better user experience, resulting in improved performance. Ssds reduce the time it takes for applications to load, programs to open, backups, transforms file management into an efficient process, and allow faster accessing of data.
Enhancements To Read/Write Speed And Overall Performance
Usually, the most pronounced benefit of ssd for windows is the enhancement in read/write speed, leading to overall better performance.
With ssd, windows performs operations faster, switch between multiple applications faster, and provides an improved overall system experience.
The ssd's lack of mechanical moving parts is often cited as the reason for its faster speed.
Unlike hdd, where the disks must realign for data to be retrieved, ssds use flash memory chips that quickly access data.
Applications and games load faster: Ssd reads data quicker than hdds, resulting in faster loading times.
Increased multitasking ability: Switching between programs or applications becomes faster and smoother because the ssd's speed facilitates quick switching between the running programs.
Shorter boot times: Rebooting is usually faster with ssd, since the operating system can launch quickly.
Long-Term Stability And Reliability
Ssds have been reported to be more durable and reliable in comparison to hdds. This is primarily due to their resisting physical shock and contingencies of data loss.
No physical moving parts: Ssd has no physical head that needs to access data from a physical spinner.
Reduced risk of data loss: Since the disk does not spin, there's little or no risk of disk failure due to head crashes.
More durable and resistant: Flash memory chips of ssd are more durable and resistant to physical damage.
User Experience And Performance Improvements
Apart from the obvious speed benefits, ssd for windows improves user experience and performance.
Improved system responsiveness: Ssds provide an overall better user experience, resulting in higher performance.
Increased energy efficiency: Ssds use less energy, as they don't have mechanically powered spinning disks.
Operation transfer speed is improved: Ssd storage accommodates faster data transfers between storage devices.
Cost Vs. Benefit Of Ssd For Windows
Ssds tend to be more expensive than hdds. The cost of buying an ssd might be thrice that of hdd, hence it is vital to examine whether the benefit of ssd for windows justifies the cost of purchase.
Nevertheless, ssds are an investment that could affect your system's performance and minimize crashes in the long-term.
The price difference: Ssds tend to be more expensive than hdds.
Cost-effective in the long run: Ssds tend to be a more cost-efficient investment in the long run as the user benefits from an improvement in system performance and longer lifespan in comparison to hdd's.
Personal computing or professional workstations: For high-end computing or professional workstations, the cost justification for an ssd is usually simpler than for a standard personal computer.
A Head-To-Head Comparison Of Ssd Vs Nvme
Windows On Ssd Vs Nvme
When it comes to storage options for windows, two choices stand out: ssd (solid state drive) and nvme (non-volatile memory express) which are both highly regarded for their speed, responsiveness, and reliability.
However, when deciding between the two, it is essential to understand which technology would work best for your personal requirements.
In this section, we will provide a head-to-head comparison of ssd and nvme, including real-world tests and benchmark comparisons, key performance metrics to consider, and side-by-side comparison of ssd and nvme for windows.
Real-World Tests And Benchmark Comparisons
In the search for faster data transfer, benchmarking is a great way to compare the performance of two different devices.
A benchmark test measures the read and write speeds of devices under different conditions. In a benchmark test between ssd and nvme, nvme comes out ahead in sequential read and write speeds.
However, when it comes to random read and write workloads, ssds are faster.
Key Performance Metrics To Consider
When choosing between ssd and nvme, there are a few critical performance metrics to keep in mind. Ssds come in two types: sata and nvme.
Although both are faster than traditional hdds, nvme significantly outperforms sata. Here are some key metrics to consider when choosing between an ssd and nvme:
Nvme has a higher read and write speed of up to 2500 mb/s and 2000 mb/s, respectively, while sata has a maximum speed of 600 mb/s.
Nvme supports up to 64,000 queues with up to 64,000 commands per queue.
Nvme has a lower latency than sata drives, which means that you can access your stored data much faster.
Side-By-Side Comparison Of Ssd And Nvme For Windows
Here is a comparison chart to help you understand the differences in offers between ssd and nvme:
| Feature | Ssd | Nvme |
| — | — | — |
| best for | general use and mixed workload | high-performance applications, heavy workload |
| Interface | Sata, Msata, Sata Express | Pcie |
| transfer rate | up to 600 mb/s | up to 2000 mb/s |
| queues and commands | one queue and 32 commands | 64,000 queues and 64,000 commands |
| Latency | 50 Microseconds | 10 Microseconds |
Which Technology Is Better Suited For Individual User Needs?
After weighing up the pros and cons of ssd and nvme, it's clear that nvme is the winner when it comes to speed and performance.
However, if you're running general use applications or mixed workloads, ssds are more than sufficient.
Based on individual user needs, it might be unnecessary to invest in an nvme drive when an ssd would work perfectly fine.
While nvme outperforms ssd in performance, it ultimately comes down to specific use cases.
Nvme is ideal for high-performance applications and heavy workloads, while ssds are suited for more general use and mixed workloads.
Either way, upgrading to either ssd or nvme will improve your overall windows experience.
Frequently Asked Questions Of Windows On Ssd Vs Nvme
How Much Faster Is Nvme Than Ssds?
Nvme is up to 7 times faster than the traditional sata ssd.
Do Nvme Ssds Last Longer Than Others?
Nvme ssds last longer than traditional ssds as they have a higher endurance rating.
What Is The Difference Between Ssd And Nvme?
Nvme uses a pci express interface, allowing for faster data transfer speeds than sata.
Does Nvme Improve Gaming Performance?
Nvme can improve game loading times and reduce lag compared to traditional sata ssds.
Conclusion
Choosing between windows on ssd and nvme boils down to your priorities. If speed is an absolute necessity, nvme will deliver faster results, but it comes at a higher cost.
Meanwhile, if you're more concerned about the budget and still want to achieve faster boot and load times, then ssd is a better option.
This article has provided a comprehensive guide on everything you need to know about nvme and ssd, and the key aspects to keep in mind when making your decision.
Ultimately, both options have their benefits, and whichever one you choose will depend on your specific needs.
However, you can rest assured that with either choice, you're in for a significant upgrade from a traditional hard drive. So, weigh your options and make a decision that aligns with your budget and usage requirements.