Can an Ssd Fit in a Laptop? Yes
Yes, an SSD can fit in a laptop, provided it has the appropriate form factor and interface.
Solid State Drives (SSDs) are known for their fast performance and durability, making them a popular choice for upgrading laptops.
Laptops typically use a 2.5-inch form factor for hard drives, and many SSDs are available in this size. However, modern laptops might also use the M.2 or mSATA form factors, which are even smaller and more efficient.
To fit an SSD in a laptop, you need to ensure it has the correct form factor and is compatible with the laptop's interface (e.g., SATA or NVMe).
SSDs provide faster performance and increased durability compared to traditional hard drives
Most laptops use a 2.5-inch form factor, but modern laptops might use M.2 or mSATA
Ensure compatibility with the laptop's interface (e.g., SATA, NVMe)
Upgrading to an SSD can significantly improve a laptop's speed and overall performance
Upgrading a laptop's hard drive to an SSD can greatly enhance its performance, making it faster to boot up, load applications, and access files.
Additionally, SSDs are more energy-efficient and generate less heat, which can benefit a laptop's battery life and longevity.
Before upgrading, it's crucial to research your laptop's specifications and choose a compatible SSD with the appropriate form factor and interface to ensure a successful installation.
10 Different Laptop Model SSD Compatibility
| Laptop Model | SSD Compatibility | Required SSD Type | Notes |
| --- | --- | --- | --- |
| Dell XPS 13 | Yes | M.2 PCIe NVMe | |
| HP Spectre x360 | Yes | M.2 PCIe NVMe | |
| Lenovo ThinkPad X1 Carbon | Yes | M.2 PCIe NVMe | |
| MacBook Pro (2016 and newer) | No | N/A | SSD is soldered to the motherboard |
| Asus ZenBook UX305 | Yes | M.2 SATA | |
| Microsoft Surface Laptop 3 | No | N/A | SSD is not user-replaceable |
| Acer Swift 5 | Yes | M.2 PCIe NVMe | |
| Razer Blade Stealth 13 | Yes | M.2 PCIe NVMe | |
| LG Gram 17 | Yes | M.2 PCIe NVMe | |
| Samsung Notebook 9 Pro | Yes | M.2 PCIe NVMe | |
10 Different Laptop Model SSD Compatibility
Key Takeaway
SSDs can fit and function well in most modern laptops.
Replacing an HDD with an SSD can significantly improve laptop performance.
SSDs are more expensive than HDDs, but they offer better durability and speed.
Compatibility and form factors should be checked before purchasing an SSD for a laptop.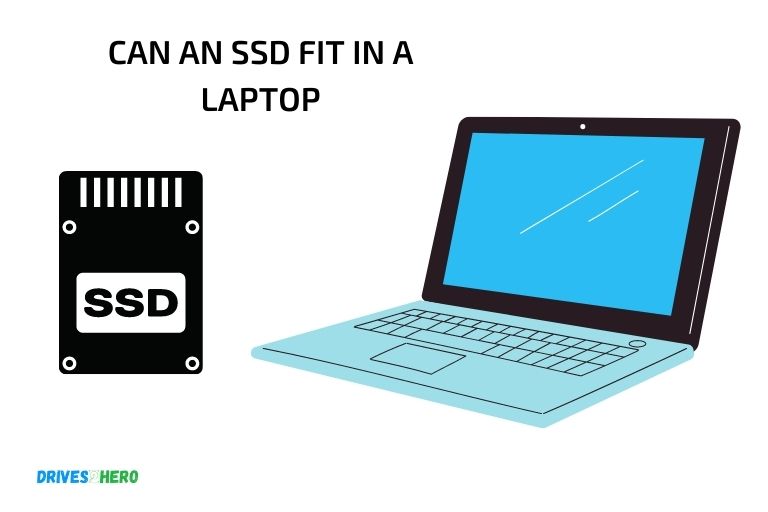 Five Facts About SSD Compatibility with Laptops
SSDs (Solid State Drives) are a type of storage device that can replace traditional hard disk drives (HDDs) in laptops. They store data on NAND-based flash memory, which offers faster read and write speeds and better durability compared to HDDs. (Source: PCMag)
Most modern laptops have a 2.5-inch drive bay where an SSD can easily fit. It is essential to ensure that the laptop supports the SATA (Serial ATA) or PCIe (Peripheral Component Interconnect Express) interface for the SSD you plan to install. (Source: Lifewire)
NVMe (Non-Volatile Memory Express) SSDs can also be installed in some laptops for even faster performance. These SSDs usually come in an M.2 form factor and communicate with the system over the PCIe bus, with much higher speed than SATA SSDs. However, it is essential to check if your laptop supports M.2 NVMe SSDs before attempting installation. (Source: StorageReview)
Replacing an HDD with an SSD in a laptop can lead to significant performance improvements, such as faster boot and load times, better multitasking, and increased battery life. This is due to the high-speed data transfer and energy efficiency of SSDs. (Source: Crucial)
Understanding Ssd And Its Advantages For Laptops
Ssd or solid state drive is a type of storage device that uses nand-based flash memory to store data.
Unlike hard disk drives (hdd), which use rotating disks to read and write data, ssds have no moving parts, making them faster, lighter, and more durable.
Defining Ssd And Its Components
Ssd stands for solid state drive, a storage device that utilizes nand-based flash memory to store data.
Unlike hard disk drives (hdd), which use spinning disks, ssds have no moving parts and are faster, lighter, and more durable.
Ssds consist of a controller, nand-based flash memory chips, and a cache.
Highlighting The Benefits Of Using An Ssd Over An Hdd
Ssds are faster than hdds due to the lack of moving parts, resulting in faster boot-up times and faster data transfer rates.
Ssds consume less power than hdds, which is especially beneficial for laptops as it can prolong battery life.
Ssds are more durable than hdds. Since ssds have no moving parts, they are less likely to fail due to disk damage, making them an ideal choice for laptops that are frequently moved.
Ssds create less noise than hdds, as there are no mechanical components that produce sound.
Discussing The Reasons Why Ssds Are Becoming Increasingly Popular In Laptops
Ssds are becoming increasingly affordable, and their prices have fallen significantly in recent years.
Ssds offer significant speed improvements over hdds, making them a popular choice for gamers, graphic designers and other users who require high-speed data processing.
The lightweight and small form factor of ssds make them an excellent choice for thin and lightweight laptops.
Ssds generate less heat than hdds, which can help prevent overheating in laptops and improve their reliability.
Ssds offer several advantages over traditional hard drives, including faster speeds, lower power consumption, increased durability, and quieter performance.
As a result, they are becoming increasingly popular in laptops and other devices that require high-performance storage.
Will An Ssd Fit In Your Laptop?
Can An Ssd Fit In A Laptop?
An ssd is a great replacement for the traditional hard disk drive (hdd).
Not only does it enhance the storage capacity of your laptop, but it also improves the overall system performance.
Of course, this begs the question: will an ssd fit in your laptop?
Identifying The Different Factors That Determine If Your Laptop Can Accommodate An Ssd
Before swapping your old hdd for a new ssd, you need to identify if your laptop can accommodate an ssd.
The following are the key factors that determine compatibility:
Laptop model and brand: Different models and brands have different specifications, which means that some may only be compatible with specific ssds.
Physical space: Determine if there is enough physical space in your laptop to accommodate an ssd. Some laptops are too small or compact, which may limit the space available.
Interface type: Check if your laptop uses the same interface type as the ssd. For instance, a serial ata (sata) interface or a non-volatile memory express (nvme) interface.
Explaining The Specifications And Compatibility Of Ssds With Various Laptop Models And Brands
When swapping an hdd for an ssd, it's essential to consider the compatibility of the two drives. Not all ssds are compatible with all laptop models and brands.
The following are key specifications to consider:
Sata or nvme: The two primary interfaces used by ssds in modern laptops. Check the laptop's motherboard to see which interface it supports.
Form factor: Ssds used in laptops come in various form factors, such as the 2.5-inch, m.2, and msata. Make sure to buy an ssd with the proper form factor for your laptop.
Capacity: Ssds come in different storage capacities. Ensure that the ssd you purchase has enough storage capacity for your needs.
Highlighting The Common Form Factors For Laptop Ssds
Ssds used in laptops come in different form factors, thus ensuring compatibility requires understanding each form factor.
Here are the most common form factors for laptop ssds:
2.5-inch: The most common form factor, which has a standard size of 2.75 inches wide and 3.94 inches long.
M.2: A smaller form factor that ranges from 22mm wide to 80mm long. M.2 is commonly used in ultrathin laptops and tablets.
Msata: An old form factor that was widely used in the past. Nowadays, this form factor is becoming less common due to its space limitations.
By understanding the different factors that determine ssd compatibility, the specifications and compatibility of ssds with various laptop models, and the common form factors for laptop ssds, you can easily determine if an ssd will fit in your laptop.
Not only does an ssd help improve storage capacity and overall system performance, but it also ensures that your laptop is up-to-date with modern technologies.
How To Install Ssd In Your Laptop
Step-By-Step Guide To Installing An Ssd In Your Laptop
Upgrading to an ssd from an hdd is one of the quickest ways to increase your laptop's overall performance.
In this guide, we'll walk you through the steps to install an ssd in your laptop:
Back up your data: It is essential to create a full backup of your data to avoid losing crucial files.
Purchase the right ssd: An ssd is available in various sizes and shapes. Consider compatibility, storage capacity, and speed before selecting one.
Gather necessary tools: Gather necessary tools such as screwdrivers, anti-static wristbands, and thermal paste.
Remove the battery: First, turn off your laptop and disconnect it from any external power source. Locate the battery on the underside of the laptop and remove it.
Access the hard disk drive: In most laptops, the hdd bay is easily accessible from the bottom, but in some laptops, you'll have to remove the keyboard or other components. Once you have reached the hdd bay, remove it from the laptop.
Replace the hdd with the ssd: Carefully remove the old hdd from the caddy and then install the ssd in its place. Ensure that the caddy is screwed securely into place.
Install the hard disk drive: Reinsert the hdd bay and screw it back into place. Once you have put all the required components back, reinstall the laptop battery.
Install the operating system: Either use the backup to restore your data or clean install the operating system onto your ssd.
Outlining The Necessary Tools And Precautions To Take Before Installation
Before starting the installation process, make sure you have gathered all the necessary tools.
Also, take these precautions to avoid damage to your laptop or the ssd:
Wear an anti-static wristband: An anti-static wristband discharges any static electricity buildup in your body that can harm electronic components in your laptop.
Use a clean, flat workspace: A clean and flat workspace helps you organize the screws and small components that can be lost easily.
Avoid using excessive force: When removing or installing any components, avoid using excessive force as it can damage the internal components.
Make sure the ssd is compatible: Ensure that the ssd you have selected is compatible with your laptop by checking the laptop manual or the manufacturer's website.
Providing Tips And Best Practices To Ensure A Smooth And Successful Ssd Installation Process
Here are some tips and best practices to make sure that your ssd installation process is smooth and successful:
Consult your laptop manual: Consult your laptop manual to understand the internal components and the process required to access them.
Choose a reputable brand: Choose a reputable brand when selecting an ssd. Reputable brands offer a warranty, ensuring the quality of the product.
Use thermal paste: Use a generous amount of thermal paste when reinstalling the heat sink. Thermal paste ensures heat dissipation, preventing processor overheating.
Keep screws organized: Keep the screws organized to avoid confusion when reinstalling the components.
By following these guidelines, you can upgrade your laptop's performance quickly and efficiently, without any damage to your laptop or the new ssd.
Migrating Data From Your Old Hdd To Ssd
Explaining The Different Methods Of Transferring Data From The Old Hdd To The New Ssd
When moving from an old hdd to a new ssd, there are different methods you can use to transfer the data.
Here are three common approaches:
Using disk cloning software
With this method, you can copy everything from your old hard drive to your new ssd. The software will create an exact replica of your old drive on the new drive.
This is a quick and easy method that requires a minimum amount of setup time.
Manually moving files
This approach involves manually copying your data from the old hard drive to the new ssd.
This can be a tedious and time-consuming process, but it also gives you the opportunity to clean up your files and only transfer the ones you need.
Utilizing cloud storage
Cloud storage can be another efficient way to transfer your data to the new ssd.
All you need to do is upload your files to cloud storage, then download them onto your new drive. This method can be especially useful if you have limited space on your old hdd.
Highlighting The Various Software Options Available For Data Migration
Data migration software can make the transfer process much easier and faster.
Here are three popular options to consider:
Samsung data migration: This software is designed specifically for samsung ssds and can clone your old drive or move selected files to a new drive. It's free and provides a simple interface for users.
Acronis true image: Acronis true image is another popular software option for cloning drives. It's user-friendly and provides a simple step-by-step guide on how to transfer files.
Easeus todo backup: This software provides a simple solution for users to clone disks, back up files, and recover lost data. It can also migrate your operating system to the new ssd, making it a comprehensive solution for data migration.
Providing Tips For Ensuring A Hassle-Free Data Migration Process
Migrating your data to a new ssd doesn't have to be a headache.
Here are some valuable tips to make the process as smooth as possible:
Back up your data: Before transferring any data to the new ssd, back up your data to an external source. This ensures your data is safe, and you can easily restore it if something goes wrong during the transfer.
Clean up your old drive: Take the time to delete any unnecessary files and programs from your old drive before cloning or transferring data. This can free up valuable space on your new ssd.
Disconnect peripherals: Remove any external peripherals from your laptop, such as printers or external hard drives, before starting the migration process. This avoids any potential interference or errors during the transfer.
Ensure compatibility: Check to make sure your new ssd is compatible with your laptop before attempting the transfer. Different laptops have different requirements, so ensure you've chosen the right drive for your device.
Follow instructions carefully: Whether you're using software or manually transferring data, be sure to follow the instructions provided carefully. This avoids any potential errors or data loss during the migration process.
Remember, transferring your data to a new ssd doesn't have to be a daunting task. With the right approach and tools, you can enjoy a faster, more efficient computer experience in no time!
FAQ On SSD Compatibility with Laptops
Can A Laptop Support An Ssd?
Yes, most laptops have slots for ssds making replacement easy.
What Is The Advantage Of An Ssd?
Ssds are faster, more reliable and less noisy compared to hdds.
How Do I Know If My Laptop Supports Ssd?
Check your laptop specifications or ask a technician to help you.
Is Replacing A Laptop'S Hdd With Ssd Difficult?
No, it is not difficult. You can use a cloning software or reinstall the os.
Conclusion
Ssds are great upgrades for laptops as they provide faster speeds, more storage, and better durability compared to traditional hard drives.
A laptop's compatibility with an ssd, however, may depend on certain factors such as the laptop's age and physical size.
It's important to make sure that the laptop's motherboard and storage interface are compatible with the selected ssd.
If unsure, it's best to seek the advice of a professional technician or refer to the laptop's specifications. Additionally, the installation process may require some technical knowledge and skills.
But once properly installed, an ssd can significantly improve a laptop's performance and overall user experience.
So, if you're looking to boost your laptop's speed and storage capacity, consider upgrading to an ssd that is compatible with your device.