Difference Between NVMe and SSD
The main difference between NVMe and SSD is that NVMe (Non-Volatile Memory Express) is a protocol designed specifically for faster communication between a computer's processor and storage, while SSD (Solid State Drive) is a type of non-volatile storage device that uses NAND-based flash memory for data storage.
Non-Volatile Memory Express (NVMe) is a communication protocol and controller interface designed to improve performance by reducing data transfer latency compared to traditional storage protocols like SATA.
NVMe allows more streamlined communication between a computer's processor and storage devices, leading to improved performance and responsiveness.
Solid State Drive (SSD), on the other hand, is a non-volatile storage device that stores data on NAND-based flash memory cells.
SSDs are known for their faster data access and read/write speeds compared to traditional spinning hard disk drives (HDDs).
SSDs can use different storage protocols, including SATA and NVMe, to communicate with the computer's processor.
NVMe is a communication protocol, while SSD is a storage device.
NVMe reduces data transfer latency, resulting in better performance than SATA-based SSDs.
SSDs can use either NVMe or SATA as their storage protocol.
NVMe SSDs typically have higher read/write speeds compared to SATA SSDs.
NVMe SSDs are an advanced type of solid-state drive that utilizes the Non-Volatile Memory Express protocol to significantly improve data transfer speeds and overall system performance.
These drives are particularly beneficial for tasks that require high-speed data access, such as video editing, gaming, and large-scale data processing. Since NVMe drives typically have faster read/write speeds
9 Features: Difference Between Nvme and Ssd
| Feature | NVMe | SSD |
| --- | --- | --- |
| Full Name | Non-Volatile Memory Express | Solid State Drive |
| Interface | PCIe (PCI Express) | SATA, SAS, or PCIe |
| Speed | Up to 3500 MB/s (read) | Up to 550 MB/s (read) |
| | Up to 3000 MB/s (write) | Up to 520 MB/s (write) |
| Latency | Lower latency (microseconds) | Higher latency (milliseconds) |
| Protocol | NVMe protocol | AHCI protocol |
| Form Factors | M.2, U.2, AIC (Add-in Card) | 2.5-inch, M.2, mSATA, AIC |
| Max Power Consumption | Higher (typically 6-8W) | Lower (typically 2-4W) |
| Price | Generally more expensive | Generally less expensive |
| Compatibility | Requires specific motherboard | More universally compatible |
| | and operating system support | |
| Best Use Cases | High-performance computing, | Everyday computing, |
| | gaming, content creation | office tasks, data storage |
9 Features: Difference Between Nvme and Ssd
Key Takeaway: NVMe and SSD
NVMe is a communication protocol, while SSD is a storage device
NVMe offers higher speed and enhanced performance compared to traditional SSDs
NVMe-based SSDs are typically more expensive than regular SSDs
NVMe SSDs are best suited for intensive workloads and applications that require high-speed data transfer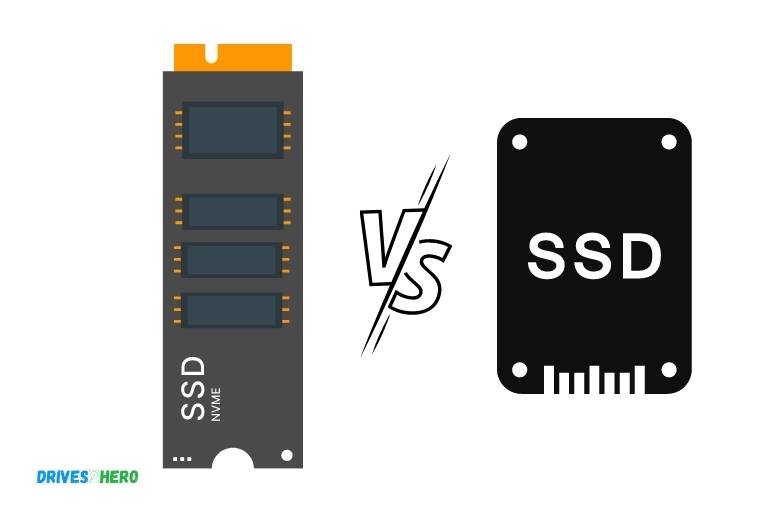 Five Facts About NVMe and SSD
NVMe stands for Non-Volatile Memory Express and is a high-performance communication protocol designed specifically for SSDs (Source: NVMe.org)
Traditional SSDs use the slower Serial ATA (SATA) interface, which was inherited from Hard Disk Drives (HDDs) and not optimized for SSDs (Source: pcmag.com)
NVMe-based SSDs can deliver over four times the speed compared to traditional SATA SSDs, thanks to their ability to handle large disks and support for parallelism in operations (Source: anandtech.com)
NVMe SSDs commonly use the PCIe interface for connecting to the motherboard, allowing much faster data transfer compared to SATA SSDs (Source: digitaltrends.com)
NVMe SSDs are particularly useful in gaming, content creation, and data analysis, as they minimize data loading and transfer times, thus improving the overall user experience (Source: pcmag.com)
Understanding Ssd And Nvme
Definition Of Ssd
Solid state drives, or ssds, are storage devices used to store data like hard drives.
However, ssds use nand-based flash memory, which results in faster data transfer rates compared to hard drives. Ssds use no mechanical parts, unlike conventional hard drives.
Description Of Nvme
Nvme stands for non-volatile memory express. Nvme is an interface protocol specifically developed for ssds.
The nvme protocol is optimized for efficient performance with modern storage media, and it accesses storage devices connected through pcie-attached storage through defined registers, commands, and structure.
Comparison Between Ssd And Nvme
There are several differences between ssd and nvme. Here are the most notable distinctions:
Ssds come in different interfaces, such as sata, sas, and pcie, while nvme uses only the pcie interface.
Nvme has higher bandwidth and lower latency than sata ssds.
Nvme ssds can handle larger queues, resulting in faster read and write speeds and lower power consumption.
Pros And Cons Of Ssd And Nvme
Both ssd and nvme come with their own sets of advantages and drawbacks. Here are some of them:
Pros Of Ssd
Faster read and write speeds
Lower power consumption
No mechanical parts, resulting in less failure and noise
Cons Of Ssd
Limited lifespan due to write cycles
Costlier than conventional hard drives
Pros Of Nvme
Faster read and write speeds compared to sata ssds
Ability to handle larger queues
Reduced power consumption
Cons Of Nvme
Provides lower compatibility compared to sata ssds, which are universally supported.
Higher cost compared to sata ssds
Ssds and nvme both come with their advantages and disadvantages. The appropriate choice depends on the requirements of the user.
Nvme is a newer technology, and its advantages make it suitable for more demanding storage tasks. Meanwhile, if the task only requires basic computing, a sata ssd is still a reliable and cost-effective choice.
Factors To Consider When Choosing Between Nvme And Ssd
The world of computer storage has evolved dramatically in recent years, and the most significant change is the shift from traditional hard disk drives (hdds) to solid-state drives (ssds) based on flash memory technology.
Ssds are faster, more energy-efficient, and more reliable than hdds, making them the ideal choice for modern computing.
However, not all ssds are equal, and there is a newer type of ssd called nvme that is even faster and more responsive than traditional ssds.
In this section, we'll explore the main factors you should consider when choosing between a nvme and an ssd.
Speed
When it comes to speed, nvme drives are the clear winner. They use the pcie interface to provide faster data transfer rates than traditional sata-based ssds.
Nvme drives can reach read and write speeds of up to 3500 mb/s and 3000 mb/s, respectively, while sata-based ssds typically top out at around 550 mb/s.
Compatibility
Nvme drives are a relatively new technology, and as such, they are not compatible with all systems. To use a nvme drive, your system must have an m. 2 slot that supports nvme. If your system doesn't have an m.
2 slot or if the slot is already taken, you won't be able to use a nvme drive. On the other hand, traditional sata-based ssds are more widely compatible, and most modern systems have at least one sata port.
Price
Nvme drives are generally more expensive than traditional sata-based ssds. The difference in price can be significant, with nvme drives costing two to three times as much per gb as sata-based ssds.
If you're on a tight budget, sata-based ssds may be a more practical option.
Performance
Nvme drives offer significantly faster performance than traditional sata-based ssds, making them ideal for high-performance computing tasks such as gaming, video editing, and 3d rendering.
However, for everyday tasks such as web browsing and word processing, the difference in performance between nvme and sata-based ssds is not significant enough to justify the higher cost.
Choosing between a nvme drive and a traditional ssd comes down to your specific needs and budget. If you're looking for the fastest possible storage solution and don't mind paying a premium, a nvme drive is the way to go.
However, if you're on a budget or don't need the absolute fastest performance, a traditional sata-based ssd is still an excellent choice that provides faster speed, better reliability, and energy-efficient storage.
Nvme Vs Ssd: Which One Should You Choose?
When people look to upgrade their pc, a common choice they have to make is whether to opt for a nvme or SSD.
While both of these storage options offer improved speeds and performance compared to a traditional hdd, it can be challenging to know which one to choose.
This article will examine the difference between nvme and ssd, delve into their pros and cons, look at common use cases, and give some personal recommendations to help you make the best selection for your needs.
What To Consider When Making A Choice
When deciding which storage option to choose, there are a few things to consider:
Price: Nvme drives are usually more expensive than ssds.
Performance: Nvme provides faster read and writes speeds than ssd.
Compatibility: Check your motherboard to ensure it's compatible with an nvme drive.
Capacity: Nvme drives are often smaller than ssd options.
Use: Consider your intended use and decide if the performance benefits of nvme justify the cost.
Common Use Cases
Both nvme and ssd offer improved speeds over traditional hdds, which makes them suitable for a variety of use cases, such as:
Gaming: Both options provide faster loading times, and nvme offers the extra advantage of allowing games to load and render assets faster.
Creatives: Those who edit photos, video, and audio will benefit from faster rendering times with either option.
Productivity: Productivity tasks, like booting up and loading programs, becomes faster with either nvme or ssd.
Pros And Cons Of Ssd And Nvme
Both nvme and ssd offer their own set of pros and cons:
Ssd
Pros:
More affordable compared to nvme.
Offers faster read and write times compared to traditional hdds.
Available in larger capacities.
Compatible with almost all motherboards.
Cons:
Random read performance is lower compared to nvme.
Slow read and write speeds compared to nvme.
Nvme
Pros:
Provides faster read and write speeds than ssd.
Faster boot and program loading times.
Ideal for intensive workloads and large file transfers.
Cons:
Can be more expensive compared to ssd.
Lower capacity compared to ssd.
Not compatible with all motherboards.
Personal Recommendations
When it comes to nvme vs ssd, there isn't a clear winner, as it will depend on your needs.
Here are some personal recommendations:
If you're a gamer or creative professional and willing to pay more for faster performance, go with nvme.
If you're on a tighter budget but still looking for improved speed over traditional hdds, choose ssd.
If you need a lot of storage capacity and don't require the highest speed, opt for an ssd.
When it comes to choosing between nvme and ssd, it all comes down to what you need. Both options offer improved speed and performance compared to traditional HDDs.
Consider the cost, performance, compatibility, capacity, and intended use before making your final decision.
Future Of Storage Devices
With the rapid evolution of technology, storage devices have undergone a significant transformation over the years.
When it comes to buying storage devices, people are often confused between ssd and nvme. In this section, we will explore the future of storage devices and the prevalence of these devices in technology advancements.
Upcoming Technologies
In the ever-evolving world of technology, innovations and upgrades happen every day.
Here are some upcoming technologies that may significantly impact the future of storage devices:
Dna storage: Considered the future of data storage, dna storage systems are designed to store and manage incredible amounts of data in a much smaller space. Researchers are exploring the potential of using dna as a building block for storage devices. Dna-based devices could store data for tens of thousands of years and provide huge advances in processing and storage capacity.
3d nand technology: The future of ssd will come with 3d nand technology, which will increase ssd storage capacity and improve overall performance. It will also reduce the cost of flash memory, making it more affordable for consumers.
Dual in-line memory module (dimm): Dimms will be the future of the storage industry, allowing data to be stored even closer to the processor than before. The technology is expected to revolutionize the way we store and access data.
How It Affects The Future Of Storage Devices
In the current scenario, both ssd and nvme have become essential storage devices that are widely used in various devices, including smartphones and laptops.
Given the advancement of technology, the future of storage devices is quite promising.
Here is how these devices will continue to impact the future of storage:
Improved speed: With the introduction of nvme and the advancements made in ssd technology, data transfer speeds have improved significantly. Storage devices of the future will offer even faster speeds, providing faster access to data.
Increased storage capacity: The ever-increasing demand for data storage has led to an increase in ssd capacity. With the introduction of 3d nand technology, storage capacity will continue to increase while reducing costs.
Reduced size and power consumption: The future storage devices will be designed to incorporate smaller form factors with reduced power consumption.
Predictions For Ssd And Nvme Technologies
With new technologies being developed regularly, it's essential to make predictions on the future of ssd and nvme technologies.
Here are some possible predictions about what to expect:
Ssd and nvme will be more affordable: As advancements are made, we expect that these devices will become more affordable for the average user, which will lead to their increased prevalence.
Higher capacity storage devices: With the inclusion of 3d nand flash technology, the average ssd will soon be available with terabytes (tb) of storage space.
Increased use of nvme: With nvme quickly replacing sata-based ssds, the expectation is that the nvme will become the industry standard for future data storage devices.
It's clear that the future of storage devices is exciting, and with these emerging technologies, we can expect to witness significant growth in the industry.
The advancements and innovations will bring about faster, smaller, and more efficient devices with improved access to data.
The predictions for both ssd and nvme are positive, and we can expect to see great things from these technologies in the coming years.
Frequently Asked Questions Of Difference Between Nvme And Ssd
What Is Nvme Ssd?
Nvme (non-volatile memory express) is a high-performance protocol designed to accelerate solid-state drives (ssds) using pcie bandwidth.
What Is An Ssd?
Ssd (solid-state drive) is a data storage device that uses nand-based flash memory to store data and files.
What Is The Difference Between Nvme And Ssd?
Nvme is a high-performance interface designed specifically for ssds, while an ssd is a type of storage device that can use a variety of interfaces.
Is Nvme Faster Than Ssd?
Yes, nvme is faster than ssd because of its high-bandwidth interface and optimized command sets that allow for higher throughput and lower latency.
Conclusion
To sum it up, both nvme and ssd are excellent options when it comes to storage solutions. However, nvme provides a significant advantage over its predecessor ssds in terms of speed, performance, and efficiency.
With nvme, users can experience higher read and write speeds, faster bootup times, and better multitasking ability.
Additionally, nvme's compact size and power efficiency make it an ideal choice for mobile devices and laptops. On the other hand, ssds are still an excellent and cost-effective solution for users who don't require lightning-fast speeds.
Despite the differences, both technologies have revolutionized the storage industry and continue to provide users with significant benefits in terms of performance and reliability.
Therefore, depending on your user requirement, choosing between the two boils down to your specific needs with storage devices.