Different Types of Internal Ssd
SATA SSD:
A Serial Advanced Technology Attachment (SATA) Solid State Drive (SSD) is a type of internal storage device that uses integrated circuit assemblies as memory to store data persistently. It is much faster than a traditional hard disk drive, and consumes less power.
SATA:
An internal SSD with a SATA connection is the most common type of drive and offers excellent performance.
M.2:
An internal SSD that uses an M.2 form factor can provide even higher speeds than a SATA drive, as well as being more compact in size.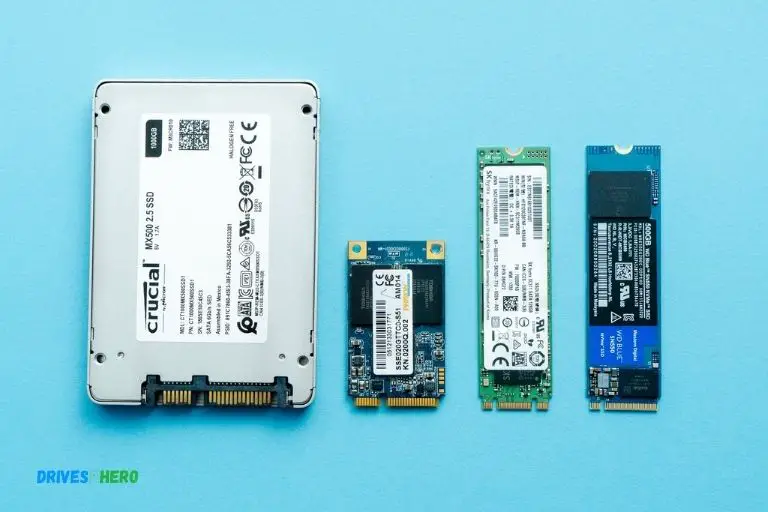 Internal SSDs come in a variety of form factors, such as M.2, BGA and 2.5-inch SATA drives. Each type is designed for specific applications, offering different levels of speed and capacity depending on the needs of the user.
| Type | Interface | Form Factor | Common Capacities | Advantages | Disadvantages |
| --- | --- | --- | --- | --- | --- |
| SATA SSD | SATA III | 2.5-inch, mSATA, M.2 | 128GB, 256GB, 512GB, 1TB, 2TB | Affordable, widely compatible | Slower than other types |
| NVMe SSD | PCIe | M.2, U.2, AIC | 256GB, 512GB, 1TB, 2TB, 4TB | Faster than SATA SSDs, higher IOPS | More expensive, may require compatible motherboard |
| PCIe SSD | PCIe | AIC, U.2 | 512GB, 1TB, 2TB, 4TB | Very fast, high IOPS | Expensive, may require compatible motherboard, larger form factor |
| M.2 SSD | SATA, PCIe | M.2 | 128GB, 256GB, 512GB, 1TB, 2TB | Compact form factor, can be faster than SATA SSDs | May require compatible motherboard, can be more expensive |
Different Types of Internal Ssd
How Many Types of Internal Ssd are There?
There are two main types of internal SSDs:
2.5-inch and M.2. The 2.5-inch type is the most common, and is typically used in laptops as well as desktop computers that have an available drive bay for the hard drive or optical drive to be swapped out with a solid-state drive (SSD).
The M.2 type is smaller than a 2.5-inch SSD, but can be installed directly onto the motherboard of your laptop or desktop computer without taking up space inside the chassis, making it ideal for compact form factors such as ultraportables and mini PCs where size matters more so than capacity or speed requirements.
What are the 3 Main Types of Ssd?
The three main types of solid-state drives (SSDs) are Serial Advanced Technology Attachment (SATA), PCIe, and M.2.
| | | |
| --- | --- | --- |
| SATA | PCIe | M.2 |
| SATA is the standard form factor for SSDs and is the most common type found in laptops today. It has a maximum speed of 6 Gbps but is limited to 2 TB in capacity. | PCIe SSDs use a different connector than SATA drives; these faster models offer speeds up to 32 Gbps and can reach capacities up to 8 TB. | The newest type of drive, M.2, uses an even smaller connector than either SATA or PCIe versions and provides read/write speeds that exceed those of other forms by as much as 5 times with capabilities that can reach 4TB per device. |
Different Types of Internal Ssd
Is M2 And Nvme the Same?
No, m2 and NVMe are not the same. M.2 is a physical form factor used for solid-state drives (SSDs) that is slightly longer than an SD card and much smaller than a traditional 2.5-inch SSD.
It comes in different sizes ranging from Type 2242 to 2280, with the numbers representing the length of the drive in millimeters.

NVMe stands for Non-Volatile Memory Express, which is a communications protocol designed specifically to maximize transfer speed between flash-based storage devices such as SSDs and computer systems or motherboards that are equipped with supported hardware interfaces like PCIe/NVMe ports.
It eliminates bottlenecks associated with traditional SATA connections by taking full advantage of high speed PCIe lanes available on modern computing platforms for improved performance over SATA based SSDs.
Watch Video on Different Types of Internal Ssd
Which is Better Sata Or Nvme?
When it comes to choosing between SATA and NVMe, the decision is largely dependent on your needs.
For everyday computer users who don't need blazingly fast speeds, SATA is perfectly adequate and can provide similar performance at a much lower cost.
However, if you're looking for top-notch speed and performance from an SSD, then NVMe is the way to go.

With its advanced architecture and support for PCIe 4x lanes, NVMe drives offer significantly faster read/write times than their SATA counterparts.
Additionally, due to their smaller form factor they are perfect for use in small form factor systems such as laptop computers or mini PCs.
Ultimately though, when deciding which type of drive to buy it all comes down to how demanding your storage requirements are; If you require peak performance then NVMe is definitely worth consideration.
Type Ssd
Solid State Drives (SSDs) are becoming increasingly popular for storage due to their advantages over traditional hard drives.
SSDs feature no moving parts, which makes them more reliable and faster than regular hard drives. They also use less power and generate less heat, making them ideal for laptops and other portable devices.

Additionally, they come in a variety of form factors that allow you to expand your storage capacity without taking up additional space.
Ssd Type for Laptop
Solid State Drives (SSDs) are becoming an increasingly popular choice for laptop storage, due to their ability to provide faster data access than traditional hard disk drives.
SSDs use flash memory chips instead of a spinning disk, which allow them to transfer data quickly and efficiently.
This makes them a great option for laptops that require quick read/write speeds or lots of multitasking capabilities.

Additionally, they are more durable and power-efficient than regular hard disks, making them ideal for people who need reliable performance on the go.
What are the 3 Types of Ssds
The three main types of SSDs are SATA, M.2, and NVMe. SATA is the most common type of SSD due to its affordability and easy installation process.
It has a relatively slow data transfer rate compared to other types of SSDs but is still suitable for everyday computing tasks.

M.2 drives offer higher speeds than SATA drives, making them an ideal choice for gamers and video editors who require faster performance from their systems.
Finally, NVMe drives provide the fastest read/write speeds available in an SSD form factor but can be more expensive than the other two options mentioned above.
Frequently Asked Question
What are the Advantages of Using an Internal Ssd Over a Traditional Hard Drive?
The advantages of using an internal SSD over a traditional hard drive include faster boot times, quicker application loading, improved system responsiveness and reliability due to no moving parts, lower power consumption, less heat production and reduced noise.
How Do I Know Which Type of Internal Ssd is Best for My Needs ?
The best type of internal SSD for your needs depends on the specific requirements of your device. Consider factors such as performance, reliability, capacity and budget when selecting an internal SSD. You can also consult with a professional or research online to determine which type of SSD would be the most suitable for you.
Are There Any Limitations on What Operating Systems Can Be Used With an Internal Ssd ?
Yes, internal SSDs are usually designed to work with specific operating systems. For example, Microsoft Windows 10 or macOS may be required for the drive to function correctly. Additionally, some drives require specific versions of the OS in order to be compatible.
What Kind of Performance Gains Can I Expect When Upgrading to an Internal Ssd ?
Upgrading to an internal SSD can offer significant performance gains, such as faster boot times, quicker loading of programs and applications, and improved overall system responsiveness. The exact performance gains will depend on the type of SSD used and the speed capabilities of the computer hardware.
Conclusion
Internal SSDs are a great way to increase the speed and performance of your computer. They come in different sizes, connection types, and speeds depending on their intended use.
It is important to research the best type of Internal SSD for your specific needs so you can maximize its potential performance.

With an Internal SSD, you will be able to take advantage of faster boot times, improved application loading times, and overall better system responsiveness.