Do Laptop Ssd Need Heatsink? No!
No, laptop SSDs do not necessarily need a heatsink as they are generally designed to operate efficiently at typical temperature ranges.
Laptop SSDs, especially those using the M.2 NVMe interface, are designed to be compact and power-efficient, producing less heat compared to their desktop counterparts.
Laptop SSDs have lower operating temperatures and, as such, do not usually require additional heatsinks to maintain their performance and longevity.
Laptop SSDs are designed for power-efficiency and produce less heat.
Heatsinks are more commonly used with high-performance desktop SSDs.
Most laptops have built-in thermal management solutions to keep components cool.
Adding a heatsink to a laptop SSD may be unnecessary and challenging due to space constraints.
Laptop manufacturers typically include built-in thermal management solutions that help keep the SSD and other components within safe operating temperatures.
These solutions often include a combination of carefully designed airflow, heat pipes, and cooling fans.
As a result, adding an external heatsink to a laptop SSD might be unnecessary and even challenging due to space limitations within the laptop's chassis.
7 Aspects: Heatsink Requirements for Laptop SSDs
| Aspect | Need for Heatsink in Laptop SSDs |
| --- | --- |
| Purpose | To dissipate heat and maintain optimal SSD temperature |
| Importance | Crucial for high-performance SSDs and when running intensive applications |
| Commercial SSDs | Most commercial SSDs are designed for optimal heat management without heatsinks |
| Laptop Design | Laptop designs often prioritize thinness, limiting space for heatsinks |
| Thermal Throttling | SSDs without heatsinks may experience thermal throttling, reducing performance |
| SSD Types | NVMe SSDs generate more heat and may benefit from heatsinks more than SATA SSDs |
| Power Saving Features | Laptops often have built-in power-saving features to help manage temperature |
7 Aspects: Heatsink Requirements for Laptop SSDs
Key Takeaway
Heat management is crucial for maintaining optimal laptop performance and extending the lifespan of the SSD.
Heatsinks serve to dissipate heat generated by the SSD and can prevent thermal throttling.
Not all SSDs generate the same amount of heat, so the necessity of a heatsink depends on the specific SSD and laptop usage.
Proper airflow and cooling systems in laptops can also contribute to preventing SSD overheating without the need for a heatsink.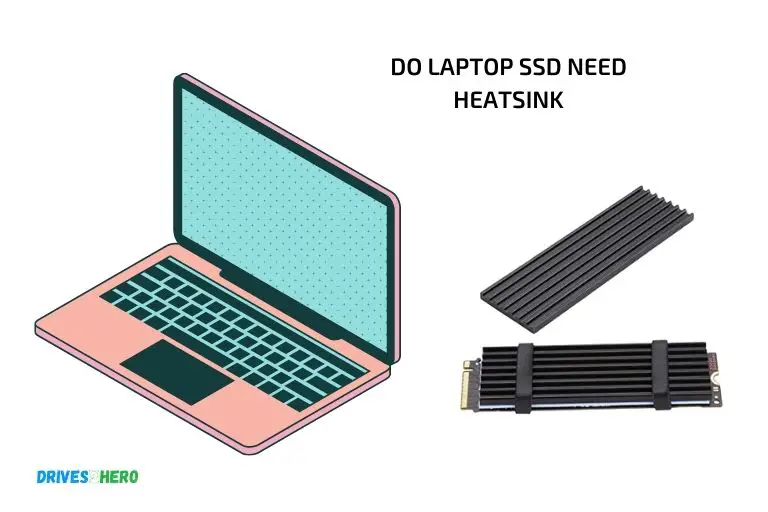 Five Facts About Heatsinks and Laptop SSDs
Solid-state drives (SSDs) have become increasingly popular in laptops due to their faster speed and improved reliability compared to traditional hard disk drives (HDDs). (Source: PCMag)
SSDs can generate significant heat when under heavy load, such as during data-intensive tasks or gaming, which can lead to decreased performance and potential damage over time. (Source: Corsair)
Heatsinks can help keep an SSD cooler by spreading the heat away from the drive itself, which can maintain top performance and prevent thermal throttling. (Source: TechRadar)
Some newer SSD models come with built-in heatsinks or thermal pads that enable them to regulate heat, making additional heatsinks unnecessary for optimal performance. (Source: Tom's Hardware)
It is essential to ensure proper airflow and cooling systems in laptops, as proper case ventilation can also help prevent SSD overheating without the use of a heatsink. (Source: TheWindowsClub)
An Introduction To Ssds
Do Laptop Ssd Need Heatsink
Solid state drives, or ssds, have come a long way since their first release. These storage devices are now mainstream and are commonly found in laptops and desktops.
The question many people ask is whether ssds need heatsinks. This post will explore ssds in detail and shed light on whether they require heat dissipation or not.
The Difference Between Hdds And Ssds
Before we delve into ssds, it's essential to understand the difference between ssds and hdds. Hdds are traditional storage devices that have spinning disks that read and write data using an arm with a read/write head.
Hdds have moving parts, which creates friction and heat, resulting in slower read and write speeds.On the other hand, ssds have no moving parts and are faster than hdds. Ssds use nand-based flash memory to store data.
Nand is a type of non-volatile storage technology that does not require power to retain data. Ssds have a controller that manages the flow of data to and from the nand chips.
How Ssds Work
Ssds are incredibly fast compared to traditional hdds due to their lack of moving parts.
They use nand flash memory chips to store data, and the controller manages the data's flow between the computer and the nand chips.
When data needs to be retrieved, the controller accesses the appropriate flash memory chips and retrieves the data, resulting in fast read and write speeds.
Benefits Of Ssds
Ssds provide several benefits over hdds, which is why they are more popular in modern computers.
Below are some of the benefits of ssds:
Ssds are faster than hdds.
Ssds generate less heat than hdds, making them energy-efficient.
Ssds have no moving parts, making them quieter than hdds.
Ssds are more reliable than hdds, as they have a longer lifespan and are less prone to mechanical failure.
Ssds are smaller and lighter than hdds, making them ideal for laptops and other portable devices.
Ssds are shock-resistant, making them suitable for use in rugged environments.
Ssds do not require heatsinks as they generate less heat than traditional hdds. Laptops with ssds do not have to worry about overheating and can operate without heatsinks.
Ssds provide a host of benefits over traditional hdds, making them an excellent storage solution for modern computers.
Ssds are energy-efficient, reliable, and provide faster read and write speeds. As such, they are becoming more popular and are likely to replace traditional hdds in the future.
Ssd Heat Generation
Ssd Inner Workings That Generate Heat
Solid state drives (ssds) have no moving parts, which means they are less prone to failure, are quieter, and consume less power than traditional hard disk drives (hdds).
However, ssds still generate heat, and this heat can degrade performance and lifespan.
Here are the key factors that generate heat in an ssd:
Nand flash memory: Nand flash memory chips are the building blocks of ssds. When data is written to an ssd, high voltage is applied to the nand cells to alter the charge state of the individual cells. This process generates heat, which can reduce the lifespan and performance of the ssd.
Controller: Ssd controllers manage the flow of data between the computer and the nand flash memory. The controller also performs wear-leveling and garbage collection operations to prolong the lifespan of the ssd. As a result, the controller generates heat, which can affect the performance of the ssd.
Different Types Of Ssds And Their Heat Generation Levels
Different ssds have different designs and use different types of nand flash memory, which means that they generate heat differently.
Here are the different types of ssds and their heat generation levels:
Mlc ssds
Multi-level cell (mlc) ssds use a nand flash memory design that stores two bits of data per cell.
Mlc ssds generate more heat than other types of ssds because they require more voltage to program the nand cells.
Tlc ssds
Triple-level cell (tlc) ssds store three bits of data per cell, making them cheaper to manufacture than mlc ssds.
However, tlc ssds generate more heat than mlc ssds because they require even more voltage to program the cells.
Qlc ssds
Quad-level cell (qlc) ssds store four bits of data per cell, which makes them the most cost-effective ssds available.
However, because they store more data in each cell, qlc ssds generate more heat than other types of ssds.
Factors Affecting Ssd Heat Generation
Several factors can affect the amount of heat generated by an ssd.
Here are the key factors to consider:
Workload: Heavily-used ssds generate more heat than those used lightly. If you use an ssd for intensive tasks, make sure it has sufficient cooling.
Ambient temperature: Ambient temperature also affects the amount of heat generated by an ssd. High ambient temperatures increase the likelihood of thermal throttling.
Form factor: The form factor of an ssd can affect heat generation. Most m.2 ssds, for example, have an exposed pcb that can increase heat dissipation compared to 2.5-inch ssds.
Cooling: Most modern laptops have built-in cooling systems that can prevent thermal throttling. However, if you are using an older laptop or building a desktop pc, you may need to add additional cooling to your ssd to prevent heat buildup.
Ssds generate heat, and it can affect their performance and lifespan.
Understanding the factors that contribute to heat generation in ssds can help you make informed decisions when selecting and using an ssd.
Be sure to consider workload, ambient temperature, form factor, and cooling when choosing and using an ssd.
The Importance Of Heat Dissipation In Laptops
Laptops have become an indispensable tool in our daily lives, from working remotely to staying in touch with friends and family.
One crucial aspect of laptop performance is keeping its temperature under control, especially with the increasing use of solid-state drives (ssds).
We will explore the importance of heat dissipation in laptops and why a heatsink may be necessary for ssds.
Why Overheating Is Damaging To A Laptop
Overheating laptops can cause significant damage that may lead to costly repairs or even the loss of valuable data.
Here are some of the consequences of overheating:
Frequent overheating can shorten the lifespan of cpu, gpu, and other essential components.
High temperatures can cause hard drive failure, which may lead to the loss of vital data.
Overheating can significantly affect the performance of the laptop, causing it to slow down and become less responsive.
The battery life can be reduced, leading to frequent charging and limiting how much work you can perform on the laptop.
The Impact Of Heat On Performance
Heat has a detrimental impact on a laptop's performance, and this is especially true for ssds.
Here's how heat can affect performance:
Higher temperatures cause ssds to slow down, reducing their performance and causing delays in data transfer speeds.
High heat can lead to data corruption, making it difficult for you to access important files stored on your laptop.
Overheating can cause the laptop to shut down completely and even fail to start up.
Common Laptop Cooling Mechanisms
Various cooling mechanisms are used to regulate temperatures inside the laptop.
Here are the most common ones:
Heat sinks: A heatsink is a device that transfers heat from the laptop's components to the surroundings, where it can be dissipated. Many laptops come equipped with heatsinks to regulate temperature
Fans: Fans are another cooling mechanism used in laptops. They cool the components using forced airflow that removes heat and keeps the laptop components at optimal temperatures.
Thermal paste: Thermal paste is a type of compound that helps transfer heat away from the laptop's components. It is applied to the surface of the heat sink or directly to the processor.
Liquid cooling: High-performance laptops may use a liquid cooling system to regulate temperatures. It works by circulating coolant through the laptop's components to reduce temperatures effectively.
It is essential to keep your laptop's temperature under control, especially with the increasing use of ssds. Heat can cause significant damage, affecting the performance and lifespan of your laptop.
You can achieve this by using an appropriate cooling mechanism that best suits your laptop's requirements.
Do Laptop Ssds Need Heatsinks?
Solid-state drives (ssds) have become the popular storage alternative to the traditional hard disk drive (hdd) due to their faster read and write speeds. However, it's questionable whether a laptop ssd needs a heatsink.
We'll explore what heatsinks are, discuss manufacturers' perspectives on heatsinks for ssds, and present results from real-world testing with and without heatsinks.
What Are Heatsinks, And How Do They Work?
A heatsink is essentially a component that helps conduct heat away from its source and disperse it.
The heat generated from electronic components, such as a cpu, gpu, or ssd can accumulate and lead to thermal throttling, causing a performance decline.
A heatsink attached to these components can help keep the temperatures low, ensuring stable and efficient operation.
Whenever a component, such as an ssd, is being operated at high speeds, it can generate heat, leading to possible thermal throttling or even damage in the long run.
Manufacturers' Perspective On Heatsinks For Ssds
When it comes to whether laptop ssds require heatsinks, there are varying opinions. Some manufacturers opt to use heatsinks on their laptop ssds, while others choose not to include them.
A heatsink on an ssd typically adds cost to the manufacturing process. Therefore, some manufacturers include heatsinks only on higher-end models that need to sustain consistent high-speed data transfer.
Lower-end models, on the other hand, may not require a heatsink since they don't generate as much heat.
The need for a heatsink also depends on how a laptop is used; if the laptop is primarily used for web browsing and less intensive activities, a heatsink may not be necessary.
Real-World Testing With And Without Heatsinks
Real-world testing suggests that laptop ssds do not require heatsinks as they don't generate excessive heat compared to other components like cpus and gpus.
However, under specific situations, such as continuous high-speed data transfer, the heat can accumulate and can lead to potential throttling, causing a drop in performance.
This test also shows that although a heatsink might not be required, it can still be beneficial as it offers additional cooling and can help in prolonging the lifespan of the drive by keeping the temperatures low.
While a laptop ssd may not need a heatsink, it doesn't hurt to have one. A heatsink can provide additional cooling and help in prolonging the lifespan of the drive.
Whether or not a laptop ssd requires a heatsink entirely depends on the laptop's intended use and generation of heat by the ssd.
Best Ways To Keep Laptop Ssds Cool
Ssds are known for their high-speed and low failure rate, making them popular among laptop users. However, they tend to generate a significant amount of heat, which can cause performance degradation and shorten their lifespan.
This begs the question: do laptop ssds need heatsinks? The answer is not as straightforward as a simple yes or no. In this blog post, we will discuss the best ways to keep laptop ssds cool.
Proper Laptop Placement And Ventilation
Proper laptop placement and ventilation play a crucial role in keeping the ssd cool.
Here are some key points to consider:
Avoid using the laptop on a soft or squishy surface such as a bed or a couch as this can block the ventilation holes and cause the laptop to overheat.
Use the laptop on a hard and flat surface to allow proper air circulation around the ssd.
Keep the ventilation holes clear of dust and debris for maximum airflow.
Avoid using the laptop in a hot and humid environment as this can cause the ssd to overheat.
Using Aftermarket Heatsinks And Cooling Pads
Another way to keep laptop ssds cool is by using aftermarket heatsinks or cooling pads.
Here are some key points to consider:
Aftermarket heatsinks are designed to dissipate heat from the ssd and reduce the temperature. They come in different sizes and designs, depending on the laptop model.
Cooling pads are designed to provide additional cooling to the laptop by increasing the airflow around it. They can also have built-in fans to further enhance the cooling performance.
Before installing an aftermarket heatsink, make sure that it is compatible with your laptop model. Improper installation can cause more harm than good.
When using a cooling pad, make sure that it is positioned correctly to allow maximum airflow.
Potential Drawbacks Of Using Heatsinks
While using heatsinks can be effective in keeping laptop ssds cool, there are some potential drawbacks to consider.
Here are some key points to consider:
Improper installation of heatsinks can cause damage to the ssd or other components in the laptop.
Heatsinks can add additional weight and bulk to the laptop, making it less portable.
Heatsinks can interfere with other components in the laptop, such as the wireless card or the battery.
Keeping a laptop ssd cool is crucial for optimal performance and lifespan. While there are various methods to achieve this, proper laptop placement and ventilation should always be the first step.
If additional cooling is required, aftermarket heatsinks or cooling pads can also be used. However, it is essential to be aware of the potential drawbacks and to ensure that the installation is done correctly.
FAQ On Laptop Ssd Heatsink
Do Ssds Generate Heat In Laptops?
Yes, ssds generate heat in laptops, but very little as they consume less power.
Would Adding Heatsinks Improve Ssd Performance?
Adding heatsinks to ssds won't boost performance but could prevent overheating and throttling.
Should I Install A Heatsink On My Laptop Ssd?
It's not necessary to install a heatsink on a laptop ssd, but it can improve cooling.
Can Overheating Damage Laptop Ssds?
Yes, overheating can damage laptop ssds and reduce their lifespan. It's advisable to keep them cool.
Conclusion
Therefore, we can conclude that investing in a heatsink for your laptop ssd can be a worthwhile decision.
Although ssds are already much faster than traditional hard drives and generate less heat, they can still overheat under heavy usage without proper cooling.
A heatsink dissipates heat away from your ssd, making it run more efficiently and ensuring its longevity.
When choosing a heatsink, make sure you consider the dimensions of your laptop and find one that fits correctly. The installation process is relatively easy, and you can either take it to a professional or do it yourself.
Overall, the benefits that come with a laptop ssd heatsink make it a smart investment for anyone looking for improved performance and longevity from their ssd.
Take care of your laptop ssd, and it will take care of you!