External Hdd Vs External Ssd
External hard drives (HDD) and external solid state drives (SSD) are both types of computer storage devices. HDD is magnetic-based storage, while SSD is flash memory-based storage.
External HDDs are much more affordable than external SSDs.
External HDDs offer larger storage capacities than external SSDs.
External SSDs have faster read/write speeds and better performance than external HDDs.
External SSDs are more reliable, shockresistant, and durable than external HDDs.
External hard drives and external SSDs both provide extra storage for a computer user, but there are some key differences between the two.
Hard drives offer more capacity at a lower cost per gigabyte than SSDs, while SSDs deliver faster data transfer speeds and generally have longer lifespans than HDDs.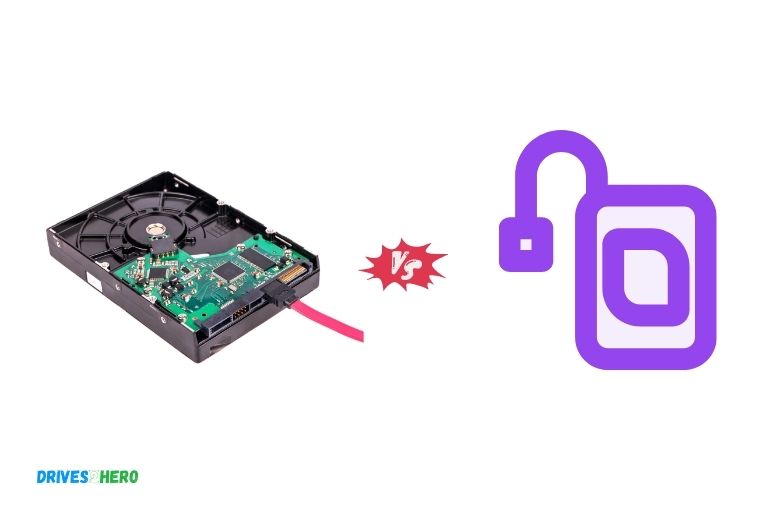 Which is Better External Ssd Or External Hdd?
When it comes to choosing between external SSDs and external HDDs, there are a few key factors to consider.
In terms of performance, an external SSD will be significantly faster than an HDD as they have no moving parts and can access data much quicker. This makes them ideal for tasks such as gaming or video editing where quick response times are important.

Additionally, they tend to be more reliable than HDDs due to their lack of mechanical components which can fail over time.
However, one downside is that they are usually more expensive per gigabyte so if you're looking for mass storage then an HDD may still be the better option.
Ultimately it depends on your specific needs but both types have their advantages and disadvantages so make sure you research carefully before making a purchase decision!
Is There Any Downside to an External Ssd?
Yes, there are some downsides to an external SSD. One of the biggest drawbacks is that they tend to be more expensive than other types of storage solutions.
Additionally, because they're small and portable, they may be prone to physical damage if handled carelessly or dropped.

They also require a separate power source; depending on how you plan to use it this could mean having to buy additional cables or adapters.
Finally, while most external SSDs offer good performance speeds compared with traditional hard drives, their read/write speeds still won't quite match those of internal solid-state drives (SSDs).
Is It Good to Use Ssd As External Hard Drive?
Using an SSD as an external hard drive is generally a good choice, as it offers superior performance and reliability compared to traditional spinning-platter hard drives.
An SSD can read data much faster than a regular hard drive, resulting in quicker access to your files and improved boot times.
Additionally, because of their solid state nature, they are more resistant to physical shock and movement which makes them the perfect option for using on the go or in portable devices like laptops.

Furthermore, since there are no moving parts inside an SSD it operates silently with less heat generation which is another advantage over conventional HDDs.
Ultimately, if you're looking for better performance along with reliable storage capacity then opting for an external SSD is certainly worth considering.
External Ssd Vs External Hdd Reddit
When comparing external SSDs and external HDDs on Reddit, users typically come to the conclusion that an SSD is a better choice.
This is because an SSD offers faster read/write speeds and usually has more storage capacity than an HDD. Additionally, with no moving parts, an SSD is also much more reliable than its HDD counterpart.
Watch Video on External Hdd Vs External Ssd
Ssd Vs Hdd External Hard Drive Reliability
Solid State Drives (SSDs) are becoming increasingly popular as external hard drives due to their superior reliability. SSDs have no moving parts and thus, fewer mechanical failures than Hard Disk Drives (HDD).
Additionally, SSDs have better shock resistance and faster read/write speeds which make them ideal for frequently used files that require quick access.

Although HDD external hard drives can store more data for cheaper cost, the improved performance of an SSD is well worth the extra investment in terms of reliability.
Ssd External Hard Drive 2Tb
An external hard drive is a convenient and affordable way to store large amounts of data. SSD (Solid State Drive) technology is the latest development in storage devices, offering lightning-fast speeds and higher capacity than ever before.
The 2TB (Terabyte) size of an SSD external hard drive can hold up to 2000 gigabytes of data, which is enough space for thousands of photos, videos, music files and other digital documents.

With this much storage available on a portable device, it's easy to manage your media libraries or back up important work documents without worrying about running out of space.
Best Ssd External Hard Drive
The best SSD external hard drive is the Samsung T5 Portable, which offers speeds up to 540 MB/s and a sleek design.
It features compatibility with PCs, Macs and Android devices, 256-bit AES encryption for security and a three-year limited warranty. The T5 also has shock resistance of up to 1500G/0.5ms so it can withstand drops from up to 6 feet in height.

With its stylish design and blazing fast speeds, the Samsung T5 is an excellent choice for any user looking for reliable storage on the go!
Frequently Asked Question
What is the Difference between an External Hdd And an External Ssd?
An external HDD (hard disk drive) is a traditional spinning hard drive that uses magnetic media to store data. An external SSD (solid state drive) has no moving parts and instead stores data on interconnected flash memory chips. External HDDs generally offer more storage capacity at lower cost, while external SSDs are faster, lighter, and more durable but tend to be pricier.
How Does Performance Compare between an External Hdd And Ssd?
An SSD (Solid State Drive) typically offers faster performance than an HDD (Hard Disk Drive). An SSD has no moving parts and can access data much more quickly. It also runs cooler, quieter, and consumes less power than an HDD.
Is There a Risk of Data Loss on Either Type of Drive?
Yes, there is a risk of data loss on either type of drive. Data can be lost due to physical damage, electrical failure or software corruption.
Are There Any Durability Differences I Should Consider When Choosing between These Two Types of Drives?
Yes, there are durability differences to consider when choosing between two types of drives. HDD (Hard Disk Drives) tend to be more durable and reliable than SSD (Solid State Drives). HDD have no moving parts and can withstand higher levels of shock and vibration, while SSDs use a series of flash memory chips that can be damaged if exposed to shocks or vibrations.
Conclusion
When deciding between an external HDD and external SSD for your storage needs, you must weigh the pros and cons of each. An external HDD is usually cheaper but slower than an external SSD. External HDDs are great for larger storage requirements as they offer higher capacity options at a lower price point.

On the other hand, external SSDs provide faster read/write speeds with smaller capacities, making them ideal for everyday tasks like file transfers or loading applications quickly. Ultimately it comes down to your specific use case and budget to decide which type of drive best suits your needs.