How to Access Hard Drive With Sata Cable
To access a hard drive with a SATA cable, you will need to connect the SATA cable from the back of the hard drive to an available SATA port on your computer's motherboard.
Once connected, you can use your operating system's disk management utility to format and partition the drive as needed.
Connect the SATA cable to the hard drive and your motherboard.
Configure BIOS settings to enable recognition of the hard drive via Sata Cable.
Install a supporting operating system onto the hard drive.
Create partitions, format, and install drivers for optimal performance.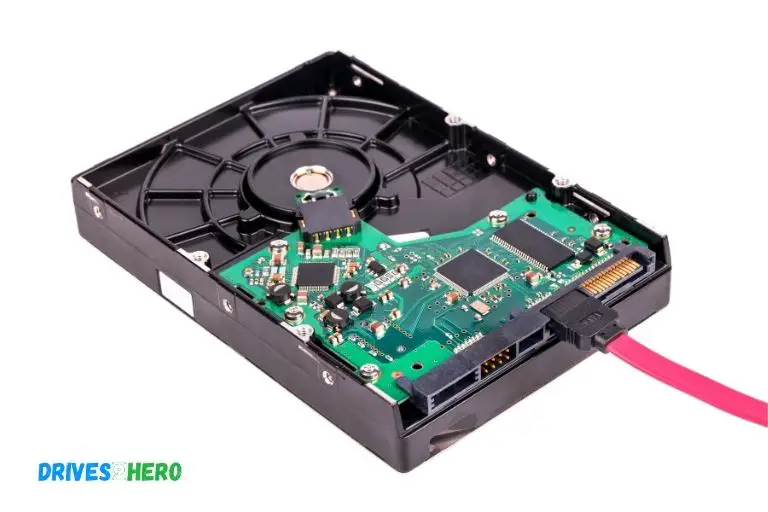 Connect the SATA cable to your hard drive, and then plug the other end into an available port on your computer's motherboard.
Afterward, power up your system and boot into the BIOS setup menu. Finally, make sure that you have set the correct settings for accessing your hard drive in order to access its contents.
Steps to Access Hard Drive with SATA Cable
---
Turn off the computer and unplug from the power source
---
Open the computer case by removing the screws on the back panel
---
Locate the SATA ports on the motherboard and connect one end of the SATA cable to the hard drive and the other end to the motherboard
---
Turn on the computer and enter the BIOS settings
---
Check if the hard drive is recognized by the system
---
If not recognized, check the connection and try again
---
If recognized, exit the BIOS settings and boot up the operating system
---
Access the hard drive through the file explorer or disk management tool
---
To disconnect the hard drive, safely eject it from the operating system and power off the computer
---
Close the computer case and secure the screws on the back panel
How Do I Access Data from My Sata Hard Drive?
To access data from a SATA hard drive, you will need to:
* Connect the drive to your computer's motherboard.
* Install any necessary drivers.

* Use a file manager or another program of your choice to locate and access stored files.
Once all these steps are completed, you should be able to easily view, edit, and manage your files on the SATA hard drive.
Why is My Hard Drive Not Showing Up With Sata Cable?
The hard drive not showing up with SATA cable is likely due to a few different issues.
• It may be an issue with the hardware itself, such as a broken connection or bad wiring.
• The SATA port on the motherboard could also be damaged.

• The cables may not be properly connected, or it might be using the wrong type for your device.
• Lastly, there could be a software issue preventing it from being recognized by Windows.
In any case, you should check all of these potential causes and see if they resolve the problem before assuming that something else is wrong.
How Do I Connect My Sata Hard Drive to My Laptop?
Connecting an external SATA hard drive to your laptop is simple.
Follow these steps:
* Connect the power cable to the power socket on the back of your hard drive.

* Connect one end of a SATA data cable to the hard drive and plug in the other end into your laptop's motherboard.
* Power up your laptop, open "My Computer" and check for any new drives installed.
* Select a driver letter for your HDD from "Disk Management", if prompted, and format it using NTFS or FAT32 file system (whichever suits you).

Your external SATA HDD should now be ready to use!
Watch Video on How to Access Hard Drive With Sata Cable
How Do I Use Sata Cable?
SATA cables are used to connect storage devices like hard drives, CD/DVD Drives and Blu-ray Drives to your computer.
Here's how to use a SATA cable:
* Connect one end of the SATA cable into the back of the storage device.

* Plug the other end into a free SATA port on your motherboard.
* Securely fasten any screws or clips to ensure a good connection.
Once connected, power on your system and install drivers if necessary for full functionality.
Sata to Usb
Sata to USB adapters are an incredibly useful tool for those who want to transfer data from a SATA hard drive to a USB port.
These adapters allow you to connect any SATA device, such as a hard drive or optical drive, directly into the USB port of your computer, eliminating the need for additional cables and ports.
With this adapter, you can quickly and easily access files on your SATA device without having to purchase expensive new hardware.
Usb to Sata Adapter Not Recognizing Hard Drive
If your USB to SATA adapter is not recognizing your hard drive, the first step is to check that both the adapter and the hard drive are properly connected.
Make sure that all cables are firmly inserted into their respective ports. If they appear secure, then try disconnecting them and reconnecting them again.

You should also make sure you have installed any necessary drivers for the device before plugging it in, as this could be causing a compatibility issue.
Additionally, if you're using an older version of Windows or Mac OSX, it may not recognize newer devices like USB to SATA adapters; in this case you should consider upgrading your operating system.
3.5" Sata Hard Drive to Usb Adapter
Connecting a 3.5" Sata Hard Drive to Usb Adapter is an easy and straightforward way to transfer data from your computer's internal hard drive, or any other Sata device, directly to USB without the need for additional hardware or software.
This adapter offers fast and reliable connection speeds that allow you to quickly move files between different storage devices with ease.
The adapter also supports hot-plugging so you can easily disconnect it when not in use without having to power down your system. With this convenient tool, transferring data has never been easier!
Frequently Asked Question
What Type of Sata Cable Do I Need to Access a Hard Drive ?
You need a SATA data cable to access a hard drive.
How Do I Know If My Motherboard Supports the Use of a Sata Cable ?
You can check the specifications of your motherboard to determine if it supports SATA cables. You can also look for a dedicated SATA port on the board, which indicates that is compatible with SATA cables.
What is the Maximum Data Transfer Rate for Connecting a Hard Drive With a Sata Cable ?
The maximum data transfer rate for connecting a hard drive with a SATA cable is 6 Gbps.
Is It Necessary to Install Any Special Drivers Or Software When Using a Sata Cable to Access My Hard Drive ?
No, it is not necessary to install any special drivers or software when using a SATA cable to access a hard drive.
Conclusion
In conclusion, accessing a hard drive with a SATA cable is an easy process that requires minimal technical knowledge. Whether you are trying to install a new operating system or troubleshoot an issue on your computer, connecting the hard drive to the motherboard using this type of connection can help get the job done quickly and efficiently. With just a few simple steps, anyone can successfully access their hard drive using this method more easily than ever before.