How to Add More Sata Power Cables?
To add more SATA power cables, you will need to purchase additional cables and connect them to the available power connectors on the power supply.
The other end of each cable should be connected to the SATA device that requires additional power. This will provide an extra source of power for the device, which can help improve its performance or enable it to function properly.
Check available power connections on your computer's motherboard.
Purchase additional SATA power cables that are compatible with your device.
Connect one end of the SATA power cable to the drive and other end to a free Molex connector on your PC's PSU.
Securely plug in all necessary components before powering up the system.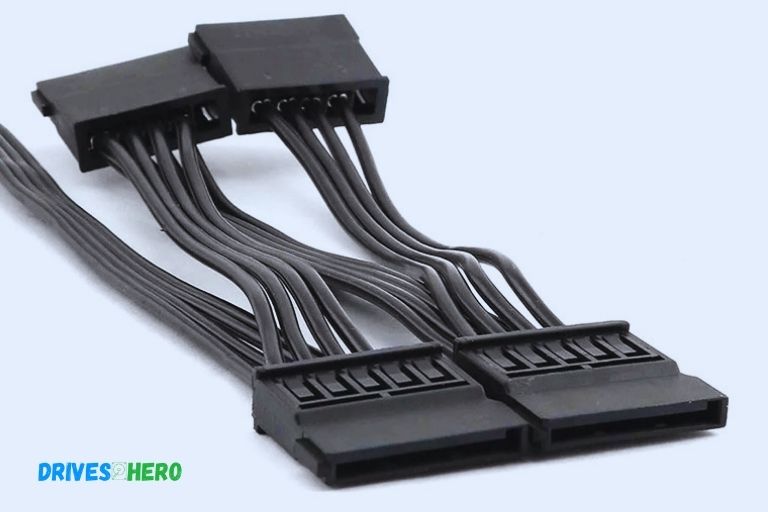 To add more SATA power cables, you will need to remove the existing cable from the drive and insert a new one. Ensure that all connections are firmly in place before powering on your system.
Steps to Add More SATA Power Cables
---
Identify the power supply unit (PSU) in your computer.
---
Purchase a SATA power splitter cable or a new PSU with more SATA power connectors.
---
Shut down your computer and unplug it from the power source.
---
Open the computer case and locate the existing SATA power cables.
---
Connect the SATA power splitter cable to an existing SATA power cable or plug in the new PSU with more SATA power connectors.
---
Route the additional SATA power cables to the devices that need power, such as hard drives, solid-state drives, or optical drives.
---
Secure the cables in place with cable ties or clips.
---
Close the computer case and plug it back in.
---
Power on the computer and check that all devices are receiving power.
Can You Extend Sata Power Cable?
Yes, you can extend a SATA power cable. There are several ways to do this:
– Use an extension cable that is designed specifically for the purpose of extending SATA power.

– Connect two standard cables together using a coupler or adapter.
– Use an "Y" splitter to connect one end of the cable to two devices at once. This is useful when connecting multiple hard drives or optical drives to one power supply unit (PSU).

Regardless of which method you use, make sure that all connections are secure and properly insulated in order to avoid any electrical accidents or damage to your components.
How Do I Add a Sata Cable to My Power Supply?
Adding a SATA cable to your power supply is easy.
Just follow these steps:
• Unplug the power supply from the wall and all connected components.

• Locate an unused SATA power connector on the power supply.
• Plug one end of the SATA cable into this connector, and then connect it to your device's SATA port.
• Re-connect all other cables and plug in the power supply again.

Done! You've now successfully added a SATA cable to your computer's internal components.
How Do I Connect an Extra Sata Cable?
Connecting an extra SATA cable is easy and fast. Follow these steps:
• Turn off your computer.

• Locate the available sata ports on the motherboard or other device.
• Insert one end of the SATA cable into the port.
• Connect the other end to a power supply (if necessary).

• Plug in both ends of the cable securely.
Finally, turn on your computer and you're done!
Watch Video on How to Add More Sata Power Cables
Can You Connect Multiple Sata Cables?
Yes, multiple SATA cables can be connected. This is useful for creating RAID configurations and increasing the data throughput of a system.
– Connect two or more SATA cables to increase data throughput in a system

– Connect multiple drives together to create a RAID configuration
– No special equipment required; simply connect additional SATA cables as needed.
If you need to add extra storage capacity or better performance from your computer system, connecting multiple SATA cables is an easy and cost effective way to do so.
Not Enough Sata Power Cables
Having enough SATA power cables is essential if you plan to build a computer from scratch. Without enough SATA power cables, your components won't be able to draw the necessary energy they need to function optimally.
Furthermore, inadequate SATA power supply can lead to system instability and even permanent hardware damage in extreme cases.

It's important for builders to ensure that their case has all the needed connectors and sufficient cable length before purchasing parts; ensuring that you have enough SATA power cables should always be at the top of your list!
Sata Power Cables With Multiple Connectors
Sata Power Cables with multiple connectors are cables that have more than one connector on the end.
These cables allow you to connect multiple devices, such as hard drives or optical drives, to your computer's power supply unit at once.
They are especially useful for connecting several SATA devices together because they provide a stable and reliable connection while saving time by eliminating the need to use separate power cables for each device.
Sata Power Splitter
A SATA Power Splitter is an adapter that allows you to connect two different devices to one power source.
It provides an easy way to use one power supply for multiple components, saving time, money and space.
This device is great for any computer system build where multiple hard drives are needed or if you need access to more than one peripheral device at a time.
Frequently Asked Question
What Type of Power Cable Do I Need to Add More Sata Power Cables ?
You need to use SATA power cables, which are available in a variety of lengths and connectors.
How Many Additional Sata Power Cables Can I Install in My System ?
The number of additional SATA power cables that can be installed in a system depends on the power supply unit and the motherboard. Generally, most motherboards come with 4-6 SATA ports, and each port requires one SATA power cable.
Is It Necessary to Use a Powered Sata Hub When Adding Extra Sata Power Cables ?
No, it is not necessary to use a powered SATA hub when adding extra Sata power cables. However, if the system does not have enough available power for the additional drives or if there are too many devices attached to one port, then using a powered SATA hub may be beneficial.
Are There Any Safety Precautions I Should Take When Connecting Or Disconnecting Additional Sata Power Cables ?
Yes, there are safety precautions to be taken when connecting or disconnecting additional SATA power cables. These include: making sure the system is powered off and unplugged; wearing rubber-soled shoes to avoid static electricity buildup; using caution when handling exposed conductors; and avoiding contact with other components while working on the system.
Conclusion
In conclusion, adding more SATA power cables is an easy way to improve the storage and performance of your computer. It requires minimal effort and can be done with just a few simple steps. With the right tools, knowledge, and patience, anyone can add additional SATA power cables to their computer in no time at all.

So if you're looking for an upgrade that will give you better performance out of your existing setup, consider adding some extra SATA power cables today!