Is 512 Ssd Enough for a Laptop? Yes!
Yes, a 512GB SSD is enough for a laptop for most users who focus on general productivity tasks, web browsing, and moderate gaming.
A 512GB SSD provides a significant amount of storage space for the majority of users, as it can hold a large number of files, documents, and applications.
It also has a faster read and write speed than a traditional HDD which results in better performance, faster boot times, and quicker loading of programs.
Sufficient storage for general productivity tasks and web browsing.
Faster read and write speeds compared to traditional HDDs.
Quicker boot times and application loading.
Increased durability and reliability due to lack of moving parts.
A 512GB SSD can be considered an ideal choice for users who do not require extensive storage space for large files such as high-resolution videos or an extensive game library.
The combination of speed, performance, and reliability makes it a suitable option for those seeking a balance between storage capacity and overall system performance.
Pros & Cons: Using a 512 SSD in a Laptop
| Pros | Cons |
| --- | --- |
| Faster boot times and application loading | Limited storage capacity |
| Better performance compared to HDD | Higher cost per GB than HDD |
| Less power consumption and longer battery life | May not be enough for heavy users (e.g., video editors, gamers) |
| More durable due to lack of moving parts | Upgrading may require additional costs |
| Quieter operation and lower heat generation | Limited lifespan due to write cycles |
Pros & Cons: Using a 512 SSD in a Laptop
Key Takeaway
Adequate storage capacity largely depends on individual needs and usage patterns.
512GB SSD offers an optimal balance between cost and performance for most users.
SSDs provide faster performance than traditional hard disk drives (HDDs).
Upgrade options are available if storage capacity needs to be expanded later.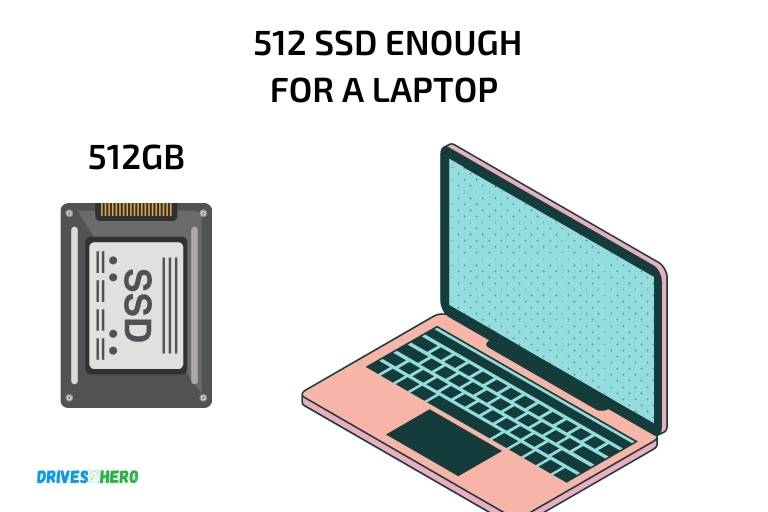 Five Reasons to Choose a 512 SSD for Your Laptop
A 512GB SSD is generally considered sufficient for most users who mainly browse the internet, stream videos, and store essential documents and files (source: Western Digital)
SSDs are much faster than traditional HDDs due to their ability to instantly access stored data, leading to faster boot times, quicker application loading, and improved overall system performance (source: Kingston Technology)
512GB SSD laptops are typically more energy-efficient compared to their HDD counterparts, resulting in longer battery life and reduced heat generation (source: Crucial)
Along with faster performance, SSDs are more durable and less prone to failure as they have no moving parts, making them a reliable option for mobile users who frequently travel with their laptops (source: SanDisk)
Users requiring more storage can upgrade their SSD storage at a later point, either by replacing the current drive with a larger capacity option or adding an external SSD for additional space (source: Lifewire)
Understanding Ssds And Their Significance
When it comes to selecting the best laptop for your needs, storage is one of the most critical features to consider.
With the growing popularity of solid-state drives (ssds) in laptops, the question arises, is 512 ssd enough for a laptop?
In this blog post, we aim to help you understand ssds and their significance in making the right choice.
What Are Ssds?
Solid state drives, or ssds, are data storage devices that use nand-based flash memory to store data.
Unlike traditional hard disk drives (hdds), ssds have no moving parts, making them faster, more reliable, and consuming less power than their counterparts.
Here are some key points to keep in mind about ssds:
Ssds use nand-based flash memory instead of spinning disks like hdds.
They have no moving parts, which means they are more reliable and use less power.
Faster data transfer speeds than traditional hdds.
Lightweight and durable, which is why they are perfect for laptops.
How Do Ssds Differ From Hdds?
Hdds and ssds both store data, but they differ significantly in several aspects.
One of the most significant differences is that ssds store data on non-volatile memory chips, whereas hdds use spinning disks that read and write data magnetically.
Here are some other differences to keep in mind when deciding between an hdd or ssd:
Ssds have faster data transfer speeds than hdds.
Hdds have more storage capacity, whereas ssds usually offer low capacity.
Ssds are more reliable and durable than hdds.
Ssds are more expensive than hdds.
Hdds are best suited for storing large files, while ssds are better for quick data access.
The Growing Shift Toward Ssds In Laptops
In recent years, laptops that use ssds have become the preferred option for both personal and professional uses.
While the storage capacity of ssds may be smaller than that of hdds, the advantages outweigh the drawbacks.
Here's why there has been a growing shift towards ssds in laptops:
Faster boot and load times as ssds access data much quicker than hdds.
Improved battery life, lighter and less heat output than hdds.
Ssds are more reliable and less prone to damage from bumps or drops.
Ssds improve overall system performance.
Ssds in laptops have become the new norm and are an excellent investment for both personal and professional use.
With the right understanding and information, you can make the correct decision about whether 512 ssd is enough for your laptop.
Remember, the choice ultimately depends on your needs and preferences.
Benefits Of Choosing A 512 Ssd For Your Laptop
Are you looking to upgrade the storage on your laptop? If so, you may be wondering if a 512 ssd is enough. The answer is yes, and there are several benefits that come with choosing a 512 ssd for your laptop.
In this blog post, we'll explore some of these benefits in detail.
More Storage Space Than A Standard Hard Drive
One of the biggest advantages of a 512 ssd is the increased storage space. Ssds are designed to store data on interconnected flash-memory chips, rather than on traditional spinning disks.
This means that they can store more data in less physical space.
A 512 ssd can hold a lot more data than a standard hard drive, which typically offers around 250gb of storage.
Improved Speed And Performance
Another benefit of a 512 ssd is improved speed and performance. Ssds use flash memory to store data, which means that they can access data much faster than a traditional hard drive.
This results in faster boot times, faster load times for applications and games, and faster overall performance for your laptop.
Better Energy Efficiency
Ssds are also more energy-efficient than traditional hard drives. Because they have no moving parts, they require less power to operate.
This means that your laptop's battery life will last longer when using an ssd. Additionally, ssds don't generate as much heat as traditional hard drives, which can also help with energy efficiency.
Reduced Noise And Heat Production
Finally, a 512 ssd can help reduce the noise and heat production of your laptop. Traditional hard drives have spinning disks and moving parts, which can generate a lot of noise and heat.
Ssds have no moving parts, so they're completely silent and produce less heat.
This can help keep your laptop running cooler and quieter, which is especially useful if you're using it for extended periods of time.
A 512 ssd is more than enough to provide adequate storage space for your laptop. Not only that, but it also offers improved speed and performance, better energy efficiency, and reduced noise and heat production.
So if you're in the market for a storage upgrade, consider choosing a 512 ssd.
Your laptop will thank you.
Video On Is 512 Ssd Enough for a Laptop
Factors To Consider When Deciding On The Right Storage Capacity
When it comes to laptops, storage capacity is an essential consideration.
While 512 gb ssd is already a top-of-the-line storage option, there are still different factors that one needs to take into account in deciding on the right storage capacity for their laptop.
Below are some of the crucial factors to consider:
The Type Of Work The Laptop Will Be Used For
One of the primary factors to consider when deciding on the right storage capacity for a laptop is the type of work it will be used for.
The storage requirements for a laptop used for primarily office work will differ from one used for gaming, content creation, or video editing.
Here are some general storage needs for different types of work:
Office work: 256 gb storage is usually sufficient for laptops used for word processing, email, spreadsheets, and other general business applications.
Gaming: 512 gb or higher storage is recommendable for gaming laptops that host large games.
Content creation: 512 gb storage and higher is essential for content creators working with large files such as photos and videos.
Video editing: Video editing requires a lot of storage, and hence, laptops for this function should have at least 1 tb storage.
The Storage Needs Of The User
Consider the amount of data and files you currently have and plan to store on your laptop. If you have a lot of documents, photos, videos, and music files, you may need more storage.
It's important to note that the operating system and applications installed on the laptop will also consume storage space.
The Budget
Storage capacity contributes significantly to the overall cost of a laptop. The higher the storage capacity, the higher the cost.
Before settling on a storage capacity, consider your budget and ensure that you can afford to spend the required amount.
The Impact Of Storage Capacity On Battery Life
Storage capacity affects battery life as it determines the number of processes the laptop has to run, and the more processes, the quicker the battery drains.
Laptops with solid-state drives (ssd) tend to have a longer battery life than those with traditional mechanical hard drives (hdd).
The Need For External Storage Solutions
Inconsiderate of the laptop's storage capacity, there may be a need for external storage solutions for additional storage capacity.
External hard drives, cloud storage, and memory cards are excellent options to consider when you have large files you cannot delete but have run out of space on your laptop.
When deciding on the right storage capacity for your laptop, it's essential to consider your work needs, storage needs, budget, battery life, and the need for external storage solutions.
A well-informed decision will ensure that you have a laptop that meets your storage needs and offers optimal performance.
Exploring Alternatives To 512 Ssds For Laptops
Laptops have become an essential part of our daily lives, and the storage capacity is a vital aspect when considering a new one.
Solid-state drives (ssds) have been the go-to option for most people in recent years, with their fast speed and durability.
However, with limited storage capacity, you will need to explore alternative storage options to the 512 SSD.
Here are some options to consider:
Hdds
If you need more storage space than what the ssd can offer, then hard disk drives (hdds) are a perfect alternative.
Hdds provide more storage capacity at a lower cost, but they are much slower than ssds. However, the read and write time is still adequate for most users.
Some of the key advantages of using an hdd over an ssd include:
They are much cheaper than ssds
You get more storage space
Better suited for data backups
Hybrid Drives
If you want a balance between speed and storage capacity, hybrid drives are an excellent alternative. They combine the speed of ssds with the storage capacity of traditional hard disk drives.
Hybrid drives are a great choice for gamers, video editors, and other power users who require more storage space and speed.
The key benefits of using a hybrid drive include:
Combination of both ssd and hdd
Faster than hdds alone
Affordable price
Cloud Storage Options
Cloud storage options have become increasingly popular in recent years due to their convenience and accessibility. Cloud storage is an excellent option if you're looking to store large files and access them from anywhere.
Most cloud storage providers, such as google drive and dropbox, offer free storage options with a limited space.
Here are some of the benefits of using cloud storage:
Files are accessible from anywhere
You can easily share files with others
Automatic backup
External Hard Drives
External hard drives are an excellent alternative to ssds if you need more storage space. They are portable and can be plugged into any laptop, making them a great option for on-the-go use.
External hard drives come in various sizes, typically from 500gb to 5tb, and are affordable.
Here are some of the benefits of using an external hard drive:
Large storage capacity
Portable
Affordable
There are several alternatives to 512 ssds for laptops. It's essential to consider your use case, budget, and needs before selecting a storage option.
From hdds to cloud storage, the choice depends on personal preferences, and there is no one-size-fits-all solution.
FAQ About Is 512 Ssd Enough For A Laptop
Is 512 Ssd Sufficient For Gaming?
Yes, 512 ssd is enough for gaming. It has read and write speed that will load games quickly.
What Can You Do With 512 Ssd?
With 512 ssd, you can do more than enough. Store files, install games, and run applications faster.
Is 512 Ssd Sufficient For Video Editing?
Yes, 512 ssd is enough for video editing. It can transfer large-sized files between programs and storage quickly.
Does A 512 Ssd Affect Laptop Performance?
Yes, 512 ssd affects laptop performance positively. The fast boot-up and data transfer speed makes it efficient.
Conclusion
Based on the information we've covered in this post, it's clear that choosing the right ssd for your laptop is a crucial decision.
When it comes to selecting the storage capacity, a 512 gb ssd is certainly well-equipped to cater to most people's needs.
With its exceptional speed, performance, and power efficiency, 512 gb ssds are ideal for demanding tasks like video editing and gaming, where quick access to data is crucial.
Not to mention that it is an affordable option when compared to higher storage ssds.
However, if you're someone who plans to save a lot of media files, such as music, movies, and pictures, then a 512 gb ssd may fall short for your needs.
In such cases, you can consider upgrading to a higher storage capacity.
Ultimately, it all comes down to what your specific requirements are for storage capacity and usage.