What Ssd Fits My Laptop? Find Out Here!
To determine what SSD fits your laptop, you should first identify your laptop's compatible SSD interface and form factor, which are typically either SATA or NVMe and 2.5-inch or M.2, respectively.
SSDs, or solid-state drives, are a popular choice for upgrading laptop storage due to their faster performance, lower power consumption, and increased reliability compared to traditional hard disk drives (HDDs).
However, not all SSDs are compatible with every laptop, as they come in different form factors and use different interfaces for data transfer.
To ensure a proper fit and compatibility, you'll need to know your laptop's specific requirements.
Identify your laptop's compatible SSD interface (e.g., SATA or NVMe).
Determine the required SSD form factor (e.g., 2.5-inch or M.2).
Check your laptop's documentation or manufacturer's website for compatibility information.
Consider factors such as storage capacity, performance, and budget when choosing an SSD.
When upgrading your laptop's storage, it's crucial to identify the compatible SSD interface and form factor for your specific device.
While SATA-based SSDs are more common, offering wide compatibility and lower costs, NVMe SSDs provide faster performance but may only be supported by newer laptops.
Similarly, the 2.5-inch form factor is typically used for SATA SSDs, while M.2 is a newer and smaller form factor usually associated with NVMe technology.
Always consult your laptop's documentation or the manufacturer's website to verify compatibility before purchasing an SSD.
Compatible Solid State Drives (SSDs) for Laptops
| Laptop Model | SSD Type | SSD Capacity Range |
| --- | --- | --- |
| MacBook Pro (2016-2019) | NVMe M.2 PCIe | 250GB – 2TB |
| Dell XPS 13 (9350-9300) | NVMe M.2 PCIe | 250GB – 4TB |
| HP Spectre x360 | NVMe M.2 PCIe | 250GB – 2TB |
| Lenovo ThinkPad X1 Carbon | NVMe M.2 PCIe | 250GB – 2TB |
| ASUS ZenBook UX330UA | SATA III M.2 2280 | 256GB – 1TB |
| Acer Aspire E 15 | 2.5″ SATA III | 250GB – 4TB |
| Microsoft Surface Laptop | Surface Laptop SSD | 128GB – 1TB |
| Razer Blade Stealth | NVMe M.2 PCIe | 256GB – 2TB |
| Samsung Notebook 9 Pro | NVMe M.2 PCIe | 256GB – 1TB |
| LG Gram | NVMe M.2 PCIe | 256GB – 2TB |
Compatible Solid State Drives (SSDs) for Laptops
Key Takeaway
Compatibility is crucial when determining which SSD fits your laptop.
SSDs come in various form factors and interfaces to suit different laptops.
The capacity and performance of SSDs can greatly impact your laptop's overall functionality.
Upgrading to an SSD can significantly improve your laptop's speed and efficiency.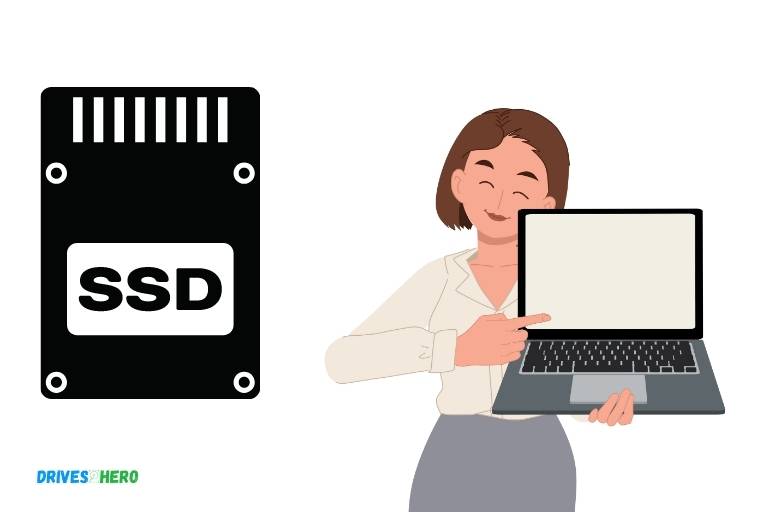 Five Important Facts About Finding the Right SSD for Your Laptop
Most modern laptops are compatible with either SATA or NVMe SSDs, which can be determined by checking your laptop's documentation or specifications online (source: Crucial.com)
SSDs are available in several form factors such as 2.5-inch, mSATA, and M.2, and it's essential to identify the appropriate size for your laptop (source: Crucial.com)
NVMe SSDs generally provide faster speeds and better overall performance than SATA SSDs, but they may not be compatible with older laptops (source: Tom's Hardware)
Upgrading from a traditional hard disk drive (HDD) to an SSD can result in a noticeable improvement in your laptop's speed, boot time, and overall performance (source: Business Insider)
Replacing your laptop's current storage device with an SSD of higher capacity can also provide you with more storage space for documents, media files, and applications (source: MakeUseOf.com)
Understanding Ssds: Types And Interfaces
Solid state drives (ssds) are a popular choice for storing data in laptops, thanks to their many advantages over traditional hard disk drives (HDDs).
In this segment, we'll take a closer look at the various types of ssds and interfaces you need to consider when upgrading or buying a new laptop.
Advantages Of Ssds
Ssds are faster than hdds, which means your laptop can boot quickly, applications will load faster, and data transfer speeds top the charts.
Ssds are significantly lighter, making them perfect for laptops where weight counts.
Unlike hdd, ssds store data in chips, which has no moving parts, making them more shock-resistant and less prone to failure.
Ssds consume less power, which means longer battery life for laptops.
Ssd performance does not degrade with age, unlike hdds, which become slower as they get filled with data.
Types Of Ssds
When it comes to ssds, there are four types to consider:
Sata Ssds
Sata (serial advanced technology attachment) is an interface used for connecting storage devices to a motherboard. A sata ssd is a standard storage drive, and it's typically the most affordable option.
Nvme Ssds
Nvme (non-volatile memory express) is the newest method of connecting an ssd to a motherboard.
Nvme interfaces via the pcie bus, a much faster interface than sata. This means nvme ssds are way faster than sata ssds.
Pcie Ssds
Pcie (peripheral component interconnect express) is an improved interface used to connect various components, including storage, video cards, and network adapters to the motherboard.
Pcie ssds are lightning-fast and are often used in combination with nvme.
M.2 Ssds
The m. 2 is a small-form-factor that can support both sata and pcie interfaces. The m. 2 ssd is fast and efficient but may not be supported by all laptops.
Interfaces: Internal And External
There are two types of ssd interfaces, internal and external, that you need to consider when purchasing an ssd.
Internal Ssds
Internal ssds are what is in your laptop. They're built right into your device, allowing you to store all your data in one place.
You can use an internal ssd to upgrade your laptop's storage or performance without losing any of your data.
External Ssds
External ssds plug into your laptop via usb, and they're ideal for backups, data transfers, and expanding your storage capacity.
They're also portable, making them great for transporting data from one device to another.
Ssds are game-changers in the world of laptop storage, providing excellent speed, durability, and reliability.
Remember to consider the type of ssd and interface you need, depending on the type of laptop you have and your intended use.
Check Laptop Compatibility
If you're considering upgrading your laptop's storage to a faster ssd, it's imperative to ensure that you get a compatible one that fits your machine.
In this blog post, we'll explore the crucial factors to consider when checking your laptop's compatibility with an ssd.
Compatible Ssd Sizes
The most common ssd sizes for laptops are 2. 5-inch, m. 2, and msata.
Depending on your laptop's age and design, it may support one, two, or all three sizes:
A 2.5-inch ssd is a drop-in replacement for a laptop's hard drive that uses a sata interface. Most laptops launched before 2017 use the 2.5-inch form factor, but some modern laptops still support it.
An m.2 ssd is a tiny stick-like form factor that toes into a slot on your laptop's motherboard and requires a compatible m.2 interface in your laptop. It comes in different lengths and widths, so ensure that you get the right one for your laptop.
An msata ssd is an older mini-pcie form factor that's not as popular as the other two, and it's mostly found on older laptops.
Checking Laptop Manual And Specifications
One of the best ways to determine your laptop's-compatible ssd is by checking the manual that came with the laptop or locating the specifications on the laptop manufacturer's website.
You'll need to figure out the laptop's model number or name, which is typically on the laptop's bottom, and then head to the manufacturer's website and search for the laptop's specifications.
There, you should find information on whether the laptop supports an m. 2, msata, or 2. 5-inch ssd.
Researching Laptop Model'S Compatibility
If you don't have a manual or can't find the specifications online, another way to determine the compatible ssds for your laptop is to research your laptop model on the internet.
You can google the model and check forums, third-party websites, or videos from other tech enthusiasts that discuss your laptop model's ssd compatibility.
Some tech websites also offer parts lists that specify the compatible ssds for various laptop models. Ensure that you visit reputable and reliable sources of information when using this method.
The best way to know which ssd to purchase for your laptop is by checking your laptop's manual or specifications. If you can't find the information, consider researching your laptop online or consulting a professional.
Whichever method you choose, ensure that you get an ssd with the right size and form factor that your laptop supports.
Video On What Ssd Fits My Laptop
Factors To Consider When Choosing Ssds
Solid state drives (ssds) are vital components that affect any laptop's performance significantly. With ssds, the laptops become more responsive and offer faster boot times, app load speeds, and data transfer speeds.
However, when selecting an ssd that fits your laptop, certain factors come into play.
Here are some of the essential factors to consider when choosing an ssd.
Storage Capacity Requirements
One of the first aspects that you should consider when selecting an ssd is the storage capacity you require.
When selecting a suitable ssd, make sure that it is large enough to accommodate your data, operating system, and any applications that require high-speed transfers.
Here are some storage capacity estimates for different laptop users:
Casual users and students: 250gb – 500gb
Gamers and power users: 1tb – 2tb
Professional users: 2tb – 4tb
Speed: Read/Write Speeds And Performance Benchmarks
The primary advantage of ssds over hard disk drives (hdds) is their speed. The read and write speeds of an ssd can significantly impact your computer's overall performance.
You should consider an ssd that offers fast read and write speeds and high performance benchmarks.
The sequential read/write speeds (mb/s) and random read/write speeds (iops) are the most critical metrics to check.
Power Consumption And Battery Life
Since ssds have no moving parts, they consume less power than traditional hdds. Therefore, an ssd can significantly improve your laptop's battery life.
It is advisable to select an ssd with lower power consumption rates to extend your laptop usage time further.
Moreover, this move can help your laptop avoid overheating issues.
Price: Balancing Storage And Budget Requirements
While an ssd offers numerous advantages, they tend to be more expensive than traditional hdds. Therefore, you should weigh your budgetary requirements against your storage needs.
For instance, you might consider going for smaller ssd storage capacities if you're on a tight budget.
However, you should ensure that these capacities meet your minimum storage requirements.
Finding an ssd that matches your laptop's needs depends on various factors. The storage capacity, price, read and write speeds, performance benchmarks, and battery life performance are some crucial factors to consider.
Selecting the best ssd can significantly improve your laptop's performance, longevity, and usability.
Installation Process For Ssds
Ssds are quickly becoming a popular choice for laptop owners because of their faster speed and durability compared to traditional HDDs.
If you're interested in upgrading your laptop to an ssd, you may have a few questions about the installation process.
In this section, we'll cover important precautions, cloning the operating system, installation and configuration, and troubleshooting ssd upgrade issues.
Precautions And Safety Tips Before Installation
Before handling your laptop's hardware, it's important to take precautions to prevent any damage or injury.
Here are some safety tips to keep in mind before you start the installation process:
Turn off your laptop and remove the battery to prevent any electrical shock or damage.
Use an anti-static wrist strap to ground yourself and prevent static electricity from damaging the components.
Make sure you have all the necessary tools such as a screwdriver, sata cable, and mounting bracket.
Back up your important data before proceeding with the installation process. This will prevent any data loss if something goes wrong during the installation process.
Cloning The Operating System To The New Ssd
Cloning your existing operating system to the new ssd is a recommended step to avoid reinstalling the operating system manually.
Here are the basic steps to clone your operating system:
Connect the new ssd to your laptop using a sata to usb adapter.
Download a cloning software tool like macrium reflect or easeus todo backup. It will help transfer contents from the old drive onto the new SSD.
Follow the tool's prompts to clone your operating system.
Installation And Configuration Of Ssd
Once the cloning process is complete, you can install and configure the ssd on your laptop.
Here are the basic steps to install and configure your ssd:
Turn off your laptop and remove the battery.
Locate the existing hard disk drive and remove it from the laptop.
Install the new ssd by using the mounting bracket and sata connector.
Reinstall the battery and boot up the laptop.
Change your boot settings from bios to ensure your laptop boots from the new ssd.
Troubleshooting Ssd Upgrade Issues
In some cases, you may encounter problems during or after the installation process.
Here are some common issues and how to fix them:
If you receive an error message when cloning, check if there are any software conflicts, or if the cloning software is up to date.
If the laptop doesn't detect the new ssd, try to check if connections are properly made and cables are connected to the right ports.
If your laptop faces performance issues after the installation, check if there is enough space to store ongoing files, ensure trim is enabled, and if your firmware is current.
Upgrading to an ssd can improve your laptop's performance, speed, and durability.
By following the precautions, cloning, installation, and troubleshooting tips, you can have a hassle-free upgrade experience and better experience with your laptop.
Frequently Asked Questions On What Ssd Fits My Laptop
What Is An Ssd?
A solid-state drive (ssd) is a storage device that uses NAND-based flash memory to store data.
What Size Ssd Do I Need For My Laptop?
The size of the ssd you need for your laptop depends on the storage capacity you require.
Can I Replace My Laptop'S Hard Drive With An Ssd?
Yes, you can replace your laptop's hard drive with an ssd, but you may need to reinstall your operating system.
How Do I Determine If My Laptop Supports An Ssd?
You can determine if your laptop supports an ssd by checking the specifications of your laptop's motherboard.
Conclusion
Now that you have a better understanding of ssds and their compatibility with your laptop, you can select the right one based on your needs.
Remember to consider the size and form factor of the ssd, the storage capacity, and the interface type that your laptop supports.
It's also essential to research and compare different brands and product models to make an informed decision.
Upgrading your laptop's hard drive to an ssd can improve its performance significantly, and given the wide range of choices available in the market, finding the right ssd to fit your laptop shouldn't be too difficult.
With the emergence of newer technologies, the world of ssds is continually evolving, and it's always advisable to keep updated with the latest trends to make well-informed decisions.
With these tips in mind, you can confidently embark on the journey of upgrading your laptop's storage to achieve unprecedented performance levels.