What Form Factor Ssd for Laptop? M.2 Form Factor!
The ideal form factor Solid State Drive (SSD) for a laptop is the M.2 form factor. This is due to its compact size, high-speed performance, and seamless integration into most modern laptops.
SSDs come in various form factors, however, the M.2 form factor is the most appropriate for laptops. It is designed to maximize the limited space available in laptops without sacrificing performance.
M.2 SSDs are significantly smaller than their 2.5-inch counterparts, allowing them to fit easily into the slim design of modern laptops.
They also offer superior performance with high-speed data transfer rates, enhancing the overall performance of the laptop.
M.2 SSDs are compact and well-suited for slim laptops
They offer high-speed data transfer rates for improved performance
They integrate seamlessly into almost all modern laptops
M.2 SSDs are available in different lengths to fit different laptops
The M.2 form factor SSDs have become the new standard for laptop storage, combining lightning-fast speeds with a compact size.
They take up less space, improve performance, and offer a seamless upgrade path for most modern laptops.
Whether you're a gamer, content creator, or just a regular user, the M.2 SSD is an ideal choice for enhancing your laptop's performance.
6 SSD Form Factor Suitable For Laptop
| SSD Form Factor | Description | Suitable for Laptop |
| --- | --- | --- |
| 2.5-inch SSD | It is the most common SSD size and perfect replacement for an HDD in a laptop. | Yes |
| mSATA SSD | mSATA is an abbreviation for Mini-SATA. These SSDs are much smaller than 2.5-inch drives and can easily fit into smaller laptops. | Yes |
| M.2 SSD | These are even smaller than mSATA SSDs and come in different lengths. They are perfect for ultra-thin laptops. | Yes |
| PCIe SSD | They use the PCIe slots usually earmarked for graphics cards and other peripherals. They may not fit in all laptops. | Depends on the Laptop |
| U.2 SSD | They are typically used in enterprise settings and are not commonly used in consumer laptops. | No |
| Add-In Card (AIC) | These are not ideal for most laptops due to their larger size. | No |
6 SSD Form Factor Suitable For Laptop
Key Takeaway
The majority of laptops use the 2.5-inch SATA form factor for SSDs.
The M.2 form factor is becoming increasingly common in modern laptops due to its compact size and faster speeds.
NVMe SSDs, which use the M.2 form factor, are significantly faster than SATA SSDs, although they are more expensive.
It's important to check your laptop's specifications or consult with a professional before purchasing an SSD, as not all laptops support all form factors.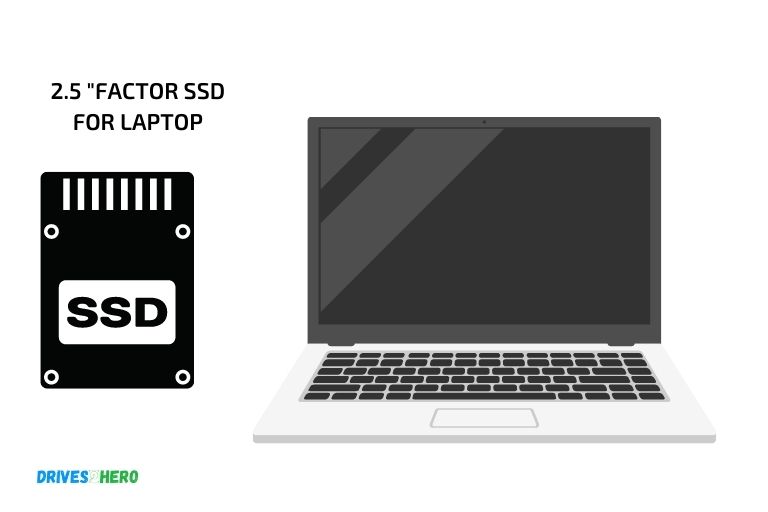 Five Facts About Form Factor SSD for Laptop
Solid State Drives (SSDs) come in several form factors, with the most common ones being 2.5-inch SATA, M.2, mSATA, and PCIe. (Source: Crucial)
The 2.5-inch SATA form factor is the most common in older and budget laptops. These SSDs are larger and slower than other form factors but are generally cheaper. (Source: Western Digital)
The M.2 form factor is a new standard that's common in modern laptops and ultrabooks. These SSDs are smaller and faster than 2.5-inch SATA SSDs. They also come in SATA and NVMe versions, with the NVMe version being the fastest. (Source: Kingston)
The mSATA form factor was popular in laptops before the advent of M.2. It's still used in some laptops, but it's becoming increasingly rare. (Source: Tom's Hardware)
Not all laptops can support all SSD form factors. For example, some laptops only have a 2.5-inch bay, while others have M.2 slots but can't support NVMe SSDs. It's important to check your laptop's manual or consult with a hardware professional before purchasing an SSD. (Source: PCMag)
Understanding Ssd Form Factors
In today's world, solid-state drives (ssds) have become an integral component of laptops, desktops and other devices that require high-speed data storage.
Nowadays, when buying an ssd, it is essential to know about the different form factors available to make the best choice that suits your device.
This section will explain the various ssd form factors in detail.
What Is A Form Factor?
Form factor is the physical dimensions and specifications of a hardware component, including its shape, size, and other mechanical attributes.
In simple words, it describes the standard configuration and design of an electronic device, such as an ssd.
Ssds come in different form factors ranging from small, extended drives that occupy less space, to the larger ones suitable for desktop computers. Understanding ssd form factors is essential to ensure compatibility with your device.
Types Of Form Factors For Ssds
Here are the essential forms factors available for ssds:
2.5-inch ssds: These are the standard size ssds typically found in laptops. It has a dimension of 100mm x 69.85mm x 9.5mm, and it has an sata interface.
M.2 ssds: These provide faster data transfer rates than the 2.5-inch drives. They have a small form factor and come in various sizes, m.2 2280 (80mm long), m.2 2230 (30mm long). They utilize sata, pcie, or nvme interfaces, which enables faster data transfer rates than the standard 2.5-inch drives.
Msata ssds: These drives are more specifically used in smaller devices and have a form factor of 30mm x 50.95mm x 4.5mm. They use the mini pcie interface and tend to provide slower data transfer rates than m.2 drives.
U.2 ssds: These are traditional ssds and have dimensions of 68.9mm × 100.5mm × 15.0mm. They use the pcie interface and can be found in high-end servers.
Understanding the different ssd form factors can help you choose the right drive when upgrading or replacing your existing drive.
It is recommended to check the compatibility of the ssd form factor and interface with your device before purchasing.
Solid state drive form factors play a vital role in determining the compatibility and performance of your device.
Understanding the different forms factors available for ssds can help you make an informed decision when selecting the right drive that suits your device requirements.
Choosing The Right Ssd Form Factor For Your Laptop
Solid-state drives (ssds) have become increasingly popular in recent years, thanks to their faster read/write speeds and high performance.
If you're considering upgrading your laptop's existing hard drive to an ssd, you'll need to choose the correct ssd form factor.
The form factor refers to the shape, size and connector type of the ssd. We'll explore the compatibility of various ssd form factors with laptops and highlight the advantages and disadvantages of each type.
Identifying Form Factor Compatibility With Laptops
Before purchasing an ssd for your laptop, it's essential to identify the type of ssd your laptop requires. Various types of ssds are compatible with specific laptops, and using the wrong ssd can cause compatibility issues.
Here are the most common form factors of ssds compatible with laptops:
2.5-inch form factor: This ssd is compatible with most laptops and is the traditional size of a laptop hard drive. A 2.5-inch ssd uses the sata connector and has a standard height of 7mm, but some are thicker and suitable for larger laptops.
M.2 form factor: This ssd is smaller than the 2.5-inch ssd and represents the latest form factor for laptops. M.2 ssds use either pcie or sata connectors and are thinner than the 2.5-inch ssds (about the size of a stick of gum). Due to their smaller size, m.2 ssds are compatible with slimmer laptops or ultrabooks.
Nvme form factor: This form factor is also an m.2 ssd, but it uses the non-volatile memory express (nvme) protocol. Compared to sata-based ssds, nvme-based ssds provide faster read and write speeds—perfect for gamers and heavy data transferring professionals.
Advantages And Disadvantages Of Each Ssd Form Factor For Laptops
Knowing the advantages and disadvantages of each form factor can help you make an informed decision before upgrading your laptop's hard drive to an ssd.
2.5-Inch Form Factor:
Advantages:
Compatible with most laptops
Affordable and readily available
Disadvantages:
Heavier and bulkier than m.2 ssds
Lower speeds than m.2 and nvme ssds
M.2 Form Factor:
Advantages:
Smaller and lighter than 2.5-inch ssds
Faster read and write speeds than 2.5-inch ssds
Disadvantages:
Incompatibility with some laptops
Generally more expensive than 2.5-inch ssds
Nvme Form Factor:
Advantages:
Fastest read and write speeds among all ssds
Supports high-end gaming and video editing applications
Disadvantages:
More expensive than 2.5-inch and m.2 ssds
Compatibility issues with older laptops without nvme support
Choosing the right ssd form factor for your laptop plays a significant role in upgrading your laptop's performance.
While 2. 5-inch ssds remain the most popular choice due to their affordability, m. 2 and nvme ssds offer significantly faster performance.
Therefore, consider compatibility with your laptop, budget, and performance needs when selecting an ssd.
Installing Ssd In Your Laptop: A Step-By-Step Guide
Are you planning to replace the old hard disk drive of your laptop with a new solid-state drive (ssd)? If yes, then you have landed at the right place.
Upgrading to an ssd is one of the best ways to boost your laptop's performance and speed.
We will provide you with the step-by-step guide on how to install an ssd in your laptop.
Preparing For Installation
Before we proceed with the installation, here are some things you need to prepare:
Ssd – make sure that you purchase an ssd with the right size and form factor that suits your laptop.
Screwdrivers – you need a small screwdriver set to open up your laptop and remove the old hard drive.
Backup – you need to backup your important files and data before proceeding with the installation.
Os installation media – you might need an operating system installation media to install the os on your new ssd.
Disassembly Of The Laptop And Accessing The Storage Drive
Now that you have everything ready, it's time to disassemble the laptop and replace the hard drive with the new SSD.
Here's how you can do it:
Flip the laptop over and remove the battery.
Unscrew the screws from the back of the laptop and remove the back cover.
Find the hard drive bay and carefully remove the screws that secure it in place.
Carefully remove the hard drive from the connector and detach the sata cable.
Install the ssd in the hard drive bay by securely fitting it into place and fixing it with screws.
Installing Ssd
Now that you have accessed the hard drive bay, it's time to install the SSD.
Here's how you can do it:
Connect the sata cable to the ssd.
Fix the ssd in its place using the screws.
Place the hard drive bay back into the laptop and screw it into place.
Place the back cover back onto the laptop and screw it into place.
Insert the battery back into the laptop and screw it into place.
Initializing Ssd
Now that you have installed the ssd, it's time to initialize it before you can start using it.
Here's how you can do it:
Turn on your laptop and press the key to enter the bios. The key varies depending on the laptop model.
Find the boot order option and set the laptop to boot from the installation media.
Save and exit the bios.
Insert the os installation media and follow the installation wizard to install the operating system on the new ssd.
Congratulations! You have now successfully installed an ssd in your laptop and initialized it. Enjoy the boost in performance and speed!
Maintenance And Upkeep Of Ssds In Laptops
Ensuring Optimal Performance And Longevity
Ssds are known for their speed and reliability. However, like any technology, they require maintenance and upkeep to operate optimally.
Here are some tips to ensure your ssd lasts as long as possible:
Trim is essential for keeping your ssd healthy. It helps reduce wear and tear by clearing unused data blocks. Windows 10 has enabled trim by default, but it's always a good idea to double-check.
To verify if your ssd supports trim, open the command prompt and type "fsutil behavior query disabledeletenotify." it should return "0."
Keep your firmware up to date: Ssd manufacturers often release firmware updates to fix bugs and improve performance. Installing these updates can help optimize your ssd's performance and prevent potential issues.
Monitor your ssd's health: It's crucial to keep an eye on your ssd's health. Several free tools can help you monitor its status, such as crystaldiskinfo and ssd life. By tracking your ssd's status, you can take timely action if any issues arise.
Troubleshooting Common Ssd Issues
Even with proper maintenance, ssds can encounter problems.
Here are some of the most common ssd issues and how to troubleshoot them:
Slow performance: Slow performance is a common ssd issue that can occur due to several reasons, including software conflicts, outdated firmware, or insufficient system resources. To resolve slow performance issues, install software updates, run anti-malware checks, defragment your drive, and ensure your computer meets or exceeds the ssd's system requirements.
Data corruption: Data corruption can be a nightmare as it can mean losing critical data. To prevent data corruption, ensure the ssd is not overheating, keep your system's drivers up to date, use a surge protector, and use built-in data validation tools such as checksums and hashes.
Drive not detected: If your ssd is not detected, it could be a result of a faulty cable or outdated drivers. Check that the ssd's cable is securely connected to the motherboard and that the drivers are up to date.
Remember, proper maintenance and timely troubleshooting can help extend your ssd's lifespan and prevent unnecessary downtime.
FAQ For What Form Factor Ssd For Laptop
What Is The Best Form Factor For Ssd For A Laptop?
The best form factor for ssd for a laptop is 2. 5 inches because it is compatible with most laptops and has a larger storage capacity.
What Is The Maximum Capacity For An Ssd In A Laptop?
The maximum capacity for an ssd in a laptop varies, ranging from 128gb to 4tb, depending on your needs and budget.
Can I Replace Hdd With An Ssd In My Laptop?
Yes, you can easily replace the hdd with an ssd in your laptop. It will improve your laptop's performance significantly.
Which Is Faster, An Nvme Or Sata Ssd?
Nvme ssds are faster than sata ssds due to their faster transfer speed and lower latency, which results in a noticeable performance improvement.
Conclusion
As the world is moving towards a more digital future, storage technology is becoming more important than ever. Having the right form factor ssd for your laptop can make a significant difference in terms of its performance, speed and portability.
In this article, we discussed the different types of form factors available for ssds and explored their pros and cons. We learned that while the m. 2 form factor is the latest and fastest, it may not be compatible with every laptop.
On the other hand, the 2. 5-inch ssd is the most widely used form factor and can offer a good balance between performance and compatibility.
Whichever form factor you choose, make sure to check your laptop's specifications and select the one that best suits your needs.
With the right ssd form factor, you can enjoy a faster and more reliable laptop experience for years to come.