Is 512Gb Ssd Enough for Gaming Laptop? Yes!
Yes, 512GB SSD is enough for a gaming laptop.
A 512GB SSD provides a significant amount of storage space, which is more than sufficient for gaming purposes.
The SSD technology ensures faster game loading times, enhanced performance, and smoother gameplay compared to traditional HDDs.
However, if you plan to store a large number of games, multimedia files, or other data, you may want to consider a larger-capacity SSD or an additional storage solution.
Faster game loading times with SSD
Improved overall performance and responsiveness
Sufficient storage for most gaming libraries
Greater durability and reliability compared to HDDs
A 512GB SSD not only allows for smooth and efficient gaming experiences but also contributes to the overall speed and performance of your laptop.
It offers shorter boot times, faster file transfers, and improved multitasking capabilities. If you find that you need more storage in the future, you can always invest in an external hard drive or upgrade to a larger SSD.
6 Factors Of 512gb Ssd for a Gaming Laptop
| Factors | 512GB SSD | Remarks |
| --- | --- | --- |
| Game size | Most modern games range from 20GB to 100GB, with a few AAA games reaching 150GB+. | A 512GB SSD can store multiple games. |
| Operating System | Windows 10 needs around 20GB of space. Linux distributions can vary from 5GB to 20GB. | Leaves ample space for games on a 512GB SSD. |
| Game installation speed | SSDs have significantly faster read/write speeds compared to HDDs, reducing game installation time. | Faster installation on a 512GB SSD. |
| Load times | SSDs provide shorter loading times in games, improving the overall gaming experience. | Better gaming experience on a 512GB SSD. |
| Other software | Depending on personal needs, additional software can range from a few GBs to 100GB or more. | Consider the space needed for non-gaming software. |
| Future-proofing | Game sizes are likely to increase over time, potentially requiring more storage space. | A 512GB SSD might require upgrades in the future. |
6 Factors Of 512gb Ssd for a Gaming Laptop
Key Takeaway
Storage capacity plays a significant role in the overall gaming experience.
A 512GB SSD provides considerably faster performance and reliability than an HDD.
The ideal storage size depends on the types of games a user wants to play and future gaming needs.
Users may consider investing in an external storage device if 512GB isn't sufficient.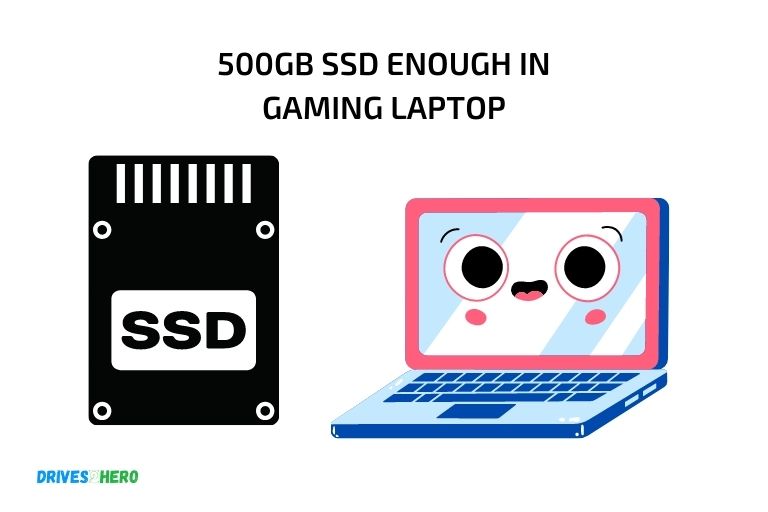 Five Facts About 512gb Ssd for Gaming Laptop
Modern gaming laptops often come equipped with SSDs (Solid State Drives), which offer faster load times, improved performance, and more durability than traditional HDDs (Hard Disk Drives) (source: PCMag).
A 512GB SSD can typically store around 8-10 large AAA games, with each game taking up between 40GB to 100GB of storage (source: The Verge).
Games like Call of Duty: Modern Warfare can require more than 100GB of storage space, making it difficult to store multiple similar games on a 512GB SSD (source: Activision Support).
As the size and complexity of games continue to increase, it's possible that the required storage space will increase as well, potentially making a 512GB SSD insufficient for future gaming needs (source: TechSiting).
To extend storage capacity beyond a 512GB SSD, gamers can use external storage devices such as external SSDs or HDDs, which can connect to the gaming laptop through a USB port (source: [Toms Hardware]
Understanding The Storage Requirements For Gaming Laptops
Gaming laptops have come a long way since their introduction, and gamers today are much more demanding than they were a few years ago.
While there are many components that make a gaming laptop, one of the most crucial is storage. A laptop's storage plays a crucial role in its overall performance, especially when it comes to gaming.
Today we'll discuss the answer to the question: is 512gb ssd enough for a gaming laptop? Let's explore understanding the storage requirements for gaming laptops.
Explanation Of The Necessary Storage For Various Gaming Setups, Including High And Low-End Systems
Storage needs for gaming vary based on the type of game, the quality of the graphics, and the configurations of the gaming setups.
Low-end systems, for instance, can get by with smaller storage capabilities. On the other hand, high-end systems require much more storage space to manage the vast amounts of data processing needed for high graphics.
Here's what you should know:
Low-end gaming setups may require storage between 256 gb and 512 gb. These setups can function with a minimal amount of storage because they often feature less demanding games with fewer graphics and resolution requirements.
High-end gaming setups, however, can require anywhere from 1 tb to 2 tb of storage. These systems have higher graphics requirements, with aaa titles or demanding games that require more storage to process data efficiently.
Highlighting The Storage Requirements Of A Standard Gaming Setup For A Regular User
As we already know, a standard gaming setup for a regular user does not necessarily require the highest-end specifications. The storage requirements for a standard setup can vary based on the user's needs and preferences.
However, here are some examples that highlight the necessary storage requirements for a standard gaming setup for a regular user:
Gamers who want to install a few aaa titles and do not have many other storage needs can manage with storage between 512gb to 1tb. This allows them to store their games and work files with room to spare.
Some gamers require enough storage for many games, work files, and other multimedia files. For such gamers, a minimum of 1tb of storage is ideal.
To summarize, it is crucial to understand the different storage needs for gaming based on configurations.
Low-end systems may function with minimal storage, while high-end systems require much more. A standard gaming setup for a regular gamer could function with storage between 512 gb to 1 tb.
Remember, it's always better to have additional storage capacity as games and files become increasingly more comprehensive.
512Gb Ssd For Gaming Laptops – Pros And Cons
Gaming laptops require a lot of storage as they house large game files and high-quality graphics that take up a considerable amount of space.
When it comes to storage, gamers need something that can handle the load and can keep up with the speed of their gaming.
It is why ssds are the preferred storage option for gaming laptops. In this blog post, we will discuss the pros and cons of a 512gb ssd for gaming laptops.
Advantages Of 512Gb Ssd In Gaming Laptops
A 512gb ssd is the perfect size for a gaming laptop.
Here are some advantages of using a 512gb ssd in a gaming laptop:
Speed: Ssds are much faster than traditional hard drives, and a 512gb ssd can help gamers achieve faster loading times for games and applications.
Durability: Ssds contain no moving parts compared to a hard drive, making them less prone to damage from drops or movement.
More space for gaming: A 512gb ssd is enough space for most gamers to store their favorite games and other applications, providing enough space for efficient game processing while still keeping the system's speed up.
Limitations Of 512Gb Ssd In Gaming Laptops
While a 512gb ssd is an excellent option for gaming laptops, it also has some limitations:
Storage capacity: 512gb may not be enough storage space for some gaming enthusiasts, especially for those who like to save every game they have ever played.
Data management: Some gamers may prefer to partition their storage space, use external hard drives or cloud storage. However, managing data storage across multiple locations can become challenging.
Comparison With Other Storage Options
It is essential to compare 512gb ssd with other storage options that gaming laptops can have:
Hdd: Although an hdd has more storage capacity, it is much slower in read and write speeds than ssd. Gamers won't be able to reach the maximum speed, performance, and visual quality provided by modern games using an hdd.
Multiple drives: Gamers can opt for multiple drives to increase storage capacity, making it easier to manage space. However, choosing multiple drives over a 512gb ssd can get expensive.
A 512gb ssd for gaming laptops has both pros and cons. Gamers who need faster loading times and high-quality graphics will benefit from a 512gb SSD.
However, those who require more storage should opt for multiple drives or seek alternate storage solutions.
Regardless, a 512gb ssd remains an excellent investment for gaming enthusiasts who seek high-performance, speed, and reliability.
Assessing Personal Gaming Needs With 512Gb Ssd
When it comes to purchasing a gaming laptop, storage capacity is an essential factor to consider.
With a range of ssd sizes available, it can be daunting to determine the ideal storage capacity for your gaming needs.
We will evaluate the suitability of 512gb ssd for gamers by assessing personal gaming requirements and providing insights on storage capacity.
Evaluation Of Personal Gamer Needs, Including Storage Capacity And Gaming Requirements
Before deciding the right storage capacity, it is essential to evaluate your gaming needs.
The following points are worth considering:
What type of gamer are you? Do you play single-player games or engage in multiplayer gaming?
What is your style of gaming? Do you stream games or install them on your device for on-the-go entertainment?
What types of games do you play? Some games may require more storage capacity than others.
Evaluate Gaming Styles Such As Single-Player, Multiplayer, And Streaming
Your gaming style plays a vital role in determining the right storage size.
Let's evaluate different gaming styles:
Single-player gaming: If you are someone who plays games alone, you may not require much storage capacity. Typically, single-player games don't require much storage space, whereas multiplayer games need more.
Multiplayer gaming: For multiplayer games, a 512gb ssd might not be the ideal choice. Since multiplayer games require more storage space, a gamer may need to opt for a more extensive storage size.
Streaming games: If you prefer to stream games, you may not require much storage capacity. Game streaming services such as google stadia and geforce now allow you to stream games without installing them on your device.
Address The Increasing Usage Of Cloud Over On-Site Storage
Cloud-based gaming platforms have gained popularity in recent years, allowing gamers to store game data remotely.
The increasing use of cloud-based services has reduced the need for on-site storage. With cloud storage, gamers can access their saved games from anywhere, at any time.
As such, gamers who opt for cloud-based gaming may not require a large ssd storage size.A 512gb ssd may meet the storage needs of some gamers, while others may require more extensive storage.
It is essential to prioritize your gaming needs and select the storage capacity that suits your requirements.
FAQ On Is 512Gb Ssd Enough For Gaming Laptop
How Much Storage Do I Need For Gaming?
It depends on how many games you want to store. 512gb can hold approximately 10-15 modern games.
Can I External Hard Drive For Gaming?
Yes, you can use an external hard drive for game storage. It may affect performance and load times.
What Is Ssd And Is It Necessary For Gaming?
Ssd (solid state drive) is faster than a traditional hdd and can improve gaming performance significantly.
Is 512Gb Ssd Enough For A Gaming Laptop?
It depends on personal preference and gaming needs. 512gb can hold several games, but larger storage options are available.
Conclusion
After discussing the importance of storage capacity for a gaming laptop and analyzing the benefits of a 512gb ssd, it's safe to conclude that it is more than sufficient for most gamers.
With its impressive speed and performance, an ssd can significantly improve the overall gaming experience.
Moreover, as games continue to become more optimized for ssds, it's clear that more space isn't necessarily better.
However, it's essential to keep in mind that storage needs can vary depending on your gaming habits. If you're an avid gamer who frequently downloads large games or files, upgrading to a larger ssd may be a wise investment.
At the end of the day, your budget and personal preferences should dictate your decision. But rest assured, a 512gb ssd can provide you with an optimal gaming experience and plenty of storage space for most gamers.