Is Internal Or External Ssd Better? Which Is Superior?
An internal SSD is generally better than an external one for most users due to its faster data transfer speed, reliability, and integration into the system.
However, external SSDs also have their benefits such as portability and ease of installation.
Internal SSDs connect directly to your motherboard, this results in faster data transfer speeds than external SSDs, which have to go through USB or another interface.
This direct connection also means that internal SSDs are less likely to suffer from connectivity issues. Moreover, an internal SSD is integrated into your system, ensuring a smoother performance as compared to an external SSD.
Internal SSDs have faster data transfer speeds.
Internal SSDs are more reliable due to a direct connection to the motherboard.
External SSDs are portable and easy to install.
External SSDs can be used across multiple systems.
Although an internal SSD generally provides superior performance and reliability, an external SSD has its advantages too.
Its portability makes it an excellent choice for individuals who frequently switch between different systems or need to take their data on-the-go.
Ultimately, the decision between an internal and external SSD will depend on the specific use case and individual needs.
6 Factors About Internal Vs External SSDs
| Factors | Internal SSD | External SSD |
| --- | --- | --- |
| Speed | Internal SSDs are faster because they use SATA 3, PCIe, or NVMe interfaces directly connected to the motherboard. | External SSDs are slower due to the limitation of the USB interface, typically USB 3.0 or USB 3.1. |
| Installation | Installation of an internal SSD requires opening up the computer, which could be complex for some users. | External SSDs are easy to install. They just have to be connected to a USB port. |
| Portability | Internal SSDs are not portable as they are fitted inside the computer. | External SSDs are portable and can be used with different devices that have USB ports. |
| Cost | Internal SSDs are generally less expensive per gigabyte. | External SSDs are usually more expensive per gigabyte as they include additional components like the casing and the USB interface. |
| Compatibility | Internal SSDs need to be compatible with the computer's motherboard and its interfaces. | External SSDs just need a USB port, so they are universally compatible with all modern devices. |
| Risk of Damage | Internal SSDs have a lower risk of physical damage since they are enclosed inside the computer case. | External SSDs have a higher risk of physical damage from handling, drops, and potential exposure to elements. |
6 Factors About Internal Vs External SSDs
Key Takeaway
External SSDs are more suited for people who need portable storage, often transferring data between different devices
On the other hand, internal SSDs tend to be faster and suited for users needing speed for heavy applications such as gaming and video editing.
Internal SSDs also offer higher levels of security as they're difficult to remove or alter.
Overall, deciding what SSD is better is subjective and largely depends on an individual's or business' unique needs and uses.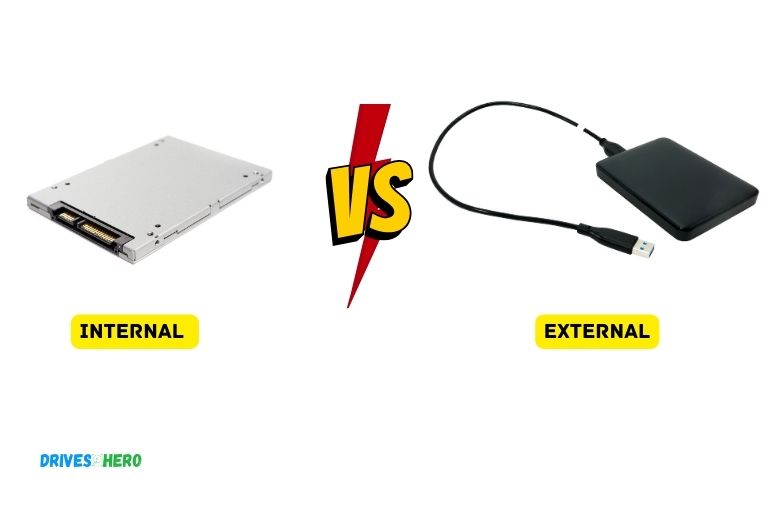 Five Facts About Internal Vs External SSDs
SSD stands for Solid State Drive. Its storage system is faster than a conventional Hard Disk Drive (HDD), making programs load quicker and increasing overall computer speed (TechAdvisor, 2022).
External SSDs are quick and easy to connect via USB, Thunderbolt, or FireWire, and can be used with multiple devices. They often come with backup and encryption software providing extra security for your files (TechAdvisor, 2022).
Internal SSDs tend to offer a faster data transfer rate than external drives. Hence, they're more suitable for things like gaming, which requires high speed (PCWorld, 2018).
External SSDs are portable and ideal for people who need to carry their data around, such as photographers or people who work on different computers (PCWorld, 2018).
Compared to HDDs, both types of SSD are more reliable because they have no moving parts to wear out or be affected by physical shock (Seagate, 2021).
Exploring The Pros And Cons
The benefits and drawbacks of internal and external SSDs are worth exploring for deciding which one is better.
Internal SSDs offer faster speeds and better reliability, while external SSDs offer portability and easy installation. Ultimately, the choice depends on individual needs and preferences.
Internal Ssds: A Closer Look
When it comes to storage options for your computer, solid-state drives (SSDs) have become increasingly popular due to their speed, performance, and reliability.
We will explore the pros and cons of internal SSDs, taking a closer look at the advantages they offer.
Higher Performance And Speed
Faster data transfer speeds compared to traditional hard disk drives (HDDs): SSDs utilize flash memory, enabling them to read and write data at a much faster rate.
Reduced latency and improved response times: Internal SSDs can significantly enhance the overall performance of your system, resulting in quicker boot times, faster application launches, and more responsive multitasking.
Enhanced Reliability And Durability
No moving parts: Unlike HDDs, which have spinning disks that can fail or become damaged over time, internal SSDs have no mechanical components, making them resistant to impact and less prone to physical damage.
Improved tolerance to extreme conditions: SSDs can better withstand shock, vibrations, and temperature fluctuations, ensuring the integrity of your data even in harsh environments.
Easy Installation And Compatibility
Compatible with a wide range of computers: Internal SSDs come in different form factors (e.g., 2.5-inch, mSATA, M.2), making them compatible with various desktops and laptops.
Simple installation process: Upgrading to an internal SSD is often straightforward and can be done by anyone with basic technical skills. You can clone your existing hard drive or perform a fresh installation of your operating system onto the new SSD.
External Ssds: Advantages And Limitations
While internal SSDs offer numerous benefits, external SSDs provide unique advantages and pose certain limitations. Let's delve into the pros and cons of using external SSDs for your storage needs.
Portability And Convenience
Easy to carry and transport: External SSDs are compact, lightweight, and portable, allowing you to conveniently take your data with you wherever you go.
Plug-and-play functionality: Connecting an external SSD to your computer is as simple as plugging it into a USB port, eliminating the need for additional power cables or software installation.
Versatility And Compatibility
Compatibility with different devices: External SSDs can be used with various devices, including computers, laptops, gaming consoles, and even certain smartphones and tablets.
Flexibility in storage capacity: Depending on your needs, you can choose an external SSD with different storage capacities, offering you the freedom to expand your storage as required.
Limited Performance Compared To Internal Ssds
Lower speed and data transfer rates: Despite their advantages in terms of portability and convenience, external SSDs generally have slower performance compared to their internal counterparts.
Bandwidth limitations: USB connections, even with the latest standards like USB 3.2 Gen 2, may not provide the same data transfer speeds as internal SSDs connected directly to SATA or NVMe interfaces.
Internal SSDs offer higher performance, reliability, and ease of installation, making them an excellent choice for upgrading your computer's storage.
However, if portability and convenience are your top priorities, external SSDs provide the flexibility and versatility needed for on-the-go storage solutions, despite their slightly limited performance compared to their internal counterparts.
Factors To Consider When Choosing Ssds
Choosing between internal and external SSDs involves considering several crucial factors. These include storage capacity, transfer speed, portability, and usage requirements.
While internal SSDs offer faster performance and better suitability for intensive tasks, external SSDs provide flexibility and convenience for on-the-go use.
Make an informed decision by weighing these factors according to your specific needs and preferences. When selecting an SSD, there are several important factors to take into consideration.
These factors will ultimately determine whether an internal or external SSD will be more suitable for your needs.
Let's dive deeper into the key aspects you should keep in mind:
Storage Capacity
Internal SSDs:
Advantages and Limitations:
Internal SSDs are available in a wide range of storage capacities, from smaller options like 128GB to larger ones like 2TB or even more.
The storage capacity of internal SSDs is limited to the capacity of the computer they are installed in. If you need more storage space, you will have to upgrade to a higher-capacity SSD or replace the existing one.
External SSDs:
Advantages and Limitations:
External SSDs also come in various storage options, offering flexibility to choose the capacity that fits your needs.
Unlike internal SSDs, external ones can be easily connected or disconnected from different devices. This portability is advantageous when you require additional storage on different computers or want to transfer data between devices.
Speed And Performance
SSDs are known for their superior speed compared to traditional hard disk drives (HDDs). However, there can be variations in speed and performance among different SSDs.
Impact Of Interface Type
The interface type of an SSD affects its speed and performance, as well as its compatibility with different devices. The two common interface types are SATA and NVMe.
Internal Vs External Ssd Performance Comparison
Internal SSDs:
Since internal SSDs are directly connected to the computer's motherboard, they generally offer faster data transfer rates and lower latency compared to external SSDs.
The performance of an internal SSD can be further optimized by utilizing the NVMe interface, which provides even faster speeds.
External SSDs:
Value for Money:
External SSDs may have slightly lower performance due to the limitations of the USB or Thunderbolt interface used for connectivity.
However, external SSDs still provide excellent performance for most everyday tasks and are a great choice for those who require portable storage or regularly work with multiple devices.
Cost And Budget Considerations
Cost Comparison:
Internal vs External SSDs:
Internal SSDs tend to be more cost-effective, especially when larger storage capacities are required. This is because external SSDs often include additional features such as rugged designs or encryption, which can increase their price.
Long-Term Investment Analysis
When considering SSD investments, factors such as data security, reliability, and endurance should be taken into account to ensure long-term value and durability.
Upgradability And Future Proofing
Upgradability is an essential consideration, especially if you anticipate requiring more storage space in the future. Internal SSDs may offer more flexibility in terms of upgradability, as they can often be easily replaced or expanded.
By analyzing these factors and weighing the advantages and limitations of internal and external SSDs, you can make an informed decision that suits your specific requirements and budget.
Whether you prioritize speed and performance, portability, or cost-effectiveness, there is an SSD option available to meet your needs.
Use Cases: Internal Or External Ssd?
An internal or external SSD: which is the better option? Both have their use cases, depending on your specific needs.
Internal SSDs offer faster performance and are ideal for high-intensity tasks, while external SSDs provide portability and convenience for on-the-go storage. Choose wisely based on your requirements.
When it comes to choosing between internal or external SSDs, several factors come into play. Depending on your specific needs and use cases, one option may be more desirable than the other.
Let's take a closer look at some common scenarios where either an internal or external SSD would be a better fit:
Professional Workstations And Gaming Pcs
SSDs are a must for high-performance workstations and gaming rigs
Internal SSDs provide faster data transfer rates and superior performance
They offer seamless integration with the system, resulting in quicker load times and smoother operations
Speed And Performance Requirements
Internal SSDs are ideal for applications that demand maximum speed and performance
External SSDs can also meet speed requirements, but they may have slightly slower data transfer rates due to the interface limitations
Space Constraints And Portability
External SSDs shine when it comes to space-constrained setups
They are compact, lightweight, and easy to connect and disconnect as needed
For users who need a portable storage solution, external SSDs offer convenience and flexibility
Mobile Devices And Laptops
Internal SSDs are the go-to choice for mobile devices like laptops
They provide faster boot times and improved battery life
Internal SSDs are also less prone to physical damage and offer better data security
Portability And Backup Needs
External SSDs excel in providing a portable backup solution
They offer convenient storage options for backing up critical data
With external SSDs, you can easily carry your important files wherever you go
Added Storage Vs Performance Trade-Offs
External SSDs are an excellent choice for users who need extra storage space
They allow flexible storage expansion without compromising the device's performance
However, internal SSDs typically offer higher performance and faster access speeds
Media And Content Creation Workflows
When working with large media files or engaging in content creation, internal SSDs are essential
They ensure smooth video and audio editing, reducing rendering times
Internal SSDs provide a significant boost in productivity for media professionals
Collaboration And Data Transfer
External SSDs are great for collaboration and data transfer between different systems
They allow easy sharing of files between colleagues or clients, regardless of their hardware setup
External SSDs also offer wider compatibility with various devices and operating systems
On-The-Go Editing And Efficiency
For users who require on-the-go editing, external SSDs are a convenient choice
They enable fast access to files and efficient editing workflows
With external SSDs, you can work efficiently regardless of your location
As you can see, whether you should choose an internal or external SSD depends on your specific requirements, priorities, and use cases.
Consider these factors carefully when making your decision to ensure the best performance and storage solution for your needs.
Ssd Lifespan And Maintenance
SSD lifespan and maintenance are crucial for ensuring optimal performance. When it comes to choosing between internal and external SSDs, both have their advantages.
Internal SSDs offer faster speeds, while external SSDs provide convenience and portability.
Proper maintenance, such as regular updates and backups, can significantly extend the lifespan of your SSD regardless of its type.
Internal Ssd Maintenance Best Practices
To ensure the longevity and optimal performance of your internal SSD, it's crucial to follow some maintenance best practices.
Here are some key pointers to keep in mind:
Enable TRIM: Enable TRIM on your operating system to optimize the SSD's performance and lifespan. TRIM helps the drive maintain efficiency by marking unused data blocks for deletion.
Regularly update firmware: Keeping your SSD's firmware up to date is essential. Manufacturers often release firmware updates to enhance performance, address compatibility issues, and fix bugs. Check your manufacturer's website periodically for updates.
Optimize the operating system: Tweak your operating system's settings to optimize SSD performance. Disabling disk defragmentation and disabling unnecessary services running in the background can prevent unnecessary wear on the SSD.
Minimize write operations: SSDs have a finite number of write cycles, so reducing unnecessary write operations can prolong their lifespan.
Steps like moving temporary files to a separate drive or cloud storage and directing your browser cache to another location can help minimize unnecessary writes.
Firmware Updates And Optimization Techniques
Firmware updates and optimization techniques play a vital role in maintaining your internal SSD's health and performance.
Consider the following:
Update firmware regularly: Firmware updates often include performance improvements and bug fixes. Check the manufacturer's website or use their proprietary software to get the latest firmware updates.
Enable encryption: Enabling hardware encryption not only enhances data security but can also contribute to performance improvement on certain SSD models.
Adjust power settings: Adjust your power settings to optimize SSD performance. Configure power plans to prioritize performance over power savings to ensure consistent and optimal SSD performance.
Disable indexing: SSDs do not benefit significantly from indexing, as they have fast random access times. Disabling indexing can reduce unnecessary write operations, enhancing the longevity of your SSD.
Monitoring Tools And Health Checks
Monitoring the health of your internal SSD is essential for early detection of any issues.
Here are some recommended tools and health checks:
SMART monitoring: SMART (Self-Monitoring, Analysis, and Reporting Technology) is a built-in utility in most SSDs that provides accurate information about drive health. Use SMART monitoring tools to regularly check the SSD's status and identify any potential problems.
Drive health software: Consider using third-party software specifically designed to monitor SSD health. These tools offer detailed information about drive temperature, remaining lifespan, and any possible errors.
Regular backups: Regularly backing up your data is a crucial part of maintaining SSD health. This ensures that your important files are safe even in the event of an unforeseen SSD failure.
External Ssd Care And Handling
External SSDs require proper care and handling to ensure their longevity and optimal performance.
Here are some tips to keep in mind:
Avoid extreme temperatures: Like any electronic device, excessive heat or cold can adversely affect an external SSD. Store it in a cool, dry place within the manufacturer's recommended temperature range.
Protect from physical impact: Shield your external SSD from physical damage by using a protective case or cover. Accidental drops or impacts could lead to drive failure or data loss.
Keep away from liquids: Liquids can seep into the drive and damage the internal components. Keep your external SSD away from water sources and other liquids to prevent any potential damage.
Safely Ejecting And Disconnecting
Properly ejecting or disconnecting your external SSD is crucial to prevent data corruption or loss.
Follow these steps:
Use the operating system's eject function: Always use the "Safely Remove Hardware" or "Eject" option provided by the operating system before disconnecting the external SSD. This ensures all pending read or write operations are completed before removal.
Wait for LED indicator to stop blinking: Most external SSDs have an LED indicator that blinks during data transfer. Wait for the LED to stop blinking before disconnecting the drive to avoid potential data corruption.
Following these maintenance practices and care tips will help extend the lifespan of your SSD, ensuring it performs optimally for years to come.
Regularly update firmware, optimize your operating system, and monitor the SSD's health to identify any potential issues early on.
Proper care and safe disconnecting of external SSDs are also instrumental in enhancing their longevity. Take these steps to enjoy the performance and reliability of your SSD for the long haul.
Making The Right Choice For Your Needs
Choosing between an internal or external SSD is crucial for your storage needs. Discover which option is better suited for your requirements and make the right choice that complements your computing experience.
Assessing Your Storage Requirements
Determine the amount of storage space you need for your files, applications, and data.
Consider the type of content you primarily work with, such as large multimedia files, documents, or software.
Evaluate the scale of your storage needs, whether they are for personal use, a small business, or enterprise-level requirements.
Determine the level of data transfer speed you require for efficient workflow and performance.
Evaluating Your System And Usage Patterns
Examine your computer or device's specifications to understand its compatibility with internal and external SSDs.
Analyze your usage patterns, such as the type and frequency of tasks you perform and the time sensitivity of data access.
Consider the portability factor and assess whether you require easy mobility for your storage solution.
Evaluate the need for additional storage expansion options in the future.
Final Considerations And Recommendations
Internal SSDs provide better speed and performance for everyday tasks and seamless multitasking.
External SSDs offer flexibility, portability, and easier compatibility with both desktop and laptop systems.
If you require high-speed data transfer, an internal SSD with a compatible host interface is recommended.
Consider investing in both internal and external SSDs to enjoy the benefits of speed, performance, and portability.
Remember, the decision between internal and external SSDs ultimately depends on your unique requirements and usage patterns.
By systematically assessing your storage needs and evaluating your system capabilities, you can make an informed choice that enhances your productivity and storage efficiency.
FAQ About Is Internal Or External Ssd Better
What is the Difference between Internal And External Ssds?
An internal SSD is a drive that is installed inside of a computer, while an external SSD is a drive that connects to the computer via USB or other connection. Internal SSDs offer faster speeds and lower power consumption than external drives.
Additionally, internal drives are typically more reliable than external ones because they are protected from physical shock by the computer's casing.
How Do I Choose the Best Ssd for My Needs?
To choose the best SSD for your needs, consider factors such as storage capacity, read/write speeds, form factor, brand reliability and price.
Additionally, check the compatibility of the drive with your device make sure that it fits in terms of size and is compatible with its hardware.
Are Internal Or External Ssds More Reliable?
External SSDs are generally more reliable than internal SSDs, as they are less susceptible to physical damage and have better temperature control.
Is an Internal Or External Ssd Faster in Terms of Data Transfer Speeds?
An external SSD is typically faster in terms of data transfer speeds than an internal SSD.
This is because external SSDs offer higher read/write speeds due to their connection to a device's USB 3.0 or Thunderbolt port, which offers more bandwidth for data transfers than the SATA interface used by most internal drives.
Conclusion
To determine whether an internal or external SSD is better, we have examined their advantages and disadvantages, focusing on factors such as speed, portability, durability, and price.
Both types of SSDs offer significant benefits. Internal SSDs are faster, provide higher storage capacities, and prioritize power efficiency.
They are ideal for users seeking optimal speed and performance for demanding tasks such as gaming or video editing. On the other hand, external SSDs offer portability and flexibility.
They are perfect for users who need to carry their data with them and easily transfer it between multiple devices.
Additionally, external SSDs are often more affordable and easier to upgrade compared to internal SSDs. Ultimately, the choice between internal and external SSDs depends on individual needs and preferences.
So, consider your specific requirements and make an informed decision that suits your unique computing lifestyle.
Bonus Topic: Is Internal Or External Ssd Better
Why Would You Choose an External Ssd Instead of an Internal Drive?
An external SSD offers several advantages over an internal drive.
First, since it is a self-contained unit, you don't have to worry about compatibility issues or needing to open up your computer and install the drive yourself.
Additionally, external drives are smaller and more portable than internal ones so they can easily be taken from place to place without having to worry about a bulky device.

Furthermore, they offer faster read/write speeds compared to traditional hard disks which makes them great for storing large amounts of data quickly.
Finally, external SSDs also come with additional features such as encryption support which can provide added security for your important files and documents.
Is External Or Internal Ssd Better for Gaming?
External SSDs are generally better for gaming than internal ones, as they offer more flexibility and convenience. With an external drive, you can easily move your games to another computer or even take them with you when traveling.
Additionally, external drives often have higher read and write speeds than those of internal SSDs, meaning that loading times in games will be faster on an external drive.

Furthermore, if something were to happen to the PC's hardware while playing a game on it, the data stored on an external device would remain safe and accessible due to its separate connection from the main machine.
Is External Ssd More Reliable?
Yes, external SSDs are generally more reliable than internal hard drives. This is because they have no moving parts and thus can withstand extreme temperatures and physical shock better than regular HDDs.
Additionally, external SSDs tend to be less prone to data corruption due to their higher durability and lower power consumption, meaning that if the device does fail it is unlikely that any of your data will be lost.

Lastly, many external SSDs come with built-in safeguards such as encryption or error correction codes which further enhance their reliability.
Are External Ssd Worth It?
External SSDs are definitely worth the investment. Not only do they offer faster speeds than traditional hard drives, but they also consume less power and are extremely durable, making them ideal for those who require a reliable storage solution on the go.
They boast read/write speeds up to 10 times faster than traditional HDDs, meaning you can access large files in no time at all.

In addition, external SSDs have no moving parts like HDDs do which makes them more resistant to shocks and drops so your data is safe even while travelling or in transit.
The bottom line is that an external SSD will not only provide you with a reliable and fast storage option but also offer peace of mind knowing your data is secure and stored reliably at all times.
Internal Or External Ssd for Gaming
An internal SSD is the best option for gaming, as it provides the highest performance when compared to external drives.
Internal drives also have no latency or lag issues, which are common with external storage solutions. Furthermore, they're more reliable than their external counterparts and less prone to data loss or corruption due to power surges.

Moreover, installing an internal SSD will free up USB ports on your PC for other uses such as connecting game controllers and headsets.
External Ssd Vs Internal Hdd Reddit
When it comes to external SSD vs internal HDD, Redditors have generally agreed that an external SSD is the way to go.
External SSDs are much faster than their internal HDD counterparts and offer greater storage capacity.
They're also more durable and reliable than HDDs, so you don't need to worry about data loss due to mechanical failure.

Additionally, since they are smaller in size and require no additional power source, they can be taken anywhere with relative ease.
Does an External Ssd Improve Performance for Gaming?
Yes, an external SSD can improve performance for gaming. This is because an external SSD has much faster read/write speeds than a traditional hard drive and offers larger storage capacities.
It also helps reduce the load time of large games, as well as providing improved loading times when switching between levels or maps within your favorite game.

With these advantages, gamers will be able to enjoy smoother gameplay with reduced lag and quicker access to their saved games.