M 2 SSD Vs NVMe: Which one wins?
M.2 SSD and NVMe are two technologies that improve the speed and performance of storage devices, with NVMe being significantly faster than M.2 SSDs.
M.2 SSD (Solid State Drives) and NVMe (Non-Volatile Memory Express) are both storage technologies that enhance the performance of storage devices.
M.2 SSDs are a form factor that connects through SATA or PCIe interfaces, whereas NVMe is a communication protocol designed specifically for high-speed storage devices, taking full advantage of the PCIe interface.
M.2 SSDs come in different sizes and can use either SATA or PCIe interfaces.
NVMe leverages the PCIe interface for significantly faster data transfer speeds compared to SATA-based M.2 SSDs.
M.2 SSDs are typically less expensive than NVMe SSDs due to the difference in performance.
NVMe requires less overhead for processing and reduces latency, offering a more efficient data transfer process.
NVMe SSDs provide superior speed and performance compared to M.2 SSDs that use the SATA interface. However, this increased performance often comes at a higher price point.
When choosing between M.2 SSDs and NVMe SSDs, it's essential to consider your specific needs and budget.
For most consumers, M.2 SSDs offer a significant improvement over traditional hard drives, while NVMe SSDs are ideal for those seeking the absolute best performance and are willing to invest in the technology.
7 Features: M 2 Ssd Vs Nvme
| Feature | M.2 SSD | NVMe |
| --- | --- | --- |
| Interface | SATA or PCIe | PCIe |
| Form Factor | M.2 (22mm x 30mm, 42mm, 60mm, or 80mm) | M.2 (22mm x 30mm, 42mm, 60mm, or 80mm) |
| Speed | Up to 600MB/s (SATA) or 4GB/s (PCIe) | Up to 7GB/s (PCIe 4.0) |
| Latency | Higher latency | Lower latency |
| Power Consumption | Usually lower | Usually higher |
| Price | Generally cheaper | Generally more expensive |
| Use Cases | General computing, gaming, office work | High-performance computing, gaming, professional workstations |
7 Features: M 2 Ssd Vs Nvme
Key Takeaway: M 2 SSD Vs NVMe
Differences in form factor and connection interface
NVMe protocol offers faster speeds and better overall performance
M.2 SSDs can operate with both SATA and NVMe protocols
Better suited for specific use cases and system requirements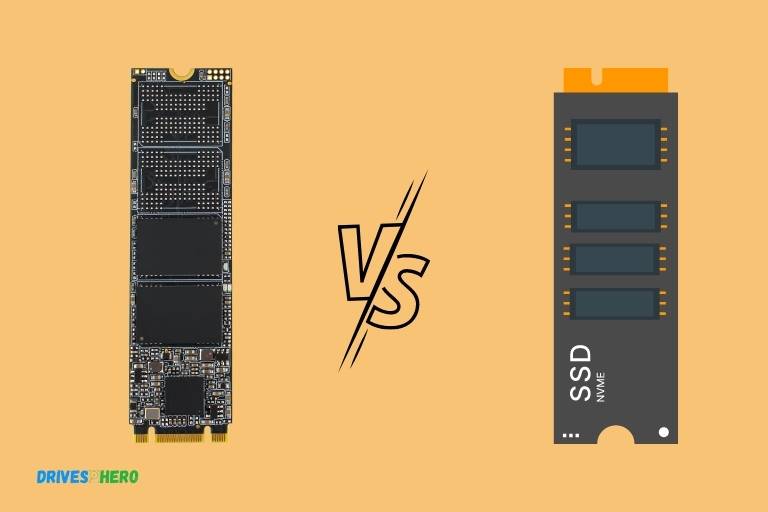 Five Facts About: M 2 SSD & NVMe
M.2 SSDs are a newer, smaller form factor of solid-state drives that are commonly used in laptops and space-constrained devices. They can be connected via either the SATA or NVMe interface. (Source: StorageReview)
NVMe (Non-Volatile Memory Express) is a storage protocol specifically designed for SSDs to take advantage of their high-speed capabilities. It allows for faster read and write speeds compared to the older SATA protocol. (Source: Western Digital)
M.2 SSDs that use the SATA protocol have a speed limit of around 600 MB/s due to the limitations of SATA technology. In contrast, M.2 SSDs with NVMe can achieve speeds of 2,000 MB/s or more, depending on the specific model. (Source: StorageReview)
NVMe SSDs typically provide better performance, lower latency, and improved power efficiency compared to their SATA counterparts. This makes them ideal for high-performance tasks, such as gaming, video editing, and data-intensive applications. (Source: [Samsung]
Frequently Asked Questions For M 2 Ssd Vs Nvme
What Is The Difference Between M.2 Ssd And Nvme?
M. 2 is a form factor, while nvme is a protocol. M. 2 ssds can support different protocols, including nvme.
Is Nvme Faster Than M.2 Ssd?
Yes, nvme is generally faster than m. 2 ssd. Nvme utilizes a more efficient protocol and can achieve higher read and write speeds.
Can I Replace My Sata Ssd With An M.2 Ssd Or Nvme?
It depends on your computer's compatibility. Make sure to check if your computer's motherboard supports the m. 2 ssd or nvme interface.
Which One Should I Choose: M.2 Ssd Or Nvme?
It depends on your needs and budget. For everyday use, an m. 2 ssd is sufficient. If you need faster speeds for gaming or intensive tasks, consider nvme.
Conclusion
The difference between m 2 ssd and nvme is significant. While both are excellent options for data transfer, nvme offers faster read and write speeds than m 2 SSD.
However, it's essential to keep in mind that the performance also depends on other factors, including hardware and software compatibility.
Therefore, choosing the right storage option depends on the intended use and available hardware resources.
Before purchasing, ensure that the device's storage is compatible with your hardware and meets your requirements. For gamers and professionals working with large files, nvme is an excellent choice.
In contrast, m 2 ssd is suitable for general users who prioritize cost-effectiveness without compromising on performance.
Ultimately, both ssds present a significant upgrade from the traditional hard disk drive. As technology continues to evolve, the demand for high-speed data transfer options is bound to increase, and users can expect more innovations in this field.