Nvme Ssd Dram Vs Dram Less: Which One is Better?
The main difference between NVMe SSDs with DRAM and DRAM-less NVMe SSDs is the presence or absence of a DRAM cache, which impacts the overall performance, cost, and efficiency of the solid-state drive.
DRAM in an NVMe SSD serves as a cache for the NAND flash memory, speeding up the process of mapping and locating data within the drive.
DRAM-less SSDs, on the other hand, do not have this additional cache and rely solely on the NAND flash memory for data storage and management.
This results in a lower-cost option but can cause a decrease in performance compared to SSDs with DRAM.
Performance: NVMe SSDs with DRAM generally deliver better performance due to faster mapping and data retrieval, while DRAM-less SSDs may suffer from reduced read and write speeds.
Cost: DRAM-less NVMe SSDs tend to be more affordable than their counterparts with DRAM, making them an attractive option for budget-conscious users.
Power Efficiency: Without a DRAM cache, DRAM-less SSDs consume less power, which can be beneficial in mobile devices like laptops and tablets with limited battery life.
Longevity: NVMe SSDs with DRAM may have a longer lifespan due to reduced wear on the NAND flash memory, as the DRAM cache helps distribute writes more evenly across the drive.
In summary, the choice between an NVMe SSD with DRAM and a DRAM-less NVMe SSD depends on your priorities and use case.
If you require top-notch performance and are willing to spend a little more, an SSD with a DRAM cache.
7 Features: Nvme Ssd Dram Vs Dram Less
| HMB or no-cache | NVMe SSD with DRAM | NVMe SSD DRAM-less |
| --- | --- | --- |
| Performance | Higher | Lower |
| Cache | DRAM cache | May require a compatible OS for HMB support |
| Price | More expensive | Less expensive |
| Power consumption | Higher | Lower |
| Write endurance | Higher | Lower |
| Speed consistency | More consistent | Less consistent |
| Operating system compatibility | General compatibility | May require compatible OS for HMB support |
Key Takeaway
DRAM vs DRAM-less NVMe SSDs impacts overall performance
DRAM on NVMe SSDs serves as a cache to store mapping tables
DRAM-less NVMe SSDs are more cost-effective with a smaller form factor
Use cases can vary based on performance requirements and budgets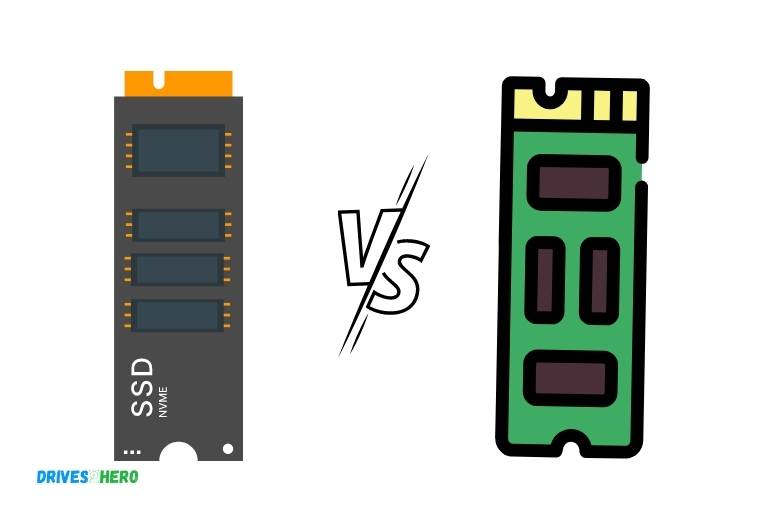 Five Facts About NVME SSD & Dram NVME SSD
NVMe SSDs with DRAM provide faster read and write speeds compared to DRAM-less SSDs due to their internal caching mechanism (source: AnandTech).
The DRAM on an NVMe SSD stores the mapping tables used to locate data in various flash memory cells, improving the access time of the SSD (source: Western Digital).
DRAM-less NVMe SSDs can be more affordable and are generally in a smaller form factor, making them suitable for budget-friendly and compact systems (source: Overclockers UK).
Host Memory Buffer (HMB) technology enables DRAM-less NVMe SSDs to use a certain portion of the system's memory for caching purposes, improving the performance somewhat compared to SSDs without HMB technology (source: [AnandTech].
What Are Nvme Ssds And How Do They Work?
Definition Of Nvme Ssds
Nvme stands for non-volatile memory express, which is a storage interface protocol designed explicitly for solid-state drives (ssds).
A nvme ssd is a high-performance storage drive that connects to the motherboard using pcie interface to enable faster data transfer rates.
Nvme is the newest storage technology used in today's computers and laptops. It is changing the way people store data and harness the incredible power of solid-state drives.
How Nvme Ssds Work
Nvme ssds work by utilizing the non-volatile nature of solid-state memory.
It stores data on flash memory chips, where the data remains even when powered off, unlike traditional disks that require spinning disks to read and write data.
Nvme ssds are designed to take full advantage of high-speed buses like pcie, which improves data transfer speeds.
It can transfer data in bursts of up to 16 gt/s, enabling transfer rates of up to 3 gb/s or more.
Key Advantages Of Using Nvme Ssds
Nvme ssds deliver several key advantages that make them superior to traditional storage solutions.
Some of the benefits include:
High-speed data transfer rates: Nvme ssds offer faster data transfer rates than traditional sata-based drives. They enable faster boot times, load times for games and applications, and faster file transfers.
Lower power consumption: Nvme ssds utilize less power than traditional drives. It is because they do not contain any moving parts that require power to operate.
Reduced latency: Nvme ssds reduce latency by providing quick access to data. Lower latency translates to faster system performance, better application responsiveness, and increased productivity.
Greater durability: Nvme ssds are more rugged and reliable than traditional hard disk drives. They are less prone to damage from shock and vibration, have a longer lifespan, and are less likely to fail due to mechanical errors.
Nvme ssds offer superior storage performance and are rapidly becoming the standard for high-performance storage solutions.
They are ideal for gaming, graphic design, and other tasks that require fast, reliable access to data. With the ability to transfer data at high speeds and their other benefits, nvme ssds are the future of storage technology.
The Role Of Dram In Ssds And Nvme Ssds
Solid-state drives or ssds have revolutionized computer storage with their faster data transfer speeds and quicker boot times.
In recent times, nvme ssds have emerged as a faster and better alternative to traditional ssds.
But have you ever wondered about the role of dram in ssds or how dram-less ssds differ from their counterparts?
Let's find out.
What Is Dram In Ssds?
Dynamic ram or dram is a type of volatile memory used in several computer components, including ssds. In ssds, dram acts as a cache, storing frequently accessed data to speed up the data transfer process.
The dram cache is faster than the nand flash memory which ssds generally use, meaning that it can retrieve data faster than the flash memory.
Dram Vs Non-Dram Ssds
The key difference between dram and non-dram ssds is caching. Dram ssds have an additional dram cache layer on top of the nand flash memory which makes them faster.
In contrast, non-dram ssds do not have an additional dram cache layer, and thus, they are slower than dram ssds.
This makes dram ssds more expensive to produce than non-dram ssds.
How Dram Improves Performance
Dram enhances the performance of ssds in several ways. It stores the most frequently accessed data on the drive, which speeds up read and write functions.
When the data is stored in dram, it can be accessed quicker than from a non-cached disk or one without dram.
Dram cache improves ssds' sequential read and write speeds, which in turn improves disk performance.
Effect Of Dram On Latency And Iops
Dram cache significantly reduces the latency and improves iops in ssds. Latency is the time it takes for the data requested by a system to be accessed and served from the storage device.
A dram from ssds can improve access times and provide faster response times for requests, improving the overall performance of the drive.
To summarize, dram plays a critical role in improving the performance of ssds. It acts as a cache between the cpu and the storage drive, preventing data transfer bottlenecks.
When choosing an ssd, a dram ssd provides a significant speed improvement for data transfer function, improving the overall working of the computer.
Video On Nvme Ssd Dram Vs Dram Less
Understanding Dram-Less Nvme Ssds
Nvme ssds have revolutionized computing by vastly improving the read and write speeds of solid-state drives.
These devices can be divided into two main categories based on their dram storage – nvme ssds with dram and those without it.
We aim to investigate the implications of using dram-less nvme ssds and how they impact system performance.
What Are Dram-Less Ssds?
Dram refers to dynamic random-access memory, which stores data temporarily in a computer system. Typically, dram is used in nvme ssds to cache frequently accessed data to enhance the system's performance.
By contrast, dram-less ssds do not have this cache memory, and they rely on host memory buffer (hmb) or direct memory access (dma) to access system memory.
Hmb allows the ssd to access host memory buffer space via the pci express interface, and dma is a feature in nvme controller that enables direct access to system memory.
The Impact Of Not Having Dram In Nvme Ssds
Dram-less ssds use the system memory of the computer rather than a dedicated cache. Consequently, this can lead to slower memory accesses and processing.
Without dram, the nvme controller has to work harder to manage data requests and prioritization, which can ultimately cause bottlenecks.
Advantages And Disadvantages Of Dram-Less Nvme Ssds
One primary advantage of dram-less ssds is that they are cheaper to produce, resulting in a lower cost to consumers. They also tend to use less power, which can benefit portable devices like laptops and tablets.
However, dram-less ssds also have some disadvantages. As previously mentioned, they can experience slower system performance when dealing with large data transfers.
The lack of dram can also lead to issues with data integrity and a shorter ssd lifespan.
How Dram-Less Ssds Can Affect Overall System Performance
The impact of dram-less ssds on overall system performance can vary depending on the device's workload.
For read-intensive workloads – for example, booting the operating system – the lack of dram should not be an issue.
However, write-intensive workloads will need frequent access to system memory, which could cause increased latency and slower processing.
Dram-less nvme ssds provide a more affordable solution for consumers and lower power usage for portable devices.
However, the trade-off is slower processing and potential data integrity issues. Ultimately, whether a dram-less nvme ssd is suitable for a particular use case depends on the workload and the user's needs.
Nvme Ssd Performance Comparison: Dram Vs Dram-Less
Solid state drives (ssds) are commonly found in computers nowadays. They store data in a non-volatile way, meaning that even when the power is turned off, the data remains.
Nvme ssds are becoming increasingly popular due to their high speed and low latency, but what role does dram play in their performance?
Benchmarking Nvme Ssds With Dram Vs Dram-Less
Benchmarking is a process that measures the performance of a device. We can compare an nvme ssd with dram and one without to determine their respective performances.
The benchmarks reveal that the nvme ssd with dram consistently outperforms the dram-less variant.
The absence of dram means that nvme ssds cannot buffer data transfers, which results in slower performance.
The buffering is necessary to maintain the consistency of read and write speeds, especially when the nvme is being used for heavy workloads.
The Role Of Workload On Performance
The performance of nvme ssds with dram and dram-less varies based on the workload.
The type of workload, such as gaming, video editing, or low read/write operations, determines the extent to which dram affects the performance of an nvme ssd.
Workloads that are less reliant on buffering, such as gaming, show minimal improvement with the presence of dram.
Drawing Conclusions From Benchmarks
Based on the benchmarks, it is clear that nvme ssds with dram perform better than dram-less nvme ssds.
However, the performance gap may be negligible when the workload is not data-intensive.
For those with workloads that demand high read/write operations, and faster load times, the presence of dram on nvme ssds is highly recommended.
Real-World Performance Considerations
When considering the performance of an nvme ssd with dram vs dram-less, real-world considerations are essential.
In day-to-day use, the benefits of dram may be unnoticed unless the user routinely demands high-speed read/write operations.
While some workload types may show minimal improvement, having dram on a nvme ssd is an excellent investment for high-load routine workloads.
The performance of nvme ssds with dram is superior to dram-less variants. However, their differential benefits are dependent on the workload.
In real-world situations, it is best to have a nvme ssd with dram to meet the demands of high-write, data-intensive tasks.
Frequently Asked Questions For Nvme Ssd Dram Vs Dram Less
What Is The Difference Between Nvme Ssd Dram And Dram-Less?
Nvme ssd dram has a cache memory to improve speeds, while dram-less does not.
Are Nvme Ssd Dram More Expensive Than Dram-Less?
Yes, nvme ssd dram are more expensive as they include extra hardware for cache memory.
What Benefits Does Nvme Ssd Dram Provide?
Nvme ssd dram provides faster speeds and improved performance while handling larger files.
Is Dram-Less Ssds Still A Good Choice For Regular Use?
Yes, dram-less ssds are still a good choice for regular use but may not be as fast as nvme ssds with dram.
Conclusion
After going through the detailed comparison between nvme ssds with dram and dram-less options, it is quite evident that both the storage types have their own sets of advantages and limitations.
Dram-less nvme ssds offer better affordability and power efficiency, which makes them suitable for mid-range or budget-oriented builds.
Whereas, nvme ssds with dram cache deliver high performance, increased throughput, multitasking capabilities, and enhanced durability. Based on your requirements and budget, you can pick the right fit for your pc build.
It is important to understand that while nvme ssds with dram cache may cost a bit more, they are worth the investment, as they deliver a significant boost in performance and provide a seamless user experience.
However, if you are tight on budget, opting for a dram-less nvme ssd can be a decent option, considering the benefits it brings to the table.
Always remember to research thoroughly and weigh your options before making any purchase decisions to ensure a satisfying and optimal pc experience.