A SATA cable guide is a reference material that outlines the different types of Serial ATA cables available, their features and uses.
It can provide information regarding cable length, data transfer rates, power requirements, etc., to help users choose the best type of SATA cable for their needs.
SATA cables are used to connect computer components such as hard drives, CDROMs, and other peripherals.
They come in various lengths ranging from 18 inches up to 6 feet.
SATA cables have a 7 pin design which ensures a secure connection with minimal interference.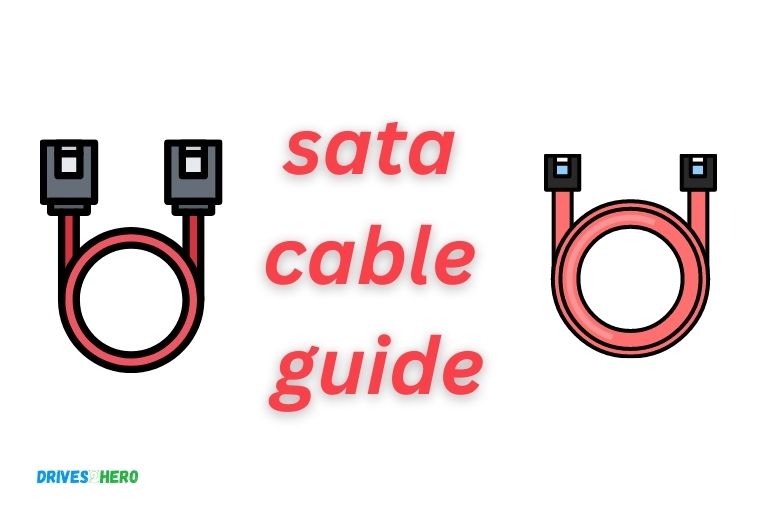 Sata cables are an essential hardware element used to connect storage devices and other components inside a computer.
This guide provides step-by-step instructions on how to install these cables, as well as advice on when and why to use them.
How Do I Know Which Sata Cable to Use?
The type of SATA cable you use depends on the device. To ensure compatibility, consider the following factors:
• Data transfer rate – Older SATA cables support up to 1.5 Gbps while newer cables can reach speeds of 6 Gbps or more.

• Connector size – Standard 7-pin connectors are found in most devices while some have 15-pin connectors as well.
• Length – Make sure you get a long enough cable for your needs and that it's flexible enough to route through tight spaces if necessary.
In conclusion, check the data transfer rate and connector size required by your device before purchasing a SATA cable to make sure you get one that is compatible with your system.
Are Sata 1 2 And 3 Cables the Same?
No, SATA 1, 2 and 3 cables are not the same. SATA cables differ in terms of:
• Speed – SATA 1 supports up to 150 MB/s data transfer rate while SATA 2 and 3 support up to 300 MB/s and 600 MB/s respectively.

• Power – SATA 3 cables provide more power than the other two versions.
• Interface – The physical interface is different for each version with the latest being thinner than its predecessors.
Overall, these differences make it impossible for each version of cable to be compatible with one another.
Are All Sata Cables the Same?
No, not all SATA cables are the same. Different types of SATA cables have different features, including:
• Speed – some SATA cables can operate at higher speeds than others.

• Length – some SATA cables may be longer or shorter than others.
• Connectors – some SATA cables will have different connectors on either end.
In summary, there are a variety of differences between various types of SATA cable and it is important to choose the right one for your specific needs and requirements.
How Do I Connect Sata Cables?
Connecting SATA cables is simple and straightforward.
To do so, you'll need:
– A SATA cable

– Power source for the hard drive or SSD
– Motherboard with available SATA slot
First, locate a free SATA port on your motherboard. Then connect one end of the cable to it and plug in the power source to the other end of the cable. Finally, attach the hard drive or SSD to that same power source. Your connection is now complete!
Watch Video on Sata Cable Guide
Sata Power Cable
A SATA power cable is an essential component for powering components within a computer. It connects the power supply to the motherboard, hard drive, optical drives and other components that require additional power.
This type of cable offers a more reliable connection than traditional Molex connectors and provides better airflow in cramped cases due to its smaller size.
Do I Need to Connect Sata Cable to Motherboard
Yes, you need to connect a SATA cable to your motherboard in order for the hard drive or optical drive that is connected to it to be recognized and used by your computer.
The SATA cable is a thin, flat ribbon-like cable and connects from your motherboard's designated SATA port to the back of the storage device. Without this connection, data cannot be transferred between these two components.
Sata Cable Hard Drive to Motherboard
Connecting a SATA cable hard drive to the motherboard of your computer is an easy way to increase its storage capacity.
SATA (Serial ATA) cables are thin and provide a direct connection between the hard drive and the motherboard, allowing data transfer rates of up to 6 Gbps.
By connecting a SATA cable hard drive directly to your computer's motherboard, you can quickly add more storage space with minimal effort.
Frequently Asked Question
What is a Sata Cable
SATA (Serial ATA) cable is a data storage interface used to connect hardware components such as hard drives, optical drives and solid-state drives within a computer. It is composed of four wires that transfer data between the connected devices.
How Do I Know Which Sata Cable to Use for My Device
To determine which SATA cable to use for your device, you need to check the manual or specifications of the device. Most SATA cables are interchangeable, but some devices may require a specific type of cable.
Are There Different Types of Sata Cables Available
Yes, there are different types of SATA cables available. These include the standard SATA cable, the right angle SATA cable, and the slimline/slimline-to-standard SATA adapter.
Can I Replace an Existing Sata Cable With Another One If It'S Not Working Properly
Yes, you can replace an existing SATA cable with another one if it's not working properly.
Conclusion
In conclusion, it is important to understand the different types of SATA cables and how they are used. Knowing which one to use can help you get the most out of your computer setup and make sure that all components work properly together. With this guide, you should now be able to identify which type of SATA cable will suit your needs best.