What Is 3D Nand Sata Ssd? Solid-State Storage Device!
3D NAND SATA SSD is a type of solid-state drive that uses 3D NAND technology for storing data and connects to the computer's motherboard via the SATA interface.
The introduction of 3D NAND technology represented a significant leap forward in the world of data storage.
By stacking memory cells vertically, manufacturers can pack more cells into a smaller space, thus increasing capacity without increasing the physical size of the SSD.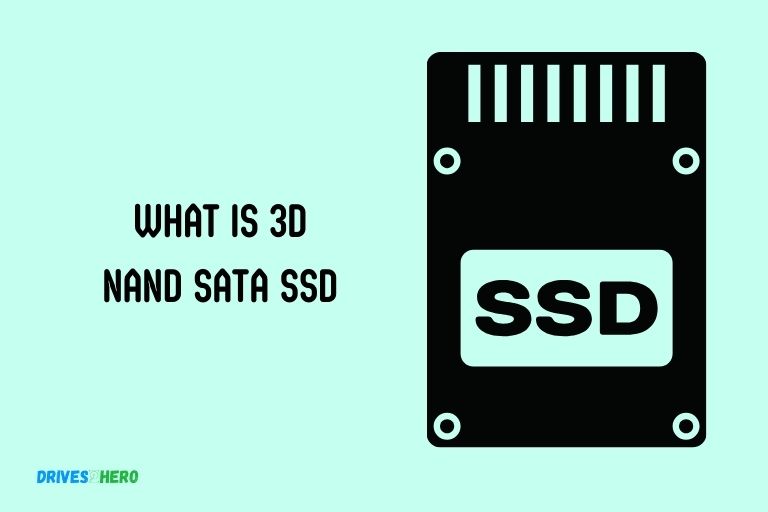 Key Takeaway
3D NAND SATA SSD is a type of Flash memory that layers memory cells atop each other, allowing for higher density and lower cost per gigabyte.
This technology is crucial in the progression of data storage, allowing for much larger storage capacity to be built onto smaller chips.
3D NAND technology also reduces the cost per gigabyte, making data storage more accessible and affordable for average consumers.
The implementation of 3D NAND technology in SSDs results in improved performance, including faster read/write speeds and better longevity.
5 Features of 3D NAND SATA SSD
| Feature | Description |
| --- | --- |
| What is 3D NAND? | 3D NAND is a type of flash memory in which the memory cells are stacked vertically in multiple layers. Flash manufacturers developed 3D NAND to address challenges they encountered in scaling 2D/planar NAND technology to achieve higher densities at lower cost per bit. |
| What is SATA SSD? | SSD stands for Solid-State Drive. SATA (Serial ATA) is an interface used to connect SSDs to a computer's motherboard. SATA SSDs are known for their reliable performance and widespread compatibility. |
| How 3D NAND improves SATA SSD | The implementation of 3D NAND technology in SATA SSDs increases storage capacity while also reducing the cost per gigabyte. It also improves performance, lifespan, and energy efficiency compared to 2D NAND technology. |
| Common uses of 3D NAND SATA SSDs | 3D NAND SATA SSDs are commonly used in consumer electronics, enterprise computing, and data centers. They are ideal for high-performance computing, graphics rendering, data analysis, and other data-intensive applications. |
| Leading Manufacturers | Samsung, Western Digital, Crucial, Kingston, SanDisk. |
Learn about 3D NAND SATA SSD technology, how it enhances SATA SSDs, common applications, and leading manufacturers.
Understanding The Basics Of 3D Nand Technology
3D NAND technology is the driving force behind the revolutionary SATA SSDs. It offers enhanced performance and increased storage capacity, making it an essential component for modern computing devices.
Explore the basics and benefits of 3D NAND technology in this informative article.3D NAND technology has revolutionized the world of solid-state drives (SSDs) by enhancing both storage capacity and performance.
This groundbreaking innovation has replaced the traditional planar NAND, offering numerous advantages. Let's delve into the basics of 3D NAND technology and explore how it differs from its predecessor.
What Is 3D Nand And How Does It Differ From Traditional Nand?
3D NAND is a type of flash memory that stacks memory cells vertically to increase storage density.
This differs from traditional NAND, which uses a planar structure where cells are arranged side by side on a single layer.
Vertical stacking: 3D NAND utilizes vertical stacking of memory cells, allowing for multiple layers. This stacking technique significantly increases the storage capacity compared to traditional NAND.
Enhanced density: By stacking cells vertically, 3D NAND achieves higher density within the same physical footprint, enabling manufacturers to produce SSDs with larger storage capacities.
Better durability: The vertical stacking design of 3D NAND reduces the electrical interference between cells, making it more resilient to wear and extending the drive's lifespan.
Improved performance: With 3D NAND, data can be written and read faster compared to traditional NAND, thanks to the increased density and parallelism achieved through layer stacking.
How Does 3D Nand Achieve Higher Storage Capacity And Performance?
Technology advancements in 3D NAND surpass the limitations of traditional NAND, allowing for increased storage capacity and improved performance.
Layer stacking: 3D NAND vertically stacks memory cells, resulting in higher storage density. This enables manufacturers to fit more storage capacity within the same physical size of an SSD.
Floating gate cells: 3D NAND utilizes floating gate cells, which trap electric charge within a floating gate to represent data. This design allows for more precise control and reliable storage, contributing to enhanced performance.
Smaller process nodes: 3D NAND technology employs smaller process nodes, enabling manufacturers to create more compact memory cells. The reduced size improves performance by reducing electrical resistance and allowing for faster data access.
Enhanced endurance: The vertical stacking of cells in 3D NAND provides improved endurance compared to traditional NAND, as it distributes the data writing and erasing across various layers rather than focusing on a single layer. This enhances both the lifespan and reliability of the SSD.
3D NAND technology revolutionizes SSDs by offering higher storage capacity and improved performance compared to traditional NAND.
By vertically stacking memory cells and utilizing floating gate cells, 3D NAND achieves greater density and durability.
This technology has proven to be a significant advancement in the world of solid-state storage, providing faster and more efficient data storage solutions.
Exploring The Key Features Of 3D Nand Sata Ssds
Let's delve into the key features that make them stand out from their predecessors.
Comparison Of 2D Nand Vs 3D Nand:
2D NAND (Planar NAND):
Traditional flat memory architecture that stores data in a 2D cell structure.
Limited scalability due to physical constraints, leading to a limited capacity ceiling.
Lower endurance and slower performance compared to 3D NAND.
Commonly used in older SSD models and less prevalent in today's market.
3D NAND:
Utilizes a vertically stacked structure, allowing for significantly higher capacity, improved endurance, and better performance compared to 2D NAND.
Enables manufacturers to keep up with the growing demand for higher storage capacities.
Offers better reliability and power efficiency, contributing to overall system optimization.
Importance Of Wear-Leveling, Bad Block Management, And Error Correction Codes:
Wear-Leveling:
Distributes write and erase cycles across the entire SSD, preventing specific cells from wearing out prematurely.
Ensures optimal utilization of NAND flash memory and extends the SSD's lifespan.
Bad Block Management:
Identifies and isolates defective memory blocks to maintain data integrity and prevent data loss.
Enables the SSD to continue functioning properly even in the presence of faulty cells.
Error Correction Codes (ECC):
Detects and corrects errors that may occur during data storage and retrieval.
Enhances data integrity and reliability, reducing the risk of data corruption or loss.
Impact Of Dram Cache On Overall Ssd Performance:
DRAM Cache:
Acts as a temporary buffer between the host system and the NAND flash memory.
Accelerates read and write operations, improving overall SSD performance.
Enhances responsiveness and multitasking capabilities, leading to a smoother user experience.
With their advanced features, 3D NAND SATA SSDs deliver exceptional performance, reliability, and efficiency, making them an excellent choice for a wide range of applications.
Whether you're a professional seeking higher storage capacity or a casual user looking for improved speed, these SSDs offer the perfect solution to enhance your computing experience.
What is 3D NAND Technology?
Discover the next wave in storage technology with 3D NAND SATA SSD, revolutionizing data storage with its vertically stacked memory cells.
Experience higher capacities, faster speeds, and enhanced reliability for your digital needs.As technology advances, 3D NAND has become the dominant storage solution in the market.
This revolutionary technology has completely transformed the way data is stored and accessed. But what does the future hold for 3D NAND?
We will explore the exciting developments on the horizon, including vertical stacking techniques and increased layer counts, advances in NAND cell design for even higher densities, and emerging storage technologies that may challenge 3D NAND in the future.
Vertical Stacking Techniques And Increased Layer Counts:
Manufacturers are constantly striving to increase the storage capacity of 3D NAND SSDs. One way they achieve this is through vertical stacking techniques, where multiple layers of memory cells are stacked on top of each other.
This allows for a higher density of memory cells within the same footprint, resulting in increased storage capacities.
In addition to vertical stacking, manufacturers are also increasing the layer count of 3D NAND SSDs.
By adding more layers, they can further boost storage capacities and improve overall performance.
These advancements in vertical stacking and increased layer counts have paved the way for higher capacity SSDs that can cater to the growing data storage demands of consumers and businesses alike.
Advances In Nand Cell Design For Even Higher Densities:
To further enhance the storage capabilities of 3D NAND, manufacturers are continuously improving NAND cell design.
This involves shrinking the size of the individual memory cells, allowing for more cells to be packed into the same area.
By reducing the size of the memory cells, manufacturers can achieve higher densities and increase the overall storage capacity of 3D NAND SSDs.
This not only benefits consumers who require more storage space but also enables faster data transfer speeds and improved reliability.
With ongoing research and development efforts, we can expect even more breakthroughs in NAND cell design that will push the boundaries of storage capacity and performance.
Emerging Storage Technologies That May Challenge 3D Nand In The Future:
While 3D NAND is currently the go-to technology for SSDs, there are emerging storage technologies that may pose a challenge in the future.
One such technology is Resistive Random Access Memory (RRAM), which offers high speed, low power consumption, and potentially even higher storage densities than 3D NAND.
RRAM is a non-volatile memory technology that stores data by changing the resistance of a material, enabling it to retain information even when power is lost.
Another emerging technology is Storage Class Memory (SCM), which combines the speed of RAM with the non-volatility of NAND flash.
SCM has the potential to bridge the gap between DRAM and NAND, offering faster data access and higher endurance.
While these technologies are still in the early stages of development, they hold promise for the future of storage, challenging the dominance of 3D NAND SSDs.
Vertical stacking techniques and increased layer counts are pushing the boundaries of storage capacity, while advances in NAND cell design are enabling higher densities.
At the same time, emerging storage technologies like RRAM and SCM are poised to challenge the dominance of 3D NAND in the future.
As technology continues to advance, it will be fascinating to see how these developments shape the future of data storage.
Factors To Consider When Selecting A 3D Nand Sata Ssd
Selecting the right 3D NAND SATA SSD requires careful consideration of factors such as storage capacity, performance, and price.Data storage and retrieval have become crucial for businesses and individuals alike.
If you're looking to invest in a 3D NAND SATA SSD, here are some important factors to consider:
Capacity Requirements And Budget Considerations
Determine your storage needs: Consider the amount of data you need to store and whether you anticipate future growth. Assess your requirements for applications, media files, and documents.
Evaluate the available capacity options: SSDs are available in various capacities, ranging from 128GB to several terabytes. Choose a capacity that not only meets your current needs but also allows room for expansion.
Set a realistic budget: SSDs are available at different price points based on their capacity and performance. Ensure you have a clear budget in mind before making a purchase.
Read And Write Speeds For Optimal Performance
Consider your usage patterns: If you frequently transfer large files or run resource-intensive applications, high read and write speeds are crucial for smooth and efficient performance.
Look for sequential and random speeds: Sequential speeds impact large file transfers, while random speeds affect small file operations. Ensure the SSD you choose offers competitive speeds for both scenarios.
Check for advanced features: Some SSDs come with advanced technologies such as SLC caching, which further enhances the read and write speeds for optimal performance.
Endurance Ratings And Warranty Periods
Evaluate endurance ratings: Endurance refers to the number of program/erase cycles an SSD can endure before its performance degrades. Look for SSDs with high endurance ratings, especially if you anticipate heavy usage.
Consider the warranty period: The warranty period indicates the manufacturer's confidence in the product's longevity. Look for SSDs with longer warranty periods, as this can provide peace of mind and protection against any defects.
Remember, selecting the right 3D NAND SATA SSD involves understanding your specific needs, weighing capacity, budget, performance, and durability factors.
By considering these factors, you can make an informed decision and choose an SSD that seamlessly meets your requirements.
The Advantages Of 3D Nand Sata Ssds
3D NAND SATA SSDs offer a range of advantages, combining high storage capacity, improved performance, and increased durability.
Let's dive into some of the key benefits:
Faster data transfer speeds and improved overall performance: With 3D NAND technology, SSDs can read and write data at significantly higher speeds compared to HDDs.
This means faster boot times, quicker file transfers, and improved overall system performance. Say goodbye to frustrating loading screens and hello to seamless multitasking.
Enhanced durability and reliability: Traditional HDDs rely on spinning mechanical parts, making them susceptible to wear and tear over time.
3D NAND SATA SSDs have no moving parts, making them much more durable and resistant to shock and vibration. This means your valuable data is better protected, even in rugged environments.
Increased storage capacity for demanding applications: 3D NAND technology allows for higher storage capacities than ever before. This makes SSDs ideal for power users and organizations with demanding applications, such as video editing, gaming, and data-intensive tasks.
You'll have more room to store your files, games, and multimedia content without compromising on performance.
Energy-efficient and quieter operation: SSDs consume less power compared to HDDs, resulting in reduced energy consumption and longer battery life for laptops and mobile devices.
Since SSDs don't have spinning disks, they operate silently, minimizing the distracting noise often associated with traditional hard drives.
Improved multitasking capabilities: Thanks to their faster data transfer speeds, 3D NAND SATA SSDs excel at handling multitasking scenarios.
Whether you're launching multiple applications simultaneously, running virtual machines, or working with large datasets, SSDs can keep up with your demands, ensuring a smooth and responsive computing experience.
Lower latency and faster access times: SSDs offer significantly lower latency and faster access times compared to HDDs.
This means near-instantaneous access to your files and applications, resulting in reduced waiting times and increased productivity.
Whether you're a professional seeking optimal workflow or a gamer looking for lightning-fast load times, 3D NAND SATA SSDs deliver the speed you need.
Popular Brands And Models Of 3D Nand Sata Ssds
Some of the most popular brands and models include Samsung 860 EVO, Crucial MX500, and WD Blue 3D NAND SATA SSD. These SSDs offer faster data transfer speeds and improved reliability for a seamless computing experience.
One such solution is the 3D NAND SATA SSD, which offers significant improvements over traditional hard drives.
Samsung Evo Series:
Samsung has long been recognized as one of the leading players in the SSD market, and their EVO series continues to set the benchmark for high-performance SSDs.
The Samsung EVO series employs the latest 3D NAND technology, stacking multiple layers of memory cells vertically to increase the density and capacity of the drive.
With read and write speeds that surpass those of traditional hard drives by a considerable margin, the Samsung EVO series offers an exceptional user experience in terms of file transfer, boot times, and application loading.
These SSDs are also known for their reliability and endurance, ensuring that your data remains safe and accessible over an extended period.
Samsung provides user-friendly software tools like the Samsung Magician that allow users to monitor and optimize their SSD performance effortlessly.
Crucial Mx Series:
The Crucial MX series is another popular choice among users seeking a reliable and cost-effective 3D NAND SATA SSD.
These SSDs combine cutting-edge 3D NAND technology with a powerful controller to deliver impressive speeds and enhanced performance.
The MX series offers significant improvements in overall system responsiveness, reducing lag and loading times for both operating systems and applications.
One standout feature of this series is its energy efficiency, providing longer battery life for portable devices without sacrificing performance.
Crucial also offers a range of useful software tools, such as the Crucial Storage Executive, which allows users to monitor drive health, update firmware, and optimize performance.
Western Digital Blue Series:
Western Digital, a trusted name in storage solutions, has its Blue series of 3D NAND SATA SSDs that cater to a wide range of needs and budgets.
The Blue series utilizes 3D NAND technology to provide faster data transfer rates, improved multitasking capabilities, and reliable performance.
With capacities ranging from 250GB to 4TB, these SSDs offer ample space to store your files, applications, and multimedia content.
Western Digital prioritizes data integrity and security, incorporating features like error correction technology and advanced encryption options.
The Western Digital SSD Dashboard software empowers users to monitor drive health, manage firmware updates, and optimize performance effortlessly.
The 3D NAND SATA SSD market offers a wide array of options, with each brand and model providing unique features and advantages.
Whether you prioritize speed, reliability, or cost-efficiency, there's a 3D NAND SATA SSD available to meet your needs.
From the Samsung EVO series with its exceptional performance, the Crucial MX series with its energy efficiency, to the Western Digital Blue series with its varied capacities, these SSDs are making significant contributions to the evolution of storage technology.
Installation And Maintenance Of 3D Nand Sata Ssds
3D NAND SATA SSDs provide exceptional speed and reliability. They are easy to install but need regular maintenance for top-notch performance and durability. Explore the technology and its benefits further.
Step-By-Step Guide On Installing A 3D Nand Sata Ssd In Your System
Follow these step-by-step instructions to ensure a successful installation:
Prior to installation, ensure that your system meets the necessary requirements to support a 3D NAND SATA SSD.
Power off your system and disconnect it from any power source.
Open the casing of your system, whether it's a desktop or laptop, to gain access to the internal components.
Locate the existing storage drive, which is usually a traditional hard disk drive (HDD) or an older model SSD.
Carefully disconnect the cables connected to the existing drive, including the data cable and power cable.
Remove the existing drive from its slot by unscrewing any mounting brackets or screws, if present.
Take the 3D NAND SATA SSD and align it with the vacant slot in your system, ensuring that the SATA connectors are lined up correctly.
Gently insert the 3D NAND SATA SSD into the slot and secure it in place using screws or mounting brackets, if necessary.
Reconnect the data cable and power cable to the newly installed SSD, ensuring they are firmly connected.
Close the casing of your system and reconnect it to the power source.
Power on your system and check your computer's BIOS or operating system to verify that the 3D NAND SATA SSD is recognized and functioning correctly.
Recommended Maintenance Practices For Optimal Performance And Longevity
To maximize your 3D NAND SATA SSD's performance and longevity, follow these recommended maintenance practices:
Keep your SSD firmware up to date: Regularly check for firmware updates from the manufacturer and apply them when available. Firmware updates can address issues and improve the overall performance of your SSD.
Avoid filling the drive to maximum capacity: Aim to maintain a reasonable amount of free space on your SSD. Overfilling the drive can lead to decreased performance and reduce its lifespan.
Enable TRIM support: TRIM is a feature that helps maintain the long-term performance of an SSD by enabling efficient data deletion. Ensure that TRIM is enabled in your operating system for optimal SSD maintenance.
Perform regular backups: Although SSDs are reliable, unexpected failures can occur. Create regular backups of your important data to prevent potential loss in case of hardware failure.
Run regular disk checks: Periodically check your 3D NAND SATA SSD for errors or corrupt data using the disk checking tool provided by your operating system. Address any issues promptly to maintain optimal SSD performance.
Avoid excessive write operations: While modern SSDs have improved endurance, excessive write operations can still impact the lifespan of the drive. Minimize unnecessary write activity, such as temporary files or excessive downloading/uploading.
Avoid extreme temperatures and physical shock: SSDs are more robust than traditional hard drives, but they can still be affected by extreme temperatures and physical shock. Keep your system in a well-ventilated area and handle it with care to avoid potential damage.
By following this step-by-step installation guide, implementing recommended maintenance practices, and knowing how to troubleshoot common issues, you can ensure optimal performance and longevity for your 3D NAND SATA SSD.
Potential Applications And Benefits Of 3D Nand Sata Ssds
3D NAND SATA SSDs are advanced storage devices that offer significant benefits in various applications. These solid-state drives utilize a vertical stacking technology, resulting in higher capacity, improved performance, and enhanced durability compared to traditional SSDs.
With their potential applications in gaming, multimedia, and enterprise computing, 3D NAND SATA SSDs are becoming a preferred choice for data storage needs.
Implications For The Consumer Electronics Industry
Enhanced Performance: 3D NAND SATA SSDs offer significant performance improvements over traditional hard drives and even previous generations of SSDs.
With faster read and write speeds, these solid-state drives allow consumer electronics devices to operate more efficiently, offering smooth and responsive user experiences.
Increased Storage Capacity: The introduction of 3D NAND technology has significantly increased the storage capacity of SATA SSDs.
This means that consumer electronics manufacturers can now offer devices with higher storage capacities, allowing users to store more data, multimedia files, and applications on their devices.
Slimmer Designs: The compact size of 3D NAND SATA SSDs enables consumer electronics manufacturers to design sleeker and lighter devices.
This is particularly beneficial for mobile devices such as smartphones, tablets, and ultrabooks, where portability and aesthetics play a crucial role.
The Role Of 3D Nand In Enabling New Technologies Like Artificial Intelligence And Virtual Reality
Seamless Data Processing: AI and VR applications demand high-speed and uninterrupted data processing. 3D NAND SATA SSDs provide the necessary performance to handle the massive datasets required by AI algorithms and immersive experiences of VR applications.
Vast Storage Capacities: AI and VR technologies generate enormous amounts of data that need to be stored and accessed quickly.
The increased storage capacities of 3D NAND SATA SSDs allow for efficient management of these large datasets, ensuring smooth operation and minimizing the need for external storage solutions.
Real-time Responsiveness: AI algorithms and VR experiences rely on real-time processing and responsiveness. 3D NAND SATA SSDs offer numerous benefits across various industries.
The consumer electronics sector can leverage these drives for enhanced device performance, increased storage capacities, and compact designs.
Data centers and enterprises can benefit from improved data access speed, enhanced reliability, and reduced power consumption.
3D NAND technology plays a pivotal role in enabling emerging technologies like artificial intelligence and virtual reality, ensuring seamless data processing, vast storage capacities, and real-time responsiveness.
As technology continues to evolve, 3D NAND SATA SSDs will continue driving innovation and powering the next generation of devices and applications.
Conclusion
To sum up, 3D NAND SATA SSD is a groundbreaking technology that revolutionizes the storage industry. Its vertical stacking structure and high-density architecture allow for increased storage capacity and improved performance without compromising reliability.
By stacking memory cells, 3D NAND enables manufacturers to fit more data in smaller spaces, delivering higher storage capacities and enhanced speeds.
The innovative design also enhances endurance and prolongs the lifespan of the SSD, making it a reliable choice for both personal and professional use.
In addition to its superior performance, 3D NAND SATA SSD offers several advantages over traditional SSDs, such as lower power consumption and increased durability.
These features make it a cost-effective solution for users looking to upgrade their storage without sacrificing speed or reliability.
Whether you're a gamer seeking faster load times or a business professional in need of faster data processing, 3D NAND SATA SSD is an ideal choice that offers a significant boost to your computing experience.
With the rapidly evolving technology landscape, 3D NAND SATA SSD presents an exciting opportunity for individuals and businesses alike.
Its combination of high capacity, improved performance, and enhanced durability make it a game-changer in the storage industry.