What is M 2 Ssd Good for? 7 Common Benefits
An M.2 SSD is a highly efficient and compact solid-state storage device that is best suited for improving the overall performance, boot speed, and responsiveness of various computer systems, such as laptops, desktops, gaming consoles, and servers.
M.2 SSDs (Solid State Drives) are a relatively newer form of storage technology that offers numerous benefits over traditional hard drives (HDDs) and older SSDs.
They connect directly to the motherboard via the M.2 slot, enabling faster data transfer rates and reduced latency. M.2 SSDs are particularly popular in ultrabook laptops due to their compact size and low power consumption.
Faster data transfer speeds: M.2 SSDs provide significantly higher read/write speeds compared to HDDs and older SSDs, resulting in improved overall system performance.
Reduced power consumption: M.2 SSDs consume less power than other storage devices, making them ideal for laptops and energy-efficient systems.
Compact and lightweight design: The smaller form factor of M.2 SSDs allows for thinner and lighter devices without compromising storage capacity.
Improved durability and reliability: M.2 SSDs have no moving parts, making them less prone to mechanical failure and data loss due to physical damage.
In summary, an M.2 SSD is an excellent choice for users seeking improved performance, faster boot times, and increased durability.
Its compact design and low power consumption make it particularly suitable for laptops and other portable devices, while its high data transfer speeds and reliability ensure optimal performance in various computing applications.
7 Common Benefits of Using M 2 SSD
| M.2 SSD Uses | Benefits |
| --- | --- |
| Fast boot time | M.2 SSDs provide quick startup due to their high-speed performance. |
| Gaming | Reduces game loading times, resulting in smooth and seamless gameplay. |
| Video editing | Enhanced performance results in faster file access and real-time editing. |
| Data transfer | Improved data transfer speeds for large files and high-resolution media. |
| Multitasking | Allows for smooth multitasking without the sluggishness present in traditional hard drives. |
| Productivity | Reduces waiting times for opening applications and processing large files. |
| Compact devices | M.2 SSDs are compact, making them perfect for slim and portable devices like laptops and ultrabooks. |
7 Common Benefits of Using M 2 SSD
Key Takeaway
M.2 SSDs are ideal for improving a system's performance due to their faster read and write speeds compared to traditional SSDs and HDDs.
The small form factor of M.2 SSDs allows for a compact design, making them suitable for use in laptops, desktops, and other devices where space is limited.
M.2 SSDs are good for energy efficiency, as they consume less power than standard hard drives, leading to longer battery life in laptops and lower power consumption in desktops.
M.2 SSDs support both the SATA and PCIe interfaces, which provide significant performance improvements when connected through the latter.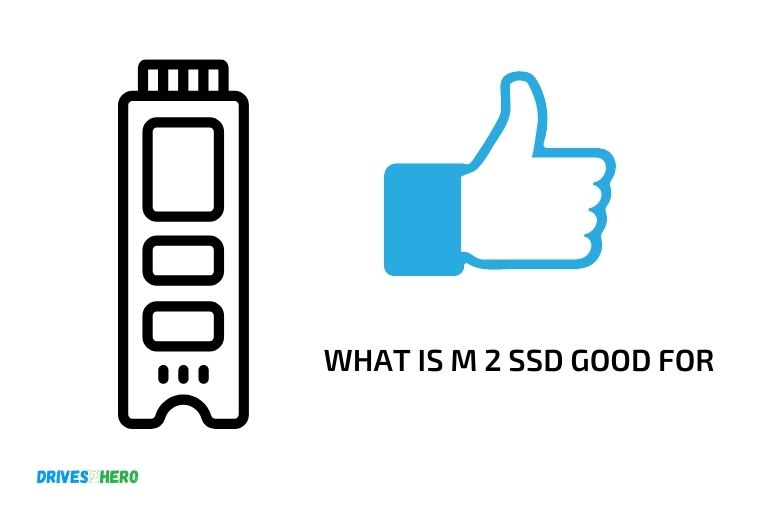 Five Facts About Benefits of Using M 2 SSD
M.2 SSD stands for "Next Generation Form Factor" solid-state drive, designed to replace the mSATA standard for smaller and faster storage devices (Source: wikipedia)
M.2 SSDs can support NVMe (Non-Volatile Memory Express), a high-performance storage protocol, which outperforms traditional SSDs in terms of speed and latency (Source: nvmexpress).
M.2 SSDs come in various lengths and widths, including 22x42mm (2242), 22x60mm (2260), and 22x80mm (2280), to fit different device designs and storage capacities (Source: atpinc.com)
An M.2 SSD can offer up to 32 Gbps data transfer rate when connected through a PCIe interface, as opposed to 6 Gbps with the SATA interface (Source: tomshardware.com)
What Is M 2 Ssd?
M 2 ssd refers to the m. 2 solid-state drive, which is a type of storage device that allows users to store and access their data quickly and efficiently. The m. 2 ssd is typically used in smaller devices such as ultrabooks, tablets, and mini-computers.
Here are some important things you should know about m 2 ssd:
Definition Of M 2 Ssd
The m 2 ssd is a small form-factor solid-state drive used to store data
It uses the m.2 connector and interface standard
The m.2 standard is designed to replace traditional hard drives and sata-based ssds
M.2 ssds are faster and more energy-efficient than traditional hard drives and sata-based ssds.
M 2 Ssd Vs Traditional Ssd
M 2 ssds are smaller in size and have a smaller form factor compared to traditional ssds
M 2 ssds use the pcie interface, which allows for faster transfer speeds compared to traditional ssds that use the sata interface
M 2 ssds can reach speeds of up to 4 gb/s of sequential reads and 3 gb/s of sequential writes, compared to traditional ssds which can reach speeds of up to 600 mb/s of sequential reads and 550 mb/s of sequential writes.
Advantages And Disadvantages Of M 2 Ssd
Advantages:
High speed due to pcie interface
Saves space due to small form factor
Energy efficient, which helps to increase battery life on portable devices
Reliable and has a longer lifespan compared to traditional hard drives.
Disadvantages:
Can be expensive compared to traditional hard drives and sata-based ssds
Limited storage capacity compared to traditional hard drives
Compatibility issues with some systems that do not support m.2 form factor.
M 2 ssds are becoming increasingly popular due to their faster speeds, smaller form factor, and energy efficiency. However, they may not be suitable for everyone due to their higher cost and compatibility issues with some systems.
Benefits Of M 2 Ssd
Improved Speed And Performance
M 2 ssds offer faster read and write speeds than traditional hard disk drives (hdds) due to their pcie and nvme interfaces.
They can improve the overall system's performance, making boot and load times faster, and applications more responsive.
M 2 ssds are perfect for gamers, content creators, and professionals who require fast transfer rates and top-notch performance.
Up to 5x faster than traditional hard disk drives
Decreased load times
Improved application performance
Ideal for gaming, content creation, and other high-performance tasks.
Enhanced Efficiency And Durability
M 2 ssds are more reliable and energy-efficient than traditional hdds. Because they use no moving parts, they are highly resistant to damage from drops or shocks and have a lower probability of failure due to wear and tear.
More reliable than traditional hard disk drives
Resistant to wear and tear
Energy-efficient
Low power consumption
Better Power Management
M 2 ssds consume less power than traditional hard disk drives. Laptop batteries last longer, and the systems run cooler, making them quieter and more comfortable to use.
Lower power consumption
Longer laptop battery life
Quieter system operation
Reduced heat production
Increased Storage Capacity
M 2 ssds have much higher storage capacity than traditional hard drives, making them ideal for storing large files, such as movies, music, pictures, and documents.
As technology advances, the storage capacity of m 2 ssds will continue to grow, offering even more space for users to store their data.
Up to 2tb of storage capacity
Compact design doesn't sacrifice storage
Reliable storage of large files
Ideal for video editing, photography, and gaming
Highlighting M 2 Ssd Benefits In Different Industries
M 2 ssds offer improved performance, increased storage capacity, and enhanced durability, making them ideal for various industries.
Gaming and multimedia: Faster boot and loading times, improved game performance, and increased storage capacity provide gamers with a superior gaming experience.
Creative professionals: M 2 ssds provide faster file transfer speeds, making photo and video editing faster and more efficient.
Scientific and engineering: M 2 ssds provide faster data analysis, simulations, and modeling capabilities.
Healthcare and financial services: M 2 ssds offer faster data transfer speeds, enhanced security, and increased storage capacity, ensuring quick access to patient data and financial records.
M 2 ssds' benefits will continue to make them a highly sought-after storage solution for various industries.
How To Choose The Right M 2 Ssd
M 2 ssds are the new generation of solid state drives that come in a small, compact and versatile design. They have become popular in recent years because of their fast speed, high performance, and improved system efficiency.
When it comes to choosing the best m2 ssd, there are certain key factors that you need to consider.
Key Factors To Consider
1. Compatibility
Ensure that the m 2 ssd is compatible with your motherboard before making any purchase. Double-check the ssd size and type and compare it with the slot available on your motherboard. You can find this information from your motherboard's manual or manufacturer's website.
2. Capacity
Determine the storage capacity that you require, based on your usage and budget. M 2 ssds are available in various storage options, from 128gb to 2tb. If you're a gamer or work with highly graphic files, then choose an ssd with at least 1tb storage.
3. Interface Speed
The interface speed of the ssd determines the data transfer rate from the drive to the motherboard. M 2 ssds come in three interface types, namely sata iii, pcie (nvme), and pcie (ahci).
Pcie (nvme) is the fastest among all three and is recommended for high performance and gaming purposes.
4. Brand And Quality
Choose a reputable brand that offers reliable and high-quality m 2 ssds. As ssds have a limited lifespan, it is important to choose a brand that offers a good warranty period.
5. Thermal Performance
M 2 ssds generate more heat than traditional ssds due to their compact design. Choose an ssd that has a heatsink or thermal solution to keep it cool. This will help in maintaining the ssd's performance and prolong its lifespan.
6. Price
The cost of m 2 ssds varies depending on the brand, capacity, and features. Determine your budget and compare different models to find the best value for money option.
It is crucial to choose the right m 2 ssd depending on your needs, compatibility, performance, quality, and price. By considering these key factors, you will be able to make an informed decision and enhance your system's performance.
Tips For Installing And Maintaining M 2 Ssd
M 2 ssd, also known as next generation form factor (ngff) ssd is a small form factor solid-state drive designed for high-performance computing needs. It is a much faster storage device with read and writes speeds of up to 3.
5gb/s and 3gb/s, respectively. These features make it an excellent choice for anyone looking for high-speed computing solutions. This article will explore some tips for installing and maintaining m 2 ssd drives.
Installation Procedure
Installing an m 2 ssd drive is easy, and you don't need to be a computer expert to do it.
Here are some tips for installing an m 2 ssd drive:
Make sure your pc/laptop supports m 2 ssd.
Newer models usually have this support, but you should still check.
Power down the system and unplug the power cable.
Open the computer chassis and locate the m 2 ssd slot on the motherboard.
Using a screwdriver, unfasten the screw holding the m 2 ssd slot cover.
Align the notch in the m 2 ssd with the m 2 socket on the motherboard and gently slide it in at a 30-degree angle.
Press the drive downwards until it clicks into place.
Secure the screw on the m 2 ssd slot cover.
Maintenance Best Practices
Maintaining your m 2 ssd drive is vital to keep it functioning correctly and extend its lifespan.
Here are some best practices for maintaining the longevity of your m 2 ssd drive:
Ensure you have the latest firmware and drivers installed. Check the manufacturer's website for firmware updates.
Always perform regular backups of your important data, including your operating system drive.
Use an antivirus program to scan for any viruses or malware that may harm your ssd.
Always use the proper software to format and partition the m 2 ssd.
Keep your computer clean and dust-free.
Potential Issues To Watch Out For
M 2 ssd drives are a reliable, high-performance storage solution, but some problems can arise.
Here are some potential issues to watch out for:
Overheating: M 2 ssds generate a lot of heat, but they come with built-in thermal protection mechanisms. Ensure your m 2 ssd has proper cooling to avoid this issue.
Compatibility issues: Always check the motherboard manual and ensure the m 2 ssd is compatible with your system.
Slow performance: Check that the m 2 ssd is connected to the correct pcie lanes. If your system has several m 2 ssd ports, ensure that each drive is connected to the correct pcie lane to avoid slow performance.
M 2 ssd drives are a speedy and efficient storage solution. Installing and maintaining an m 2 ssd drive is easy if you follow the guidelines provided.
By keeping your m 2 ssd drive up to date and properly maintained, you can extend its lifespan and enjoy fast, efficient computing.
FAQ About M 2 SSD
What Is M 2 Ssd Good For?
M2 ssds are great for fast data transfer, quick system boots, and lightning-fast game loading times.
What Is The Difference Between M 2 Ssd And Sata Ssd?
M2 ssd connects directly to the motherboard, while sata ssd uses a cable. M2 ssds are faster and more expensive.
What Are The Different Types Of M 2 Ssds?
There are three types of m2 ssds: sata-based, pcie-based, and nvme-based. Each type differs in performance and price.
Can M 2 Ssd Improve Gaming Performance?
Yes, m2 ssds offer faster load times, making your game load smoother and faster than traditional hard drives or sata ssds.
Conclusion
After reading this article, it is clear that m 2 ssds offer exceptional benefits in terms of speed, storage capacity and performance. They are ideal for those who use intensive applications and require high-speed data transfer. M 2 ssds are also a perfect choice for gamers, video editors, and graphic designers.
With their small form factor, they offer significant design flexibility for laptop manufacturers, making it possible to create lightweight and slim devices that offer excellent performance. Furthermore, the nvme protocol used in m 2 ssds provides faster boot times and quicker access to files, which can enhance your working experience.
Investing in an m 2 ssd is a smart choice, as it provides better performance than a traditional hard drive and it is also more reliable, durable and efficient. So, if you are looking for speed and performance, a quality m 2 ssd can be an ideal fit for your computing needs.