Will Ssd Work on Sata 2? Yes!
Yes, SSDs will work on SATA 2, but their speed will be limited to the interface's maximum speed of 3 Gbps, which is slower than their potential. For optimal SSD performance, use a SATA 3 interface with a speed of 6 Gbps.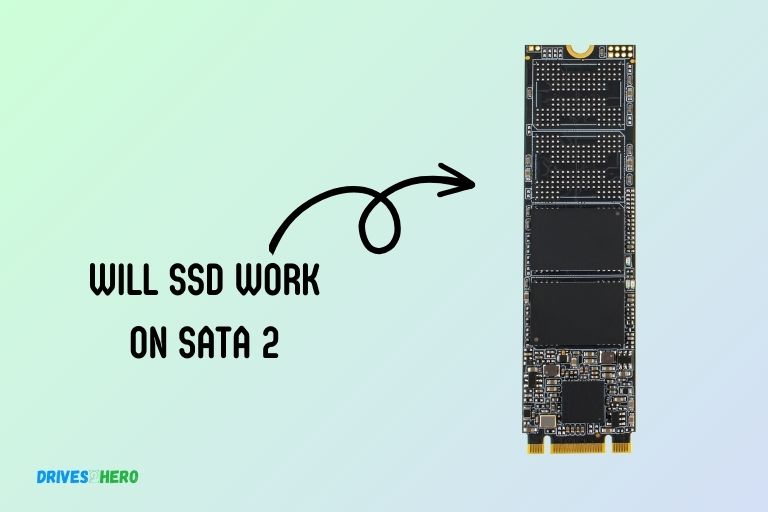 Key Takeaway
SSD drives can be compatible with SATA 2 ports as they are designed to work across multiple SATA interfaces.
Performance capabilities will be limited by SATA 2's slower speeds compared to SATA 3, which can restrict the full capabilities of SSDs.
Despite the performance drawback, SSD on SATA 2 still provides a noticeable performance boost compared to traditional HDDs.
The upgrade to an SSD from an HDD would still yield significant performance improvements even on a SATA 2 interface.
The Difference Between Sata 2 And Sata 3
SATA 2 and SATA 3 are different generations of the SATA interface, with SATA 3 offering faster data transfer speeds.
While an SSD can technically work on a SATA 2 connection, it won't reach its full potential and may experience slower performance compared to using it with SATA 3.
SSDs (solid-state drives) have become increasingly popular in recent years due to their superior performance compared to traditional hard disk drives (HDDs).
However, when considering upgrading your storage system, it's important to understand whether an SSD will work on SATA 2 or if it requires the faster SATA 3 interface.
We'll explore the difference between SATA 2 and SATA 3, and how it affects SSD compatibility and performance.
Sata 2 Vs Sata 3 Speed Comparison:
SATA 2:
Supports a maximum data transfer rate of 3.0 Gbps (gigabits per second).
Offers a theoretical maximum throughput of around 300 MB/s (megabytes per second).
Suitable for HDDs and older SSD models that don't require high-speed data transfer.
SATA 3:
Supports a maximum data transfer rate of 6.0 Gbps, twice that of SATA 2.
Provides a theoretical maximum throughput of approximately 600 MB/s, enabling faster file transfers and improved overall system performance.
Designed to take full advantage of the speed and efficiency of modern SSDs.
Key Features Of Sata 2 And Sata 3:
SATA 2:
Older technology, commonly found in computers manufactured between 2004 and 2009.
Supports backward compatibility, allowing SATA 2 devices to work with SATA 3 interfaces, albeit at reduced speeds.
Offers sufficient performance for most standard computing tasks but may bottleneck newer high-speed SSDs.
SATA 3:
The current standard for modern storage devices, introduced in 2009.
Provides faster data transfer speeds, enhancing overall system responsiveness and reducing loading times.
Ensures optimal performance for the latest SSD models, leveraging their capabilities to deliver exceptional speed and reliability.
Compatibility Differences Between Sata 2 And Sata 3:
SATA 3 SSDs are backward compatible with SATA 2 interfaces, meaning you can connect them to SATA 2 ports. However, their performance will be limited to the maximum speed supported by SATA 2.
While using a SATA 3 SSD on a SATA 2 interface will still provide significant performance improvements over HDDs, the SSD won't reach its full potential.
To fully benefit from the impressive speed and responsiveness of SATA 3 SSDs, it's recommended to use them with SATA 3 interfaces.
Upgrading to SATA 3 might require a motherboard or expansion card that supports SATA 3 technology.
Understanding the difference between SATA 2 and SATA 3 is important when considering upgrading to an SSD. While SATA 2 is compatible with SATA 3 SSDs, it won't allow them to perform at their maximum potential.
If you want to take full advantage of the incredible speed and efficiency offered by modern SSDs, upgrading to a SATA 3 interface is highly recommended.
So, before making a decision, assess your system's compatibility and requirements to ensure the best possible performance from your storage solution.
Upgrading To Sata 3 For Optimal SSD performance
SATA 2 may not fully unlock the potential of an SSD due to bandwidth limitations, causing slower performance. Upgrading to SATA 3 will optimize SSD performance, enabling faster data transfer speeds and enhancing overall system responsiveness.
If you're looking to enhance the performance of your SSD, upgrading from SATA 2 to SATA 3 can greatly benefit you. Let's dive into the benefits, considerations before upgrading, and the steps to seamlessly transition to SATA 3.
Benefits Of Upgrading To Sata 3:
Enhanced Speed: SATA 3 offers significantly faster data transfer rates compared to SATA 2, providing a seamless experience and reducing wait times.
Improved Performance: Upgrading to SATA 3 enables your SSD to reach its full potential, maximizing its performance capabilities.
Future-Proofing: As technology continues to advance, making the switch to SATA 3 ensures compatibility with the latest devices and ensures your system remains up to date.
Considerations Before Upgrading The Interface:
Check Compatibility: Before upgrading, verify if your system supports SATA 3. Consult your device's specifications or manufacturer's documentation for compatibility information.
Available Ports: Ensure that your motherboard has SATA 3 ports available for connecting your SSD. If not, consider purchasing a SATA 3 expansion card.
Backup Important Data: It is always wise to back up your important data before making any changes to your system. This precautionary measure helps prevent data loss during the upgrade process.
Steps To Upgrade From Sata 2 To Sata 3:
Identify SSD and Motherboard Compatibility:
Check if your SSD supports SATA 3. Refer to the manufacturer's documentation or website for this information.
Verify that your motherboard has SATA 3 ports available. Check the motherboard documentation or visit the manufacturer's website if needed.
Obtain SATA 3 Cable:
Purchase a SATA 3 cable if your system does not include one. Ensure it is a high-quality cable for optimal data transfer.
Backup Data:
Before making any hardware changes, create a backup of your important files, as a precautionary measure.
Power Down and Disconnect:
Shut down your system and unplug it from the power source.
Open your computer case and locate the SSD and SATA 2 cable.
Disconnect SATA 2 Cable:
Gently remove the SATA 2 cable connected to your SSD. Ensure you remember its initial position.
Connect SATA 3 Cable:
Attach the SATA 3 cable to the SSD, ensuring a secure connection.
Connect the other end of the cable to a SATA 3 port on your motherboard.
Secure SSD:
Carefully fasten the SSD in its original position, ensuring it is securely placed.
Power Up and Verify:
Plug your system back into the power source and power it up.
Check if your system recognizes the SSD. You can verify this in your computer's BIOS or operating system.
Install SSD Software:
Install any software or drivers provided by the SSD manufacturer for optimal performance.
Test SSD Performance:
Benchmark your upgraded SSD performance to ensure it is running optimally.
By following these steps, you can transition from SATA 2 to SATA 3, unlocking the full potential of your SSD and enjoying improved performance.
Ensure you consider compatibility, back up your data, and carry out the process with care for a smooth upgrade experience.
Bottlenecks and Limitations
SATA 2, or Serial ATA 2, is a standard interface used to connect storage devices like SSDs to a computer's motherboard.
While SATA 2 was a significant improvement over its predecessor, SATA 1, it does have its limitations when it comes to SSDs.
Here are the key limitations to consider:
Data transfer speed: SATA 2 supports a maximum data transfer rate of 3 gigabits per second (Gbps), which is significantly slower compared to the capabilities of modern SSDs. This means that an SSD using SATA 2 can't achieve its full potential in terms of speed.
Bandwidth limitation: The lower data transfer speed of SATA 2 can result in limited bandwidth for SSDs. This means that the SSD may not be able to fully utilize its capabilities and may experience reduced performance.
Lack of advanced features: SATA 2 lacks some advanced features that are present in newer SATA versions. These features, such as Native Command Queuing (NCQ) and TRIM support, can significantly enhance overall SSD performance and lifespan.
Compatibility Of Ssds With Sata 2 Interfaces
Despite the limitations of SATA 2, SSDs can still be used with SATA 2 interfaces.
However, it's important to keep in mind the following considerations:
Backward compatibility: SSDs are backward compatible, which means they can work with older SATA interfaces such as SATA 2.
This allows for a seamless transition from an HDD to an SSD without the need for significant hardware upgrades.
Reduced performance: While an SSD connected via SATA 2 will still outperform an HDD, it won't reach its full speed potential.
Data transfer rates will be capped at 3Gbps, limiting overall performance compared to newer SATA interfaces.
Future proofing: If you plan to upgrade your storage solution in the near future, it may be worth considering a motherboard with a SATA 3 interface for optimal SSD performance.
SATA 3 supports higher data transfer rates and advanced features, allowing SSDs to operate at their full potential.
While SSDs can be used with SATA 2 interfaces, there are limitations to consider in terms of speed and performance.
Upgrading to a motherboard with a faster SATA interface may provide a better experience if you require the maximum performance benefits SSDs have to offer.
Factors To Consider When Using An Ssd With Sata 2
SSD compatibility with SATA 2 is an important consideration. Ensure optimal performance by assessing factors like data transfer rates, hardware compatibility, and firmware updates. Safeguard your investment for smooth operations.
Ssd Performance On Sata 2
SATA 2, the second-generation Serial ATA interface, is still in use today, although it has been superseded by faster and more advanced standards like SATA 3 and NVMe.
When it comes to using an SSD on a SATA 2 connection, there are a few factors to consider to ensure optimal performance and compatibility.
Compatibility: SSDs with SATA 2 interfaces are backward compatible with SATA 1 and 2 ports. This means that even though the SSD is designed for faster SATA 3 speeds, it will still work on a SATA 2 port.
However, the performance will be limited to the maximum speed supported by SATA 2, which is 3 Gbps (approximately 300 MB/s).
Sequential Read/Write Speeds: SATA 2, with its maximum transfer rate of 3 Gbps, can limit the sequential read and write speeds of an SSD.
While modern SSDs can achieve speeds well beyond what SATA 2 can handle, they will be bottlenecked by the interface.
Therefore, it's essential to manage your expectations regarding the SSD's performance in terms of reading and writing large files.
Random Read/Write Speeds: Random read and write speeds, which are crucial for everyday usage and multitasking, may not be significantly impacted by the SATA 2 limitation.
This is because the random read and write performance of SSDs is generally measured in input/output operations per second (IOPS) rather than in raw data transfer rates.
Therefore, you may still experience faster load times and better overall responsiveness compared to traditional hard disk drives (HDDs).
Real-World Impact On Daily Usage
While the SATA 2 limitation may affect the maximum transfer rates of an SSD, it's important to consider the real-world impact on your daily usage.
Here are a few points to keep in mind:
OS Boot Times: Even with SATA 2, SSDs still offer significantly faster boot times compared to HDDs. So, you can expect quicker startup times for your operating system, leading to a more efficient workflow.
Application Load Times: One of the strongest advantages of using an SSD is faster application load times. With SSDs, applications launch almost instantly, saving you valuable time and improving your overall productivity.
Multitasking and File Transfers: While the maximum data transfer rates may be limited, SSDs will still provide a significant boost in multitasking capabilities.
You'll experience smoother performance when running multiple applications simultaneously. Copying and moving files within your SSD will be faster compared to HDDs.
Other Potential Bottlenecks In The System
Keep in mind that the SATA 2 limitation is just one factor that can affect overall system performance when using an SSD.
Here are a few other potential bottlenecks to consider:
CPU: A slow or outdated CPU may limit the system's ability to access and process data, regardless of the SSD's capabilities. Consider upgrading your CPU if it becomes a bottleneck.
RAM: Insufficient RAM can limit the system's ability to cache and access data, affecting overall performance. Ensuring you have enough RAM for your computing needs is important, especially when working with resource-intensive applications.
Data Cable Quality: Although often overlooked, using high-quality SATA cables can minimize data transmission errors and ensure reliable performance.
While using an SSD on a SATA 2 interface may limit its full potential, you can still enjoy the advantages of faster boot times, improved application load times, and smoother multitasking capabilities.
Remember to consider other potential bottlenecks within your system to maximize your overall performance.
Conclusion
While SSDs are designed to work optimally on SATA 3 connections, they can still function on SATA 2 interfaces. However, it's important to note that the performance of the SSD may be limited in terms of speed and data transfer rates.
If you are using an older computer with a SATA 2 connection, it may be worth considering an upgrade to SATA 3 or NVMe for optimal SSD performance.
Keep in mind that while upgrading to a newer interface may enhance the performance of your SSD, it's always a good idea to check your motherboard's compatibility and consult with a professional if necessary.
Overall, SSDs can still provide a significant improvement over traditional HDDs even on SATA 2 connections, but to fully experience the benefits of SSD technology, upgrading to a faster interface is recommended.