Are PCIe SSD Worth It? Yes!
Yes, PCIe SSDs are indeed worth it. They provide superior speed and performance compared to SATA SSDs, particularly for applications requiring high data transfer speeds such as gaming, video editing, and 3D rendering.
PCIe (Peripheral Component Interconnect Express) SSDs connect directly to the motherboard of your computer, bypassing the limitations of the SATA interface and allowing for faster data transfer and loading times.
While they are typically more expensive than SATA SSDs, the performance enhancement can be a significant advantage for power users.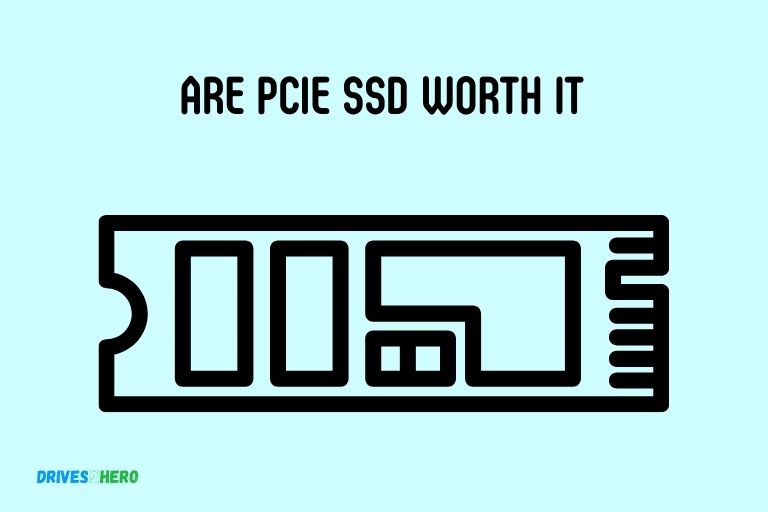 10 Aspects Of The Worthiness Of PCIe SSDs
| Aspect | Description | Importance |
| --- | --- | --- |
| Speed | PCIe SSDs offer significantly faster read and write speeds compared to traditional HDDs. | High |
| Reliability | Reliable NAND flash storage technology ensures data integrity and long-term use. | High |
| Endurance | The endurance rating (TBW – Terabytes Written) indicates how long the SSD will last. | High |
| Form Factor | Various form factors (M.2, U.2, HHHL) accommodate different devices and use cases. | Medium |
| Capacity | Available capacities range from 128GB to multiple terabytes, catering to diverse needs. | High |
| Power Efficiency | PCIe SSDs consume less power, which is crucial for laptops and energy-efficient systems. | Medium |
| Compatibility | Check compatibility with your motherboard's PCIe version (e.g., PCIe 3.0, PCIe 4.0). | Medium |
| Price | Prices vary widely based on capacity and performance, making cost considerations essential. | Medium |
| Software Support | Compatibility with operating systems and support for TRIM, NVMe, and drive management tools. | Medium |
| Warranty | Longer warranties (e.g., 5 years) provide peace of mind regarding the SSD's lifespan. | Medium |
Explore the pros and cons of PCIe SSDs to determine their worth in terms of speed, reliability, price, and compatibility for your specific needs.
Key Takeaway
PCIe SSDs provide superior speed and performance compared to other types of SSDs.
They are excellent for jobs involving heavy data transfers such as video editing or gaming.
PCIe SSDs are more expensive than other types of SSDs, but the superior performance can justify the cost.
The performance advantage of PCIe SSDs would be most beneficial to professionals and intense gamers.
Understanding PCIe SSD Technology
PCie SSD technology brings remarkable speed and performance to data storage, making it worth considering for those seeking an efficient and powerful storage solution.
With faster read and write speeds, PCie SSDs excel in handling large workloads and enhancing overall system performance.
We will explore how PCIe SSDs differ from HDDs and SATA SSDs, and understand the advantages of the PCIe interface for data transfer speed.
The Advantages Of Pcie Interface For Data Transfer Speed
One of the most significant advantages of PCIe SSDs is the incredible speed they offer for data transfer. With the PCIe interface, the storage device can directly communicate with the CPU through multiple lanes, which allows for parallel data transfer.
This means that multiple data streams can be processed simultaneously, resulting in lightning-fast read and write speeds. The greater bandwidth provided by PCIe enables real-time processing of data-intensive tasks, such as video editing or gaming, without experiencing lags or delays.
Whether you are a content creator handling large media files or a gamer demanding seamless performance, PCIe SSDs deliver the speed and responsiveness you need.
Enhanced Performance And Speed
When it comes to storage performance, PCIe SSDs are worth every penny. They provide an incredible boost in both speed and overall system performance.
Taking advantage of PCIe's higher bandwidth, these solid-state drives are designed to deliver lightning-fast read and write speeds, making them a game-changer for anyone seeking unparalleled performance.
Here's a shorter list of key points for enhancing performance and speed:
Hardware and Software Optimization: Upgrade hardware and optimize software for faster processing.
Caching and CDNs: Implement caching, CDNs, and load balancing for quicker content delivery.
Database and Network Optimization: Optimize databases, use efficient network configurations, and prioritize content loading.
Compression and Minification: Compress data, minify files, and optimize multimedia for faster loading.
Regular Monitoring and Mobile Optimization: Continuously monitor performance, and ensure mobile-friendly design.
Boot times are greatly expedited due to the rapid read speeds of PCIe SSDs. Your operating system can be up and running in mere seconds, ensuring you don't waste precious time waiting for your computer to start.
The faster read and write speeds can revolutionize your computing experience by reducing boot times, accelerating application loading, and providing a seamless and efficient user experience.
Professional Applications And Workloads
When it comes to professional applications and workloads, PCIe SSDs have proven to be a game-changer. Their exceptional speed and performance make them an invaluable tool for professionals working in fields such as video editing and graphic design.
Let's explore how PCIe SSDs accelerate data-intensive tasks and increase productivity in these industries.
Accelerating Data-intensive Tasks In Professional Fields Such As Video Editing And Graphic Design
Video editing and graphic design software often require handling large files and processing intensive tasks such as rendering, encoding, and exporting. This can be a time-consuming process that hampers productivity and workflow.
However, PCIe SSDs can significantly improve the speed and efficiency of these tasks, allowing professionals to work faster and more efficiently.
Faster file transfers: PCIe SSDs provide blazingly fast read and write speeds, ensuring quick file transfers between storage and editing software.
Snappy application performance: The high-speed data transfer capability of PCIe SSDs allows video editing and design software to run smoothly, without lags or performance bottlenecks.
Reduced loading times: PCIe SSDs excel at reducing loading times, which is essential when navigating through large multimedia files or complex design projects.
Increasing Productivity Through Faster Rendering And Rendering Times
Rendering is a critical process in professional fields like video editing and graphic design. It involves converting raw data into a visually appealing and cohesive final product. Traditionally, rendering has been a time-consuming task that tests the patience of professionals.
However, PCIe SSDs revolutionize the rendering process, saving precious time and boosting productivity.
Here's how PCIe SSDs make rendering a breeze:
Quick rendering times: PCIe SSDs allow for faster data access, resulting in quicker rendering times. Professionals can render their projects in less time, enabling them to meet strict deadlines and take on more projects.
Smooth playback during rendering: PCIe SSDs ensure smooth and uninterrupted playback even when rendering graphics-intensive projects, allowing for real-time preview and adjustments.
Efficient multi-tasking: The speed and performance of PCIe SSDs enable professionals to work on rendering tasks while simultaneously handling other demanding tasks, such as editing or designing additional components of the project.
This multitasking ability saves time and enhances overall productivity.
Future-proofing Your System
Wondering if PCIe SSDs are worth it? Future-proofing your system with these high-performance storage solutions can significantly enhance data transfer speeds and improve overall system performance.
With faster read and write speeds, PCIe SSDs offer a seamless experience for demanding tasks and heavy workloads.
Certainly, here is a shorter list of key points for future-proofing your system:
Scalability: Plan for growth and expansion.
Compatibility: Choose widely-adopted technologies.
Security: Prioritize robust security measures.
Flexibility: Use modular and interoperable components.
Documentation: Maintain thorough system documentation.
Regular Audits: Continuously assess system performance.
Training: Invest in ongoing skill development.
Budgeting: Allocate funds for future-proofing efforts.
Feedback Loop: Gather user insights and adapt to changing needs.
Regulatory Compliance: Stay updated on regulations and compliance.
Sustainability: Integrate sustainability into your system design.
When future-proofing your system, considering the potential of PCIe SSDs and their relevance in storage technology is paramount.
With advancements like PCIe 4.0 and beyond, investing in a PCIe SSD not only ensures improved performance today but also prepares your system for the storage demands of tomorrow.
Compatibility And Upgrade Considerations
PCIe SSDs offer significant performance improvements over traditional storage options, making them worth considering for upgrading your system. However, it's crucial to ensure compatibility with your motherboard and consider factors like size and power requirements before making the switch.
Ensuring Your System Supports Pcie Ssds
Before upgrading to a PCIe (Peripheral Component Interconnect Express) SSD, it is crucial to ensure that your system is compatible with this advanced storage technology.
PCIe SSDs offer faster data transfer rates and improved performance compared to traditional hard disk drives (HDDs) or SATA SSDs.
Here are a few key factors to consider:
System Requirements:
Check the specifications of your motherboard and see if it has PCIe slots available. PCIe SSDs require a compatible PCIe slot to connect to your system.
If your motherboard does not have any PCIe slots or has only older versions, then you may need to consider upgrading your motherboard or using alternative storage options.
Operating System Support:
Ensure that your operating system supports PCIe SSDs. Most modern operating systems, such as Windows 10, macOS, and Linux, have built-in drivers and support for PCIe SSDs.
However, older operating systems may require additional drivers or updates to fully utilize the benefits of PCIe SSDs.
Power Supply:
PCIe SSDs generally require more power compared to traditional storage options. Make sure that your power supply unit (PSU) can handle the increased power demands.
Check the power requirements of the PCIe SSD and compare them with the maximum power output of your PSU. Upgrading your PSU might be necessary if it cannot provide enough power for the new SSD.
Conclusion
PCIe SSDs offer significant advantages over traditional hard drives and even SATA SSDs. They provide faster speeds, improved performance, and better reliability, making them worth the investment.
With their ability to handle large workloads and reduce boot and load times, PCIe SSDs are an ideal choice for gamers, content creators, and professionals requiring high-speed storage solutions.
Make the switch to PCIe SSDs and experience the difference in your computing experience. However, for users with more modest requirements or limited budgets, alternative storage solutions may provide a better value.