What Is Sata Iii Internal Ssd? A Type Of Data Storage Device
A SATA III internal SSD is a storage device for computers that uses flash memory technology and connects to the motherboard via a SATA III interface with a maximum data transfer rate of 6 gigabits per second.
Unlike traditional hard drives, SSDs offer faster data access and are less prone to mechanical failure. SATA III is the third generation of SATA interfaces, providing improved data transfer speeds.
SATA III SSDs are essential for modern computer systems, enhancing efficiency for both professional and personal use.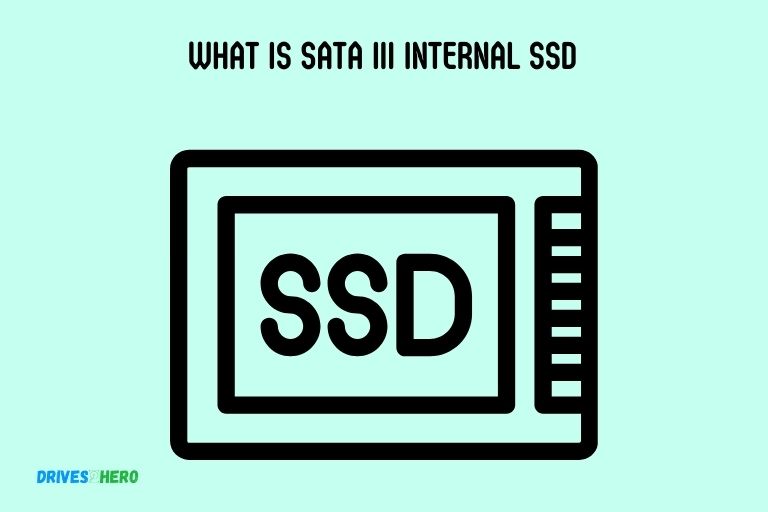 11 Features Of SATA III Internal SSDs
| Feature | Details |
| --- | --- |
| Data Transfer Rate | Up to 6 Gb/s |
| NAND Flash Type | MLC, TLC, QLC, V-NAND |
| Mean Time Between Failures (MTBF) | 1.5 million hours |
| Power Consumption | Idle – Max. 30 mW, Active – Max. 3.3 W |
| Shock Resistance | 1500G / 0.5ms |
| Storage Temperatures | -40°C ~ 85°C |
| Operation Temperatures | 0°C ~ 70°C |
| Performance | Up to 550 MB/s Read, Up to 520 MB/s Write |
| Compatible with most Desktop and Laptop | Yes |
| Form Factors | Generally 2.5″, 3.5″, mSATA, M.2 |
| Lifetime | Depends on the write cycles, usually above 5 years for normal usage |
Explore essential features of SATA III internal SSDs, including data transfer rates, NAND flash types, MTBF, power consumption, and more in this informative table.
Key Takeaway
SATA III is an interface used by SSD (Solid State Drives) for connecting to a computer system.
SATA III provides a higher data transfer rate of up to 6.0 Gbps (Gigabits per second) which significantly improves the overall performance of the computer.
Internal SSDs are devices for storing data, which differ from traditional hard drives in that they have no moving parts, increasing their speed and lifespan.
SSDs with SATA III interfaces are popular due to their cost-effectiveness and sufficient performance for the majority of users.
What Is Sata Iii And How Does It Work?
SATA III is an internal SSD that offers faster data transfer speeds and improved performance compared to its predecessors. It uses a 6 Gbps interface, allowing for quicker access to and transfer of data between the SSD and the computer.
Brief Overview Of Sata Iii Technology
SATA III, also known as Serial ATA III, is a high-speed interface technology commonly used in internal solid-state drives (SSDs) for data storage.
It is the third generation of the SATA standard and offers significant improvements in terms of data transfer speeds and performance over its predecessors, SATA and SATA II.
Here is a breakdown of key points regarding SATA III:
Explanation Of Sata Iii Interface And Its Benefits
Faster Data Transfer: SATA III's increased data transfer rate of 6 Gbps enables rapid read and write operations, resulting in faster boot times, application launches, and overall system responsiveness.
Improved Performance: With the faster data transfer speed, SATA III SSDs can handle demanding tasks such as gaming, video editing, and multitasking more efficiently, reducing loading times and lag.
Compatibility with Older Systems: SATA III interfaces are backward compatible, allowing users to upgrade their systems or replace existing drives without worrying about compatibility issues.
Storage Consolidation: The SATA III interface supports the connection of multiple storage drives, which is beneficial for those who require large storage capacities or wish to configure their storage systems in RAID arrays for redundancy and improved performance.
Energy Efficiency: SATA III SSDs consume less power compared to traditional hard disk drives (HDDs), resulting in longer battery life for laptops and lower energy costs for desktop computers.
Increased Longevity: The use of SATA III SSDs can prolong the lifespan of systems due to their shock resistance, lack of moving parts, and resistance to mechanical failures that commonly occur in traditional HDDs.
SATA III is a technology that offers faster data transfer speeds, improved performance, compatibility, and various other benefits for internal SSDs.
It is widely used and accessible in the market, making it an excellent choice for those seeking a reliable and efficient storage solution.
The Importance Of Internal Ssds For Data Storage
SATA III internal SSDs play a crucial role in data storage due to their speed, reliability, and efficiency. With their advanced technology, these drives enable faster data transfer and quicker access to files, ensuring a seamless user experience.
Upgrade your storage system with SATA III internal SSDs for improved performance and productivity. As technology continues to advance at a rapid pace, the need for efficient and reliable data storage solutions becomes increasingly crucial.
Why Traditional Hdds Are Being Replaced By Ssds:
Slow performance: HDDs rely on mechanical spinning disks and read/write heads, which can result in slow data access and transfer speeds.
This can be particularly noticeable when it comes to boot times, file transfers, and application loading.
Fragility: The moving parts of HDDs make them more susceptible to physical damage and data loss. Even a minor drop or impact can lead to permanent data corruption or complete drive failure.
SSDs, on the other hand, have no moving parts, making them shock-resistant and less prone to failure.
Noise and heat generation: HDDs generate noise and heat due to the constant rotation of their disks. This can be particularly bothersome in quiet environments or when the system is under heavy workload.
SSDs, being entirely solid-state, operate silently and generate less heat, contributing to a quieter and cooler system.
This neat and compact design is particularly advantageous for those with limited workspace or for those who prefer a clutter-free environment.
Whether it's for faster boot times, efficient data transfers, or reliable long-term storage, internal SSDs are undoubtedly the future of data storage technology.
Advantages And Limitations Of Sata Iii Internal Ssds
SATA III internal SSDs offer several advantages, including faster data transfer speeds and improved system performance.
SATA III Internal SSDs have become a popular choice for many computer users due to their speed, performance, and storage capabilities.
Speed And Performance Advantages Of Sata Iii Ssds:
Faster data transfer rate: SATA III Internal SSDs offer higher data transfer speeds compared to traditional hard drives.
With read and write speeds of up to 6Gbps, these SSDs can handle data much more efficiently, resulting in faster boot times, quicker application launches, and overall snappier system performance.
Reduced latency: SATA III SSDs have lower latency compared to traditional hard drives, meaning that data retrieval occurs almost instantly.
This results in improved responsiveness and faster access to your files, maximizing productivity and minimizing wait times.
Improved multitasking capabilities: Due to their high data transfer speeds and reduced latency, SATA III Internal SSDs can handle multiple tasks simultaneously without significant performance degradation.
This makes them ideal for resource-intensive applications like video editing, gaming, and running virtual machines.
Capacity Limitations And Considerations:
Limited storage space: SATA III SSDs, particularly the affordable ones, have a lower storage capacity compared to traditional hard drives. While SSDs with larger capacities are available, they tend to be more expensive.
Therefore, if you require vast amounts of storage space for your files, photos, and videos, you may need to consider additional external storage options or opting for a hybrid storage solution combining both an SSD and a traditional hard drive.
Wear and lifespan: Unlike traditional hard drives, SATA III SSDs have a limited number of write cycles. Each time data is written to an SSD, it contributes to its wear level.
Although modern SSDs have significantly improved their durability, it's essential to be mindful of the drive's lifespan. For everyday usage, this should not pose a significant concern, as modern SSDs typically last several years.
While SATA III Internal SSDs offer impressive speed, performance, and durability, it's important to consider your specific storage needs before making a purchase.
Factors To Consider When Choosing A Sata Iii Internal Ssd
Choosing a SATA III internal SSD requires considering important factors like storage capacity, read/write speeds, and durability, ensuring optimal performance for your computer.
Here are some key factors to consider before making your purchase:
Price Range And Budget Considerations:
Price range: SATA III internal SSDs are available in various price ranges, so it's essential to determine your budget before making a decision.
Consider value for money: Look for options that offer the right balance between cost and features.
Compare prices: Research different brands and models to find the best deal within your budget.
Consider future needs: Keep in mind any potential future requirements that may necessitate a higher storage capacity, as this may impact your budget.
Storage Capacity Requirements:
Determine your needs: Assess your storage requirements by considering the types of files you'll be storing and the amount of space they'll occupy.
Consider future growth: Leave room for future data expansion by opting for a higher storage capacity than your current needs.
Match your needs: Ensure that the selected SATA III internal SSD's storage capacity aligns with your present and anticipated future requirements.
Reliability And Durability Factors To Consider:
Brand reputation: Choose a reputable brand known for producing reliable and durable SSDs.
Read customer reviews: Look for positive feedback regarding reliability and durability to ensure your chosen SSD will stand the test of time.
Endurance rating: Check for the endurance rating, which indicates how many terabytes can be written to the SSD before it may start experiencing issues.
Warranty: Verify if the SSD comes with a warranty, as it can provide peace of mind and protection against potential malfunctions.
By considering these key factors, you'll be able to find the perfect SATA III internal SSD that suits your requirements while offering great performance and reliability.
So, whether you're a gaming enthusiast, a professional designer, or simply looking to enhance your computer's overall performance, take the time to research and choose wisely for a seamless and efficient storage upgrade.
Installation And Compatibility Of Sata Iii Internal Ssds
SATA III internal SSDs are high-speed solid-state drives designed for installation and compatibility with various devices.
These SSDs offer enhanced performance and faster data transfer rates, making them an excellent choice for upgrading your system's storage capacity.
When it comes to upgrading your computer's storage capabilities, installing a SATA III internal SSD (Solid State Drive) can significantly enhance your system's performance.
You through the process of physically installing the SSD into your computer and help you understand compatibility considerations with different computer systems.
Steps To Physically Install The Ssd Into A Computer:
Begin by shutting down the computer and disconnecting the power cord. It's essential to ensure a safe environment when working with computer hardware.
Open your computer case by removing the screws holding the side panel in place. Carefully slide off the panel to gain access to the internal components.
Locate an available SATA port on your motherboard where you can connect the SSD. SATA ports are typically rectangular in shape, with a small L-shaped notch on one side.
Take the SATA data cable provided with your SSD and connect one end to the SSD and the other end to the available SATA port on the motherboard. Make sure the connectors are aligned correctly and securely fastened.
Connect the SSD to the power supply unit (PSU) using the SATA power connector. This connector is typically a long, thin cable with multiple power connectors branching off from it. Align the connectors and push them firmly together.
Place the SSD in an appropriate location inside the computer case. Some cases have dedicated SSD mounting points, while others may require you to use a drive bay adapter or secure the SSD using mounting screws. Ensure that the SSD is firmly and securely in place.
Once the SSD is securely installed, reattach the computer case's side panel using the screws you removed earlier. Make sure all the connections are secured and tightly fitted.
Finally, plug in the power cord and turn on your computer. The SSD should now be successfully installed and ready for use.
Compatibility Considerations With Different Computer Systems:
Ensure that your computer's motherboard supports SATA III. Older motherboards may only be compatible with SATA II or even SATA I, which will limit the SSD's performance.
Check the physical dimensions of the SSD and compare them to the available space inside your computer case. Ensure that there is enough clearance for the SSD and any necessary cables.
Verify that your operating system supports the use of SSDs. Most modern operating systems, such as Windows 10, macOS, and Linux, provide native support for SSDs without requiring any additional drivers or software.
Consider your computer's power supply capacity. SSDs are generally more power-efficient than traditional hard drives, but it's still essential to ensure that your power supply can handle the additional load.
If you are replacing an existing hard drive with an SSD, ensure that you have a suitable method to transfer your data. You can either use disk cloning software or perform a fresh installation of your operating system on the new SSD.
Compatibility with other components, such as graphics cards or RAM, is typically not a concern when installing an internal SSD. However, it's always a good idea to consult your computer's documentation or seek professional advice if you have any doubts.
Remember, the installation process may vary slightly depending on your specific computer model and manufacturer.
Always consult the respective documentation or seek assistance if needed to ensure a smooth installation and optimal compatibility.
Tips For Optimizing Performance Of Sata Iii Internal Ssds
By following these tips, you can maximize the performance of your SSD and enhance your overall computing experience.
Here are some key strategies to consider:
Best Practices To Maximize The Speed And Longevity Of Your Ssd:
Enable TRIM: Ensure that TRIM is enabled on your SSD, as it helps optimize the performance and lifespan of the drive by managing data deletion more efficiently.
Avoid Disk Fragmentation: SSDs do not benefit from traditional disk defragmentation, so it is unnecessary and may even decrease the lifespan of the drive. Therefore, it is advisable to disable or avoid defragmentation programs.
Enable AHCI Mode: Set your system to AHCI (Advanced Host Controller Interface) mode in the BIOS to unleash the full potential of your SSD's performance.
Overprovisioning: Allocating a portion of your SSD's storage space for overprovisioning can improve its performance and lifespan. It is recommended to reserve around 10-20% for optimal results.
Regular Updates: Keep your SSD's firmware up to date by regularly checking for manufacturer updates. This ensures that you have the latest bug fixes, enhancements, and compatibility improvements.
Tools And Software To Use For Maintenance And Optimization:
SSD Management Software: Many SSD manufacturers provide dedicated software for their drives, which allows you to monitor health, update firmware, and optimize performance specific to your SSD model.
Disk Cleanup: Utilize the built-in Disk Cleanup tool in Windows or a third-party cleaner to remove unnecessary files and free up storage space on your SSD.
TRIM Enabler: If TRIM is not enabled by default on your operating system, you can use TRIM Enabler software to activate this crucial feature.
SSD Health Monitoring: Employ monitoring tools like CrystalDiskInfo or Samsung Magician to keep an eye on your SSD's health, temperature, and overall performance.
Disable Indexing: SSDs are significantly faster than traditional hard drives when it comes to accessing data. Disable indexing to prevent unnecessary disk activity and improve overall performance.
By implementing these best practices and utilizing the recommended tools and software, you can optimize the performance and extend the lifespan of your SATA III internal SSD.
Remember to regularly maintain and monitor your SSD to ensure it continues to provide fast and reliable storage for your computing needs.
Conclusion
SSD technology has come a long way, and the SATA III internal SSD is a true testament to its advancements. With its backward compatibility feature, it is also a versatile option that can be installed in older systems without any issues.
Investing in a SATA III internal SSD can greatly enhance your computing experience. The improved speed and responsiveness will allow for quicker boot times, faster application launches, and seamless multitasking.
Whether you are a gamer, a content creator, or simply a regular computer user, the benefits of upgrading to a SATA III internal SSD are undeniable. As technology continues to evolve, we can only expect further improvements in SSD technology.
Nonetheless, the SATA III internal SSD is a reliable and cost-effective solution that provides a significant boost to your overall system performance.