Emmc Vs Ssd Laptop! 8 Common Feature Comparison!
When comparing eMMC and SSD storage in laptops, SSDs offer superior performance, speed, and durability, making them the preferred choice for most users.
eMMC (Embedded MultiMediaCard) and SSD (Solid State Drive) are two types of storage technologies used in laptops.
eMMC is a more affordable and compact storage solution, built directly onto the motherboard, while an SSD is a separate storage component that connects to the motherboard via an interface.
The primary differences between these storage options lie in their speed, performance, and durability.
Speed: SSDs are significantly faster than eMMC storage, offering quicker boot times, shorter load times for applications, and faster data transfer rates.
Performance: Due to their rapid read and write speeds, SSDs typically provide better overall performance than eMMCs, leading to a smoother user experience.
Durability: SSDs have no moving parts, making them more durable and reliable than eMMCs, which can wear out over time due to repeated read and write cycles.
Cost and Storage Capacity: eMMC storage is generally cheaper and found in lower-end laptops, but SSDs are available in much larger storage capacities, allowing users to store more data.
While eMMC storage may be a cost-effective solution for budget laptops or devices with limited storage needs, SSD storage is the superior choice for those seeking optimal performance, speed, and reliability.
This makes SSD-equipped laptops a worthwhile investment, particularly for users who require ample storage and fast data access for their daily tasks.
8 Common Feature Comparison Between eMMC vs SSD Laptops
| Feature | eMMC | SSD |
| --- | --- | --- |
| Storage Type | Embedded MultiMediaCard | Solid State Drive |
| Speed | Slower (upto 400 MB/s) | Faster (upto 3,500 MB/s or more) |
| Storage Capacity | Lower (up to 128GB) | Higher (up to 8TB or more) |
| Cost | Less expensive | More expensive |
| Durability | Moderate | Higher |
| Energy Consumption | Lower | Slightly higher |
| Size/Form Factor | Smaller and lighter | Larger and heavier |
| Ease of Upgrade | More difficult (soldered to the motherboard) | Easier (can be replaced or upgraded) |
8 Common Feature Comparison Between eMMC vs SSD Laptops
Key Takeaway
eMMC and SSD are both solid-state storage solutions used in laptops, but each serves different purposes and offer varying performance levels.
eMMC, or embedded Multi-Media Controller, is a more affordable option but has lower performance compared to SSDs.
SSD, or Solid State Drive, offers faster read/write speeds and better overall performance, but typically comes at a higher cost.
Choosing between a laptop with eMMC or SSD will depend on the user's needs, budget, and expected performance.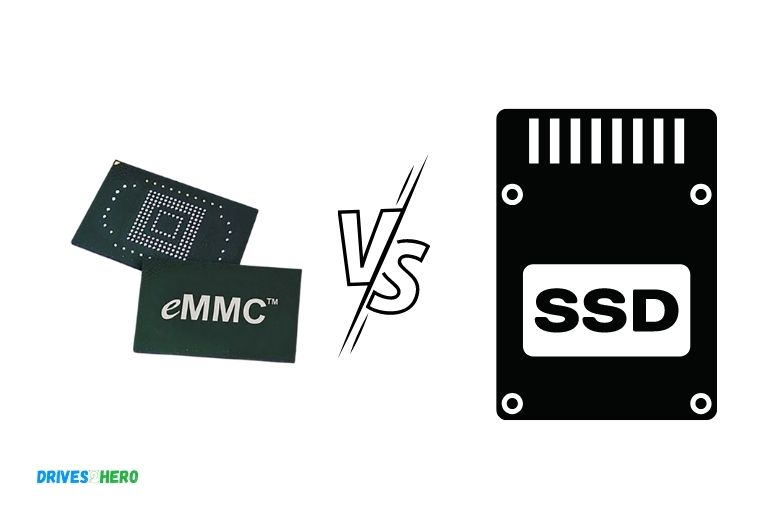 Five Facts About: eMMC vs SSD Laptops
eMMC storage is often found in budget laptops, tablets, and smartphones due to its lower cost and smaller form factor. (Source: Tom's Hardware)
SSDs use NAND-based flash memory, which enables faster data transfer and lower latency than eMMC devices, which use a more basic form of NAND storage. (Source: Booting.IO)
SSDs typically have a longer lifespan than eMMC storage, as they support a higher number of Program/Erase (P/E) cycles, meaning they can endure more read/write operations before wearing out. (Source: ProStorage)
Due to their modular design, SSDs can easily be upgraded or replaced on most laptops, whereas eMMC storage is soldered onto the motherboard, making it nearly impossible to upgrade. (Source: NotebookCheck)
A primary advantage of eMMC storage is its low power consumption, making it an ideal choice for devices where battery life is a critical consideration.
Understanding The Difference Between Emmc And Ssd
When it comes to buying a laptop, storage is one of the most crucial factors to consider. Ssds and emmc storage drives are the two main types of storage devices that come with computers nowadays.
While both types perform the same job, they do it differently. We'll discuss the main differences between the two.
What Is Emmc?
Embedded multimediacard (emmc) is a storage flash memory technology that is commonly used in mobile devices and entry-level laptops.
It is a type of solid-state storage that does not have any moving parts. Emmc storage typically comes in capacities ranging from 32gb to 256gb.
Here are the key features of emmc:
All components are integrated into one chip.
Slower write and read speeds when compared to ssd.
A more affordable option.
Ideal for entry-level devices with small storage requirements.
What Is Ssd?
Solid state drives (ssds) are storage devices that use nand-based flash memory to store data, and they come in different storage sizes and formats. They have become increasingly popular over the years, offering faster processing times than emmc.
Here are some key features of ssds:
Faster write and read speeds than emmc.
More expensive than emmc.
Ideal for heavy computing and gaming workloads.
Available in different sizes like m.2, pcie, sata, etc.
The Pros And Cons Of Each Storage Type
Both emmc and ssd have their advantages and disadvantages. We'll look at them individually to help you decide which one to go for.
Pros Of Emmc
Affordable option for entry-level needs.
Suitable for light computing tasks.
Lesser load times for software and applications when compared to hard drives.
Cons Of Emmc
Cannot handle heavy applications and multitasking scenarios.
Slower input-output process than ssds.
Typically come with small storage size.
Pros Of Ssds
Faster write and read speeds than emmc.
Ideal for heavy gaming and computing tasks.
Available in different sizes like m.2, pcie, sata, etc.
Cons Of Ssds
More expensive when compared to emmc.
Has limited write cycles, which means that they wear out faster than hard drives.
Higher end ssds can be expensive.
Understanding the differences between emmc and ssds is crucial when selecting a storage device for your laptop.
Ssds are significantly faster than emmc, but they come at a higher price range, making them ideal for heavy computing and gaming while emmc is perfect for light computing and entry-level needs.
Ultimately, which storage type you choose will depend on your budget and usage requirements.
Performance Comparison: Speed And Durability
Emmc Vs Ssd Laptop: Performance Comparison – Speed And Durability
When it comes to choosing the right laptop, one of the most crucial factors to consider is the type of storage. In the market, you'll find two prominent storage options – emmc and ssd.
It's important to know their differences, pros, and cons before making a purchase decision. We will compare them in terms of speed and durability.
Speed: Practical Applications And Test Results
One of the primary factors that sets emmc and ssd apart is their speed.
Here's a brief overview:
Emmc
Emmc (embedded multimediacard) has a lower speed than ssd. It uses the same nand-based flash memory used by ssds but in a newer and different format.
It's a great option for daily use and performs well in carrying out regular tasks such as web browsing, word processing, and streaming videos.
Ssd
Ssd or solid state drive is known for its lightning-fast speed and is a better choice if you're looking for high performance.
It reads and writes data much faster than emmc. Ssds are designed to handle complex tasks such as video editing, photo manipulation, and gaming.
It's also important to understand how they perform in real-life scenarios.
Here are some practical applications and performance test results:
Boot-up speed: An ssd takes around 10-13 seconds for boot up, while an emmc takes around 18-25 seconds.
Copy speed: Ssds are around 4-5 times faster than emmc in data copying.
Application launch speed: With an emmc, applications may take a split second to launch, while an ssd launches them instantaneously.
Gaming performance: If you're into gaming, an ssd is a far better option as it reduces game load times, increases frame rates, and provides a more responsive gaming experience.
Durability: Lifespan, Endurance, And Reliability
Storage durability is another crucial factor to consider when choosing between emmc and ssd.
Let's take a look:
Lifespan: Ssd lasts longer than emmc; they're designed with better hardware and a longer lifespan. The lifespan of an ssd is generally around five-seven years while an emmc is up to half that time.
Endurance: Ssd can endure faster and more frequent read-write cycles than emmc. It's because ssds use advanced and more reliable technology that can handle a higher number of read-write operations without wearing down.
Reliability: Compared to emmc, ssd is more reliable and less susceptible to errors or failures. It's good to invest in ssd if you want your device to last longer.
Storage Capacity And Cost
Storage capacity and cost are imperative factors when it comes to buying a laptop.
Here's how emmc and ssd stack up:
Storage capacity: Ssds offer larger storage capacity at an affordable price, whereas emmc has a smaller storage capacity.
Cost: Ssds are slightly more expensive than emmc, but considering their speed, durability, and performance, they're worth the investment.
The type of storage you choose is solely dependent on your usage. If you're looking for performance, speed, and reliability, ssd is the better option.
However, if you need a laptop for basic tasks like browsing, streaming, or word-processing, emmc is a good choice.
Now that you have all the necessary information about the two storage options, it's time to make an informed decision.
Considerations For Emmc And Ssd Laptops For Different Users
Emmc Vs Ssd Laptop: Considerations For Different Users
When it comes to buying a laptop, one of the most significant considerations is the type of storage drive.
Emmc and ssd are two popular storage options, but which one is better? It largely depends on the intended use and user's requirement.
General And Everyday Use: Productivity, Browsing, And Entertainment
If you're a casual user who doesn't require much storage or multitasking power, an emmc laptop might be a better choice.
It's an affordable and efficient choice for basic tasks, such as browsing, streaming, and emailing. However, if you're seeking a faster and more reliable system, an ssd laptop is a clear winner.
Here are some key points to consider:
Emmc laptop:
Affordable compared to ssd
Efficient for basic tasks like browsing, streaming, and emailing
Lower read and write speed compared to ssd
Limited storage capacity
Ssd laptop:
Faster and more reliable compared to emmc
Suitable for multitasking
Provides faster read and write speed
Storage capacity up to 2tb
Creatives And Professionals: Content Creation, Editing, And High-End Applications
If you're a creative or professional who regularly works with high-end applications, an ssd laptop is the right choice. It provides faster read and write speeds, allowing for faster boot times and quick access to files.
Here are some key points to consider:
Emmc laptop:
Affordable with low storage capacity
Suitable for basic tasks like editing and content creation
Low write and read speed
Ssd laptop:
Faster boot time, speedy access to files.
Ideal for high-end applications, premium content creation, and editing.
Provides faster read and write speed
Storage capacity up to 2tb
Gamers And Power Users: Gaming, Streaming, And Multitasking
Gamers and power users require a laptop with higher specifications, including faster read and write speeds and multitasking capabilities. An ssd laptop provides more storage and faster-loading times, making it the ideal choice.
Here are some key points to consider:
Emmc laptop:
Affordable with low storage capacity
Efficient for basic gaming and streaming
Low read and write speed
Ssd laptop:
Ideal for gaming and streaming; provides a smooth experience.
Suitable for multitasking
Provides faster read and write speed
Storage capacity up to 2tb
Whether you choose emmc or ssd, it's essential to know what you want to do with your laptop and make sure it meets those requirements.
While emmc is a budget-friendly option with lower read and write speeds and limited storage capacity, ssd is an expensive and faster option for multitasking and high-end applications.
Choose a laptop based on your needs and budget; both can be excellent choices for different users.
Exploring Hybrid And Customized Laptop Storage Options
Are you a laptop user who wants to explore the fastest and most efficient storage options? Embracing new storage technologies and customizing hybrid storage options can enhance your laptop's functionality.
Two popular storage options laptops employ include ssd and emmc storage. Wondering which one is better, and which one would suit your needs? Keep reading to find out.
Combining Emmc And Ssd For Optimal Functionality
Combining ssd and emmc storage is an effective way to harness the benefits of each technology.
While emmc storage performs better in sequential read and write operations, ssd storage is faster in random reads and writes.
Combining these two types of storage helps to optimize the functionality of your laptop.
Here are some key points to consider when combining emmc and ssd storage:
Ssds can serve as local storage caches for emmc storage partitions, which can improve file transfer performance.
Combining emmc storage with ssd storage enhances application performance, as frequently used applications can be moved to the ssd storage unit.
Another benefit of combining these two storage options is that the laptop can store both small and large files.
The laptop can also function longer when running on battery, as emmc storage requires less power than ssd storage.
Upgrading And Replacing Emmc And Ssd In Laptops
Upgrading and replacing storage options is a popular choice for laptop users to enhance their laptop's performance.
Upgrading your laptop's storage options to an ssd can bring about a significant difference in speed and performance, while replacing the emmc storage with an ssd for better performance.
Here are some key points to consider when upgrading or replacing storage options in laptops:
Upgrading storage options to ssd can significantly improve your laptop's performance by reducing boot time and enhancing overall system performance.
Replacing emmc storage with ssd can bring practical benefits like faster file transfers, quicker application load times, and faster operating system boot times.
Laptops that don't include a separate ssd storage unit can still be upgraded by replacing their optical or hard disk drive with an ssd storage unit.
Emerging Storage Technologies And Trends
The future of storage technology is very promising. It's likely that we will see new storage technologies emerging in the next few years, with faster, more efficient, and more affordable solutions.
Here are some of the emerging storage technologies and trends that we'll likely see in the coming years:
Pcie 4.0 is expected to reduce latency and improve system storage throughput, which will improve system performance.
Multi-tiered storage, which utilizes a mix of storage solutions like ssd and emmc storage.
In-memory computing is a revolutionary new technology that can process large volumes of data in real-time using highly efficient non-volatile memory.
Persistent memory offers faster speeds with less latency, providing the best of both worlds in terms of ram and stored memory.
Cloud storage continues to be a popular choice as it provides reliable and easy-to-access storage solutions.
Keep exploring to find custom storage options best suited to your needs and upgrade your laptop to enhance its functionality and performance.
FAQ On Emmc and Ssd Laptop
What Is The Difference Between An Emmc And Ssd Laptop?
An emmc (embedded multi-media card) is cheaper but slower, while an ssd (solid state drive) is more expensive but faster.
Which Is Better: Emmc Or Ssd For Laptop?
Ssd is better for a laptop as it offers faster read/write speeds, longer lifespan, while emmc is cheaper.
Can I Upgrade Emmc To Ssd In A Laptop?
Yes, it is possible to upgrade emmc to ssd in a laptop, but it requires technical expertise and may void your warranty.
What Should I Choose Between Emmc And Ssd For My Laptop?
Choose an ssd if you can afford it, as it offers faster speeds, better performance, and durability, while emmc is still a decent option for basic use.
Conclusion
As we wrap up our discussion on emmc vs ssd laptops, it's clear that both options have their own sets of advantages and disadvantages.
Emmc laptops are best for basic tasks such as browsing, emailing, and running light applications, all while being lightweight and budget-friendly.
On the other hand, ssd laptops significantly outperform emmc laptops when it comes to data transfer speed, multitasking, and overall performance.
With ssd laptops being costlier, they provide a better return on investment as they are more durable in the long run.
Ultimately, the choice between emmc and ssd laptops will depend on your budget, your usage, and your preferences.
Whichever type you opt for, make sure to research and compare models to ensure you get the best value for your money. Thanks for reading, and we hope this article has helped you make the right decision!