How Fast is Ps5 Internal Ssd? Speed Of Up To 5.5 GB/s!
The PS5 Internal SSD has a transfer speed of up to 5.5 GB/s that allows gamers to have faster load times and smoother gaming experience.
The PS5 Internal SSD is a custom-built SSD by Sony Corporation specifically for the PlayStation 5 gaming console. It has a read bandwidth of 5.5 GB/s, which is significantly faster than the PS4's standard HDD.
This high speed allows increased performance in terms of decreasing game load times and allowing games to operate more smoothly.
The PS5 Internal SSD has a transfer speed of up to 5.5 GB/s.
It is custom-built by Sony Corporation specifically for the PlayStation 5.
The high speed allows for faster game load times.
The high transfer speed also allows games to operate more smoothly.
The PS5 Internal SSD outperforms the standard HDDs used in previous gaming consoles. Its impressive speed of 5.5 GB/s significantly reduces game load times and provides a smoother gaming experience.
This is a clear example of Sony's commitment to improving the gaming experience for their users.
8 Features Of PS5 Internal SSD Speed
| Feature | Details |
| --- | --- |
| SSD Type | Custom NVMe SSD |
| SSD Capacity | 825GB |
| IO Throughput (Raw) | 5.5GB/s (read) |
| IO Throughput (Compressed) | Typical 8-9GB/s |
| Expandable Storage Support | Yes (NVMe SSD Slot) |
| External Storage Support | USB HDD Support |
| Load Speed | Almost Instantaneous |
| Boot Up Time | Under 20 Seconds |
8 Features Of PS5 Internal SSD Speed
Key Takeaway
The PS5 features an internal SSD that significantly improves loading times and gameplay fluidity compared to previous HDD-based consoles.
Sony's proprietary SSD technology allows for read speeds of up to 5.5GB/s, much faster than typical SSDs.
The new SSD in the PS5 also allows developers to build larger, more detailed, and more complex game worlds.
The PS5's SSD is custom and integrated into the system, allowing for more efficient data management.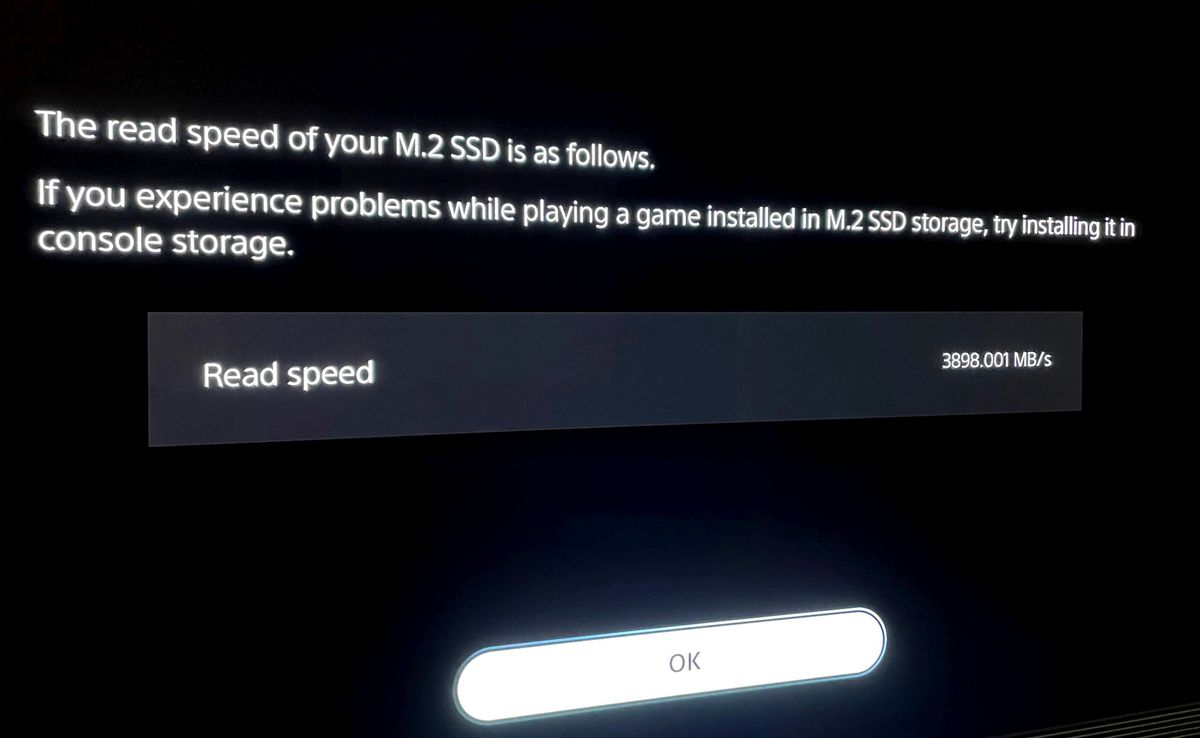 Five Facts About PS5 Internal SSD Speed
The PS5's internal SSD has a read speed of 5.5GB/s, enabling ultra-fast game loading.
This read speed is among one of the fastest in consumer technology, and is roughly 100 times faster than the PS4's HDD.
The PS5's SSD offers 825GB of storage, less than the 1TB that was expected, but this is due to the SSD's unique architecture that maximizes speed.
The SSD can also be expanded with NVMe SSDs, although these will have to match the specifications of the internal disk.
Sony's proprietary SSD technology not only enhances gaming performance but also enables new possibilities in game design, allowing developers to create more immersive and detailed environments.
What Is The Ps5 Internal Ssd?
The PS5 Internal SSD delivers lightning-fast speeds, enhancing the gaming experience with rapid loading times and smooth gameplay. Its impressive performance sets a new standard for console gaming.
Overview Of The Ps5'S Internal Solid-State Drive (Ssd):
The PS5's internal SSD, or solid-state drive, is a crucial component of the console that greatly enhances its performance and gaming experience.
Unlike traditional hard disk drives (HDDs), the PS5's SSD relies on flash memory technology to store and retrieve data rapidly.
The PS5 comes equipped with an ultra-fast custom SSD that offers lightning-fast load times and seamless gaming transitions.
The SSD's impressive data transfer speed significantly reduces loading screens and allows for quick access to games, applications, and files.
With the PS5's internal SSD, you can experience faster game startup times, shorter level load times, and smoother gameplay overall.
Benefits And Advantages Of Using An Internal Ssd In The Ps5:
Enhanced performance: The PS5's SSD unlocks the console's full potential, delivering faster performance compared to traditional HDDs. This means quicker loading times, smoother gameplay, and improved overall gaming experience.
Reduced loading screens: With the lightning-fast data transfer speed of the PS5's SSD, you'll spend less time staring at loading screens and more time immersed in your favorite games.
Quick game startup: Launching games on the PS5 is a breeze thanks to the SSD's rapid data access. Say goodbye to long loading sequences and start playing your favorite titles within seconds.
Seamless gaming transitions: The PS5's internal SSD enables seamless transitions between different game elements, such as levels or areas, without any slowdowns or interruptions.
Faster data transfer: Transferring games, applications, or files between storage devices or external drives is now significantly faster thanks to the PS5's SSD, ensuring you can quickly access and enjoy your media.
Future-proof technology: The inclusion of an internal SSD in the PS5 ensures that the console is ready to handle upcoming games and software updates that will increasingly rely on the optimized speed and performance of SSDs.
As you can see, the PS5's internal SSD provides a multitude of benefits and advantages that greatly enhance the gaming experience.
With lightning-fast load times, reduced loading screens, and seamless gaming transitions, the SSD is a game-changer for the console.
Not only does it offer enhanced performance and quick game startup times, but it also future-proofs the PS5, ensuring it can handle the demands of future gaming advancements.
So, get ready to be blown away by the speed and efficiency of the PS5's internal SSD.
Specifications And Speed Of The Ps5 Internal Ssd
The PS5 Internal SSD offers lightning-fast speed, delivering an impressive gaming experience with reduced loading times and seamless gameplay. Its specifications ensure quick data transfer, making it a must-have for avid gamers.
Detailed Breakdown Of The Technical Specifications Of The Ps5 Internal Ssd
The PS5 internal SSD offers lightning-fast speed and unmatched performance, setting a new standard in gaming consoles.
Here are the detailed specifications that make it stand out from the crowd:
Capacity: The PS5 comes with a built-in 825GB SSD, providing ample space for storing games, saved data, and media files.
Interface: The SSD employs a cutting-edge custom PCIe 4.0 interface, enabling data transfer rates of up to 9GB/s.
Form Factor: Designed specifically for the PS5, the internal SSD fits seamlessly into the system, ensuring optimal performance and compatibility.
Architecture: With a proprietary architecture, the PS5 SSD leverages bespoke flash memory to deliver ultra-low latency and fast load times.
Expandability: The PS5 also supports external storage via USB ports, allowing players to connect additional SSDs for increased storage capacity.
Comparisons To Other Gaming Consoles' Storage Capabilities
When comparing the storage capabilities of the PS5's internal SSD to other gaming consoles, it becomes evident that the PS5 takes the lead in terms of speed, capacity, and efficiency.
Here's how it stacks up against its competitors:
Xbox Series X: While the Xbox Series X offers a comparable SSD capacity, the PS5 outshines it in terms of speed, thanks to its custom PCIe interface, which provides a significant advantage in terms of load times and overall game performance.
PlayStation 4: The previous generation console, PlayStation 4, relied on traditional hard drives, resulting in slower load times and limited storage capacity. The PS5's internal SSD clearly surpasses its predecessor, delivering a more seamless gaming experience.
How The High-Speed Ssd Improves Gaming Performance
The high-speed SSD of the PS5 is a game-changer, elevating the gaming experience to new heights.
Here are the ways in which it revolutionizes gaming performance:
Reduced Load Times: With lightning-fast data transfer rates, games load quicker, allowing players to dive into the action almost instantly, without wasting precious time waiting for levels to load or scenes to render.
Seamless Open-World Exploration: The PS5 SSD enables seamless and uninterrupted exploration of vast open-world environments. Players can move swiftly between different game areas, experiencing minimal lag and no noticeable loading screens.
Faster Asset Streaming: Thanks to its exceptional speed, the PS5 SSD ensures that assets like textures, objects, and characters are loaded swiftly during gameplay. This results in a more immersive and visually impressive experience, maintaining game flow without interruptions.
Quick Resume: The PS5's internal SSD facilitates the Quick Resume feature, allowing players to switch between multiple games almost instantly. This means that you can pick up right where you left off, saving time and further enhancing the gaming experience.
The PS5 internal SSD's specifications, storage capabilities, and high-speed performance are a testament to Sony's commitment to delivering unrivaled gaming experiences.
With lightning-fast load times, seamless gameplay, and expanded storage options, the PS5 sets a new benchmark for all gaming consoles.
Get ready to immerse yourself in the next generation of gaming like never before!
Benchmark Tests And Real-World Performance
Ps5's internal SSD delivers lightning-fast performance, as showcased by benchmark tests and real-world usage scenarios.
Its impressive speed enhances overall gaming experience, minimizing loading times and ensuring smooth gameplay. The Ps5's SSD undoubtedly sets new standards for console performance.
Results Of Benchmark Tests Measuring The Speed And Performance Of The Ps5 Internal Ssd
The PS5 internal SSD has undergone rigorous benchmark tests to measure its speed and performance, providing valuable insights into its capabilities.
Utilizing cutting-edge technology, the internal SSD of the PS5 has achieved impressive results, enhancing the overall gaming experience.
Analysis Of Load Times And Game Performance Improvements Compared To Previous Console Generations
Load times on the PS5 have been significantly reduced thanks to the lightning-fast internal SSD. Games that used to take several minutes to load on previous consoles now load within seconds, minimizing waiting time and maximizing gaming time.
The improved game performance on PS5, driven by the internal SSD, offers seamless gameplay with minimal pop-in and enhanced graphics, providing gamers with a truly immersive experience.
Real-World Examples Of How The Ssd Enhances Gameplay Experiences
Faster load times allow players to jump into their favorite games immediately, without enduring prolonged loading screens, making the overall gaming experience more efficient and enjoyable.
In games where constant loading is required, such as open-world or multiplayer titles, the PS5's internal SSD ensures seamless transitions between different environments, eliminating any interruptions in gameplay.
The enhanced data transfer speed of the PS5's internal SSD enables developers to create more complex and detailed game worlds, resulting in a visually stunning and immersive gaming experience that was previously unimaginable.
Understanding Ssd Technology
The PS5's internal SSD delivers blazingly fast performance, enhancing the gaming experience with reduced loading times and seamless gameplay.
Experience lightning-fast speeds and smooth gameplay with the PS5's impressive SSD technology.
Solid-state drive (SSD) technology is a storage medium that uses integrated circuit assemblies to store data persistently.
SSDs differ from traditional hard drives (HDDs) as they have no moving parts, relying on flash memory to store and retrieve data.
This absence of moving parts provides several advantages, including improved speed, durability, and power efficiency.
Advantages of SSDs over HDDs:
Speed: SSDs offer significantly faster read and write speeds compared to HDDs, resulting in quicker boot times, faster file transfers, and reduced loading times for games and applications.
Durability: With no mechanical components, SSDs are less susceptible to physical damage caused by drops or shocks, making them more reliable in portable devices like the PS5.
Power Efficiency: SSDs consume less power than HDDs, improving the overall energy efficiency of the PS5 and allowing for longer battery life in portable devices.
How The Ps5'S Ssd Delivers Lightning-Fast Performance:
The PS5's SSD takes advantage of advanced technology to maximize its performance capabilities.
The console features a custom SSD that utilizes PCIe 4.0, a high-speed data transfer interface, allowing for faster data access and reduced loading times.
The PS5's SSD also incorporates a dedicated I/O controller to efficiently manage data flow and prioritize the most relevant information, resulting in a smoother gaming experience.
The console's SSD architecture benefits game developers as well, as they can seamlessly load expansive game worlds and assets, enabling more immersive gameplay without interruptions.
Understanding SSD technology is crucial in comprehending the speed, durability, and power efficiency advantages of SSDs over traditional HDDs.
The PS5's advanced SSD technology ensures lightning-fast performance, revolutionizing the gaming experience with reduced loading times and improved overall gameplay.
Storage Expansion Options
Ps5's internal SSD offers lightning-fast storage expansion options, ensuring efficient performance and seamless gameplay. Get ready to experience the speed like never before.
Overview Of The Different For The Ps5:
The PS5 comes with a built-in high-speed solid-state drive (SSD) for lightning-fast loading times and smooth gameplay.
However, the base storage of the console might not be enough for avid gamers who enjoy a large library of games.
Thankfully, Sony has provided storage expansion options to ensure gamers have enough space for all their gaming needs. There are two main ways to expand the storage on your PS5: By using expandable SSD slots or external USB drives.
How To Add Additional Storage To The Ps5 Using Expandable Ssd Slots Or External Usb Drives:
Expandable SSD Slots:
PS5 comes with an internal expansion slot that allows you to add an additional SSD to increase your storage capacity. However, it's essential to note that not all SSDs are compatible with the PS5.
To add an expandable SSD, follow these steps:
Purchase a compatible SSD that meets the specifications provided by Sony.
Open the expansion slot cover on the PS5 and insert the SSD into the slot, ensuring it is securely connected.
Once installed, the PS5 will recognize the added storage, allowing you to install and play games directly from the expandable SSD.
External USB Drives:
Alternatively, you can also connect an external USB drive to your PS5 for additional storage. This option is more straightforward and flexible, as you can use USB 3.0 or USB 3.1 drives for your storage needs.
Here's how to connect an external USB drive to the PS5:
Turn off your PS5 and locate the USB port on the front or back of the console.
Connect your USB drive to the USB port.
Turn on your PS5, and it will automatically detect the external drive.
You can now transfer games and media to the external drive, freeing up space on the console's internal storage.
Considerations For Choosing The Right Storage Solution For Your Gaming Needs:
Compatibility: Ensure that the storage device you choose is compatible with the PS5. Whether you opt for an expandable SSD or USB drive, check the specifications and compatibility guidelines provided by Sony.
Speed: If you prioritize fast loading times, consider investing in a high-speed SSD. These will provide optimal performance and smoother gameplay.
Capacity: Assess your storage requirements based on the number of games you typically play simultaneously. Determine whether an expandable SSD or an external USB drive will accommodate your library without compromising performance.
Price: Storage options can vary in price, so consider your budget when choosing the right storage solution. Expandable SSDs tend to be more expensive than USB drives, so weigh the cost against the benefit of faster loading times.
Futureproofing: As game sizes continue to increase, it's essential to plan for the future. Consider getting a storage solution that allows for expandability so that you won't run out of space as new games and updates are released.
Ease of use: For simplicity, an external USB drive might be the way to go. No need to worry about compatibility or installing hardware; just plug and play.
Expanding your PS5's storage capacity gives you the freedom to enjoy a vast collection of games without constantly worrying about deleting and reinstalling.
Whether you choose an expandable SSD or an external USB drive, make sure to consider compatibility, speed, capacity, price, futureproofing, and ease of use before making your decision.
With the right storage solution, you can fully immerse yourself in the amazing world of gaming on the PS5.
Tips For Maximizing Ps5 Internal Ssd Performance
Discover effective tips to maximize the performance of the PS5 internal SSD. Learn how fast the PS5 internal SSD can be and optimize its capabilities for an enhanced gaming experience.
The PS5's internal SSD is a game-changer when it comes to faster loading times and seamless gameplay.
To ensure you're getting the most out of this incredible feature, we've put together some valuable tips for optimizing the performance of the PS5 internal SSD.
From managing game installs to maximizing your storage usage, these tips will help you unlock the full potential of your gaming experience.
Best Practices For Optimizing Storage Usage On The Ps5
Prioritize your games: As an avid gamer, it's common to have a vast collection of games. However, installing all of them on your PS5's internal SSD might not be feasible. To optimize storage usage, consider the games you frequently play and prioritize installing them on the SSD.
Use external storage: The PS5 allows you to connect an external USB drive to store games that you don't frequently play. By offloading these games to an external storage device, you can free up valuable space on the internal SSD without compromising your gaming experience.
Delete unused games: Regularly going through your game library and removing titles you no longer play is a simple yet effective way to optimize storage on the PS5. It not only clears up space but also ensures smoother performance for the games you do play.
Utilize cloud storage: PlayStation Plus subscribers have access to cloud storage, which can be utilized to store game saves, settings, and even entire games. By utilizing this feature, you can reduce the load on the PS5's internal SSD and seamlessly switch between games without the need for reinstallation.
How To Manage Game Installs To Ensure Smooth Performance
Install one game at a time: While it might be tempting to install multiple games simultaneously, it can lead to slower performance. To ensure smooth gameplay and faster load times, it's recommended to install one game at a time and allow it to fully complete before moving on to the next.
Pause or prioritize downloads: If you're downloading a game while playing another, it's essential to manage your downloads effectively. Pausing or prioritizing the active download will help allocate the necessary resources to deliver a seamless gaming experience.
Additional Tips For Getting The Most Out Of The Ps5'S Internal Ssd
Keep your console updated: Regularly updating your PS5's system software ensures that you have the latest features and improvements. These updates often include optimizations for the internal SSD, maximizing its performance.
Avoid using rest mode during active gameplay: Rest mode is a handy feature for saving power, but if you're in the middle of active gameplay, it's best to avoid using it. Rest mode can cause slowdowns or errors when dealing with the PS5's internal SSD, potentially impacting your gaming experience.
Minimize background apps: Running multiple apps in the background can consume system resources, potentially impacting the performance of the internal SSD. Closing unnecessary apps before gaming can help ensure smoother gameplay.
By following these tips, you can optimize the performance of the PS5's internal SSD, providing faster loading times and an overall enhanced gaming experience.
Unlock the full potential of your PS5 and immerse yourself in the world of gaming like never before.
Future Of Gaming With Ssd Technology
The future of gaming is revolutionized with the lightning-fast internal SSD technology of PS5, delivering unparalleled speed and performance.
Discover a gaming experience like never before with near-instant load times and seamless gameplay transitions.
Discussion On The Impact Of Ssd Technology On The Future Of Gaming:
SSD technology has revolutionized the gaming industry, bringing significant improvements in load times, rendering speeds, and overall gameplay experience.
With SSDs, gamers can say goodbye to long loading screens and hello to seamless transitions between game environments.
The speed and efficiency of SSDs allow for larger and more detailed game worlds, enabling developers to create immersive and realistic virtual experiences.
Predictions For How Ssds Will Continue To Evolve And Enhance Gaming Experiences:
As technology progresses, SSDs are expected to become faster and more affordable, making them more accessible to gamers.
The increased storage capacity of SSDs will allow for the storage of even more massive game files and future expansions.
SSDs will continue to improve graphical performance, enabling the rendering of stunning visuals and lifelike animations.
Potential Advancements In Storage Technology For Even Faster Load Times And Improved Gameplay:
Future advancements may see the integration of technologies like PCIe 4.0 or even faster interfaces, pushing the limits of data transfer speeds.
Developments in memory cell architectures, such as QLC and PLC, may lead to increased storage densities and reduced costs.
Hybrid storage solutions, combining SSDs with other emerging technologies like Optane Memory, could further enhance the gaming experience by minimizing load times and maximizing performance.
FAQ On How Fast Is Ps5 Internal Ssd
How fast is the PS5 internal SSD?
The PS5 internal SSD features an impressive 5.5GB/s of bandwidth for reading and writing. This makes loading times and game transitions incredibly fast.
What type of storage media does the PS5 use?
The PS5 uses a custom Solid State Drive (SSD) for its storage media.
How much data can the PS5 store?
The PS5 internal SSD can store up to 825GB of data.
Does the PS5 support external storage?
Yes, the PS5 does support external storage, including USB storage devices as well as external hard drives.
How easy is it to upgrade the PS5 internal SSD?
The PS5 internal SSD is upgradeable but is more challenging than with other consoles. As such, it is recommended that users have some technical knowledge or experience before attempting to upgrade the PS5 internal SSD.
Conclusion
To sum up, the internal SSD of the PS5 is undeniably fast and greatly enhances gaming experiences. With its lightning-fast load times, it ensures that players can jump straight into their favorite games without any delays or disruptions.
Whether it's rendering detailed graphics or accessing saved data, the PS5's internal SSD performs exceptionally well.
The reduced loading times not only increase convenience but also give gamers more time to fully immerse themselves in the virtual world.
Additionally, the SSD's high transfer speeds contribute to smoother gameplay, preventing lag and ensuring a seamless gaming session.
As the gaming industry evolves, the PS5's internal SSD sets a new standard for performance. It is clear that the powerful SSD is one of the key features that sets the PS5 apart from its predecessors and other gaming consoles.
Gamers can expect lightning-fast speeds and superior performance when diving into the world of PS5 gaming.
Bonus Topic: How Fast Is the PS5 Internal SSD?
How Powerful is the Ps5 Ssd?
How powerful is the PS5 SSD? The PS5 SSD is very powerful. Its read speed is 5.5 GB/s and its write speed is 2.7 GB/s.

This means that it can load games much faster than the previous generation of consoles. The PS5 also has a custom-designed I/O system that helps to further improve loading times.
Is There a Faster Ssd Than Ps5?
As of right now, the PS5 has the fastest SSD on the market. It's impossible to say if there will ever be a faster SSD released, but it's unlikely that it will happen any time soon.
The PS5's SSD is so fast that it's hard to imagine anything being much faster.
Does an Ssd Improve Ps5 Performance?
The PlayStation 5 is set to release in late 2020, and Sony has revealed some of its specs. One of the most notable changes is the inclusion of an SSD, which marks a huge shift for console gaming. So, does an SSD improve PS5 performance?

Simply put, yes. The main reason why is because SSDs offer much faster data transfer speeds than traditional HDDs. That means that the PS5 will be able to load games much quicker than its predecessor.

Not to mention, it'll also be able reduce loading times during gameplay. While there are other benefits of having an SSD (such as lower power consumption), the biggest one for gamers will be the increased performance.
So if you're looking to get the most out of your PS5, make sure you get yourself an SSD.
Is Ssd Worth It for Ps5?
The next-generation of gaming consoles is upon us, and with it comes a new generation of storage devices.
The PlayStation 5 and Xbox Series X both come equipped with SSDs (solid state drives), which offer faster loading times and enhanced performance over traditional HDD (hard disk drive) storage.
So, is SSD worth it for PS5? The benefits of SSD over HDD are numerous, and the increased speed and performance are well worth the extra cost.
Here's a closer look at some of the key benefits of SSD for PS5:

Faster Loading Times:
One of the biggest advantages of SSD over HDD is faster loading times. Games on PS5 can take advantage of the console's ultra-fast solid state drive to load data much quicker than on previous generation consoles.
This means less time waiting around for games to load, and more time playing them!
Enhanced Performance:
In addition to faster loading times, games will also see enhanced performance when played from an SSD on PS5.
This is due to the fact that SSDs have lower latency than HDDs, meaning they can access data much quicker. This results in smoother gameplay with less stuttering or lag.

Increased Durability:
Another benefit of SSDs over HDDs is their increased durability. Because there are no moving parts within an SSD, they are far less likely to be damaged if dropped or knocked around.
This makes them ideal for use in console gaming where accidental drops or bumps are relatively common!
Ps5 Internal Ssd Specs
The PS5 is set to release in 2020 and will feature an internal SSD with a capacity of 825 GB. The console will also have a slot for an external hard drive, but it is not required for game play.
The PS5's internal SSD will have a read speed of 5.5 GB/s and a write speed of 2.4 GB/s.
How Fast is the Ps5
The Ps5 is one of the most anticipated consoles of this generation. Its release date is set for sometime in 2020, but many are wondering how fast it will be.
The answer to that question is complicated and largely depends on what you're looking for in a console. However, we can take a look at some of the Ps5's specs and make an educated guess.
First, let's look at the CPU. The Ps5 will use an 8-core Zen 2 processor from AMD. This processor is capable of speeds up to 3.5GHz.
In comparison, the Xbox Series X will use a similar 8-core processor from AMD that has a slightly higher clock speed of 3.6GHz. So, based on this alone, we can expect the Ps5 to be ever so slightly slower than its Microsoft counterpart.

However, where the Ps5 starts to pull ahead is in its GPU department. The console will boast a custom RDNA 2 graphics chip from AMD that is significantly more powerful than anything else on the market right now.
This chip will offer ray tracing capabilities and allow for 4K gaming at up to 120fps (frames per second).

In comparison, the Xbox Series X can only do 4K gaming at 60fps without sacrificing graphical fidelity. So, when it comes to raw power and performance, the Ps5 looks to be miles ahead of its competition.
Of course, all of this means nothing if games don't perform well on the console itself. That's why it's important to note that Sony has stated that they are working closely with developers to ensure that games are optimized for their new hardware.
Ps5 Ssd Speed Vs Pc
The PlayStation 5 is Sony's next-generation console, and it's a pretty big deal. Not only is it more powerful than its predecessor, but it also has a brand new SSD that promises to revolutionize gaming. But how does this new SSD stack up against the competition?

Let's take a look. First, let's talk about raw numbers. The PS5's SSD is capable of reading data at 5.5 GB/s, which is incredibly fast.

By comparison, the Xbox One X only reads data at 2.4 GB/s, while the PC can range anywhere from 6-12 GB/s depending on the setup. So yes, the PS5 definitely has the fastest storage out of all three platforms. However, there are a few things to keep in mind when comparing these numbers.

Firstly, the PC can be configured to have much faster storage than what's available on consoles right now. Secondly, different games will utilize storage differently; some may be limited by CPU or GPU performance instead of storage speed.
And finally, loading times don't tell the whole story; gameplay can be affected by things like streaming textures from storage during gameplay (something that's difficult to quantify with just a number).

All that being said, the PS5'sstorage speed is still impressive and will likely result in shorter loading times for most games.
Ps5 Ssd Speed Comparison
The Playstation 5 is set to release in late 2020, and one of its most highly anticipated features is the new Solid State Drive.
This promises to revolutionize gaming, with loading times reduced to a fraction of what they are on current generation consoles. But just how fast is the PS5 SSD?

We'll take a look at the PS5 SSD speed in comparison to other drives on the market. The PS5 uses a custom-built 825GB SSD that is reported to offer read speeds of up to 5.5GB/s.
This is nearly double the maximum transfer rate of SATA III (the current standard for consumer SSDs), and means that the PS5 will be able load game data much faster than any other console on the market.

But how does this compare to other drives? The Samsung 970 EVO Plus offers similar performance to the PS5 SSD, with sequential read speeds of up to 3,500 MB/s and write speeds of up to 2,300 MB/s.
However, it should be noted that the 970 EVO Plus is limited by its PCIe 3.0 interface, while the PS5 SSD uses a newer PCIe 4.0 interface which allows for much higher transfer rates.

So while the two drives may offer similar performance in terms of raw speed, the PS5 will likely be able to load data much faster thanks to its superior interface.
Another drive that offers similar performance to the PS5 SSD is Intel's Optane 905P . This drive also uses a PCIe 4.0 interface and offers sequential read speeds of up to 3,500 MB/s and write speeds of upto 2 , 300 MB/s .

However , it should be noted that Optane drives are currently only available in M .2 form factor , meaning they would need an adapter in order t o be used with th e PlayStation 5 .
All things considered , it's clear that Sony's upcoming PlayStation 5 has one of th e fastest consumer – grade Solid State Drives on th e market . Thanks t o its next – gen PCIe 4 .

0 interface , th e console will likely offer significantly shorter loading times compared t o both current – gen consoles as well as PCs using older SATA – based drives .