Is 1Tb Ssd Enough for a Laptop? Yes!
Yes! A 1TB SSD is enough for a laptop, providing ample storage space and improved performance compared to traditional HDDs.
A 1TB SSD (Solid State Drive) provides a significant storage capacity that can easily accommodate the needs of most laptop users.
With its faster read and write speeds, an SSD not only boosts the overall performance of the laptop but also offers quicker boot times and reduced latency when accessing files and applications.
Faster performance compared to HDDs
Quick boot times and reduced latency
Increased durability and reliability due to no moving parts
Longer battery life due to lower power consumption
When choosing a laptop, opting for a 1TB SSD ensures that users will have sufficient storage space for their documents, multimedia files, and applications while also enjoying the enhanced performance and other advantages that an SSD offers.
With its faster speed, increased durability, and energy efficiency, a 1TB SSD is a wise investment for those looking to optimize their laptop experience.
7 Aspects Of 1TB SSD For Laptops
| Aspect | 1TB SSD |
| --- | --- |
| Storage Capacity | 1 Terabyte (1024 Gigabytes) |
| Suitability for Casual Users | Yes (Sufficient for documents, photos, videos, and software) |
| Suitability for Gamers | Yes (Able to store multiple large-sized games) |
| Suitability for Professionals | Depends (May require external storage for heavy workloads) |
| System Performance | Fast (SSDs provide faster boot times and file transfers) |
| Price | Moderate to High (More expensive than smaller SSDs or HDDs) |
| Upgradeability | Depends on laptop model (Some laptops allow SSD upgrades) |
7 Aspects Of 1TB SSD For Laptops
Key Takeaway
1 TB SSD capacity is generally sufficient for a laptop used for everyday tasks and various levels of workloads.
SSDs provide faster boot times, application launching, and file transfers in comparison to traditional HDDs.
A 1 TB SSD can store a large volume of files, including documents, photos, videos, and software, ensuring smooth multitasking and efficient data management.
Choosing an SSD of appropriate capacity can save money, as higher storage options often come with a higher price tag.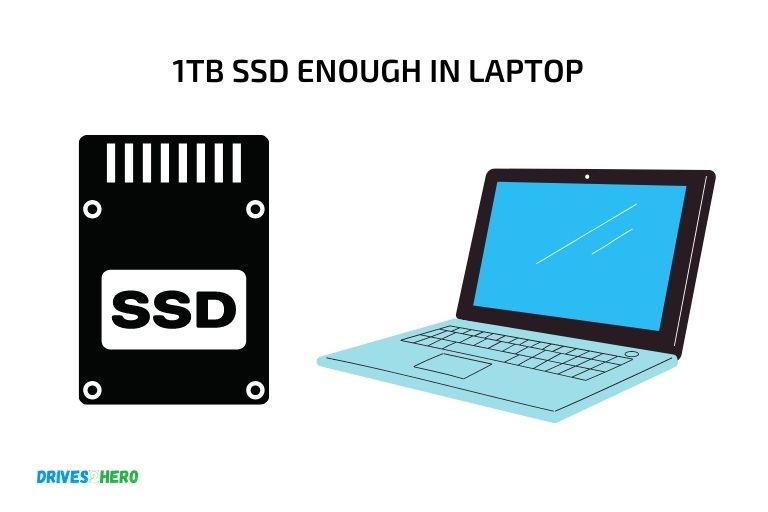 Four Facts About Regarding 1TB SSD for Laptops
SSDs, or Solid State Drives, use NAND-based flash memory for storing data, which offers faster speeds and increased reliability in comparison to traditional Hard Disk Drives (HDDs) that rely on spinning disks (Source: Investopedia).
A 1 TB SSD can hold approximately 17,000 hours of music, 310,000 photos, or 1,000 hours of high-definition videos – making it suitable for most users' storage needs (Source: Backblaze).
SSDs have a lower rate of failure compared to traditional HDDs as they have no moving parts, resulting in a longer lifespan and increased durability (Source: Kingston).
The increased performance of SSDs allows not only better user experience, but also extends the battery life of a laptop as they consume less power than HDDs (Source: Intel).
Understanding Ssd Storage For Laptops
What Is An Ssd?
An ssd (solid-state drive) refers to a type of storage device that uses non-volatile nand-based flash memory to store and retrieve data.
Unlike traditional hard disk drives (hdds), ssds do not have any moving parts and offer faster data transfer speeds, improved power efficiency, and increased durability.
How Does Ssd Storage Compare To Traditional Hdds?
Ssd storage is much faster than traditional hdds, which use spinning platters to store and read data.
Ssds can achieve read and write speeds of up to 550mb/s and 520mb/s, respectively, while hdds have a maximum speed of around 120mb/s.
Furthermore, ssds are less prone to failure, as they do not have any moving parts, and consume less power, which can lead to longer battery life for laptops.
The Benefits Of Using An Ssd For Your Laptop
Upgrading your laptop to an ssd can provide several benefits, including:
Improved overall performance: An ssd can significantly reduce boot-up times and improve the speed of opening applications and files.
Increased reliability: As previously mentioned, ssds do not have any moving parts and are less prone to damage and failure.
Enhanced power efficiency: Ssds consume less power than hdds, which can result in longer battery life for your laptop.
More storage space: With 1tb of ssd storage, you'll have plenty of room for storing files, music, and videos.
Adding an ssd to your laptop can provide a noticeable improvement in performance, power efficiency, and reliability.
With 1tb of ssd storage, you will have plenty of space for all of your files and media, while also enjoying faster data transfer speeds and increased durability.
So, if you are looking to upgrade your laptop's storage, an ssd is definitely worth considering.
The Advantages Of 1Tb Ssd Storage For Laptops
How Much Storage Is Necessary For A Typical Laptop User?
When it comes to storage capacity, a typical laptop user's needs may vary depending on their usage habits.
However, a basic laptop used for everyday activities such as internet browsing, streaming, and document creation can manage well with a storage capacity of 500gb.
But if you are a professional in graphic designing, video editing, music production or any similar field, you will require a higher storage capacity.
What Are The Benefits Of Having 1Tb Ssd Storage Capacity?
The solid-state drive (ssd) with a storage capacity of 1tb offers numerous advantages that traditional hard drives cannot match.
Some of the benefits of 1tb ssd storage capacity are:
Faster boot speed: With long battery life and instant boot-up capabilities, an ssd helps you get to work immediately.
Improved system performance: An ssd ensures lightning-fast and smooth operations, which saves you precious time and improves work efficiency.
Durability: Unlike hard drives that have moving parts that can wear out, ssds are more durable. This means the risk of mechanical failure is minimal, and your precious data is safer on an ssd.
Noiseless operations: Ssd's don't have motor noise, unlike the traditional hard disk drives, which are available in the market these days. Ssd's silent operations offer a peaceful and undisturbed working experience.
Less power consumption: Ssd's power consumption is much lower than traditional hard drives. This feature helps for more extended battery life for the laptop.
Examples Of Tasks That Require A Larger Storage Capacity.
Tasks such as video editing, professional photography, music production, or even gaming tends to require higher storage capacity to accommodate large digital files.
Below are few other examples of tasks that require extensive storage space:
Running software tools: Software that's used for a wide range of graphics or visual development needs tends to be large, occupying significant hard-drive space.
Large file transfer: Nowadays, many commercial transactions require sharing or transferring x-rays, blueprints, films, and similar large-file documents.
Working with multiple operating systems: If your work involves managing or testing multiple operating systems, you're going to need at least a few partitions on your drive for basic working purposes.
Working with virtual machines: Setting up virtual machines on the laptop require a large storage capacity.
When 1Tb Ssd Storage Is Insufficient For Laptops
With the advent of technological advancements, people are more inclined towards ssd storage laptops, which provide faster boot times and great data transfer speeds.
Most budget laptops come with 1tb ssd storage, which seems sufficient for most everyday users.
However, power users may require more storage space, and 1tb ssd might not be enough for their complex computing needs.
We will discuss the limitations of 1tb ssd storage for specific tasks and shed light on when 1tb ssd storage is insufficient for laptops. Let's dive in!
Understanding The Limitations Of 1Tb Ssd Storage For Specific Tasks
Graphics Designers
Graphics designers usually work extensively with high-resolution images, which require a lot of memory space.
If they are working on multiple projects simultaneously, they need to store all their data in one place, and 1tb might not be enough to store the data.
With limited storage, designers may have to compromise the quality of images, which can affect their workflow and the overall outcome of their projects.
Video Editors
Video editors often work with huge files, and high bit rates require several terabytes of storage.
Videos recorded in 4k or ultra-high definition can quickly fill up a 1tb storage space.
With scarcity of storage space, editors may have to delete their existing files to make room for the new ones, which can hamper their work productivity and creativity.
Gamers
Hardcore gamers require a lot of storage space to install and save their games.
High-end games can occupy a considerable amount of space, and 1tb might be insufficient for them, making them delete older ones to install newer games.
Moreover, gamers are always looking to upgrade to the latest titles, which can take up a lot of space, leaving 1tb ssd storage insufficient for their gaming needs.
1tb ssd storage might be sufficient for day-to-day computing needs, but for specific tasks like graphics designing, video editing, and gaming, it might not be enough.
With new technologies and upcoming needs, upgrading to a higher storage option might become essential to maintain work productivity and workflow.
Tips For Maximizing The Use Of 1Tb Ssd Storage In Laptops
As laptops continue to become more powerful and versatile, having a substantial amount of storage space is critical, especially if you need to store large files like multimedia files, applications, games, and operating systems.
A 1tb ssd meets and exceeds the storage requirements of most people, thanks to its ample storage space and fast read/write speeds.
However, to maximize the use of 1tb ssd storage in laptops, you need to follow a few tips to keep your device running smoothly.
Here are some tips to help you get the most out of your 1tb ssd:
Configuring The Ssd Storage Correctly
To ensure optimal performance of your ssd storage, you need to format it and configure it correctly.
Here are some essential configuration tips:
Install the operating system on the ssd to boost boot and load times, and use the hard disk drive (hdd) for data storage.
Disable disk defragmentation because it reduces the ssd's lifespan and performance.
Enable the trim command, which allows the operating system to tell the ssd which blocks of data are no longer in use and can be erased. Trim also prevents performance degradation and extends the ssd's lifespan.
Avoiding Clutter And Unnecessary Files
When you have a large storage capacity, it's easy to accumulate files and folders that you no longer need. Cluttered files can significantly slow down your ssd's performance and reduce its lifespan.
Here are some ways to declutter your ssd storage:
Uninstall programs and applications that you no longer use.
Delete temporary files, cached data, log files, and system backups regularly.
Use cloud storage services like google drive, dropbox, or onedrive to store files that you don't need on your local drive.
Backing Up Important Data And Files
Even with a 1tb ssd, backing up your data is essential. Data loss can occur due to various reasons, including hardware failure, theft, malware attacks, and accidental deletion.
Here are some backup tips:
Use an external hard drive or a cloud-based backup solution to create regular backups of your critical data.
Use a program like windows file history to back up important files automatically.
Create a system image backup with software like macrium reflect to restore your system to a working state if something goes wrong.
By following these tips and keeping your 1tb ssd storage organized and optimized, you'll be able to enjoy faster and more reliable performance from your laptop.
Remember to keep your data backed up to ensure that you never lose your valuable files and data.
FAQ Of Is 1Tb Ssd Enough For A Laptop
How Much Storage Does A 1Tb Ssd Provide?
A 1tb ssd provides 1000gb of storage which can store up to 250,000 photos or 100 movies.
Is A 1Tb Ssd Enough For Gaming?
Yes, a 1tb ssd is enough for gaming, and can store several large games without any issues.
How Long Will A 1Tb Ssd Last?
A 1tb ssd can last up to 10 years depending on usage and the manufacturer's warranty.
What Are The Benefits Of A 1Tb Ssd For A Laptop?
A 1tb ssd provides faster boot times, quicker load times, and longer battery life compared to traditional hdds.
Conclusion
Overall, the decision to opt for a 1tb ssd as your laptop's internal storage depends significantly on your usage and priorities.
If you are a casual user who primarily uses their laptop for routine tasks and stores minimal data, a 1tb ssd should suffice.
However, if you are a power user who needs to store and access large files frequently, you may want to consider a higher storage capacity.
Nonetheless, with advancements in technology and decreasing ssd prices, upgrading to a larger ssd is becoming more accessible and affordable.
Therefore, it may be worthwhile to invest in a higher storage capacity ssd, especially if you plan on using your laptop for several years.
Finally, it's crucial to select a reliable ssd brand that boasts performance, longevity, and excellent customer support to ensure that your data is safe and secure.