Pcie Ssd Vs M 2: Which One Should You Choose?
PCIe SSD and M.2 are two popular types of high-speed storage interfaces commonly used in modern computers to enhance data transfer and overall system performance.
PCIe SSD (Peripheral Component Interconnect Express Solid State Drive) is a type of SSD that uses the PCIe interface for data transfer, which is faster than the traditional SATA interface.
M.2, on the other hand, is a form factor and connector standard for internally mounted computer expansion cards, including SSDs. M.2 SSDs can use either SATA or PCIe interfaces for data transfer.
PCIe SSDs offer significantly faster data transfer speeds compared to SATA SSDs.
M.2 is a versatile form factor that supports both SATA and PCIe interfaces.
M.2 SSDs are smaller and take up less space, making them ideal for laptops and compact systems.
PCIe SSDs often require more power and generate more heat than M.2 SSDs.
When comparing PCIe SSDs with M.2 SSDs, one should consider their specific needs and system compatibility.
PCIe SSDs are an excellent choice for users who prioritize high-speed data transfer and performance, but they may consume more power and generate more heat.
On the other hand, M.2 SSDs are compact and versatile, making them perfect for laptops and systems with limited space.
However, the performance of an M.2 SSD can vary depending on whether it uses SATA or PCIe for data transfer. Always check your motherboard specifications to ensure compatibility with the desired storage device.
Comparison of PCIe SSD vs M.2 SSDs
| Feature | PCIe SSD | M.2 SSD |
| --- | --- | --- |
| Form Factor | Add-in card (AIC) | 22mm width, various lengths (usually 60mm, 80mm, or 110mm) |
| Interface | PCIe x4 or x8 | M.2 slot with PCIe x4 or x2, or SATA |
| Speed | Up to 15,750 MB/s (PCIe 4.0) | Up to 7,000 MB/s (PCIe 4.0) for NVMe, up to 600 MB/s for SATA |
| Compatibility | Systems with PCIe slots | Systems with M.2 slots (specific slot support for NVMe or SATA) |
| Heat Dissipation | Usually has heatsinks | May require additional heatsinks or cooling solutions |
| Installation | Installed in PCIe slot | Installed in M.2 slot, secured with a screw |
| Use Cases | High-performance storage, gaming, professional applications | Ultrabooks, laptops, small form factor systems, some desktops |
Comparison of PCIe SSD vs M.2 SSDs
Key Takeaway
M.2 SSDs are newer and offer higher capacities, flexibility, and performance, while PCIe SSDs provide better compatibility and wider adoption.
Form factor and size are significant differences; M.2 SSDs are smaller and more suitable for devices with limited space, while PCIe SSDs are bulkier but offer secure connections.
M.2 SSDs utilize the NVMe (Non-Volatile Memory Express) interface, providing much faster transfer rates than PCIe SSDs using the AHCI (Advanced Host Controller Interface) interface.
Compatibility is essential to consider, as not all devices support M.2 SSDs, so ensure your device's motherboard has an M.2 slot before purchasing an M.2 SSD.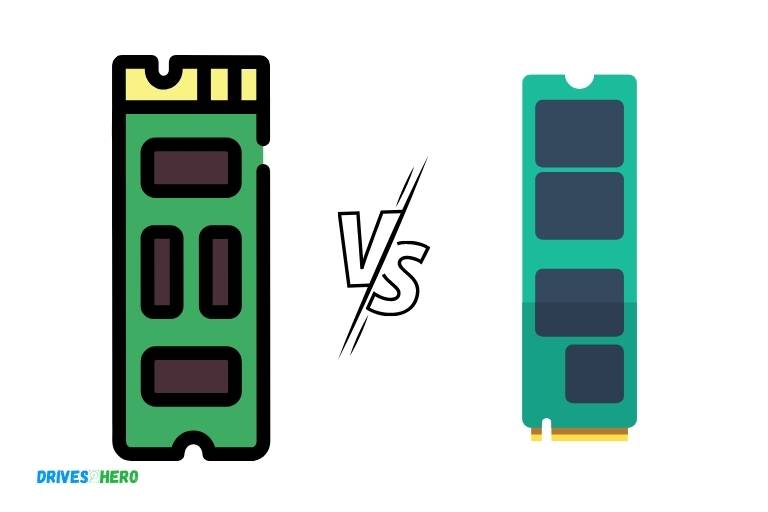 M.2 SSDs can achieve maximum sequential read/write speeds of up to 3500 MB/s and 2500 MB/s, respectively, while PCIe SSDs reach up to 2000 MB/s and 900 MB/s (Source: Wisegeek).
M.2 is a form factor as well as an interface, which can either use the SATA or PCIe/NVMe bus, making it more versatile than traditional PCIe SSDs (Source: Crucial).
The price per gigabyte for M.2 SSDs has decreased over time, making them more competitive with their PCIe counterparts. However, PCIe SSDs still boast a better price-to-performance ratio in many cases (Source: Tom's Hardware).
PCIe SSDs use a direct lane to the CPU, allowing data to bypass the traditional storage bus, which can result in faster transfer rates. M.2 SSDs that use the NVMe interface
Pcie Ssd: Pros And Cons
Solid-state drives (ssds) have become increasingly popular over the years, and with the m. 2 and pcie varieties, the choices can be overwhelming.
If you're looking for a top-performing ssd, one that can deliver blazing-fast speeds and performance, then pcie ssd might be a good option to consider.
However, before you go ahead with this option, you need to be aware of its advantages and drawbacks. Let's delve deeper into the pros and cons of using pcie ssd.
Advantages Of Using Pcie Ssd In Terms Of Speed And Performance
Pcie ssd offers a faster data transfer speed as compared to sata and m.2 drives, making it perfect for intensive applications and high-end gaming.
It operates at a faster internal rate, with a dedicated pcie lane, compared to other ssds. As a result, the speeds are significantly faster, cutting down boot and load times, and improving game performance.
It supports non-volatile memory express protocol (nvme), which allows data access through parallel channels, providing faster data transmission. This translates to better read and write speeds, improving overall system performance.
Drawbacks Of Pcie Ssd, Including Compatibility Issues And Higher Cost
Pcie ssds are among the most expensive ssd options, making it a less budget-friendly choice. Therefore, budget-conscious buyers may need to compromise the performance benefit.
Compatibility can be an issue since it may not be compatible with all system configurations. Some systems may require extra power or a drive bay adapter, which raises compatibility issues.
Pcie ssd may not perform to its full potential if the system does not support nvme or uefi boot mode. Not all motherboards support these, and as such, users need to verify before opting for a pcie ssd.
Pcie ssd provides exceptional speed and performance, but it comes at a higher cost, with compatibility issues.
However, its stunning performance makes it a worthy investment for applications that demand top-of-the-line performance.
By understanding the pros and cons of pcie ssd, users can make an informed decision on whether to go for this option or opt for other options like the m.
2 or sata ssd.
M 2 Ssd: Pros And Cons
Solid-state drives (ssds) have revolutionized the computer storage industry, delivering faster data access times than traditional hard disk drives.
As ssd technology continues to progress, so do the types of ssds available, namely pcie ssds and m. 2 ssds.
Advantages Of Using M.2 Ssd
M. 2 ssds have become increasingly popular with computer builders due to the following advantages:
Compact design: M.2 ssds are smaller than their pcie counterparts, making them ideal for small form factor devices such as laptops and ultrabooks.
Compatibility: M.2 ssds can be used with most systems, both old and new. Many motherboards now come with m.2 slots, and with an adapter, these can also be used with pcie slots.
Speed: M.2 ssds offer fast read and write speeds, comparable to pcie ssds. They also come with nvme (non-volatile memory express) interface support, which allows for even faster performance.
Drawbacks Of M.2 Ssd
However, m. 2 ssds do come with some limitations that should be considered:
Speed limitations: While m.2 ssds can offer fast performance, they can have limitations with sustained write speeds. As such, they may not be the best option for heavy data processing or large file transfers.
Heating issues: The compact form factor of m.2 ssds can lead to potential heating issues. Without proper cooling, m.2 ssds can overheat, causing performance degradation or even hardware failure.
M. 2 ssds are a great option for those looking for a fast and compact storage solution that is compatible with most systems.
However, it's important to consider their limitations, particularly with sustained write speeds and potential heating issues, when choosing an ssd for your needs.
Video On Pcie Ssd Vs M 2
Pcie Ssd Vs M 2: Key Differences
When it comes to solid state drives (ssds), two terms that you might have heard are pcie ssd and m. 2 SSD.
Both pcie and m. 2 form factors are popular among users looking to speed up their system's storage performance, but they have their differences.
In this blog post, we'll dive into these differences and help you make an informed choice for your next ssd upgrade.
Comparison Of Pcie Ssd And M.2 Ssd In Terms Of Performance, Price, And Compatibility
Performance:
Pcie ssd: Offers fast read and write speeds, as it connects directly to the cpu or chipset via the pcie interface.
M.2 ssd: Also fast, as it connects via the pcie or sata interface, but some m.2 drives are slower than others and depend on various factors ranging from the drive's capacity, nand type, controller and more.
Price:
Pcie ssd: More expensive than m.2 ssds due to their faster performance and larger capacity.
M.2 ssd: Usually cheaper than pcie ssds, depending on their capacity and performance.
Compatibility:
Pcie ssd: May require specific hardware or motherboard compatibility, which might limit your choices if you want to upgrade your system's storage capacity.
M.2 ssd: Compatible with most modern motherboards that come with an m.2 slot. However, some laptops may limit the types of m.2 ssds you can install.
Pcie ssds provide faster performance, but they come at a higher price, and their compatibility may be limited.
On the other hand, m. 2 ssds offer a more affordable option, come in different form factors, and are compatible with most modern motherboards.
Depending on your needs, either of these options could be ideal for you.
Frequently Asked Questions On Pcie Ssd Vs M 2
What Is A Pcie Ssd?
A pcie ssd (peripheral component interconnect express solid state drive) is a type of storage device that connects directly to a computer's motherboard using the pcie interface.
What Is An M.2 Ssd?
An m. 2 ssd is a small form factor solid-state drive that uses the m. 2 interface and connects directly to a computer's motherboard.
It can provide faster read and write speeds compared to traditional hard drives.
What Are The Advantages Of A Pcie Ssd Over An M.2 Ssd?
A pcie ssd can provide higher bandwidth and faster data transfer rates than an m. 2 ssd because it uses a dedicated pcie interface.
It can also support larger capacities and be more reliable in high demand environments.
Which One Should You Choose, A Pcie Ssd Or An M.2 Ssd?
The answer depends on your specific needs and intended usage. If you need faster read and write speeds and have a higher budget, then a pcie ssd may be the better option.
However, if you need a smaller, more affordable storage solution, an m.
Conclusion
After all that has been said, the decision between pcie ssd and m. 2 is ultimately dependent on your individual needs and preferences.
Both types of drives have their advantages and disadvantages, and your choice should be determined by what you need in a storage solution.
If you prioritize speed, power efficiency, and cost-effectiveness in your system, then a pcie ssd may be the way to go.
However, if you value convenient installation, portability, and smaller, more compact drives, then an m. 2 drive may be the better option for you.
At the end of the day, both options have their place in the world of storage devices, and it is up to you as the consumer to decide which one best fits your requirements.