What is M 2 Ssd? – Benefits, Compatibility, and Performance
An M.2 SSD is a small, high-performance solid-state drive (SSD) designed for modern computers and laptops to provide fast storage and improved system performance.
M.2 (pronounced M-dot-two) is a form factor specification for internally mounted storage devices, such as SSDs. It replaces the older mSATA and PCIe Mini Card formats, offering a more compact design and better performance.
M.2 SSDs are typically used as primary storage for operating systems, applications, and files, making them an essential component for faster and more responsive computing experiences.
M.2 SSDs are smaller and more efficient than traditional 2.5-inch SATA SSDs.
They can use either SATA or PCIe NVMe interfaces for data transfer.
M.2 SSDs come in different physical sizes, known as 2242, 2260, 2280, and 22110.
They offer faster performance and are capable of reducing boot times and application load times.
M.2 SSDs offer significant advantages over traditional hard drives and older SSD formats.
They are lightweight, consume less power, and provide faster data transfer rates due to their direct connection to the motherboard.
This makes them an essential component for modern laptops, ultrabooks, and high-performance desktops, which require agile and high-capacity storage solutions.
Features and Benefits of M.2 SSD
| Feature | Description |
| --- | --- |
| Full Name | M.2 Solid State Drive |
| Form Factor | M.2 |
| Interface | PCIe or SATA |
| Size | Length: 42mm, 60mm, 80mm, or 110mm; Width: 22mm |
| Storage Capacity | Ranges from 128GB up to several TB |
| Speed | PCIe: Up to 3500MB/s read, 3300MB/s write; SATA: Up to 560MB/s read, 530MB/s write |
| Power Consumption | Lower than traditional HDDs, varies by model |
| Use Cases | Ultrabooks, laptops, desktops, gaming systems, and servers |
| Benefits | Faster data transfer speeds, lower power consumption, and smaller form factor compared to traditional HDDs and older SSDs |
Features and Benefits of M.2 SSD
Key Takeaway
M.2 SSDs offer significant performance improvements over traditional hard drives and SATA SSDs.
The form factor of M.2 SSDs allows for smaller, lighter devices with faster data transfer rates.
M.2 SSDs can have different interfaces, including SATA and NVMe, which affect performance and compatibility with devices.
Upgrading to an M.2 SSD can greatly enhance the speed and responsiveness of laptops and desktop computers.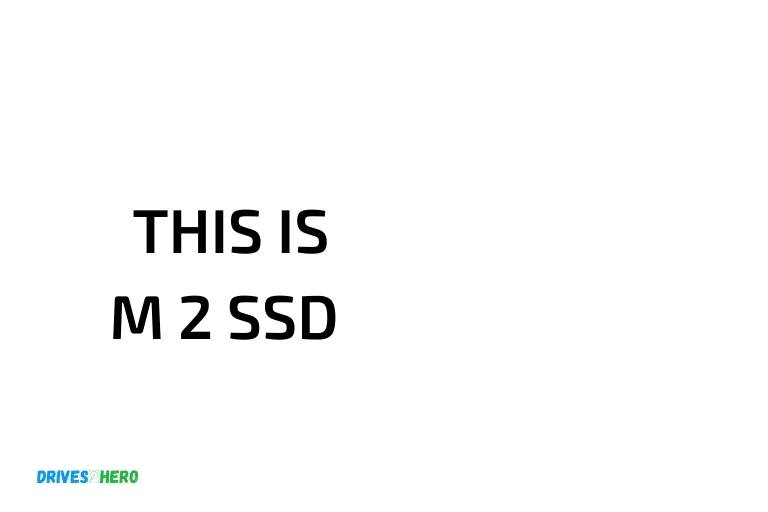 Four Reasons to Choose an M.2 SSD
M.2 SSDs, or M.2 Solid State Drives, are a type of storage device designed to improve upon the performance and form factor of traditional hard drives and SSDs (Source: Western Digital).
The M.2 form factor is smaller and more compact than 2.5-inch or 3.5-inch hard drives, making M.2 SSDs suitable for use in thin and light devices, such as ultrabooks, tablets, and high-performance laptops (Source: Crucial).
M.2 SSDs can utilize different interfaces, most commonly SATA and NVMe. SATA-based M.2 SSDs offer similar performance to their 2.5-inch counterparts, while NVMe-based M.2 SSDs can deliver significantly faster read and write speeds, thanks to their ability to leverage the PCIe bus (Source: Kingston).
When selecting an M.2 SSD, it is important to ensure compatibility with your device. This includes checking whether your device supports SATA or NVMe M.2 SSDs, as well as the correct physical size known as the "M.2 form factor" (e.g., 2242, 2260, or 2280)
Introduction To M 2 Ssd
Brief History Behind Ssd Development And Emergence Of M 2 Ssd
Solid-state drives, referred to as ssds, have become the standard for data storage in the computer industry.
The technology has been around since the late 1970s, but it only became popular in the 2000s. Ssds offered faster speeds, improved battery life, and were resistant to the jarring movements of mobile devices.
The first generation of ssds were bulky and used outdated protocols which reduced their speed and energy efficiency.
With growth in data and the internet, demand for faster computing technologies fanned the fire of development.
As a result, the emergence of m 2 ssds soon followed as most people preferred them to traditional hard drives or other types of ssds.
Understanding The Term M 2 Ssd
An m 2 ssd refers to an industry-standard form factor for solid-state drives that is smaller and faster than the traditional 2. 5-inch form factor.
This type of drive uses a pci express interface to transfer data, which provides a faster connection than the slower sata interface.
The "m" in m 2 stands for "next generation small form factor" and the "2" refers to the second iteration of the technology.
M 2 ssds are available in different sizes ranging from 22mm x 30mm to 22mm x 80mm, they are also much smaller than traditional ssds, making them perfect for use in modern devices with tight space requirements.
Benefits Over Traditional Hard Drives And Other Types Of Ssds
Here are some benefits of using m 2 ssds over traditional hard drives or other types of ssds:
Faster read and write speeds as compared to a traditional hard drive
Lower power consumption, which extends the battery life of portable devices
Much faster than sata ssds because of the pci express interface which also reduces system lag
Smaller form factor, allowing for easy integration into ultra-thin laptop designs
How M 2 Ssd Fits Into The Architecture Of A Computer System
M 2 ssds connect directly to a motherboard using pci express lanes instead of using sata controller channels.
The connection is much faster, making m 2 ssds ideal for use as the primary boot drive where fast boot times and loading of operating system files is critical.
However, m 2 ssds can also be used for storing applications and data files. When installing an m 2 ssd into a machine, make sure you have the right motherboard or an adapter if needed.
M 2 ssds are an incredible advancement in data storage technology that offers faster speeds, lower power consumption, and a smaller form factor.
They are a great investment as they improve the performance and extend the longevity of devices.
Technical Specifications And Performance Of M 2 Ssd
M 2 ssd has become increasingly popular in the world of computing due to its transfer speeds and overall performance.
This tiny storage device offers a multitude of benefits over traditional hdds and ssds, which is why it's now widely in use.
In this blog post, we will discuss the technical specifications and performance of m 2 ssd, exploring its physical structure, form factors, nand flash technology, transfer rates, bandwidth, and benchmarking against various other storage devices.
Physical Structure Of M 2 Ssd
M 2 ssd is a small solid-state drive (ssd) with a sleek and compact design, allowing it to fit into any device that supports it. It comes in a small form factor that measures approximately 3. 15 inches in length and 0.
87 inches in width. Its thickness ranges from 0. 09 to 0. 87 inches, depending on the capacity and type of m 2 SSD.
The drive uses a primary controller, nand flash memory, firmware, and a power management component housed entirely on a single chip.
Overview Of Various Form Factors For M 2 Ssd
M 2 ssd comes in several different form factors that determine where it can be used. These include standard m 2, m 2 2280, m 2 2242, and m 2 2230.
Each of these form factors has different lengths, widths, and thicknesses, allowing them to be used in a variety of devices such as ultrabooks, tablets, and desktops.
Nand Flash Technology In M 2 Ssd
Nand flash technology is a type of non-volatile storage that is used in m 2 ssd to store data. It's a type of memory that can be read and written from, making it ideal for data storage.
Nand flash is divided into pages and blocks; data is written in pages, while a block contains multiple pages.
The more data written, the slower m 2 ssd will perform. This is because nand flash requires time to erase and update pages in the block.
Understanding Transfer Rates And Bandwidth Of M 2 Ssd
M 2 ssd has incredibly high transfer rates and bandwidth, making it a popular choice for those seeking high-performance storage.
The average transfer rate of m 2 ssd is around 500 megabytes per second, with some drives achieving up to 3,500 megabytes per second.
It also supports higher bandwidths, allowing for faster overall performance.
Benchmarking M 2 Ssd To Traditional Hdd And Other Types Of Ssds
When benchmarked against traditional hdds and ssds, m 2 ssd's performance stands out. Traditional hdds have slower read and write speeds, which means m 2 ssd is faster.
In comparison to other types of ssds, m 2 ssd is more dependable, versatile, and provides greater performance.
M 2 ssd offers many benefits over traditional hdds and ssds. Its speed, performance, and compact design make it an attractive option for those looking for high-performance storage solutions.
M 2 ssd has become a standard for many devices and is now widely used in computing.
Video On What is M 2 Ssd
Types Of M 2 Ssd And Which One To Choose
Overview Of Different Types Of M 2 Ssd: Sata, Pcie And Nvme
M 2 ssd has three different types: sata, pcie, and nvme.
Here is a short overview of each of them:
Sata M 2 Ssd
Connects with the motherboard through sata iii interface
Offers up to 500mb/s read and write speed
Cheaper than other types
Pcie M 2 Ssd
Connects with the motherboard via the pcie bus interface
Offers up to 4000mb/s read and write speed
More expensive than sata
Nvme M 2 Ssd
Connects with the motherboard via the pcie bus interface
Offers the fastest read and write speed (up to 7000mb/s)
Most expensive among all three types
Comparison Between Sata, Pcie And Nvme M 2 Ssd In Terms Of Performance And Price
When choosing an m 2 ssd, you may want to consider factors such as performance and price.
Here is a comparison between sata, pcie, and nvme based on these:
Performance
Sata m 2 ssd is the slowest among all three.
Pcie m 2 ssd can offer faster speeds than sata m 2 ssd, but not as fast as nvme m 2 ssd.
Nvme m 2 ssd is the fastest.
Price
Sata m 2 ssd is the cheapest.
Pcie m 2 ssd is more expensive than sata m 2 ssd.
Nvme m 2 ssd is the most expensive among all three.
Factors To Consider In Choosing The Right M 2 Ssd For Your Needs
There is no one-size-fits-all solution when it comes to choosing the right m 2 ssd for your needs.
Here are some factors to consider:
Capacity: Choose an m 2 ssd based on the amount of storage you need.
Price: Consider your budget and choose the type of m 2 ssd you can afford.
Performance: Choose an m 2 ssd that suits your performance requirements.
Compatibility: Ensure that the m 2 ssd is compatible with your system.
How To Install M 2 Ssd In A System
Installing an m 2 ssd is an easy process if you have the right tools and knowledge.
Here is a brief overview of how to do it:
Tools You Need:
Steps To Follow:
Turn off the system and unplug it from the wall outlet.
Locate the m 2 ssd slot on your motherboard.
Insert the m 2 ssd into the slot.
Secure the m 2 ssd in place with the screw provided.
Connect the power and data cables.
Turn on the system and check if the m 2 ssd is working correctly.
By considering the factors mentioned above, you can choose the right type of m 2 ssd that suits your needs and enjoy faster data transfer speeds.
Troubleshooting Common Issues With M 2 Ssd
M2 ssds are becoming popular among tech enthusiasts for their compact size and lightning-fast speed.
However, like any technology, m2 ssds have their share of common issues that can result in frustration and performance problems.
This blog post will explore some common issues users face with m2 ssds and how to troubleshoot them.
Common Issues Users Face With M2 Ssd And How To Troubleshoot Them
Ssd not detected by the bios: Ensure that the ssd is properly connected to the motherboard and that the bios is detecting the drive. Check the bios settings to ensure the sata mode is set to ahci mode. Also, try connecting the ssd to another computer to see if it's detected.
Slow boot times: If your m2 ssd is exhibiting slow boot times, try updating the firmware to the latest version. You can check your manufacturer's website for firmware updates and installation instructions.
Blue screen of death (bsod) errors: This error message typically occurs as a result of hardware or driver failures. Ensure that all drivers and firmware are up to date. If the problem persists, try swapping out the ssd with another one to see if the issue is with the ssd or another component.
Understanding Firmware Updates For M 2 Ssd
Firmware updates are essential to ensure the proper functioning of an m2 SSD.
Here are some key points to keep in mind when updating the firmware:
Before updating the firmware, back up all the data stored on the ssd.
Visit the manufacturer's website and download the latest firmware update.
Follow the instructions provided by the manufacturer carefully to avoid bricking the ssd.
Do not interrupt the firmware update process as it can lead to irreparable damage to the ssd.
How To Monitor The Health Of An M2 Ssd
It's essential to monitor the health of your m2 ssd regularly to prevent data loss and ensure that it's functioning correctly.
Here are some ways to monitor the health of an m2 ssd:
Use software tools such as crystal disk info, which provides detailed information about the ssd's health.
Run diagnostic tests regularly to check for any errors or bad sectors.
Check the smart attributes of the ssd to see if it's exhibiting any signs of wear.
Tips For Improving The Lifespan Of An M2 Ssd
To extend the lifespan of your m2 ssd, consider the following:
Avoid using your ssd for heavy, continuous workloads that can cause excessive heat.
Use a third-party cooling solution if the ssd gets too hot.
Avoid shutting down your system forcefully as it can cause data corruption.
Enable trim to ensure that the ssd is functioning optimally.
Future Developments In M 2 Ssd
Emerging Trends And Innovations In M 2 Ssd Technology
The technology industry is continually evolving, and m 2 ssd is keeping up with the pace.
Here are some of the emerging trends and innovations to expect in the near future:
Increasing storage capacity: M 2 ssd is expected to offer larger storage capacities surpassing the current terabyte limit.
Improved energy efficiency: The technology is undergoing refinements to increase power efficiency and reduce the amount of energy consumed, in turn reducing costs.
Enhanced speeds: The future of m 2 ssd will be about faster data transfers, leading to improved performance in computers and other devices.
Cloud integration: M 2 ssd technology will be designed to work in sync with cloud networks, making it easy to save data across different devices and platforms.
Potential Limitations Of M 2 Ssd And How They Can Be Overcome
While m 2 ssd technology is revolutionary, there are still limitations that some end-users face.
Here are some potential limitations and possible solutions:
Limited compatibility: M 2 ssd drives may not be compatible with all pcs, requiring the need for specific hardware.
High price: Ssd technology is still expensive compared to traditional hard drives, which may limit its use in entry-level computers.
Data loss susceptibility: M 2 ssd drives can experience data loss or corruption due to sudden power outages. However, this can be overcome by using a good power backup system or a software solution.
Expert Insights On The Future Of M 2 Ssd
Several industry experts in the field believe that m 2 ssd technology will continue to advance and become more widespread.
Here are some insights into the future of m 2 ssd:
M 2 ssd drives will become more compatible with different components, making it easier to use in various computing systems.
There will be a significant reduction of cost for m 2 ssd as the technology becomes more common in the market, which means that we can expect m 2 ssd to become a standard feature in many devices in the future.
The future of storage technology lies in m 2 ssd technology, making it an essential aspect of data processing in the computing industry.
Impact Of M 2 Ssd On The Computing Industry And End-Users
M 2 ssd drives are essential components of modern computing systems.
Below are some ways that m 2 ssd has impacted computing technology and end-users:
M 2 ssd has become vital in increasing the speed and efficiency of modern computing devices. This has resulted in improved performance and processing speed, which has improved the user experience.
M 2 ssd has a smaller form factor, making it suitable for thin and lightweight laptops, ultrabooks and even tablets, which was previously difficult to achieve with traditional hard drives.
In the future, m 2 ssd will play a vital role in emerging technologies such as virtual and augmented reality, gaming, and high-resolution video streaming.
M 2 ssd technology is a game-changer, revolutionizing data storage and processing. Its future is bright, and we can expect more advancements in the years to come.
Frequently Asked Questions For What Is M 2 Ssd
What Is An M.2 Ssd?
An m. 2 ssd is a solid-state drive that uses an m. 2 form factor. It's a thin, small, and high-speed storage solution that connects to a computer's motherboard.
What Are The Benefits Of Using An M.2 Ssd?
Using an m. 2 ssd can offer faster boot times, faster application loading times, reduced power consumption, and smaller form factors. They also have faster read and write speeds, which means data transfers are quicker.
How Do I Install An M.2 Ssd?
You can install an m. 2 ssd by connecting it to your motherboard's m. 2 slot. Make sure to read the manufacturer's instructions and set your bios to detect your new ssd for proper installation.
Can I Replace My Existing Hard Drive With An M.2 Ssd?
Yes, you can replace your old hard drive with an m. 2 ssd if your motherboard has an m. 2 slot. It's important to back up your data before making changes to your storage configuration.
Conclusion
Overall, m. 2 ssd has become an essential component in today's technological landscape.
By offering blazing-fast read and write speeds, a compact form factor, and low power consumption, it has revolutionized the storage industry and made computers faster and more efficient.
With its flexibility, m. 2 ssd can also be used in various applications such as laptops, gaming computers, and workstations without compromising performance.
Understanding the benefits of m. 2 ssd is a crucial piece of knowledge for anyone looking to upgrade their computer's storage system.
Moreover, to get the most out of it, it's essential to choose the right type of m. 2 ssd based on the requirements. With its increasing popularity, it is only a matter of time before it becomes a standard in modern computers.
So, if you want to upgrade your computer and take advantage of the benefits of m. 2 ssd, it's definitely worth considering.