SSD SATA 3 Vs NVMe: Which One Is Better?
NVMe SSDs are significantly faster and more efficient than SATA 3 SSDs. NVMe drives use the PCIe interface, which provides higher bandwidth and lower latency compared to SATA 3's AHCI protocol.
The key difference between SSD SATA 3 and NVMe lies in their respective performance capabilities.
While both are reliable storage options, NVMe outperforms SATA III in terms of speed, making it ideal for high-performance operations such as gaming or professional video editing.
However, this does not render SATA III obsolete; it remains a cost-effective choice for general computing tasks where top-tier speed may not be necessary.
Therefore, the choice between these two highly depends on user requirements and budget considerations.
Key Takeaway
NVMe drives are generally faster than SATA 3 SSDs due to their ability to handle more data lanes simultaneously.
SATA 3 SSDs have a limit of 600MB/s data transfer speed, while NVMe drives can reach up to 3500MB/s.
NVMe drives connect directly to the computer's motherboard via the PCIe interface, bypassing many of the bottlenecks presented by the SATA interface.
While NVMe drives offer superior performance, they are also typically more expensive than SATA 3 SSDs.
The choice between SATA 3 and NVMe may depend on individual use cases: for regular computing tasks, a SATA 3 SSD may be sufficient; for high-performance tasks like gaming or video editing, an NVMe drive may be necessary.
11 Features Of SSD SATA 3 Vs NVMe
| Feature | SSD SATA 3 | NVMe |
| --- | --- | --- |
| Interface | SATA III (6 Gbps) | PCIe (various generations, e.g., 3.0) |
| Speed | Typically up to 550 MB/s (Read/Write) | Much higher speeds, e.g., 2000 MB/s+ |
| Performance | Good for general use and gaming | Excellent for gaming and professional use |
| Price | Generally more affordable | Often more expensive |
| Compatibility | Compatible with most systems | Requires an M.2 or PCIe slot |
| Form Factors | Available in 2.5-inch and M.2 form factors | Typically in M.2 form factor |
| Capacity Range | Typically available up to 4TB | Available up to 8TB and beyond |
| Heat Generation | Generates less heat | May generate more heat |
| Power Consumption | Consumes less power | May consume more power |
| Endurance | Generally lower endurance | Higher endurance |
| Use Cases | Everyday computing, budget builds | High-end gaming, content creation, workstations |
Explore the key differences between SSD SATA 3 and NVMe storage solutions.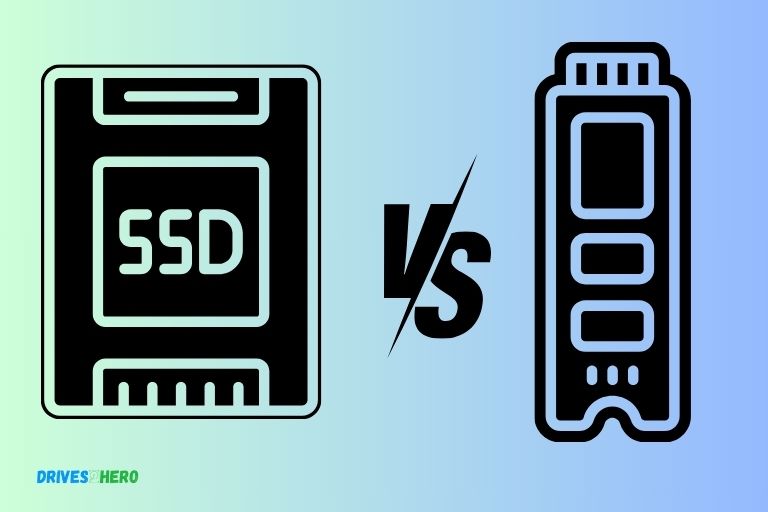 Speed And Performance Comparison
Enjoy lightning-fast data transfer and improved overall system responsiveness with NVMe. Upgrade your storage for an enhanced computing experience.
When it comes to choosing between SSD SATA 3 and NVMe drives, the speed and performance considerations play a crucial role.
Let's dive into the key differences and how they impact various aspects of your system's performance.
Differences In Data Transfer Rates And Bandwidth:
SSD SATA 3:
Supports sequential read and write speeds of up to 600MB/s.
The maximum bandwidth is limited to 600MB/s due to the SATA 3 interface's constraints.
Ideal for everyday computing tasks and provides a significant improvement over traditional hard disk drives.
NVMe:
Offers an exponential boost in data transfer rates.
Supports sequential read and write speeds of up to 3500MB/s and beyond.
Utilizes the PCIe interface, delivering much higher bandwidth and reduced latency.
Enables faster data access and transfer, making it perfect for resource-intensive applications like gaming and content creation.
Impact On Boot Time, File Transfer, And Application Launch:
SSD SATA 3:
Offers a notable improvement over traditional hard drives, resulting in faster boot times.
Smooth and swift file transfers, especially when compared to HDDs.
Applications launch relatively quicker due to the reduced seek times and improved read speeds.
NVMe:
Takes system boot time to the next level, bringing lightning-fast speeds.
Seamlessly transfers large files, such as high-resolution videos or bulky project files, within seconds.
Boosts application launch times significantly, ensuring minimal waiting and maximizing productivity.
Real-World Performance Benchmarks:
SSD SATA 3:
Performs exceptionally well for everyday tasks like web browsing, document editing, and multimedia playback.
Provides a noticeable improvement in system responsiveness, allowing for a smoother overall user experience.
NVMe:
Unleashes superior performance, especially in resource-demanding applications like video editing, 3D rendering, and gaming.
Significantly reduces load times, enhances multitasking capabilities, and minimizes lag during intensive tasks.
Offers unrivaled speed and performance, making it the preferred choice for enthusiasts and professionals.
Form Factor And Compatibility
SSD SATA 3 and NVMe are two different form factors with varying compatibility. While SATA 3 is commonly used in older devices, NVMe provides faster speeds and is ideal for newer systems seeking enhanced performance.
Choosing the right form factor depends on your specific needs and the capabilities of your device.
When it comes to choosing between SSD SATA 3 and NVMe drives, one important factor to consider is the form factor and compatibility.
Both SSD SATA 3 and NVMe drives come in different physical sizes and connector types, which determine their compatibility with various devices and motherboard slots.
Let's take a closer look at these aspects:
Physical Characteristics And Connector Types:
SSD SATA 3: These drives typically come in the standard 2.5-inch form factor, which is the same size as traditional hard drives.
They are designed to fit into the standard 2.5-inch drive bays found in most desktops and laptops. SSD SATA 3 drives use the SATA interface, which features a flat, L-shaped connector with multiple pins.
NVMe: NVMe drives, on the other hand, come in smaller form factors such as the M.2 and U.2. The M.2 form factor is commonly used in laptops and small form factor PCs, while the U.2 form factor is primarily used in servers and workstations.
NVMe drives utilize a different connector type, typically an M.2 connector or a U.2 connector, which requires a corresponding slot on the motherboard.
System Compatibility And Motherboard Support
SATA 3 SSD and NVMe offer different levels of system compatibility and motherboard support.
While SATA 3 is widely compatible with most motherboards, NVMe requires a motherboard with an M. 2 slot that supports NVMe technology for optimal performance.
Consider your system's requirements and motherboard capabilities when choosing between the two.
Ssd Sata 3 Vs Nvme:
Solid-state drives (SSDs) have revolutionized computer storage, offering faster speeds and improved performance compared to traditional hard drives.
However, not all SSDs are created equal, and it's crucial to understand the differences between SATA 3 and NVMe in terms of system compatibility and motherboard support. Let's delve into the details.
Verifying Compatibility With Your System:
Determining the compatibility of an SSD with your system is vital to ensure optimal functionality.
Here are some key points to consider:
Check your motherboard specifications: Before purchasing an SSD, verify if your motherboard supports SATA 3 or NVMe. Many modern motherboards include at least one M.2 (NVMe) slot, so if your system is relatively new, chances are it will support NVMe.
Operating system compatibility: Both SATA 3 and NVMe SSDs are supported by modern operating systems like Windows 10, macOS, and Linux. However, it's essential to ensure that your operating system has the necessary drivers and updates to support NVMe drives.
Physical constraints: SATA 3 SSDs utilize the traditional 2.5-inch form factor, whereas NVMe SSDs often come in the M.2 form factor. Ensure that your system has the appropriate slots or connectors available to accommodate your chosen SSD.
Now, let's move on to understanding PCIe lane allocation.
Understanding Pcie Lane Allocation:
The Peripheral Component Interconnect Express (PCIe) is the interface used by SSDs to connect to the motherboard. PCIe lanes determine the bandwidth and speed at which data can be transmitted between the SSD and other components.
Here are the key points to consider:
SATA 3 limitations: SATA 3 SSDs rely on the SATA interface, usually connected to the motherboard via SATA cables. This limits their maximum theoretical speed to around 600MB/s. SATA 3 SSDs typically use up to two PCIe lanes for data transfer.
NVMe advantages: NVMe SSDs, on the other hand, utilize the PCIe interface directly, offering significantly higher speeds. They can utilize multiple PCIe lanes, with most modern NVMe drives using four or more lanes to achieve up to 3500MB/s or even higher speeds.
PCIe lane availability: Ensure that your motherboard has enough available PCIe lanes to support the maximum speed of your NVMe SSD. This is especially important if you are considering multiple NVMe drives or if other components, such as graphics cards, also utilize PCIe lanes.
Understanding system compatibility and motherboard support is essential when comparing SATA 3 and NVMe SSDs.
Verify that your system supports your chosen SSD and consider factors such as motherboard specifications, operating system compatibility, and physical constraints.
Understand the difference in PCIe lane allocation between SATA 3 and NVMe SSDs to ensure optimal performance.
By considering these factors, you can make an informed decision on which SSD type best suits your needs.
Cost And Value For Money
Ssd SATA 3 and NVMe both offer cost-effective storage solutions, but NVMe provides better value for money due to its faster speeds and improved performance. Consider NVMe for a more efficient and powerful data storage option.
Price Comparison Between Ssd Sata 3 And Nvme
When it comes to investing in a solid-state drive (SSD), one of the key factors to consider is the cost and value for money. Let's delve into a comparison between SSD SATA 3 and NVMe.
Ssd Sata 3:
Affordable option with a wide range of available capacities.
Ideal for budget-conscious users who prioritize cost-effectiveness.
A tried and tested technology that offers reliable performance.
Offers faster read and write speeds compared to traditional hard drives.
Suitable for general computing tasks, such as web browsing, document editing, and multimedia playback.
Nvme:
Cutting-edge technology that provides exceptional performance.
Faster data transfer speeds and lower latency compared to SATA 3.
Designed for demanding tasks like gaming, video editing, and complex applications.
Storage optimization features enhance overall system performance.
Higher price point due to advanced technology and superior performance.
Ultimately, the choice between SSD SATA 3 and NVMe boils down to your specific needs and budget. If you require high-speed storage for resource-intensive tasks, NVMe might be the ideal option despite its higher cost.
However, if you are on a limited budget or primarily use your SSD for everyday tasks, SSD SATA 3 offers a great balance between affordability and performance.
Weighing the cost and value for money is crucial when selecting the right SSD for your needs. Consider the purpose of your storage, your budget, and the performance requirements to make an informed decision.
Conclusion
The choice between SSD SATA 3 and NVMe ultimately depends on your specific needs and budget. Both options offer significant improvements in speed and performance compared to traditional hard drives.
If you are a casual user or on a tight budget, a SATA 3 SSD can provide a good balance between price and performance.
On the other hand, if you are a power user or work with large files and demanding applications, investing in an NVMe SSD can deliver even faster speeds and seamless multitasking.
When selecting an SSD, it is crucial to consider factors such as storage capacity, workload, and compatibility with your system.
Understanding the differences between SSD SATA 3 and NVMe will help you make an informed decision and maximize the performance of your computer.
Remember, SSDs are an investment that can significantly enhance your computing experience, so choose wisely.