U.2 Ssd Vs Sata: Which One Is Superior?
U.2 SSDs and SATA SSDs are both solid-state drives used for storage, but they differ significantly in their performance and use cases.
U.2 SSDs, which connect via the PCIe bus, generally offer higher performance than SATA SSDs, including faster data transfer rates.
Quick Overview
U.2 SSDs: These drives utilize the PCIe interface and NVMe protocol, which allows them to reach much higher speeds than SATA SSDs. They are typically used in enterprise environments where high-speed data access is critical.
SATA SSDs: These drives use the SATA interface, which is slower than PCIe. However, they are more commonly found in consumer devices due to their lower cost and sufficient performance for most general computing tasks.
U.2 SSD and a SATA SSD are different yet powerful storage solutions depending on your needs.
If your work involves heavy data usage or you require high speed for gaming or other intensive applications, U.2 is the way to go with its superior speed and performance offered by its PCIe connectivity and NVMe protocol.
On the contrary, if you're a casual user who primarily uses your computer for browsing or streaming videos, a SATA SSD would be adequate as it provides satisfactory speed at a more affordable price point compared to U.2 drives.
10 Factors About U.2 SSD Vs SATA SSD
| Factor | U.2 SSD | SATA SSD |
| --- | --- | --- |
| Interface | U.2 (SFF-8639) | SATA (SATA III/6 Gbps) |
| Form Factor | 2.5-inch | 2.5-inch or M.2 |
| Maximum Speed | Up to 32 Gbps (PCIe Gen 3 x4) | Up to 6 Gbps (SATA III) |
| Performance | Generally faster | Slower than U.2 SSDs |
| Compatibility | Requires U.2 connector on motherboard | Compatible with most PCs |
| Capacity Range | Wide range of capacities available | Wide range of capacities available |
| Price | Generally more expensive | More affordable |
| Power Consumption | Generally higher | Generally lower |
| Application | Data centers, enterprise, high-performance PCs | Consumer PCs, laptops, gaming |
| Hot-Swappable | Often hot-swappable | Rarely hot-swappable |
Compare U.2 SSD and SATA SSD to make informed storage choices. Explore differences in interface, speed, compatibility, and form factor.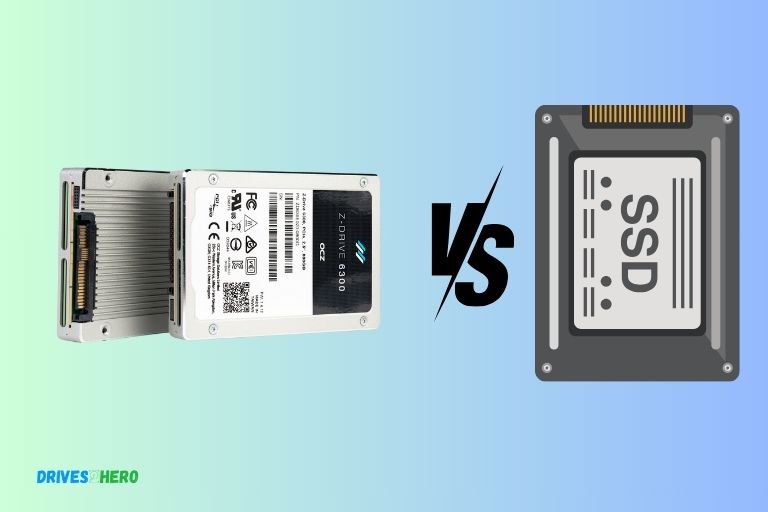 Understanding U.2 SSDs
Unlock the potential of your storage with U. 2 SSDs. Discover the performance difference between U. 2 SSDs and SATA for faster data transfers and improved computing efficiency.
U.2 SSDs: A Powerful Storage Solution
U. 2 SSDs, also known as SFF-8639 SSDs, are an advanced storage solution that offer exceptional performance and reliability.
These SSDs are designed to meet the demands of high-speed data storage, making them perfect for various applications in both personal and professional settings.
U. 2 SSDs utilize the U. 2 interface, which is based on the PCIe standard and offers higher bandwidth and lower latency compared to traditional SATA SSDs.
Key Features And Advantages Of U.2 SSDs
U. 2 SSDs come with a range of features and advantages that set them apart from other storage options.
Here are some key highlights:
Higher Speeds: U.2 SSDs leverage the PCIe interface to deliver faster data transfer rates, making them ideal for tasks that require quick access to large files or heavy multitasking.
Greater Capacity: With U.2 SSDs, you can enjoy larger storage capacities, allowing you to store more data, applications, and multimedia files without worrying about space constraints.
Enhanced Reliability: U.2 SSDs are built with state-of-the-art technology that ensures improved durability and data integrity. They are less prone to physical damage and provide better protection against data loss.
Versatile Compatibility: U.2 SSDs are compatible with a wide range of devices, including desktop computers, workstations, laptops, and servers. Their versatile design allows for seamless integration into various systems with U.2 interfaces.
Efficient Power Consumption: U.2 SSDs consume less power when compared to traditional HDDs, resulting in lower energy costs and longer battery life for portable devices.
U.2 SSDs: Ideal Use Cases And Applications
Thanks to their impressive performance and reliability, U. 2 SSDs find applications across various industries and use cases.
Here are some examples:
Gaming: U.2 SSDs offer quick game load times, reducing waiting periods and providing a smooth gaming experience for avid gamers. The high-speed data transfer enables faster rendering and reduces in-game lag.
Content Creation: Professionals working with large multimedia files, such as video editors and graphic designers, can benefit from U.2 SSDs' fast read and write speeds. These SSDs allow for seamless editing and rendering, enhancing productivity.
Data Centers: U.2 SSDs are widely used in data centers for their ability to handle heavy workloads and intensive data processing tasks. These SSDs ensure rapid access to critical data, enhancing server performance and overall efficiency.
Enterprise Applications: U.2 SSDs are suitable for enterprise-level applications that demand high-speed data processing, such as database management systems, virtualization, and enterprise resource planning tools.
Workstations: U.2 SSDs offer enhanced productivity for professionals working with resource-intensive software, such as engineers, architects, and 3D modelers. The increased speed helps in faster file access and smoother multitasking.
U. 2 SSDs provide a blend of speed, capacity, and reliability, making them an excellent choice for users who require top-of-the-line storage solutions.
Whether you are a gamer, content creator, or IT professional, U. 2 SSDs can significantly enhance your computing experience.
Exploring SATA Technology
Dive into U.2 SSD vs. SATA tech differences for a deep understanding. U.2 SSD offers faster speeds and more storage capacity, making it a worthwhile choice.
SATA Technology: An Introduction
SATA (Serial ATA) is a widely-used technology that facilitates data transfer between storage devices and computers.
It has been a reliable and popular choice for connecting SSDs (Solid State Drives) and HDDs (Hard Disk Drives) to computers for many years.
Let's dive into the world of SATA technology and explore its features, benefits, and limitations.
Pros and Cons of SATA SSDs:
High Compatibility: SATA SSDs are compatible with almost all computer systems, making them a convenient option for users.
Improved Speed: While SATA SSDs may not offer the same level of speed as some newer technologies, they still provide a significant performance boost compared to traditional HDDs.
Cost-Effective: SATA SSDs are more affordable compared to other storage options, making them an attractive choice for budget-conscious individuals.
Ample Storage Capacity: SATA SSDs offer generous storage capacities, allowing users to store large amounts of data without worrying about running out of space.
Limitations and Drawbacks of SATA Technology:
Speed Limitations: SATA technology has reached its peak in terms of speed, making it unable to match the faster data transfer rates of newer technologies like PCIe or NVMe.
Bandwidth Bottleneck: The SATA interface can become a bottleneck when it comes to transferring large amounts of data quickly. This limitation is particularly noticeable when dealing with large files or resource-intensive applications.
Increased Latency: SATA SSDs typically have higher latency compared to newer technologies, resulting in slightly longer response times.
Limited Performance for Professional Use: While SATA SSDs are suitable for everyday tasks and average computer users, professionals who require lightning-fast speeds may need to consider alternative options.
SATA technology has been a reliable and widely-used option in the world of storage devices.
While it may not offer the same level of performance as newer technologies, its compatibility, cost-effectiveness, and ample storage capacity make it an appealing choice for many users.
Performance Comparison: U.2 SSD Vs SATA
U. 2 SSD and SATA drives differ in performance, with U. 2 SSD offering faster speeds and higher capacities compared to SATA. The U. 2 SSD provides improved data transfer rates, making it an ideal choice for high-performance applications.
Speed And Bandwidth: How U.2 Ssds Excel
U. 2 SSDs are known for their exceptional speed and high bandwidth, making them a popular choice for those seeking optimal performance.
Here's why U. 2 SSDs excel in speed and bandwidth:
U.2 SSDs leverage the PCIe (Peripheral Component Interconnect Express) interface, which allows for faster data transfer rates compared to SATA. With higher bus speeds and more lanes, U.2 SSDs can provide blazing-fast performance.
U.2 SSDs offer a wider bandwidth, enabling them to handle heavy workloads and data-intensive tasks with ease. This means reduced waiting times and improved overall system responsiveness.
Random And Sequential Read/Write Performance: U.2 Ssds Vs Sata
When it comes to random and sequential read/write performance, U. 2 SSDs outshine SATA drives.
Here's a comparison between the two:
U.2 SSDs, utilizing the PCIe interface, deliver significantly faster random and sequential read/write speeds compared to SATA drives. This translates to faster file transfers, quicker application loading times, and enhanced multitasking capabilities.
U.2 SSDs offer higher IOPS (Input/Output Operations Per Second), allowing for more simultaneous data operations. This means smoother multitasking, reduced latency, and improved system performance.
IOPs And Latency: A Close Look At U.2 SSDs And Sata
Considering IOPS and latency, U. 2 SSDs prove to be superior to SATA drives.
Here's a closer examination of these performance factors:
U.2 SSDs provide higher IOPS rates, resulting in faster data access and improved overall system responsiveness. This is particularly advantageous in scenarios where latency is critical, such as gaming, professional applications, or database management.
U.2 SSDs offer lower latency compared to SATA drives, minimizing the delay between a command and its execution. This reduced latency contributes to a snappier and more efficient computing experience, especially in time-sensitive operations.
U. 2 SSDs surpass SATA drives in terms of speed, bandwidth, random and sequential read/write performance, IOPS, and latency.
Choosing a U. 2 SSD ensures that you have the necessary performance capabilities to handle demanding tasks effectively and boost your system's overall efficiency.
Factors Influencing Buying Decisions
Factors influencing buying decisions for U. 2 SSD vs SATA include performance requirements, data transfer speed, compatibility with hardware, and cost-effectiveness.
Considering these factors helps users make an informed choice for their storage needs.
When shopping for a new solid-state drive (SSD), there are several key factors that can influence your buying decision.
We will explore two important aspects to consider: price and availability, as well as compatibility and form factor considerations.
Understanding these factors will enable you to make an informed choice between U. 2 SSDs and SATA.
Price And Availability: Comparing U.2 SSDs And Sata
When it comes to price and availability, both U. 2 SSDs and SATA drives have their own unique characteristics.
Here are the key points to consider:
U.2 SSDs:
Typically more expensive than SATA drives due to their advanced technology and higher performance capabilities.
Less widely available compared to SATA drives, as they are still gaining popularity in the consumer market.
SATA Drives:
Generally more affordable than U.2 SSDs, making them a popular choice for budget-conscious consumers.
Widely available and compatible with a wide range of devices, including laptops, desktops, and gaming consoles.
Considering the price and availability factors, it's important to evaluate your budget and specific needs before making a decision.
Compatibility And Form Factor Considerations
Compatibility and form factor are crucial factors in choosing the right SSD.
Here's what you should keep in mind:
U.2 SSDs:
Designed for high-performance applications, such as server systems and gaming rigs.
Requires a specific U.2 connector on the device's motherboard, limiting compatibility primarily to desktop computers and select laptops.
SATA Drives:
Compatible with a wide array of devices, including older systems.
Utilizes the standard SATA connector found on most motherboards, ensuring widespread compatibility.
Considering the compatibility and form factor aspects, it's essential to assess your system's specifications and intended usage to make an informed decision.
Conclusion
U.2 SSD outperforms SATA in terms of speed and overall performance. With its high data transfer rates and lower latency, U. 2 SSDs are ideal for users who demand lightning-fast performance from their storage devices.
However, it's important to consider the compatibility aspect, as not all systems support U. 2 SSDs. If compatibility is a concern, SATA remains a reliable option, albeit with slower speeds.
So, weigh the pros and cons carefully before making a decision, and ensure that you choose the option that best aligns with your storage needs and budget.