SSD SATA Vs USB 3.0: Which One Is More Preferable?
SSD SATA and USB 3.0 are two different types of data storage connectors.
SSD SATA (Solid State Drive Serial Advanced Technology Attachment) is an interface used to connect SSDs to a computer's motherboard, offering high-speed data transfer.
USB 3.0, on the other hand, is a universal interface that connects various devices, including external hard drives and flash drives, to a computer, providing less speed than SSD SATA but more versatility.
When considering whether to choose SSD SATA or USB 3.0 for your storage needs, you'll need to assess your specific requirements.
If you're building a computer system from scratch or upgrading an existing one and need fast, reliable internal storage, then an SSD with a SATA connection would be ideal because of its superior speed compared to USB 3.0.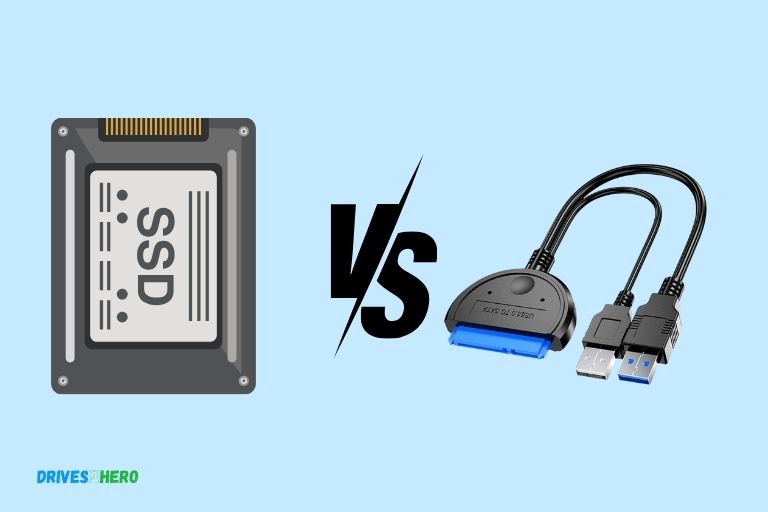 Key Takeaway
SATA SSDs provide higher data transfer rates in comparison to USB 3.0.
The cost-per-gigabyte is typically lower for SATA SSDs than USB 3.0 drives.
While SSD SATA drives generally offer higher performance, their installation requires a certain level of technical knowledge and may not be suitable for less tech-savvy users whereas USB 3.0 drives simply plug into the USB port.
The choice between SSD SATA and USB 3.0 largely depends on individual needs: if high performance and speed are priority, then SSD SATA would be the better choice; if portability and ease of use are more important, then a USB 3.0 drive would be preferable.
11 Key Features Of SSD SATA Vs USB 3.0
| Features | SSD SATA | USB 3.0 |
| --- | --- | --- |
| Speed | Up to 600 MB/s | Up to 5 Gbps |
| Connector type | SATA III | USB type A, B, or C |
| Use | Internal Storage | External Storage |
| Power Consumption | Low | Higher than SSD SATA |
| Ease of installation | Complex, needs to get installed in PC's motherboard | Simple, Just plug into USB port |
| Cost | Generally cheaper | More expensive, price increases with storage size |
| Durability | Depends on the quality of the SSD | Depends on the quality of the USB |
| Portability | Not portable | Portable |
| Redundancy | Requires separate backup | Can be used as a backup device |
| Compatible Devices | PCs, laptops | PCs, laptops, gaming consoles, media players |
| Storage Capacity | Up to 4TB commonly | Up to 2TB commonly |
11 Key Features Of SSD SATA Vs USB 3.0
Performance Comparison: Ssd Sata Vs Usb 3.0
Speed And Performance Benchmarks For Ssd Sata And Usb 3.0
SSD SATA and USB 3.0 are two popular storage options known for their speed and performance. We will explore the speed and performance benchmarks of these two technologies to help you make an informed decision.
Here's what you need to know:
SSD SATA:
SATA (Serial ATA) is a widely used interface for connecting SSDs to computers.
Provides faster data transfer rates compared to traditional hard drives.
Delivers sequential read and write speeds of up to 550MB/s and 520MB/s, respectively.
Ideal for tasks that involve heavy data processing, such as gaming, video editing, and 3D rendering.
Offers lower power consumption compared to HDDs.
USB 3.0:
USB 3.0, also known as SuperSpeed USB, is a common interface used for external storage devices.
Offers faster data transfer speeds than previous USB versions.
Provides theoretical transfer rates of up to 5Gbps (gigabits per second).
Suitable for tasks that involve transferring files or running applications from external storage.
Offers plug-and-play convenience and can be easily connected to various devices.
Considering real-life usage scenarios and their impact on performance, here are some factors to consider:
SSD SATA usage scenarios:
Gaming: SSD SATA can significantly reduce game loading times and improve overall gameplay experience.
Multimedia production: SSD SATA can handle demanding tasks like video editing or working with large image files more efficiently.
Operating system performance: Installing the operating system on an SSD SATA can result in faster boot times and snappier system responsiveness.
Multitasking: SSD SATA allows for smoother multitasking due to its ability to quickly retrieve and process data.
USB 3.0 usage scenarios:
External storage: USB 3.0 offers high-speed data transfer for portable HDDs or SSDs, allowing you to transfer files quickly and conveniently.
Temporary storage: USB 3.0 flash drives are handy for temporary storage of files, documents, and software.
Backup and recovery: USB 3.0 can be used for efficient backup and recovery processes, ensuring data security and fast restoration.
To sum it up, SSD SATA and USB 3. 0 have their own strengths in terms of speed and performance.
Consider your specific needs and usage scenarios to determine which option will best suit your requirements.
Benefits Of Ssd Sata Connection
SSD SATA connection offers numerous benefits compared to USB 3. 0. It provides faster data transfer speeds and increased performance, making it ideal for enhancing the overall efficiency of your system.
With SSD SATA, you can experience quicker boot times and improved multitasking capabilities.
Fast Data Transfer Speeds For Improved Performance:
SSD SATA connection offers faster data transfer speeds compared to traditional hard drives, resulting in improved overall performance.
With read and write speeds that can reach up to 550 MB/s, SSD SATA provides quick access to data, allowing for faster boot times, quicker file transfers, and reduced program load times.
Whether you are a gamer, graphic designer, or simply a heavy multitasker, the increased speed of SSD SATA can significantly enhance your computing experience.
Enhanced Reliability And Durability Compared To Traditional Hard Drives:
Unlike traditional hard drives that rely on spinning disks, SSD SATA uses flash memory, which eliminates the risk of mechanical failure.
This makes SSD SATA more resistant to shock, vibration, and accidental drops, ensuring your data remains safe and accessible.
SSD SATA's solid-state construction contributes to a longer lifespan, as it is not susceptible to mechanical wear and tear caused by moving parts.
With a lower risk of failure, you can trust SSD SATA to securely store and access your important files and applications.
The SSD SATA connection provides significant benefits, including fast data transfer speeds for improved performance and enhanced reliability and durability compared to traditional hard drives.
With its ability to handle demanding tasks efficiently and its improved lifespan, SSD SATA is undoubtedly a superior choice for those seeking a reliable and high-performing storage option.
Advantages Of Usb 3.0 For External Ssds
USB 3.0 offers significant advantages for external SSDs, including faster data transfer speeds and improved performance compared to SSD SATA connection.
It allows for quick file transfers and seamless access to large files, making it an ideal choice for storage needs.
Explanation Of Usb 3.0 And Its Features
USB 3. 0, also known as SuperSpeed USB, is a high-speed data transfer standard that offers significant advantages over its predecessor, USB 2. 0.
With blazing-fast speeds and improved power efficiency, USB 3. 0 has become the preferred choice for external devices like SSDs.
Here are some key features of USB 3. 0:
Faster Data Transfer Speeds: USB 3.0 provides vastly improved transfer speeds compared to USB 2.0. With data rates of up to 5 gigabits per second (Gbps), transferring large files or backing up your data becomes much quicker and more efficient.
Increased Bandwidth: USB 3.0 offers greater bandwidth, allowing for multiple data streams concurrently. This means that you can transfer multiple files simultaneously without experiencing a significant drop in performance.
Backward Compatibility: While USB 3.0 boasts several advantages, it is backward compatible with USB 2.0 devices. This means that you can still connect your older peripherals to a USB 3.0 port, albeit at slower speeds.
Enhanced Power Management: USB 3.0 offers improved power management features, allowing devices to draw power more efficiently. This helps conserve energy and extends the battery life of your external SSD.
Flexibility And Portability Of External Ssds With Usb 3.0 Connection
When it comes to external solid-state drives (SSDs), the flexibility and portability offered by USB 3. 0 connection play a crucial role.
Let's take a closer look at the advantages of using USB 3. 0 for external SSDs:
Ease of Use: With a USB 3.0 connection, connecting an external SSD to your computer is a breeze. Simply plug it in, and you're good to go. This makes it incredibly convenient for users who frequently switch between devices or need to transfer data quickly.
Versatility: USB 3.0 external SSDs are versatile and can easily be connected to various devices, including laptops, desktops, gaming consoles, and even some smart TVs. This versatility allows you to access your data on multiple devices without any hassle.
Portability: External SSDs are designed to be portable, and when combined with USB 3.0, they become incredibly travel-friendly. The compact size and lightweight nature of external SSDs make them ideal for professionals on the go and those who need to carry their data with them.
Plug-and-Play: USB 3.0 external SSDs provide a plug-and-play experience, eliminating the need for additional drivers or software installations. This means you can quickly start using your external SSD right out of the box, saving you precious time and effort.
USB 3. 0 offers numerous advantages for external SSDs. With its faster data transfer speeds, increased bandwidth, and improved power management, it provides a seamless and efficient experience.
The flexibility, ease of use, versatility, and portability of external SSDs with USB 3.0 make them a popular choice for users who require high-speed and reliable storage solutions for their data.
Factors To Consider When Choosing Between Ssd Sata And Usb 3.0
Choosing between SSD SATA and USB 3. 0 involves considering factors like speed, compatibility, and portability.
When making your choice, it is important to consider various factors such as storage capacity requirements and budget considerations, as well as compatibility with different devices and operating systems.
Compatibility With Different Devices And Operating Systems:
Device compatibility: Compatibility with different devices is another aspect to consider. SSD SATA drives are compatible with desktops, laptops, and gaming consoles that support SATA connections. However, they might not work with devices that lack SATA ports.
On the other hand, USB 3.0 drives offer a higher degree of compatibility, as they can be easily connected to a wide range of devices including computers, laptops, gaming consoles, and even smart TVs.
Operating system compatibility: SSD SATA and USB 3.0 drives work well with Windows, macOS, and Linux.
---
Assess your storage capacity requirements, budget limitations, and compatibility needs to determine which option best suits your unique needs and preferences.
Whether you prioritize storage capacity or budget-friendly solutions, both SSD SATA and USB 3.0 drives offer their own advantages in terms of performance and compatibility.
Conclusion
The comparison between SSDs connected via SATA and those connected via USB 3.0 underscores the importance of considering your unique needs and use cases.
SATA SSDs offer superior speed and performance, making them an excellent choice for tasks demanding rapid data transfer and high-end computing, such as gaming and professional applications.
Conversely, USB 3.0 SSDs offer greater versatility and portability, catering to users who require the convenience of plugging their drives into different devices.
While they may not match the raw speed of SATA SSDs, USB 3.0 SSDs provide a significant boost in data transfer speeds compared to traditional HDDs.
The decision between these two options should hinge on whether your priority is performance or mobility, aligning your choice with your specific requirements.