What Is the Best Sata Ssd? Samsung 860 EVO Is The Best!
The Samsung 860 EVO is widely recognized as the best SATA SSD in the market today.
Boasting consistent, top-tier speed, enhanced firmware and excellent endurance rating, the 860 EVO represents the pinnacle of SATA SSD technology.
The Samsung 860 EVO achieves its status due to a combination of superior hardware and software. Equipped with the latest V-NAND technology and a robust algorithm-based controller, this SATA SSD ensures a reliable, speedy performance.
It also comes with a 5-year limited warranty, which is a testament to its durability and Samsung's confidence in the product.
The Samsung 860 EVO stands out as the best SATA SSD due to its blend of speed, reliability, and durability. Whether it's for gaming, data transfer, or everyday computing, this SSD can handle it all with ease.
Its impressive features and robust build make it a worthy investment for those looking to enhance their computer's performance.
Key Takeaway
SATA SSDs are a type of solid state drive that are generally cheaper and slower than other types.
Samsung 860 EVO is often considered the best SATA SSD due to its high performance and reliability.
The speed of a SATA SSD is limited by the SATA 3 interface, which has a maximum speed of 600 MB/s.
Apart from speed, other factors to consider when choosing a SATA SSD include capacity, price, and brand reputation.
SATA SSDs use NAND flash memory, which has a limited lifespan based on the number of write cycles.
5 Model Compare for the Best SATA SSD
| SSD Model | Capacity | Read Speed (MB/s) | Write Speed (MB/s) | Price (USD) |
| --- | --- | --- | --- | --- |
| Samsung 860 EVO | 500GB | 550 | 520 | $79.99 |
| Crucial MX500 | 1TB | 560 | 510 | $119.99 |
| WD Blue 3D NAND | 250GB | 545 | 425 | $59.99 |
| Kingston A400 | 240GB | 500 | 350 | $49.99 |
| SanDisk Ultra | 480GB | 535 | 445 | $69.99 |
Compare top SATA SSDs: Samsung 860 EVO, Crucial MX500, WD Blue, Kingston A400, SanDisk Ultra. Specs, capacity, speed, and prices.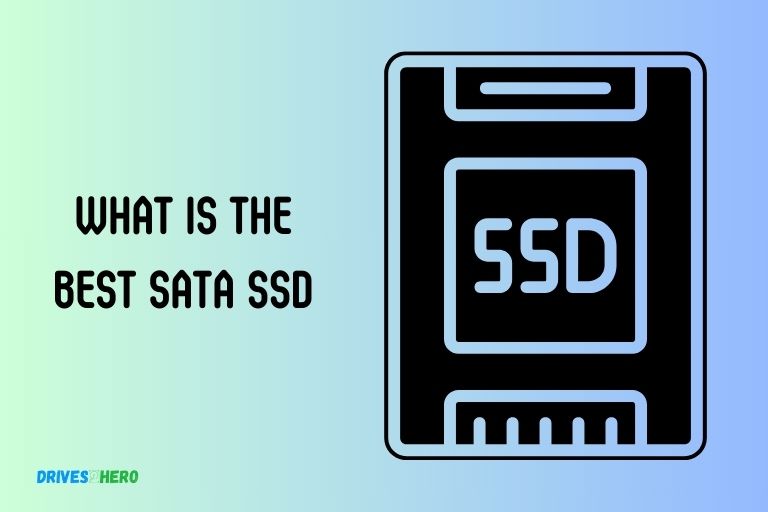 Understanding SATA Technology
Discover the best SATA SSD for optimal performance and storage capabilities. Understand the technology behind SATA to make an informed decision for your needs.
When it comes to finding the best SATA SSD, it's important to understand the technology behind it. SATA, which stands for Serial ATA, is a widely used interface for connecting storage devices to a computer.
This technology has been around for over a decade and has undergone several advancements to improve speed and reliability.
Sata Interface And Its Compatibility With Various Devices
SATA stands for Serial ATA and provides a high-speed data transfer interface between the computer's motherboard and the storage device.
It is compatible with a wide range of devices including desktop computers, laptops, gaming consoles, and even external hard drives.
SATA interfaces come in different versions, with SATA III being the most common and providing a maximum transfer speed of 6Gbps.
The ease of compatibility makes SATA SSDs an excellent choice for upgrading existing systems or building new ones.
Sata Ssd Form Factors: 2.5-Inch, M.2, And Msata
SATA SSDs come in various form factors. The most traditional form factor is the 2.5-inch SATA SSD, which is similar in size to a standard laptop hard drive. It is commonly used in desktop computers and laptops.
Another popular form factor is M.2 SSD, which is smaller in size and connects directly to the motherboard using the M.2 slot. It is commonly found in modern ultrabooks, gaming laptops, and compact desktops.
MSATA SSD is a smaller form factor primarily used in older laptops and compact systems where space is limited. It provides excellent performance in a small package, making it ideal for specific applications.
Sata Ssd Capacity Options And Considerations
SATA SSDs are available in a wide range of capacity options, from as low as 120GB to as high as 4TB or more.
The capacity you choose depends on your storage needs and budget. Consider the type of files you'll be storing, whether it's games, multimedia, or work-related documents.
Keep in mind that the larger the SSD capacity, the more expensive it will be. Take into account the balance between storage requirements and cost.
It's worth noting that SATA SSDs can also come in different performance variants, such as TLC (Triple-Level Cell), MLC (Multi-Level Cell), or SLC (Single-Level Cell). These variants affect the SSD's durability, speed, and price.
Understanding SATA technology is crucial in choosing the best SATA SSD for your needs.
By considering the SATA interface and its compatibility with various devices, the form factors available (2. 5-inch, M. 2, and mSATA), and the capacity options and considerations, you can make an informed decision that meets both your storage requirements and budget.
Comparing The Top Sata Ssd Brands And Models
Discover the top SATA SSD brands and models to find the best SATA SSD for your needs. Explore the latest features and performance capabilities to make an informed decision.
Crucial Mx500: Performance, Reliability, And Affordability
The Crucial MX500 is a top choice when it comes to SATA SSDs, offering a winning combination of performance, reliability, and affordability.
Let's take a closer look at what makes this SSD stand out:
Excellent Performance: With sequential read speeds of up to 560MB/s and sequential write speeds of up to 510MB/s, the Crucial MX500 delivers fast and responsive performance, ensuring smooth multitasking and quick data transfers.
Enhanced Reliability: Built with Micron 3D NAND technology, the MX500 offers a high level of endurance and reliability, making it ideal for both home and business use.
It also features Adaptive Thermal Protection, which helps prevent overheating and maintains optimal performance.
Affordable Option: While providing impressive performance and reliability, the Crucial MX500 remains affordable, making it a great value for the money.
Whether you're a casual user or a professional, this SSD offers a cost-effective solution for upgrading your storage system.
Samsung 870 Evo: Enhanced Endurance And Advanced Security Features
The Samsung 870 EVO is another top contender in the SATA SSD market, offering enhanced endurance and advanced security features.
Here's why it's worth considering:
Exceptional Endurance: With a robust construction and Samsung's V-NAND technology, the 870 EVO provides outstanding endurance and long lifespan. It boasts up to 2,400 TBW (Terabytes Written) for the 4TB model, ensuring prolonged usage without compromising performance.
Advanced Security: The Samsung 870 EVO comes equipped with advanced security features, including AES 256-bit encryption and TCG/Opal v2.0, enabling you to protect your data with ease and peace of mind.
Wide Range of Capacities: Available in various capacities ranging from 250GB to a whopping 8TB, the 870 EVO offers ample storage options to suit your needs, whether you require it for personal or professional use.
Wd Blue 3D Nand: High Capacity And Solid Performance
When it comes to high capacity and solid performance, the WD Blue 3D NAND SSD delivers.
Let's explore its features:
Impressive Capacity: The WD Blue 3D NAND comes in a wide range of capacities, starting from 250GB and going up to 4TB, allowing you to choose the right size to meet your storage requirements.
Reliable Performance: With sequential read speeds of up to 560MB/s and sequential write speeds of up to 530MB/s, the WD Blue 3D NAND delivers solid performance, ensuring fast data transfers and efficient multitasking.
Enhanced Endurance: With up to 600TBW for the 1TB model, the WD Blue 3D NAND offers remarkable endurance, making it a reliable choice for storing and accessing your data without compromising on longevity.
Kingston A2000: High-Speed Nvme Performance At Sata Price
The Kingston A2000 is a standout SATA SSD that offers high-speed NVMe performance at a more affordable SATA price point.
Let's delve into its features:
NVMe Speeds and Affordability: Combining NVMe PCIe Gen 3.0 x4 speeds with a SATA-like price, the Kingston A2000 provides a cost-effective solution for those seeking enhanced performance without breaking the bank.
Fast Data Transfers: With read speeds of up to 2,200MB/s and write speeds of up to 2,000MB/s, the A2000 allows for swift data transfers and reduced loading times, perfect for tasks that demand high-speed performance.
Multiple Capacities: Available in capacities of 250GB, 500GB, and 1TB, the Kingston A2000 provides ample storage options to accommodate your needs, whether you're a casual user or a content creator.
Sandisk Ultra 3D: Accelerated Gaming And Multimedia Experience
The SanDisk Ultra 3D is a SATA SSD that prioritizes an accelerated gaming and multimedia experience.
Let's explore its key features:
Enhanced Performance: With sequential read speeds of up to 560MB/s and sequential write speeds of up to 530MB/s, the SanDisk Ultra 3D ensures smooth gameplay and fast multimedia file transfers, providing the power you need for an immersive experience.
Accelerated Gaming: The SanDisk Ultra 3D is optimized for gaming, reducing lag and load times, resulting in a seamless gaming experience. Whether you're a casual gamer or a competitive player, this SSD can handle your gaming demands.
Reliable Storage: Built with 3D NAND technology, the SanDisk Ultra 3D offers reliable storage with solid endurance, ensuring that your data remains safe and accessible.
So there you have it the top SATA SSD brands and models compared. Whether you prioritize performance, endurance, capacity, or affordability, there's a SATA SSD on this list that suits your needs.
Upgrade your storage system and experience faster, more reliable performance with one of these impressive options.
Factors To Consider When Choosing The Best Sata Ssd
Factors to consider when choosing the best SATA SSD include storage capacity, read/write speeds, endurance, and price per gigabyte.
It's important to assess your specific needs and select a product that aligns with your requirements for optimal performance and value.
When it comes to upgrading your storage solution, choosing the right SATA SSD can make all the difference in performance and usability.
With so many options available in the market, it's essential to consider a few factors before making your decision.
Here are the key factors to keep in mind when choosing the best SATA SSD:
Performance Metrics:
Read and write speeds: Faster read and write speeds allow for quicker data transfer, resulting in faster boot times, application load times, and file transfers.
IOPS (Input/Output Operations Per Second): Higher IOPS mean the drive can handle more simultaneous read and write operations, resulting in better overall performance.
Latency: Lower latency means quicker response times, reducing the time it takes for the drive to access and retrieve data.
Endurance And Durability:
TBW (Total Bytes Written): This metric indicates the total amount of data that can be written to the drive over its lifespan. Higher TBW ratings imply better endurance and longevity.
DWPD (Drive Writes Per Day): DWPD represents the drive's ability to handle a specific number of drive writes per day. A higher DWPD rating ensures a more durable and long-lasting drive.
MTBF (Mean Time Between Failures): MTBF estimates the average time between failures. A higher MTBF rating indicates better reliability and lifespan.
Price-Per-Gigabyte Value:
Price-per-gigabyte value: Comparing the price per gigabyte among different SSDs ensures you're getting the best value for your money. This factor considers both the drive's price and its storage capacity.
Form Factor And Compatibility: Choosing The Right Size And Interface For Your Device
Form factor: Consider the physical size and shape of the SSD and ensure compatibility with your device, whether it's a desktop computer, laptop, or other device.
Interface: Check the connector type and interface compatibility with your system. SATA SSDs commonly use the SATA III interface for optimal performance.
User Reviews And Testimonials: Real-World Experiences And Recommendations
User reviews and testimonials offer valuable insights into the real-world experiences of individuals who have used the SATA SSD you are considering. They can provide information about reliability, performance, and overall customer satisfaction.
Choosing the best SATA SSD involves evaluating various factors, including performance metrics like read and write speeds, endurance and durability ratings, price-per-gigabyte value, form factor and compatibility, and user reviews and testimonials.
Considering these factors will help you make an informed decision and ensure you get the most out of your storage upgrade.
Conclusion
After thorough research and analysis, it is clear that choosing the best SATA SSD is essential for maximizing computer performance and storage capabilities.
The market offers a wide range of options, each with distinct features and capabilities. The crucial factors to consider include read and write speed, capacity, endurance, and price.
These considerations will ensure that the chosen SATA SSD meets both present and future storage needs. One top contender in the SATA SSD market is the Samsung 870 EVO SSD.
With its impressive read and write speeds, high endurance rating, and reasonable price, it offers a remarkable balance of performance and value.
Another notable option is the WD Blue 3D NAND SSD, known for its reliable performance and excellent durability. Selecting the best SATA SSD involves careful consideration of individual requirements and priorities.
Whether it's for gaming, multimedia editing, or everyday computing, finding the right SATA SSD will significantly enhance overall system performance and user experience.
Remember, investing time and effort into researching and selecting the ideal SATA SSD will pay off in the long run, enabling smoother multitasking, faster data transfers, and improved efficiency for all your computing needs.