How to Check If Ssd Is Sata Or Pcie? 5 Steps!
As the world of storage technology evolves, distinguishing between different types of Solid State Drives (SSDs) is crucial.
This guide will show you how to determine whether your SSD is a SATA or PCIe model, enabling you to make informed choices when it comes to storage solutions for your computer.
Whether you're a seasoned tech expert or a beginner, understanding this distinction is essential for optimizing your system's performance and compatibility.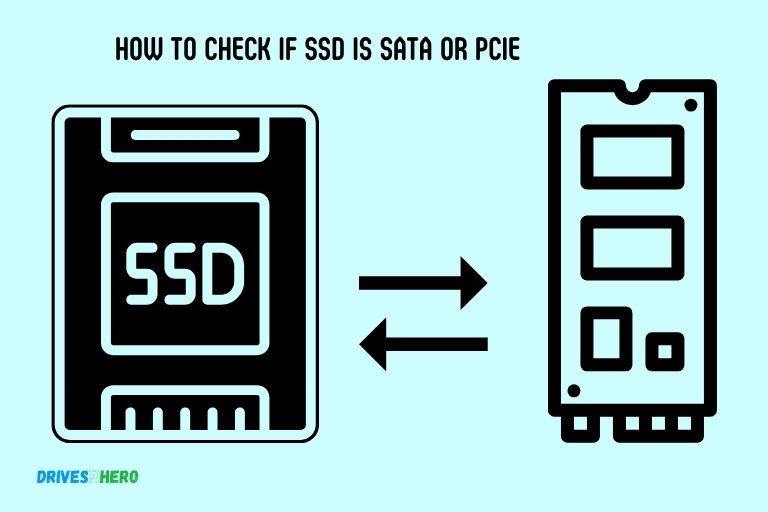 SSD Identification Guide: SATA or PCIe – Step-by-Step
Physical Examination
1. Check the physical connector
Examine the physical connector on the SSD:
SATA SSDs use a rectangular SATA connector
PCIe SSDs use a PCIe M.2 connector or PCIe add-in card edge connector
2. Look for a PCIe M.2 slot
If installed in a computer, check what type of slot the SSD is plugged into:
SATA SSDs plug into a 2.5-inch drive bay
PCIe SSDs plug into an M.2 slot or PCIe slot on the motherboard
Software Identification
Step 3. Check-in BIOS
Boot into BIOS and look for the storage info section. This will list connected SATA and PCIe NVMe drives.
Step 4. Check-in Disk Management
Open Disk Management in Windows. The interface type will be listed for each disk.
Step 5. Check with SSD Utility Software
Use SSD utility software like Samsung Magician to scan the drive. It will identify if the SSD is SATA or PCIe NVMe.
Following these steps will clearly identify whether your SSD uses the SATA or PCIe/NVMe interface. Knowing the interface helps ensure compatibility when installing the SSD or troubleshooting performance.
The Difference Between Sata And Pcie Ssds
SATA and PCIe SSDs differ in terms of connectivity and performance. To check if an SSD is SATA or PCIe, look for the physical connectors on the drive or refer to the product specifications.
SATA SSDs:
SATA SSD stands for Serial Advanced Technology Attachment Solid State Drive.
These SSDs use the SATA interface to connect to the computer's motherboard.
They are widely used in desktop and laptop computers.
SATA SSDs offer fast data transfer speeds, making them suitable for everyday computing tasks.
They come in various form factors, including 2.5-inch and M.2.
SATA SSDs are more affordable compared to PCIe SSDs.
PCIe SSDs:
PCIe SSD stands for Peripheral Component Interconnect Express Solid State Drive.
These SSDs use the PCIe interface to connect to the computer's motherboard.
They provide higher data transfer speeds compared to SATA SSDs.
PCIe SSDs are commonly used in high-performance computing and gaming applications.
They come in different form factors, including add-in cards and M.2.
PCIe SSDs offer faster boot times and load times for applications.
They are more expensive than SATA SSDs due to their superior performance.
SATA SSDs and PCIe SSDs differ in their interface, performance, and price. While SATA SSDs are suitable for regular computing tasks and offer cost-effectiveness, PCIe SSDs excel in high-performance applications demanding fast data transfer speeds.
Methods To Identify The Type Of Ssd
Identifying the type of SSD installed, whether it is SATA or PCIe, can be done by accessing the system's BIOS settings or using software tools like CrystalDiskInfo or HWiNFO.
System information and device manager can provide insights as well. If you're unsure whether your SSD is a SATA or PCIe interface, there are a few reliable methods you can use to find out.
Checking the physical connection, looking in the Device Manager, and reviewing the manufacturer's specifications can provide the necessary information.
Let's explore these methods in detail:
Check The Physical Connection:
Examine the SSD's connector: Determine whether the SSD connects to the motherboard via a SATA or PCIe connector.
SATA connector: Look for a small flat connector with two L-shaped cutouts on one side. It usually has a data cable connected to it.
PCIe connector: If the SSD uses a PCIe interface, the connector will be different. It usually consists of multiple small pins in a variety of configurations.
Check The Device Manager:
Access Device Manager: Open the Start menu, search for "Device Manager," and click on the relevant result.
Locate the SSD: Expand the "Disk drives" category and find your SSD.
Double-check the interface: Right-click on the SSD and select "Properties." In the "Details" tab, open the drop-down menu and select "Hardware IDs." Look for the term "PCI" or "SATA" in the listed IDs.
Check the manufacturer's Specifications:
Visit the manufacturer's website: Look for your SSD model on the manufacturer's website.
Find the product specifications: Look for a section that includes detailed specifications for your SSD.
Identify the interface type: Check the specifications for mention of either SATA or PCIe interface.
By following these methods, you'll be able to determine whether your SSD is a SATA or PCIe type. Remember to check the physical connection, review the Device Manager information, and consult the manufacturer's specifications for accurate identification.
Troubleshooting and Common Pitfalls
Here's a concise bullet-point list for troubleshooting common pitfalls with your SSD:
Driver Issues: Ensure appropriate drivers are installed and consider updating or reinstalling them.
Compatibility: Check if your system supports your SSD type (SATA or NVMe PCIe).
BIOS/UEFI Settings: Verify and adjust settings to recognize the SSD type.
Firmware Updates: Keep the SSD firmware up to date for compatibility.
Cable and Connector Checks: Ensure cables are securely connected.
Operating System Compatibility: Confirm OS supports and is configured for the SSD.
Drive Health: Monitor SSD health using tools like CrystalDiskInfo (Windows) or smartctl (Linux).
Data Backup: Always back up data before troubleshooting to avoid data loss.
Partition and Formatting Issues: Check correct partitioning and formatting using disk management tools.
Physical Damage: Inspect for physical damage, as it can lead to malfunction.
Thermal Management: Ensure proper cooling for high-performance NVMe drives.
Seek Professional Help: Consider professional assistance if issues persist or if you're unsure about troubleshooting.
By following these steps and being mindful of common pitfalls, you can determine your SSD type and resolve any issues that may arise during the process.
Conclusion
To determine if your SSD is SATA or PCIe, there are several methods you can use. First, you can check the physical interface of your SSD.
The presence of a smaller M. 2 slot indicates PCIe, while a larger SATA connector indicates a SATA SSD. Another way is to consult the product specifications provided by the manufacturer.
You can use software utilities such as CrystalDiskInfo or Speccy to gather information about your SSD, including the interface type.
Remember, it's important to know the interface type of your SSD to ensure compatibility with your system and make informed decisions when upgrading or troubleshooting.
By following these methods, you can easily determine if your SSD is SATA or PCIe and make the necessary adjustments accordingly.