How to Enable Pcie Ssd in Bios? 6 Steps!
Configuring your computer's BIOS to enable a PCIe SSD is a crucial step in harnessing the full potential of your high-speed storage device.
Whether you're upgrading your system or simply optimizing performance, this step-by-step guide will walk you through the process with ease.
Enabling a PCIe SSD in the BIOS unlocks faster data transfer rates and quicker boot times, making your system more responsive and efficient.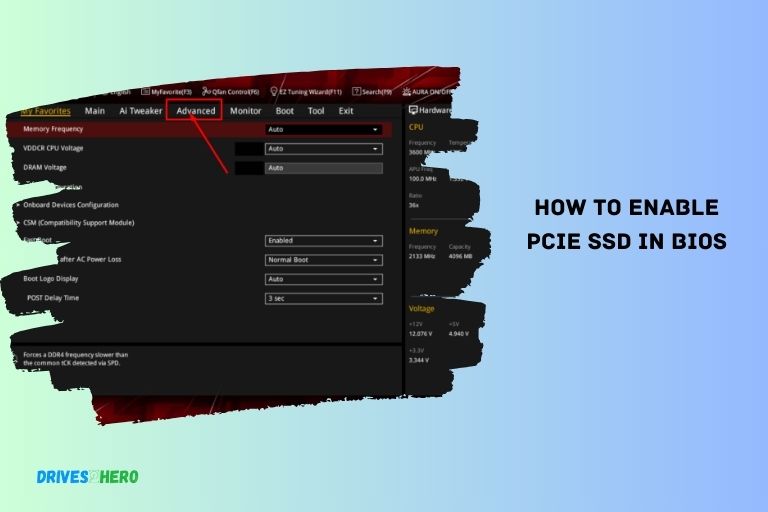 Enabling a PCIe SSD in BIOS: Step-by-Step Guide
Step 1: Access the BIOS
Restart your computer and press the key to enter the BIOS, usually Delete or F2.
Step 2: Navigate to Advanced Settings
Use the arrow keys to go to the Advanced tab or section.
Step 3: Locate PCIe or NVMe Settings
Look for options related to PCIe, NVMe, M.2 drives. Names vary between BIOS brands.
Step 4: Enable PCIe or NVMe
Set the option to Enabled if it is currently Disabled.
Step 5: Adjust Boot Option Priorities
Make sure NVMe drives are high on the boot list if you want to boot from it.
Step 6: Save and Exit the BIOS
Save changes and reboot. The PCIe SSD should now be accessible.
Once in Windows, open Disk Management to confirm your PCIe NVMe drive is detected. You can now partition and format it normally.
That covers the basics of enabling PCIe/NVMe drives in the motherboard BIOS. Refer to your manual for specific details for your brand of BIOS.
Understanding Pcie Ssd
PCIe SSD (Peripheral Component Interconnect Express Solid-State Drive) is a high-speed storage device that offers significant advantages over traditional hard disk drives (HDDs) and even SATA-based solid-state drives (SSDs).
It utilizes the PCIe interface, usually found on computer motherboards, to connect directly to the CPU, enabling faster data transfer speeds and improved overall system performance.
Benefits Of Using Pcie Ssd:
Speed: PCIe SSDs provide lightning-fast data transfer speeds.
Quick Boot: Systems with PCIe SSDs start up rapidly.
Faster Apps: Applications load swiftly, improving productivity.
Smooth Gaming: Reduced load times and seamless gameplay.
Multitasking: Efficiently handle multiple tasks at once.
Energy-Efficient: Consume less power for longer battery life.
Durability: No moving parts, more robust and reliable.
Compact: Fits in small form-factor systems and laptops.
Silent: Operate quietly without noise.
Future-Proof: Stay competitive with cutting-edge technology.
By enabling PCIe SSD in your computer's BIOS, you can harness the full potential of this advanced storage technology.
Checking Bios Compatibility
To enable PCIe SSD in BIOS, it is important to check the compatibility of your system's BIOS. This ensures that the SSD can be properly recognized and utilized for improved performance.
Checking Motherboard Specifications:
When it comes to enabling PCIe SSD in BIOS, the first step is to check your motherboard specifications to ensure compatibility.
Here are a few things you need to consider:
Check the documentation: Refer to the user manual or visit the manufacturer's website to find detailed information about your motherboard. Look for specifications related to PCIe slots and SSD support.
Identify the chipset: Determine the chipset model of your motherboard as it affects the available features and compatibility options.
Look for PCIe Generation: Check if your motherboard supports the PCIe generation required by your SSD. PCIe 3.0 or higher is recommended for optimum performance.
Verify PCIe lane configuration: Some motherboards may share PCIe lanes between different expansion slots or devices. Make sure your SSD will have dedicated lanes to avoid performance bottlenecks.
Consider BIOS version: Ensure that your motherboard's BIOS is up to date. Sometimes, BIOS updates include bug fixes or compatibility improvements for PCIe SSDs.
Check CPU compatibility: Certain CPUs may have limitations on their PCIe lane allocation. Verify that your CPU supports the required lane configuration for your SSD.
Before enabling PCIe SSD in the BIOS, it's crucial to check your motherboard specifications to guarantee compatibility.
Verify the chipset, PCIe generation, lane configuration, BIOS version, and CPU compatibility to ensure a smooth and efficient setup.
Updating Bios Firmware
Learn how to enable PCIe SSD in BIOS with this simple step-by-step guide. Update your BIOS firmware to unlock the full potential of your SSD and enjoy faster data transfer speeds for improved performance.
Downloading The Latest Bios Firmware:
It is essential to have the most up-to-date BIOS firmware to enable a PCIe SSD in your system.
Follow these steps to download the latest BIOS firmware:
Visit the motherboard manufacturer's website.
Look for the support or downloads section.
Locate the BIOS firmware for your specific motherboard model.
Click on the download link and save the file to a familiar location on your computer.
Ensure that you choose the correct version of the BIOS firmware for your motherboard.
Make sure to read any accompanying instructions or release notes provided by the manufacturer.
Be cautious and double-check that you are downloading the official firmware from the manufacturer's website.
Updating The Bios Firmware:
Updating the BIOS firmware enables compatibility with newer hardware and allows you to take advantage of the latest features and enhancements.
Follow these steps to update the BIOS firmware:
Before proceeding with the BIOS update, ensure that you have a stable power supply and that your computer is protected against power outages or interruptions.
Close any running programs and save your work.
Locate the downloaded BIOS firmware file.
Double-click on the file to initiate the update process.
Follow the on-screen instructions provided by the manufacturer to proceed with the update.
The update process may take a few minutes, and your computer may restart multiple times during the process. Do not interrupt the update.
Once the update is complete, your system will restart, and the new BIOS firmware will be installed.
After the update, it is recommended to enter the BIOS settings and restore any custom configurations you had previously set.
Congratulations! You have successfully updated the BIOS firmware, and now you can proceed with enabling the PCIe SSD in your system.
By following these steps for downloading and updating the BIOS firmware, you will ensure that your system is ready to enable the PCIe SSD and take full advantage of its capabilities.
Remember to always exercise caution and follow the manufacturer's instructions to avoid any potential issues during the process.
Are the Steps to Enable PCIe SSD in BIOS the Same as Installing M.2 PCIe SSD?
Enabling PCIe SSD in BIOS and installing M.2 PCIe SSD differ in procedure. To install M.2 PCIe SSD in 6 steps, follow these specific instructions provided by hardware manufacturers. Ensuring compatibility and navigating the BIOS to enable the installed SSD requires a separate process altogether.
Configuring Boot Priority
To enable PCIe SSD in BIOS and configure boot priority, navigate to the BIOS settings menu and locate the boot options.
Prioritize the PCIe SSD by moving it to the top of the boot order list. This will ensure that the system boots from the PCIe SSD, improving overall performance.
Setting Pcie Ssd As The Primary Boot Device:
Configuring the boot priority in your BIOS is essential to ensure your PCIe SSD is recognized as the primary boot device.
By following these steps, you can quickly enable PCIe SSD in BIOS and enhance your system's performance.
Accessing BIOS Settings:
Restart your computer and press the designated key to enter the BIOS setup. The key varies based on your computer's manufacturer, but commonly used keys include Del, F2, F10, and Esc. Consult your computer manual or manufacturer's website for the specific key.
Once you've entered BIOS, you'll see a variety of options. Navigate to the "Boot" or "Boot Priority" section using the arrow keys.
Prioritizing Boot Devices:
Locate the option that allows you to set the boot priority. This option might be called "Boot Priority," "Boot Sequence," or similar.
When you find the boot priority option, select it and press Enter.
:
Within the boot priority settings, you'll see a list of available boot devices. Use the arrow keys to navigate through the list.
Identify your PCIe SSD from the list. It might be displayed as the manufacturer's name or model number. Select it and move it to the top of the list using the designated keys (usually F5 or F6) until it achieves the highest priority.
It's worth noting that some BIOS versions allow you to simply drag and drop the boot devices to customize the priority.
Saving BIOS Settings:
Once you've set the PCIe SSD as the primary boot device, it's time to save the changes and exit the BIOS. Look for the option to save the settings, typically labeled as "Save & Exit," "Exit & Save Changes," or similar. Press Enter to confirm and exit.
Upon exiting BIOS, your computer will restart and automatically start booting from the newly assigned primary boot device, which is now the PCIe SSD.
Now that you have successfully configured the boot priority in your BIOS settings, your PCIe SSD will play a vital role in enhancing your system's performance.
Conclusion
Enabling PCIe SSD in BIOS is a simple yet effective way to enhance the performance of your computer. By following the steps outlined, you can unlock the full potential of your PCIe SSD and experience faster boot times, quicker file transfers, and improved overall system responsiveness.
It is important to note that not all motherboards support PCIe SSD, so make sure to check your system's compatibility before attempting to enable it in BIOS. Always refer to your motherboard's manual or manufacturer's website for specific instructions tailored to your system.
Remember, by optimizing your hardware and taking advantage of available features, you can maximize the efficiency and speed of your computer, ultimately enhancing your overall user experience.