Is Pcie Gen 4 Ssd Worth It? Yes!
Yes, a PCIe Gen 4 SSD is worth it if you are in need of high-speed data transfer and intensive workloads.
PCIe (Peripheral Component Interconnect Express) Gen 4 SSDs are the latest evolution of SSD technology, offering greater performance and speed than their previous iterations.
They are especially beneficial for tasks that require high-bandwidth and low-latency data access, such as video editing, gaming, and professional workstations.
While the PCIe Gen 4 SSD might be more expensive than its predecessors, its price is justified by its superior performance and speed.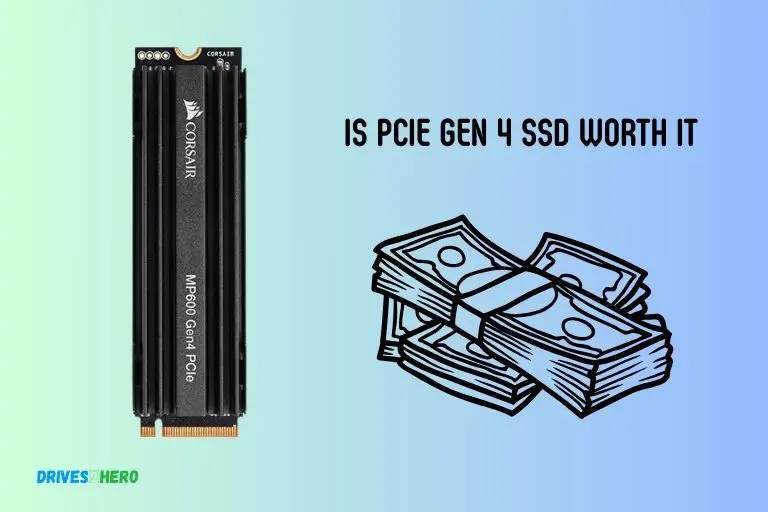 Key Takeaway
PCIe Gen 4 SSDs specifically benefit people engaged in high-end uses such as gaming, 3D rendering or data analysis.
It has doubled the potential data transfer rate from earlier generation which provides a significant speed advantage in read and write activities.
The price to performance ratio may not be justified for average consumer usage where the benefits might not be fully realized.
It future proofs your system as more and more software applications start to make use of increased data transfer rates.
Exploring The Rise Of Pcie Gen 4 Ssds
The rising popularity of PCIe Gen 4 SSDs raises the question: are they worth the investment? With their lightning-fast speeds and enhanced performance, PCIe Gen 4 SSDs offer significant advantages for those seeking optimal storage solutions.
Explore the benefits of these cutting-edge drives and decide for yourself if they are worth it. With the continuous advancements in technology, PCIe Gen 4 SSDs have emerged as a game-changer in the world of data storage.
These innovative storage devices offer exceptional performance, speed, and efficiency, making them worth considering for anyone looking to upgrade their system. We will delve into the basics of PCIe Gen 4 SSDs and examine the benefits they bring to the table.
Understanding The Basics Of Pcie Gen 4 Ssds:
Increased Bandwidth: PCIe Gen 4 SSDs utilize the latest PCIe 4.0 interface, offering double the bandwidth of its predecessor, Gen 3. This means faster data transfer speeds and improved overall system performance.
Enhanced Responsiveness: With significantly lower latency, PCIe Gen 4 SSDs ensure quicker response times, allowing for smooth multitasking and reduced load times.
M.2 Form Factor: Most PCIe Gen 4 SSDs come in the compact M.2 form factor, which is ideal for tight spaces and ensures easy installation in modern devices.
Backward Compatibility: While PCIe Gen 4 SSDs require a compatible motherboard, they are designed to be backward compatible with PCIe Gen 3 slots, providing increased versatility and allowing users to take full advantage of their capabilities.
Examining The Benefits Of Pcie Gen 4 Ssds:
Lightning-fast Speeds: PCIe Gen 4 SSDs can achieve breathtaking sequential read and write speeds, reaching up to 7000 MB/s and 5500 MB/s, respectively. This translates to faster file transfers, quicker boot times, and an overall snappier system.
Ideal for Content Creators: The high-speed capabilities of PCIe Gen 4 SSDs make them a perfect choice for content creators dealing with large video files, high-resolution images, or complex editing projects. Rendering and exporting tasks can be completed in significantly less time.
Gaming Performance Boost: Gamers can benefit greatly from PCIe Gen 4 SSDs, as they allow for faster game loading, reduced texture pop-in, and smoother gameplay. Large game files can be accessed quickly, providing an immersive gaming experience.
Future-proof Investment: Investing in PCIe Gen 4 SSDs ensures that your system is ready for the future. As more applications and software harness the power of PCIe 4.0, these SSDs ensure compatibility and optimum performance.
PCIe Gen 4 SSDs offer substantial improvements in terms of speed, responsiveness, and overall system performance.
With their increased bandwidth and compatibility, these storage devices provide a substantial performance boost for gamers, content creators, and anyone seeking a faster and more efficient computing experience.
Compatibility And Future-Proofing Considerations
When deciding on whether a PCIe Gen 4 SSD is worth it, one must consider compatibility and future-proofing. These factors are crucial in ensuring optimal performance and longevity for your system.
The compatibility and future-proofing considerations of PCIe Gen 4 SSDs are crucial factors to address when deciding whether they are worth the investment.
Assessing system requirements and hardware limitations, as well as addressing potential bottlenecks and compatibility issues, can help you make an informed decision.
Let's explore these aspects in detail:
Assessing System Requirements And Hardware Limitations:
Check if your motherboard supports PCIe Gen 4: Before investing in a PCIe Gen 4 SSD, ensure that your motherboard is compatible with this technology. Only motherboards with PCIe 4.0 slots can fully utilize the capabilities of these high-speed SSDs.
Verify CPU compatibility: Some older CPUs may not be able to take full advantage of PCIe Gen 4 SSDs' speed and may only operate at PCIe 3.0 speeds. Make sure your CPU supports PCIe 4.0 to maximize performance.
Consider storage needs: Assess your storage requirements and determine if the increased speed and bandwidth provided by PCIe Gen 4 SSDs are necessary for your use case.
If you primarily use your computer for everyday tasks like web browsing and document editing, a PCIe Gen 3 SSD may suffice.
Addressing Potential Bottlenecks And Compatibility Issues:
Monitor thermals and power requirements: PCIe Gen 4 SSDs can consume more power and generate more heat than their predecessors.
Ensure that your system's cooling solution can handle the additional heat generated by the SSD, and check that your power supply has enough capacity to support the increased power consumption.
Check for firmware and driver compatibility: Ensure that your motherboard's firmware and SSD drivers are up to date to guarantee optimal performance and compatibility. Manufacturers often release updates to address compatibility issues and improve stability.
Consider system-wide bottlenecks: While a PCIe Gen 4 SSD can provide lightning-fast speeds, it's important to assess if other components in your system could potentially create bottlenecks. For example, if your CPU or RAM is outdated, they may limit the SSD's performance gains.
Check compatibility with other peripherals: Some PCIe Gen 4 SSDs may require specific cables or connectors that differ from those used with previous generations. Verify that your system has the necessary connections to avoid compatibility issues.
Future compatibility considerations: PCIe Gen 4 is the latest technology, but it's essential to consider future-proofing. As PCIe technology continues to advance, newer generations may offer even greater speed and capabilities.
Assess your long-term needs and consider if investing in the latest technology now will benefit you in the coming years.
By carefully evaluating system requirements, hardware limitations, potential bottlenecks, and compatibility issues, you can determine whether a PCIe Gen 4 SSD is worth the investment for your specific needs.
Real-World Applications And Use Cases
A PCIe Gen 4 SSD offers significant improvements in speed and performance, making it worth considering for those seeking real-world applications and use cases that demand high data transfer rates.
With faster load times and improved multitasking capabilities, this advanced storage solution can greatly enhance overall system performance.
Evaluating The Performance Boost In Gaming
PCIe Gen 4 SSDs offer significant performance improvements compared to their predecessors, making them worth considering for gaming enthusiasts:
Faster load times: A PCIe Gen 4 SSD can dramatically reduce loading times in games, allowing you to jump right into the action without frustrating delays.
Smoother gameplay: The increased read and write speeds of a PCIe Gen 4 SSD help to prevent stutters and lag during gameplay, delivering a more fluid and immersive experience.
Quick level transitions: With faster data transfer rates, PCIe Gen 4 SSDs enable seamless level transitions in open-world games, ensuring a seamless gaming experience without noticeable pauses or interruptions.
Weighing The Benefits For Content Creators And Professionals
Content creators and professionals in various fields can benefit from the enhanced capabilities of PCIe Gen 4 SSDs:
Efficient media editing: PCIe Gen 4 SSDs provide blazing-fast read and write speeds, allowing content creators to handle large media files with ease. This leads to quicker rendering times, smoother video editing, and improved overall productivity.
Quick data transfer: Whether you are working with extensive datasets, large 3D models, or intricate simulations, a PCIe Gen 4 SSD can significantly reduce data transfer times, saving valuable minutes or even hours.
Enhanced multitasking: The increased speed of a PCIe Gen 4 SSD enables professionals to switch between resource-intensive applications seamlessly. This is particularly beneficial for engineers, architects, and designers who rely on multiple software tools simultaneously.
PCIe Gen 4 SSDs deliver tangible benefits across various real-world applications. They enhance gaming experiences by minimizing loading times, eliminating stutters, and enabling smooth level transitions.
Content creators and professionals can take advantage of improved media editing capabilities, quicker data transfer rates, and enhanced multitasking.
Cost-Effectiveness: Is It Worth The Investment?
With the constant advancement of technology, it's crucial to consider whether PCIe Gen 4 SSDs are worth the investment in terms of cost-effectiveness.
Comparing The Price-To-Performance Ratio:
When evaluating the cost-effectiveness of PCIe Gen 4 SSDs, it's essential to analyze their price-to-performance ratio.
Here are some key factors to consider:
Faster data transfer speeds: PCIe Gen 4 SSDs offer blazing fast data transfer speeds, significantly outperforming their predecessors.
This enhanced performance ensures quicker file transfers, improved multitasking capabilities, and reduced loading times for applications and games.
Enhanced gaming experience: Gamers can greatly benefit from the speed and responsiveness of PCIe Gen 4 SSDs. With reduced loading times, games load quickly, allowing for a smooth and uninterrupted gaming experience.
Gamers can install large game files or expansions without worrying about storage limitations.
Professional productivity: For professionals working with resource-intensive tasks, such as video editing or data analysis, PCIe Gen 4 SSDs can significantly improve workflow efficiency.
The faster read and write speeds enable quick access to large files, enhancing productivity and reducing downtime.
Considering Long-Term Value And Return On Investment:
While PCIe Gen 4 SSDs may come with a higher price tag compared to older generations, it's crucial to evaluate their long-term value and return on investment.
Here are some points to consider:
Future-proofing: PCIe Gen 4 SSDs provide a future-proof storage solution, as they are designed to handle the increasingly demanding requirements of modern applications and operating systems.
Investing in this advanced technology ensures that your system remains compatible and performs optimally for years to come.
Increased system longevity: The improved performance and reliability of PCIe Gen 4 SSDs can extend the life of your system.
By reducing bottlenecks and enhancing overall system responsiveness, these SSDs can help delay the need for a complete system upgrade, saving you money in the long run.
Time savings: The time saved from faster file transfers, software installations, and boot times can be invaluable. These time savings can translate into increased productivity, allowing you to focus on tasks that matter the most.
While PCIe Gen 4 SSDs may seem costly at first glance, their price-to-performance ratio, enhanced gaming experience, and professional productivity make them a worthwhile investment.
The Potential Downsides Of Pcie Gen 4 Ssds
Potential downsides of PCIe Gen 4 SSDs include heat generation, higher power consumption, and compatibility issues with older hardware.
While the increased speed and performance may be appealing, it's important to consider these drawbacks before determining if a PCIe Gen 4 SSD is worth it for your specific system.
Discussing Heat Generation And Cooling Requirements
Increased heat levels: PCIe Gen 4 SSDs tend to generate more heat than their predecessors due to the higher data transfer speeds. This can potentially impact the overall system temperature, leading to thermal throttling and decreased performance.
Cooling considerations: To ensure optimal performance and longevity, it is crucial to have proper cooling mechanisms in place. Here are a few factors to keep in mind regarding cooling requirements for PCIe Gen 4 SSDs:
Efficient heat dissipation: To mitigate heat-related issues, it is recommended to have good airflow within the system to dissipate the excess heat generated by the SSD.
Adequate cooling solutions: Installing additional cooling components, such as fans or heat sinks, can help maintain optimal temperature levels and prevent overheating of the SSD.
System compatibility: It is important to ensure that the cooling solutions chosen are compatible with the particular PCIe Gen 4 SSD being used, as different SSD models may have varying heat dissipation requirements.
Proper ventilation: Ensuring proper ventilation in the system case by removing any obstructions and keeping cable management tidy can also contribute to better heat dissipation.
Addressing Possible Firmware And Driver Limitations
Early-stage challenges: As PCIe Gen 4 SSDs are still relatively new, there may be certain firmware and driver limitations that need to be considered. This could include:
Incompatibility with older systems: Some older systems may not have the necessary firmware and driver support for PCIe Gen 4 SSDs. Users should check system specifications and ensure compatibility before making a purchase.
Device-specific firmware updates: Firmware updates may be released periodically to address compatibility and performance issues. It is important to stay updated with the manufacturer's firmware releases to optimize the functionality of the SSD.
Third-party software compatibility: Certain third-party software applications, including disk cloning or disk management tools, may not fully support PCIe Gen 4 SSDs. Users should verify software compatibility to avoid any operational difficulties.
Ongoing advancements: As the technology evolves and matures, firmware and driver limitations are likely to be reduced over time. Manufacturers continually work on optimizing compatibility, enhancing performance, and addressing any known limitations.
It is essential to consider these potential downsides and take the necessary steps to overcome them for a smooth and efficient PCIe Gen 4 SSD experience.
By properly managing heat generation and cooling requirements, and staying updated with firmware and driver releases, users can maximize the benefits offered by this advanced storage technology.
Should I Upgrade to a PCIe Gen 4 SSD if I Already Have a PCIe 3.0 Slot?
Upgrading to a PCIe Gen 4 SSD may not be necessary if you already possess a PCIe 3.0 slot. Although a PCIe 3.0 SSD may work in a 4.0 slot, the performance gains of Gen 4 may not be fully utilized. Hence, consider 4.0 SSDs only when you're planning to switch to a motherboard that supports PCIe Gen 4 technology. Using PCIe 3.0 SSD in 4.0 slot may not deliver the optimal performance boost.
Key Factors To Consider Before Upgrading
Before upgrading to a PCIe Gen 4 SSD, it's crucial to consider factors such as cost, compatibility, and performance needs.
Evaluating Existing System Performance And Bottlenecks
To determine whether a PCIe Gen 4 SSD is worth the investment, you need to evaluate your existing system's performance and identify any potential bottlenecks.
Here are a few things to consider:
CPU and RAM: Upgrading your storage to a PCIe Gen 4 SSD won't significantly improve overall system performance if your CPU or RAM is already a bottleneck. Consider upgrading these components first if they are limiting your system's performance.
Storage Type: Assess the current storage type you have in your system. If you're already using an SSD, the improvement in performance from upgrading to a PCIe Gen 4 SSD might not be as noticeable compared to upgrading from a traditional hard disk drive (HDD).
Considering Other Upgrade Options And Priorities
Before diving into a PCIe Gen 4 SSD upgrade, it's important to consider other potential upgrade options and prioritize accordingly.
Here are a few points to keep in mind:
GPU: If you're a gamer or graphics-intensive user, upgrading your graphics card (GPU) may offer a more significant performance boost in gaming and rendering than upgrading your storage alone.
Budget: Assess your budget and determine whether the cost of a PCIe Gen 4 SSD aligns with your financial capabilities. It's important to consider the overall value and impact of the upgrade on your system's performance.
Storage Capacity: Evaluate your current storage needs and consider whether a larger capacity SSD or a more affordable PCIe Gen 3 SSD with sufficient space may be a better fit for your requirements.
Upgrading to a PCIe Gen 4 SSD can certainly bring noticeable improvements in system performance and loading times. However, it's crucial to assess the existing performance of your system, identify potential bottlenecks, and consider other upgrade options before making a decision.
Conclusion
To sum up, investing in a PCIe Gen 4 SSD can indeed be worth it. The significantly faster transfer speeds, which greatly improve overall system performance, make it a compelling choice for those seeking optimal storage solutions.
With read and write speeds that outshine its predecessors, PCIe Gen 4 SSDs bring a new level of efficiency to data management, enhancing both productivity and user experience. Their compatibility with future technologies ensures longevity and cost-effectiveness in the long run.
So, whether you are a professional gamer, content creator, or someone who simply wants faster storage, opting for a PCIe Gen 4 SSD can be a smart move.