Top 10 List of Pcie 4.0 Ssd
The list of PCIe 4.0 SSDs includes the Samsung 980 Pro, Corsair Force MP600, Sabrent Rocket 4 Plus, and Seagate FireCuda 520.
PCIe 4.0 SSDs or Peripheral Component Interconnect Express 4.0 Solid State Drives are the next generation of storage devices that provide faster data transfer speeds compared to their predecessors.
These SSDs are compatible with PCIe 4.0 enabled motherboards and offer a significant performance improvement, especially in tasks involving heavy data transfer.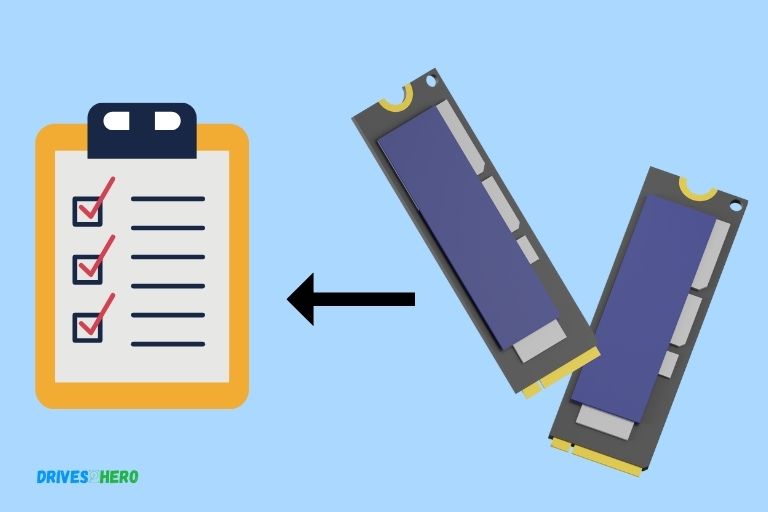 Top 10 PCIe 4.0 SSD Features
| SSD Name | Brand | Model Number | Capacity |
| --- | --- | --- | --- |
| Sabrent Rocket | Sabrent | SB-RKTQ-1TB | 1TB |
| Corsair Force Series | Corsair | MP600 | 1TB |
| GIGABYTE AORUS | GIGABYTE | GP-ASM2NE6100TTTD | 1TB |
| Seagate FireCuda | Seagate | ZP1000GM30002 | 1TB |
| ADATA XPG GAMMIX | ADATA | AGAMMIXS70B-2T-C | 2TB |
| WD_BLACK SN850 | Western Digital | WDS100T1X0E | 1TB |
| Patriot Viper VP4100 | Patriot | VP4100 | 1TB |
| Samsung 980 PRO | Samsung | MZ-V8P1T0B | 1TB |
| Addlink S90 | Addlink | S90 | 1TB |
| Kingston KC2500 | Kingston | SKC2500M8/1000G | 1TB |
A comparison of the top 10 PCIe 4.0 SSDs, including details on brand, model number, and capacity, to help you make an informed storage choice.
Key Takeaway
PCIe 4.0 SSDs are significantly faster than their predecessors, offering double the bandwidth of the PCIe 3.0 SSDs.
The current market offers a variety of PCIe 4.0 SSDs, each with different specifications aimed at different types of users.
The technology used in PCIe 4.0 SSDs allows for faster data transfer which is crucial for high-end gaming, 3D modeling, and machine learning.
To get the full benefits of PCIe 4.0 SSDs, your motherboard and CPU need to support the 4.0 interface.
Top Pcie 4.0 Ssd Brands In The Market
The market offers a range of top PCIe 4. 0 SSD brands, delivering high-speed performance and reliability for storage needs. Explore this list to find the ideal SSD for your requirements.
Samsung
Samsung is a well-known brand in the SSD market, and their PCIe 4. 0 SSDs are no exception.
Here are some key features and benefits of Samsung's PCIe 4. 0 SSDs:
Blazing-fast speeds: Samsung's PCIe 4.0 SSDs offer unparalleled speed and performance, making them ideal for high-intensity tasks such as gaming and video editing.
Large storage capacity: With capacities ranging from 500GB to several terabytes, Samsung SSDs provide ample space to store your files, games, and multimedia content.
Enhanced reliability: Samsung utilizes advanced technologies to ensure the reliability and durability of their PCIe 4.0 SSDs, minimizing the risk of data loss or drive failure.
Efficient heat dissipation: Samsung has incorporated innovative heat dissipation solutions into their SSD designs, preventing overheating and maintaining optimal performance over extended usage.
Western Digital
Western Digital is another reputable brand that offers top-notch PCIe 4. 0 SSDs.
Here are some notable features and advantages of Western Digital PCIe 4. 0 SSDs:
High-speed performance: Western Digital PCIe 4.0 SSDs deliver lightning-fast read and write speeds, providing a significant boost to your system's overall performance.
Reliable durability: Designed with enhanced endurance and reliability in mind, Western Digital SSDs can withstand heavy workloads and provide long-lasting performance.
Advanced storage management: Western Digital offers a range of software tools to optimize and manage your PCIe 4.0 SSD, ensuring consistent performance and compatibility.
Trusted brand: Western Digital has been a trusted name in the storage industry for years, known for their quality products and excellent customer support.
Seagate
Seagate is a well-established brand that offers reliable and high-performance PCIe 4. 0 SSDs.
Here are some notable features and benefits of Seagate's PCIe 4. 0 SSDs:
Speed and responsiveness: Seagate PCIe 4.0 SSDs provide lightning-fast speed and responsiveness, allowing for quick boot times, faster file transfers, and smoother multitasking.
Ample storage capacity: Seagate offers PCIe 4.0 SSDs with large storage capacities, giving you plenty of room to store your games, media files, and other data.
Advanced security features: Seagate incorporates advanced security technologies into their SSDs, protecting your data from unauthorized access and ensuring peace of mind.
Efficient power management: Seagate PCIe 4.0 SSDs are designed with power efficiency in mind, helping to prolong battery life in laptops and reducing energy consumption.
Samsung, Western Digital, and Seagate are three leading brands in the market when it comes to PCIe 4. 0 SSDs. Each brand offers unique features and benefits, ensuring exceptional speed, reliability, and storage capacity for your data storage needs.
Comparison Of Pcie 4.0 Ssds In Different Price Ranges
This article presents a comprehensive list of PCIe 4. 0 SSDs, comparing their performance and pricing across different ranges.
It offers valuable insights for users looking to make an informed decision on their next SSD purchase. When it comes to PCIe 4. 0 SSDs, there are a variety of options available in different price ranges.
Whether you're looking for a budget-friendly option, a mid-range performer, or a high-end powerhouse, this comparison will help you find the right PCIe 4. 0 SSD to meet your needs without breaking the bank.
Budget-Friendly Pcie 4.0 Ssds
If you're on a tight budget but still want to experience the lightning-fast speeds of PCIe 4. 0 SSDs, there are some affordable options to consider.
While these may not offer the same level of performance as higher-end models, they still provide a significant upgrade over traditional SATA SSDs.
Here are a few budget-friendly PCIe 4. 0 SSDs to consider:
WD Blue SN550 NVMe SSD: This entry-level PCIe 4.0 SSD offers impressive read and write speeds, making it a great choice for casual gamers and everyday users.
Crucial P5 NVMe SSD: With its competitive price point and reliable performance, the Crucial P5 delivers a solid PCIe 4.0 experience for budget-conscious users.
Kingston KC2500 NVMe PCIe SSD: Offering a combination of affordability and speed, the Kingston KC2500 is a reliable option for those seeking a budget-friendly PCIe 4.0 SSD.
Mid-Range Pcie 4.0 Ssds
For users who require a balance between price and performance, mid-range PCIe 4. 0 SSDs offer a sweet spot.
These SSDs provide faster speeds and higher capacities compared to budget-friendly options, making them suitable for content creators, gamers, and professionals who require a bit more horsepower.
Check out these mid-range PCIe 4. 0 SSDs:
Western Digital Black SN850: Known for its high performance and endurance, the WD Black SN850 is a popular choice among gamers and professionals alike.
Samsung 980 PRO NVMe SSD: With its excellent read and write speeds, this Samsung SSD offers top-notch performance that won't break the bank.
Seagate FireCuda 520 NVMe SSD: Engineered for gamers and creative professionals, the FireCuda 520 delivers exceptional speed and responsiveness.
High-End Pcie 4.0 Ssds
For those who demand the absolute best in terms of performance and capacity, high-end PCIe 4. 0 SSDs are the top choice.
These SSDs utilize cutting-edge technology, pushing the limits of what's possible in storage solutions. If you're looking for uncompromising performance and have a generous budget, consider these high-end PCIe 4.
Corsair MP600 PRO PCIe Gen4 x4 NVMe M.2 SSD: Blazing-fast speeds, high endurance, and impressive reliability make the Corsair MP600 PRO an excellent choice for power users.
Adata XPG Spectrix S50 Lite: With its striking design and exceptional read and write speeds, the Spectrix S50 Lite is a premium PCIe 4.0 SSD that offers a reliable and lightning-fast storage solution.
Gigabyte Aorus NVMe Gen4 SSD: Designed specifically for gamers and content creators, this high-end SSD provides exceptional performance and reliability.
Whether you're on a tight budget, looking for a balanced performance-to-price ratio, or seeking the utmost in performance and capacity, there's a PCIe 4. 0 SSD available for you.
Consider your specific needs and budget, and choose an SSD that will elevate your storage experience to the next level.
Key Features To Consider When Choosing A Pcie 4.0 Ssd
Consider these key features when selecting a PCIe 4. 0 SSD: storage capacity, read/write speeds, durability, price, compatibility, and warranty. Ensure you choose an SSD that meets your specific requirements for optimal performance and reliability.
Whether you're building a gaming rig, upgrading your storage, or simply looking for faster data transfer rates, choosing the right PCIe 4. 0 SSD is crucial.
With their lightning-fast speeds and cutting-edge technology, PCIe 4. 0 SSDs are leading the pack in storage solutions.
To help you make an informed decision, here are some key features to consider when selecting a PCIe 4. 0 SSD:
Storage Capacity Options:
High-capacity options: PCIe 4.0 SSDs offer a wide range of storage capacity options, allowing you to choose the one that suits your needs. From modest sizes for everyday use to massive capacities for the most demanding applications, these SSDs have you covered.
Future-proofing: Invest in an SSD with ample storage capacity to accommodate your present needs and future expansion. Having enough space ensures you won't run out of storage when you need it most.
Sequential Read And Write Speeds:
Blazing-fast performance: One of the primary reasons to opt for a PCIe 4.0 SSD is its exceptional sequential read and write speeds. These SSDs push the boundaries of data transfer rates, enabling faster boot times, speedy file transfers, and seamless multitasking.
Enhanced productivity and performance: With higher sequential speeds, you can experience a significant boost in productivity. Load your favorite games or access large multimedia files in the blink of an eye, leaving no room for slow loading screens.
Endurance And Durability:
Long-lasting reliability: Look for SSDs with high endurance ratings, as they indicate the drive's ability to withstand extensive usage without compromising performance. Higher endurance levels ensure your SSD can handle the demands of intensive workloads for years to come.
Advanced durability features: Some PCIe 4.0 SSDs incorporate advanced features like error correction technology and power loss protection. These features ensure your data remains secure and minimize the risk of data loss or corruption.
With these key features in mind, you can select a PCIe 4. 0 SSD that meets your storage needs, delivers lightning-fast performance, offers durability, and includes essential heat management features.
Whether it's for gaming, content creation, or everyday computing, a PCIe 4. 0 SSD will supercharge your system and elevate your overall computing experience.
Tips For Maintenance And Care Of Pcie 4.0 Ssds
Looking for tips to maintain and care for your PCIe 4. 0 SSDs? Check out our comprehensive list of best practices to ensure the longevity and optimal performance of your SSDs.
SSDs (Solid State Drives) are a crucial component of modern computer systems, and it's important to properly maintain and care for them to ensure optimal performance and longevity. This holds true for PCIe 4. 0 SSDs, which offer blazing-fast speeds and improved data transfer rates.
To help you get the most out of your PCIe 4. 0 SSD, we've compiled a list of essential maintenance and care tips:
Regular Firmware Updates:
Keep your PCIe 4.0 SSD's firmware up to date: Firmware updates often address bugs, compatibility issues, and enhance the overall performance of your SSD. Make it a habit to regularly check for updates from the manufacturer's website and install them promptly.
Follow the manufacturer's instructions: Each SSD may have a different firmware update process, so it's crucial to carefully read and follow the provided instructions to ensure a successful update.
Cleaning And Cooling Considerations:
Avoid excessive heat: PCIe 4.0 SSDs, like any other SSDs, can be sensitive to high temperatures. Ensure proper cooling in your system by keeping air circulation unobstructed and considering additional cooling options if necessary.
Regularly clean your computer: Dust and debris can accumulate inside your computer, impacting the cooling efficiency and potentially affecting your PCIe 4.0 SSD. Clean your computer regularly using compressed air or appropriate cleaning tools to prevent overheating.
Data Backup And Recovery Strategies:
Backup your data: Accidents can happen, and it's essential to have a backup of your important files. Regularly back up your data to an external storage device or a cloud service to avoid data loss in case of SSD failure or unforeseen circumstances.
Utilize disk imaging software: Consider using disk imaging software to create an exact copy of your SSD's contents. This can simplify the recovery process in case of data corruption or disk failure, allowing for quick restoration.
Remember, these tips will not only help you maintain the performance and reliability of your PCIe 4. 0 SSD but can also extend its lifespan.
By regularly updating firmware, ensuring proper cooling, and implementing data backup strategies, you can enjoy a seamless computing experience and safeguard your valuable data.
Conclusion
To sum up, the list of PCIe 4. 0 SSDs presented showcases the top-performing options available on the market. These SSDs offer blazing fast speeds and improved performance, making them ideal for gaming, content creation, and other intensive tasks.
With their advanced technologies and high data transfer rates, PCIe 4. 0 SSDs ensure faster boot times, quicker file transfers, and enhanced overall system responsiveness. Their compatibility with the latest generation of CPUs and motherboards further adds to their appeal.
Whether you are a professional or a tech enthusiast, investing in a PCIe 4. 0 SSD is a wise choice to future-proof your system and reap the benefits of cutting-edge storage technology.