Can You Raid Pcie Ssd? Yes!
Yes, you can RAID PCI-Express (PCIe) Solid State Drives (SSDs).
RAID, short for Redundant Array of Independent Disks, is a method of combining multiple storage drives into a single logical unit. This can significantly increase data redundancy, speed, and capacity.
RAID for PCIe SSDs is performed via the computer's motherboard or a RAID controller card. There are different RAID levels, each meant for a specific purpose.
RAID 0 increases speed and capacity by splitting data evenly across two or more drives with no redundancy, while RAID 1 duplicates the same data onto two or more drives, providing redundancy.
RAID for PCIe SSDs is an effective way to enhance your storage system's speed, redundancy, and capacity. Whether you want to increase your work efficiency or safeguard your important data, RAIDing your PCIe SSDs can be a key solution.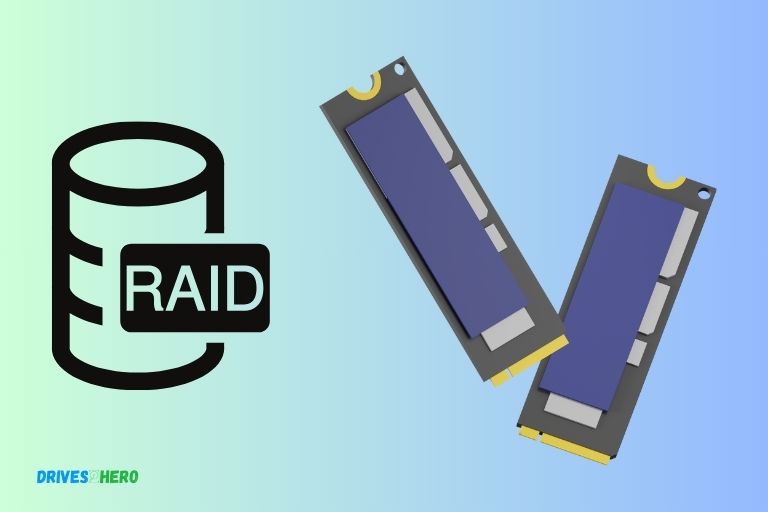 Key Takeaway
Raiding PCIe SSDs is technically possible, though not typically recommended for home users due to the significant cost and technical knowledge required.
The improved speed and performance afforded by a RAID setup using PCIe SSDs can be beneficial in enterprise or high-performance computing environments.
The process of setting up a RAID with PCIe SSDs involves configuring the RAID through the motherboard's BIOS or using a RAID controller card.
Potential risks involved with RAID setups include data loss in case of drive failures, which can be mitigated through various RAID levels offering redundancy.
Understanding Pcie Ssds
PCIe SSDs can be used in RAID configurations, improving performance and providing redundancy for storage systems. By combining multiple PCIe SSDs, users can achieve faster data transfer speeds and greater reliability.
If you're in the market for a new solid-state drive (SSD), you've likely come across the term PCIe SSD. But what exactly is a PCIe SSD, and how does it differ from other storage options?
We'll dive deep into understanding PCIe SSDs, explore their benefits, and help you make an informed decision.
Brief Explanation Of Pcie Ssds:
PCIe stands for Peripheral Component Interconnect Express, which is a high-speed interface used to connect devices, such as SSDs, to a computer's motherboard.
Unlike traditional SSDs that use a SATA interface, PCIe SSDs connect directly to the computer's PCIe slot, offering faster data transfer rates and lower latency.
Benefits Of Using Pcie Ssds In Comparison To Other Storage Options:
Enhanced Performance: PCIe SSDs offer significantly faster read and write speeds compared to traditional hard disk drives (HDDs) and SATA-based SSDs. This means quicker boot times, faster data access, and improved overall system responsiveness.
Increased Bandwidth: The PCIe interface provides higher bandwidth than SATA, allowing for greater data transfer rates. With PCIe SSDs, you can handle large file transfers, high-resolution multimedia tasks, and intensive applications with ease.
Reduced Latency: PCIe SSDs minimize latency by providing a direct connection to the CPU. This eliminates the bottleneck caused by the SATA interface, resulting in smoother and more responsive performance.
Scalability: PCIe SSDs come in various form factors, including add-in cards and M.2 drives. This versatility allows for easy integration into different systems and expansion as storage needs grow.
Future-Proofing: As technology advances, PCIe is expected to become the standard interface for high-performance storage devices. By investing in a PCIe SSD now, you future-proof your system and ensure compatibility with upcoming devices.
By understanding PCIe SSDs and their benefits, you can make an informed decision when it comes to choosing the right storage solution for your needs.
Whether it's for gaming, content creation, or everyday computing, PCIe SSDs are a worthwhile investment that can revolutionize your digital experience.
Raid Technology And Its Applications To Pcie Ssds
RAID technology enhances the performance and reliability of PCIe SSDs, allowing for seamless data storage and retrieval.
Its application to PCIe SSDs allows users to effectively combine multiple drives into a single logical unit, offering increased speed, capacity, and data protection.
RAID (Redundant Array of Independent Disks) technology has revolutionized data storage and management in various computer systems.
When it comes to PCIe SSDs (Solid State Drives), the application of RAID technology brings a multitude of advantages and opportunities for enhanced performance and reliability.
We will explore the introduction to RAID technology and delve into the advantages of using RAID with PCIe SSDs.
Introducing Raid Technology:
RAID technology stands as a powerful solution for combining multiple storage drives into a single logical unit.
This technology offers increased performance, reliability, and fault tolerance by employing various techniques such as data striping, mirroring, and parity.
RAID configurations are commonly categorized into different levels, including RAID 0, RAID 1, RAID 5, RAID 10, and more.
Each RAID level possesses its own unique characteristics and suitability for specific use cases.
PCIe SSDs can benefit greatly from RAID technology, as it complements their high-speed performance and storage capabilities.
Now let's explore the advantages of using RAID with PCIe SSDs.
Advantages Of Using Raid With Pcie Ssds:
Enhanced performance: RAID technology improves the overall speed and performance of PCIe SSDs by increasing the data transfer rate and parallel processing capabilities.
Data redundancy: By implementing RAID, redundant copies of data are stored across multiple SSDs, reducing the risk of data loss in case of drive failure.
Increased storage capacity: RAID allows multiple PCIe SSDs to be combined, creating a single storage pool that provides increased capacity for storing large volumes of data.
Improved fault tolerance: RAID configurations such as RAID 1 and RAID 10 offer data redundancy and fault tolerance, providing protection and minimizing the impact of drive failures.
Flexibility and scalability: PCIe SSDs in RAID configurations offer the flexibility to expand storage capacity by adding additional drives, as well as the ability to change RAID levels to meet specific requirements.
Load balancing: RAID technology distributes data evenly across multiple SSDs, optimizing the workload and reducing performance bottlenecks.
Easy data management: RAID provides simplified data management through centralized control, allowing administrators to efficiently monitor and maintain the storage system.
Cost-effective solution: RAID technology enables organizations to achieve high-performance storage capabilities without the need to invest in expensive enterprise-grade SSDs.
By harnessing the power of RAID technology, PCIe SSDs can reach new heights in terms of performance, data protection, and storage capacity.
Whether for gaming, content creation, or enterprise applications, RAID configurations with PCIe SSDs can unlock a world of possibilities for a seamless and reliable computing experience.
Implementing Raid With Pcie Ssds
Implementing RAID with PCIe SSDs allows for increased storage performance and data protection by combining multiple SSDs into a single logical drive. This setup maximizes speed and reliability for high-performance applications and data-intensive workloads.
Can You Raid Pcie Ssd
PCIe SSDs (Peripheral Component Interconnect Express Solid-State Drives) are a type of storage device that uses the PCI Express interface to connect to the computer's motherboard.
These SSDs offer impressive speeds and improved performance compared to traditional SATA SSDs. One question that often arises is whether it is possible to implement RAID (Redundant Array of Independent Disks) with PCIe SSDs.
We will explore the possibilities of RAID with PCIe SSDs and provide a step-by-step guide on how to set it up. RAID technology allows you to combine multiple storage devices into a single logical unit, providing various benefits such as improved performance, data redundancy, and increased capacity.
When it comes to implementing RAID with PCIe SSDs, there are different levels of RAID to consider, each with its own advantages and trade-offs.
Let's take a look at some of the RAID levels suitable for PCIe SSDs:
RAID 0: This level of RAID, also known as striping, provides improved performance by distributing data across multiple PCIe SSDs in parallel. It is ideal for applications that require high-speed data transfer, such as video editing or gaming.
However, it does not offer any data redundancy, so a failure of one SSD can result in complete data loss.
RAID 1: Unlike RAID 0, RAID 1 focuses on data redundancy rather than performance. In this configuration, data is mirrored between two PCIe SSDs, ensuring that a copy is always available in case of a failure.
While RAID 1 offers excellent data protection, it does not provide any performance benefits.
RAID 5: RAID 5 combines striping and parity techniques to achieve both improved performance and data redundancy. It distributes data and parity information across multiple PCIe SSDs, allowing for faster read and write speeds.
In the event of a single SSD failure, data can be reconstructed using the parity information. However, RAID 5 may have reduced performance during the rebuilding process after a failure.
Now that you understand the different RAID levels suitable for PCIe SSDs, let's dive into a step-by-step guide on how to set up RAID with PCIe SSDs:
Ensure that your motherboard supports RAID functionality and has available PCIe slots for the SSDs.
Obtain the required number of identical PCIe SSDs for the desired RAID level.
Install the PCIe SSDs into the available slots on the motherboard, following the manufacturer's instructions.
Boot up your computer and enter the BIOS/UEFI settings. Enable RAID and configure it according to your desired RAID level (RAID 0, RAID 1, RAID 5, etc.). Save the changes and exit the BIOS/UEFI settings.
Install the operating system (OS) on the newly configured RAID array. During the installation process, ensure that the OS recognizes the RAID array as a single storage device.
Once the OS is installed, you can begin using the RAID array as you would with any other storage device. Remember to regularly monitor the health of the SSDs and backup your important data to ensure data integrity.
Setting up RAID with PCIe SSDs can provide significant performance improvements and data redundancy, depending on the RAID level chosen.
However, it is essential to consider the trade-offs, such as the increased risk of data loss with RAID 0 or the reduced performance during the rebuilding process with RAID 5.
By following the step-by-step guide outlined you can leverage the power of RAID and maximize the capabilities of your PCIe SSDs.
Conclusion
Raiding PCIe SSDs offers an array of benefits, including increased performance, enhanced data security, and improved scalability.
With RAID technology, users can combine multiple SSDs into a single logical drive, distributing data across the drives for faster access and reduced latency.
This can significantly boost the performance of applications that require rapid data transfer, such as gaming and video editing. RAID configurations also provide redundancy, ensuring that data remains accessible even if one drive fails.
The scalability of PCIe SSD RAID allows for easy expansion, accommodating growing storage needs over time.
However, it is crucial to carefully consider the specific requirements and limitations of RAID configurations, as well as selecting the appropriate RAID type and controller for optimal results.
Overall, raiding PCIe SSDs can unlock a world of possibilities, maximizing speed, reliability, and capacity for various applications and industries.