Msata Ssd Vs Pcie Ssd: Which One Is Superior? 
PCIe (Peripheral Component Interconnect Express) SSDs generally outperform mSATA (Mini-SATA) SSDs in terms of speed and performance.
This is primarily due to the PCIe interface's higher bandwidth. However, mSATA SSDs may be more suitable for smaller devices due to their compact size. PCIe SSDs use a computer's PCIe bus path to transfer data, accommodating higher speeds than mSATA SSDs.
On the other hand, mSATA SSDs are designed to plug into an mSATA socket on a motherboard, typically in laptops and small form factor PCs. They use the SATA bus path, which is slower than the PCIe path.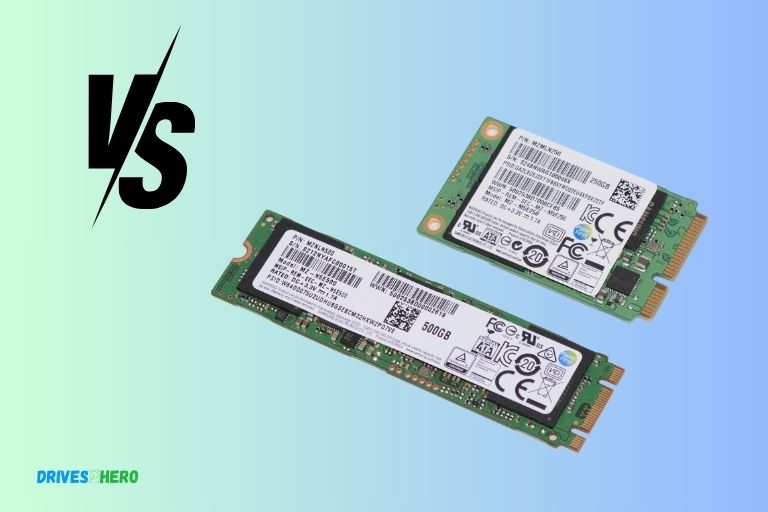 Key Takeaway
mSATA SSDs and PCIe SSDs are variations of Solid State Drives (SSDs), a type of storage device that uses integrated circuits assemblies as memory to store data persistently.
mSATA SSDs are typically smaller, making them great for laptops and other compact devices, while PCIe SSDs are known for their high-speed data transfer capabilities.
The major difference lies within their interfaces, with mSATA using SATA interface and PCIe SSDs using PCIe interface.
PCIe SSDs generally offer a significantly higher performance compared to mSATA SSDs.
Understanding Msata Ssds
Msata SSDs and PCIe SSDs are both popular choices for enhancing the storage and performance of your computer. While Msata SSDs offer compact size and compatibility with older devices, PCIe SSDs provide faster data transfer speeds and higher storage capacity.
Understanding the differences between the two can help you make the right choice for your specific needs.
Definition And Explanation Of Msata Ssds:
Msata SSDs are small, thin storage drives that adhere to the Msata (Mini-SATA) form factor, which was initially developed for use in laptops and other compact devices.
These SSDs utilize the SATA interface to connect with the motherboard and offer fast data transfer speeds, similar to their larger counterparts.
Unlike traditional 2.5-inch SSDs, Msata SSDs have a mini-PCIe connector, making them more suitable for systems with space limitations.
Msata SSDs are primarily designed to be used as boot drives or to store frequently accessed files, allowing quick and efficient operation.
Due to their compact size, Msata SSDs are often employed in ultrabooks, tablets, netbooks, and other portable devices where space is at a premium.
Advantages And Disadvantages Of Msata Ssds:
Advantages:
Space-saving: With their small form factor, Msata SSDs save valuable space within devices, making them an ideal choice for ultra-thin laptops or small form factor PCs.
Faster boot and data access: Msata SSDs offer significantly faster boot times and data access speeds compared to traditional HDDs, enhancing overall system performance.
Energy-efficient: Msata SSDs consume less power, resulting in better battery life for portable devices.
Improved durability: As Msata SSDs have no moving parts, they are more resistant to physical impact and vibrations, decreasing the chances of data loss due to accidental drops or shocks.
Disadvantages:
Limited storage capacity: Due to their small size, Msata SSDs typically have lower storage capacities compared to 2.5-inch SSDs. However, this limitation is gradually being addressed with newer models offering higher capacities.
Compatibility restrictions: Msata SSDs require a motherboard with an Msata slot or a mini-PCIe slot to be used effectively. Compatibility should be verified to avoid any compatibility issues.
Upgrading challenges: Unlike 2.5-inch SSDs, Msata SSDs may not be easily replaceable or upgradable, depending on the device they are installed in. Consider this before opting for an Msata SSD.
Use Cases And Compatibility Considerations For Msata Ssds:
Use cases:
Ultrabooks and thin laptops: Msata SSDs are often utilized to maintain a slim profile while still delivering fast and reliable storage performance in ultrabooks and thin laptops.
Industrial computing: Miniature form factor and durability make Msata SSDs suitable for industrial applications that require reliable and compact storage solutions.
Embedded systems: Msata SSDs find extensive use in embedded systems, such as single-board computers or digital signage, where space is limited, but reliable storage performance is essential.
Compatibility considerations:
Motherboard compatibility: Before purchasing an Msata SSD, verify whether your motherboard has an Msata slot or a mini-PCIe slot to ensure compatibility.
Operating system support: Confirm that your preferred operating system supports Msata SSDs to guarantee seamless utilization and drivers compatibility.
By understanding what Msata SSDs are, and knowing their advantages, disadvantages, and use cases, you can make informed decisions when considering this compact storage option for your devices.
Understanding Pcie Ssds
Msata SSDs and PCIe SSDs are both types of storage devices, but they differ in terms of performance and connectivity. While Msata SSDs are smaller and designed for laptops, PCIe SSDs offer faster speeds and are more commonly used in desktops.
Understanding the differences between the two can help you choose the right option for your specific needs.
Definition And Explanation Of Pcie Ssds
PCIe SSDs, also known as PCI Express Solid State Drives, are high-performance storage devices that utilize the PCIe interface to connect directly to a computer's motherboard.
Unlike traditional SATA SSDs that communicate through the SATA interface, PCIe SSDs offer faster data transfer rates and lower latency, making them an ideal choice for demanding applications.
Advantages And Disadvantages Of Pcie Ssds
Lightning-fast speeds: PCIe SSDs can achieve incredibly high data transfer rates due to their direct connection to the motherboard. This results in faster boot times, quicker application launches, and improved overall system performance.
Reduced latency: Because PCIe SSDs bypass the traditional SATA controller, they experience significantly lower latency, ensuring faster access to stored data.
High bandwidth: PCIe SSDs benefit from the wide bandwidth provided by the PCIe interface, enabling them to handle large data transfers with ease.
Scalability: PCIe SSDs offer scalability options, allowing users to add multiple drives and create RAID configurations to further enhance storage capacity and performance.
Compatibility considerations: PCIe SSDs require a compatible motherboard with available PCIe slots. It's important to check the motherboard's specifications to ensure compatibility before purchasing a PCIe SSD.
Limited portability: Unlike SATA SSDs, PCIe SSDs are not hot-swappable and may require additional installation steps, making them less convenient for external use.
Use Cases And Compatibility Considerations For Pcie Ssds
Gaming and video editing: PCIe SSDs provide the speed and performance required for demanding gaming and video editing applications, allowing for quick loading times, smooth gameplay, and seamless editing workflows.
Workstations and servers: PCIe SSDs are commonly used in workstations and servers that require fast and reliable storage. They can handle intensive data processing and provide enhanced performance for tasks such as rendering, simulation, and database management.
High-performance computing: Industries like scientific research, financial institutions, and data centers that rely on complex calculations and large datasets benefit from the superior speed and low latency of PCIe SSDs.
Compatibility: When using PCIe SSDs, it is crucial to ensure compatibility with the motherboard and operating system. Not all systems support booting from PCIe SSDs, so it's essential to consult the specifications or seek professional advice.
PCIe SSDs offer enhanced performance, high speeds, reduced latency, and scalability options. They are ideal for gaming, video editing, workstations, servers, and high-performance computing tasks.
However, compatibility with the motherboard and operating system should be considered before making the investment.
Performance Comparison
The performance comparison between Msata SSD and PCIe SSD unveils the key differences in speed and efficiency, highlights the top choices for users seeking high-performance storage solutions.
Discover the advantages and disadvantages of each option to make an informed decision for your specific needs.
Speed And Performance Differences Between Msata And Pcie Ssds
When it comes to choosing the right SSD for your needs, understanding the speed and performance differences between mSATA and PCIe SSDs is crucial.
We will delve into benchmark tests and real-world performance comparisons, examining their impact on boot time, file transfer speeds, and application loading times.
Benchmark Tests And Real-World Performance Comparisons
Benchmark tests:
Synthetic tests evaluate the maximum potential speed of an SSD by simulating various workloads.
AS SSD, CrystalDiskMark, and ATTO are popular benchmarking tools used to assess sequential read and write speeds, random 4K performance, and overall responsiveness.
Real-world performance:
Real-world performance comparisons assess SSDs' performance in everyday usage scenarios.
Tasks such as booting up the system, transferring large files, and launching applications are used to gauge performance disparities.
Impact On Boot Time, File Transfer Speeds, And Application Loading Times
Boot time:
MSATA SSDs exhibit respectable boot times, although slightly slower than PCIe SSDs due to their limited bandwidth capacity.
PCIe SSDs, with their faster data transfer rates, often result in quicker boot times, enhancing overall system responsiveness.
File transfer speeds:
MSATA SSDs provide satisfactory file transfer speeds for general usage, allowing users to efficiently handle typical file sizes.
PCIe SSDs excel in file transfer speeds, particularly with large files and heavy workloads, reducing wait times significantly.
Application loading times:
MSATA SSDs deliver commendable application loading times, enabling swift access to programs and minimizing lag.
PCIe SSDs showcase exceptional application loading times, particularly in applications that demand higher processing power, resulting in a seamless user experience.
Understanding the speed and performance differences between mSATA and PCIe SSDs is crucial in choosing the most suitable option for your specific requirements.
While mSATA SSDs provide reliable performance for general usage, PCIe SSDs offer unparalleled speed and responsiveness, significantly enhancing system performance.
Price Comparison
Msata SSD and PCIe SSD are two different types of solid-state drives, and a price comparison between them can help users make an informed decision.
Understanding the variations in performance, speed, and storage capacity can lead to selecting the right SSD for their specific needs.
Price Differences Between Msata And Pcie Ssds
When it comes to comparing the prices of mSATA and PCIe SSDs, there are some key factors to consider.
Let's take a closer look at the price differences between these two types of SSDs:
MSATA SSDs:
Generally, mSATA SSDs tend to be more cost-effective compared to PCIe SSDs.
The lower price is largely due to the older technology and slower performance of mSATA SSDs.
As a result, mSATA SSDs are a good option for budget-conscious users who are looking for basic storage solutions without breaking the bank.
PCIe SSDs:
PCIe SSDs are typically priced higher than mSATA SSDs.
The higher cost is justified by the faster performance and advanced technology offered by PCIe SSDs.
If you require high-speed data transfer and superior performance for tasks such as gaming, video editing, or running resource-intensive applications, investing in a PCIe SSD would be worth the additional cost.
The price differences between mSATA and PCIe SSDs are primarily driven by their respective performance capabilities. While mSATA SSDs offer cost-effective storage solutions, PCIe SSDs provide superior performance and higher storage capacities, albeit at a higher price.
Consider your budget, usage requirements, and performance expectations to make an informed decision that strikes the right balance between price and value.
Is PCIe SSD the Better Choice Compared to MSATA SSD?
When it comes to picking between PCIe SSD or mSATA SSD, the former is often considered the better choice. Offering higher speeds, greater bandwidth, and improved performance, PCIe SSDs outshine their mSATA counterparts. With the keyword "pcie ssd or sas ssd?" emphasized, it's essential to note that PCIe SSD excels in terms of speed and efficiency when compared to SAS SSD.
Application Scenarios & Recommendations
Msata SSD and PCIe SSD are both popular storage options with different application scenarios. Msata SSDs are commonly used in laptops and small-form-factor PCs for upgrading storage capacity.
On the other hand, PCIe SSDs are ideal for high-performance applications such as gaming PCs and workstations that require faster data transfer speeds.
Factors To Consider When Choosing Between Msata And Pcie Ssds:
Performance: PCIe SSDs generally offer faster speeds than Msata SSDs due to the difference in technology and interface. If you require top-notch performance, PCIe SSDs are the way to go.
Compatibility: It's crucial to check your system's compatibility before choosing between Msata and PCIe SSDs. Some older systems may only have Msata slots, while others offer both Msata and PCIe slots. Ensure your system supports the selected SSD type.
Storage capacity: PCIe SSDs often come in larger storage capacities compared to Msata SSDs. Consider your storage needs and choose accordingly.
Budget: Msata SSDs can be more cost-effective than PCIe SSDs, making them a budget-friendly option for those looking for improved performance without breaking the bank.
Recommendations Based On Specific Needs:
Gaming: For gaming enthusiasts seeking the ultimate speed and performance, a PCIe SSD is the best choice. Its fast read and write speeds ensure minimal load times and enhanced gaming experience.
Professional use (content creation, video editing): Professionals handling resource-intensive tasks should opt for a PCIe SSD. Its ability to handle large file transfers quickly reduces rendering times, enabling smoother workflow and improved productivity.
Everyday use (web browsing, document editing): If you primarily use your computer for everyday tasks such as web browsing, document editing, and multimedia consumption, an Msata SSD will provide sufficient performance at a lower cost.
Choose the right SSD based on your specific requirements and make the most out of your system's capabilities.
Conclusion
Considering the differences and advantages of MSATA SSDs and PCIe SSDs, it becomes evident that both options have their distinct qualities. MSATA SSDs are compact, cost-effective, energy-efficient, and compatible with older systems.
On the other hand, PCIe SSDs are faster, offer higher capacities, and are more suitable for tasks that require intensive data processing.
Before making a decision, it's crucial to assess your own needs and priorities. If you are looking for a reliable storage option that fits in a small form factor, MSATA SSDs might be the right choice for you.
However, if speed and performance are your top priorities, investing in a PCIe SSD would be the better option. Overall, the choice between MSATA SSDs and PCIe SSDs boils down to personal requirements, budget, and system compatibility.