How to Raid Pcie Ssd? 11 Steps!
Setting up a RAID (Redundant Array of Independent Disks) with PCIe SSDs is an advanced storage configuration that can significantly boost your system's performance or provide data redundancy.
We will walk you through the steps to effectively combine multiple PCIe SSDs, ensuring that your data is both secure and your system operates at its best. Before diving into the process, it's crucial to understand the prerequisites and the potential impact on your data.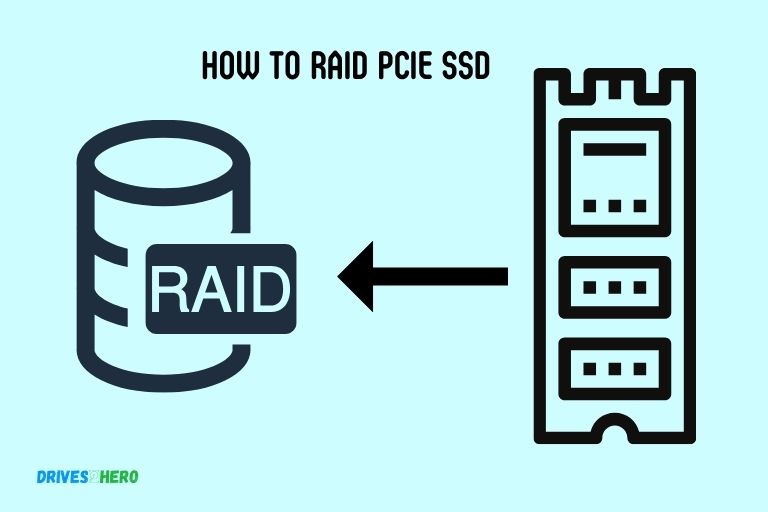 Step-By-Step Guide To Configuring Raid
Prerequisites
Before you begin, make sure you have the following:
Two or more compatible PCIe SSDs.
An available PCIe slot on your motherboard.
Backup of important data (RAID setup may involve data loss).
Step 1: Backup Your Data
Ensure all important data is backed up to prevent potential data loss during the RAID setup process.
Step 2: Install PCIe SSDs
Turn off your computer and disconnect the power source.
Insert the PCIe SSDs into the available PCIe slots on your motherboard.
Step 3: Boot into BIOS/UEFI
Power on your computer and access the BIOS/UEFI settings. You can usually do this by pressing a key like F2, F12, or Delete during the boot process.
In the BIOS/UEFI, navigate to the storage or SATA configuration section.
Step 4: Configure SATA Mode
Change the SATA mode from AHCI to RAID. This option might be labeled differently on some motherboards.
Step 5: Save and Exit
Save your changes in the BIOS/UEFI and exit.
Step 6: Boot into the RAID Configuration Utility
During the boot process, you will see a message to access the RAID configuration utility. This varies depending on your motherboard and RAID controller.
Step 7: Create the RAID Array
In the RAID configuration utility, select the option to create a new RAID array.
Choose the RAID level you want (e.g., RAID 0 for performance or RAID 1 for data redundancy).
Follow the on-screen instructions to select the PCIe SSDs you want to include in the array.
Set the stripe size (block size) and confirm the creation of the array.
Step 8: Initialize the RAID Array
After creating the array, initialize it to prepare for data storage.
Step 9: Install an Operating System
Install your operating system on the newly created RAID array.
Step 10: Restore Data
Restore your data from the backup you created in Step 1.
Step 11: Verify RAID Functionality
Test the RAID array to ensure it's working as expected, providing either improved performance or data redundancy, depending on the RAID level chosen.
By following these steps, you can successfully set up a RAID array using PCIe SSDs to enhance your storage capabilities. Remember to regularly back up your data and maintain your RAID array to ensure reliability.
Choosing The Right Pcie Ssd For Raiding
Discover the perfect PCIe SSD for your raiding needs with our comprehensive guide. Uncover tips and tricks for optimizing your setup to take advantage of the speed and power of PCIe SSDs.
Choosing The Right Pcie Ssd For Raiding
When it comes to enhancing the performance and storage capacity of your system, Raiding PCIe SSDs is an excellent option to consider. However, finding the right PCIe SSD for Raiding can be a bit overwhelming with the multitude of options available.
To help you make an informed decision, here are some factors to consider:
Determine The Requirements And Budget:
Before diving into the sea of options, it's crucial to assess your requirements and set a budget.
Here are a few considerations:
Performance needs: Determine the level of performance you require for your specific use case, such as gaming, video editing, or professional applications.
Storage capacity: Assess the amount of data you need to store and consider future requirements to ensure you don't outgrow your PCIe SSD too quickly.
Budget: Set a budget that aligns with your requirements and allows you to strike the right balance between performance and cost.
Consider The Performance And Storage Capacity:
When choosing a PCIe SSD for Raiding, it's essential to find the perfect combination of performance and storage capacity.
Here are some key points to keep in mind:
Sequential Read/Write Speeds: Look for PCIe SSDs that offer high sequential read/write speeds, as they determine how quickly data can be accessed and transferred.
Random Read/Write Speeds: For tasks involving small, random file operations, such as booting up the operating system or loading applications, focus on PCIe SSDs with impressive random read/write speeds.
Cache: Adequate cache size can significantly enhance performance. Consider PCIe SSDs with ample cache to boost data transfer speeds.
Endurance and lifespan: Evaluate the endurance rating and lifespan of the SSD to ensure it meets your long-term needs without compromising reliability.
Now that you have a better understanding of what to consider when choosing the right PCIe SSD for Raiding, you can make an informed decision that aligns with your requirements and budget.
Whether you're a hardcore gamer or a content creator, finding the perfect PCIe SSD will undoubtedly enhance your system's performance and provide you with ample storage capacity.
Setting Up Raid Configuration For Pcie Ssd
Setting up a RAID configuration for PCIe SSD is a straightforward process that maximizes storage performance and data protection. This guide walks you through the steps to effectively RAID your PCIe SSD for optimal speed and reliability.
Setting Up Raid Configuration For Pcie Ssd
When it comes to maximizing the performance and storage capabilities of your PCIe SSD, setting up a RAID configuration can be a game-changer.
RAID, or Redundant Array of Independent Disks, allows you to combine multiple drives into a single logical unit, providing increased speed, fault tolerance, and overall efficiency.
We will walk you through the step-by-step process of configuring RAID for your PCIe SSD, helping you unleash its full potential.
Understanding Raid Options For Pcie Ssds:
To begin, let's take a closer look at the various RAID options available for PCIe SSDs. Each RAID level offers its own unique advantages, so it's essential to understand their differences before configuring your setup.
Here are the most common RAID options for PCIe SSDs:
RAID 0: This RAID level combines multiple drives into one large volume, providing improved read and write speeds. However, it offers no redundancy, meaning that if one drive fails, you may lose all your data.
RAID 1: RAID 1 mirrors your data across multiple drives, creating an exact copy. Although this provides excellent data redundancy, it doesn't offer any performance benefits.
RAID 5: RAID 5 combines the benefits of RAID 0 and RAID 1. It offers both improved performance and data redundancy by striping data across multiple drives and using parity for fault tolerance.
RAID 10: Also known as RAID 1+0, RAID 10 combines mirroring and striping. It requires a minimum of four drives and provides both performance enhancements and data redundancy.
Now that you have a better understanding of the RAID options available for PCIe SSDs let's move on to the step-by-step guide to configuring RAID.
Remember, RAID configurations may vary depending on your motherboard and SSD models, so always refer to your hardware documentation for detailed instructions specific to your setup.
Performance Optimization And Maintenance
Discover the best techniques to optimize and maintain the performance of your PCIe SSD for optimal RAID performance. Implement these strategies to ensure a streamlined and efficient storage solution.
Performance Optimization And Maintenance
Performance optimization and maintenance are crucial aspects of maximizing the capabilities of your PCIe SSD RAID setup.
By utilizing software for performance optimization and regularly performing maintenance tasks, you can ensure optimal performance and longevity of your RAID system.
Utilizing Software For Performance Optimization
To enhance the performance of your RAID PCIe SSD setup, consider utilizing software tools specifically designed for optimization.
Here are some key strategies to implement:
Enable advanced features in RAID management software: Take advantage of features such as caching, striping, and load balancing to optimize performance. These functionalities can significantly improve data transfer speeds and overall system performance.
Update firmware and drivers regularly: Keeping your RAID card's firmware and drivers up to date ensures compatibility with the latest technologies, bug fixes, and performance improvements.
Regularly checking for updates from the manufacturer's website and applying them as necessary is essential for optimal performance.
Optimize RAID configuration: Configuring your RAID array correctly according to your specific needs can greatly impact performance.
Depending on the RAID level you choose, such as RAID 0 for maximum performance or RAID 5 for data redundancy, make sure to balance your performance and data protection requirements.
Fine-tune RAID settings: RAID management software often provides advanced settings that allow you to fine-tune your system for optimal performance.
Experiment with settings like stripe size, read/write caching, and cache policies to achieve the best possible performance for your workload.
Regular Maintenance Tasks To Ensure Optimal Raid Performance
In addition to performance optimization, regular maintenance of your PCIe SSD RAID is necessary to ensure consistent and reliable performance.
Here are some important maintenance tasks to consider:
Monitor drive health: Regularly check the health status of individual SSDs in your RAID array using specialized monitoring software. This allows you to detect any potential drive failures or issues before they impact the overall system performance.
Perform data scrubbing: Data scrubbing is a process that checks and repairs data on your RAID array. It helps to identify and correct any errors or inconsistencies in the stored data, ensuring data reliability and minimizing the risk of data corruption.
Regularly clean SSDs: Over time, SSDs can accumulate unnecessary data, including garbage files and temporary files. Cleaning these files regularly helps to free up valuable storage space and maintains optimal performance.
Keep the system cool: PCIe SSDs can generate heat during intense usage, and excessive heat can negatively impact their performance and lifespan. Ensure proper airflow and cooling within your system by using efficient cooling solutions such as fans or liquid cooling.
Regularly update software: Keep your RAID management software up to date to benefit from the latest features, performance enhancements, and bug fixes. Check for updates from the manufacturer and apply them as recommended.
By utilizing software tools for performance optimization and performing regular maintenance tasks, you can maximize the performance and longevity of your PCIe SSD RAID setup.
These strategies ensure that your system operates at its best and provides the speed, reliability, and efficiency you need for your demanding workloads.
Conclusion
Raiding a PCIe SSD can greatly enhance the storage and performance of your computer system. By combining multiple SSDs into a single array, you can achieve faster data transfer speeds, increased capacity, and improved data redundancy.
Whether you're a gamer looking to reduce load times or a professional needing to handle large files and applications, RAIDing PCIe SSDs provides a practical solution.
The flexibility and scalability of PCIe SSD RAID setups allow for future upgrades and expansion. With the right hardware and software configuration, you can maximize the potential of your storage system.