How to Upgrade Pcie Ssd? 9 Steps!
As technology advances, upgrading your PC's storage solution can breathe new life into your system. If you're looking to enhance your computer's speed and storage capacity, upgrading to a PCIe SSD is an excellent choice.
We will walk you through the process of upgrading your existing PCIe SSD. Whether you're a seasoned tech enthusiast or a novice, this guide will help you unlock the full potential of your PC by replacing or adding a new PCIe SSD, resulting in improved performance and ample storage space.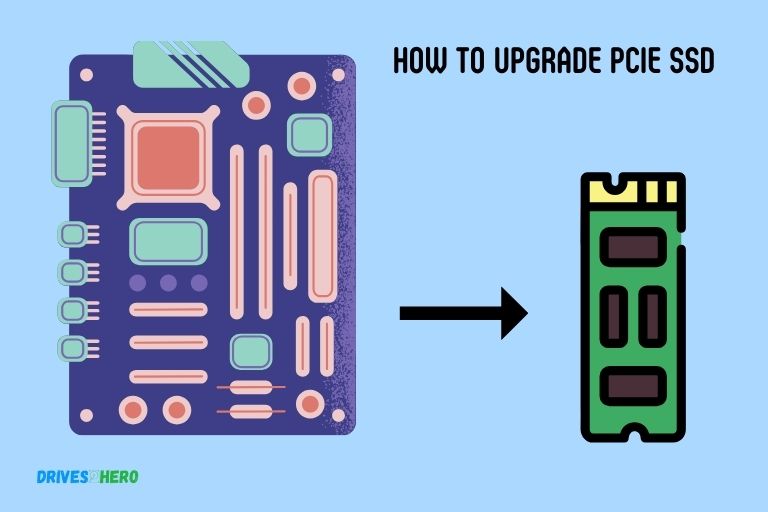 Upgrading Your PCIe SSD: A Step-by-Step Guide
Requirements
Before you start, make sure you have the following:
A new PCIe SSD for the upgrade.
Screwdrivers and mounting hardware.
Backup of essential data from your existing PCIe SSD.
A compatible slot for the new SSD.
Step 1: Safety Precautions
Turn off your computer and unplug it from the power source.
Ground yourself by touching a metal surface to avoid static discharge.
Step 2: Access Your PC
Open your computer case or access panel to reach the internals.
Step 3: Remove Existing SSD
Carefully disconnect and remove your old PCIe SSD.
Ensure you disconnect any power or data cables attached to it.
Step 4: Install the New SSD
Gently insert the new PCIe SSD into the compatible slot.
Secure it using screws or fasteners provided with the SSD.
Step 5: Connect Cables
Reconnect any power and data cables to the new SSD.
Step 6: Power On
Plug your PC back in and turn it on.
Step 7: Clone or Install OS
If you're cloning your old SSD, use software to transfer the data.
If starting fresh, install the operating system onto the new SSD.
Step 8: Verify Installation
Check the BIOS/UEFI settings to ensure the new SSD is detected.
Set it as the primary boot device if necessary.
Step 9: Data Transfer
Transfer your data from your backup to the new SSD.
With compatible hardware, upgrading to a faster PCIe SSD is straightforward. Take precautions, follow the manufacturer's instructions, and enjoy the speed boost!
Preparing For The Upgrade
Upgrade your PCIe SSD with ease by following these simple steps. Learn how to prepare for the upgrade and optimize your system for improved performance.
The following sections will guide you through the necessary preparations for upgrading your PCIe SSD:
Compatible Hardware Requirements For Pcie Ssd Upgrade:
To ensure a successful upgrade, it is essential to have compatible hardware that supports a PCIe SSD.
Consider the following requirements:
Check your motherboard compatibility: Ensure that your motherboard has an available PCIe slot capable of supporting the PCIe SSD you plan to install.
Confirm the form factor: Determine the form factor of your current PCIe SSD and make sure the new SSD matches. Common PCIe SSD form factors include M.2 and U.2.
Consider the interface: Check if your motherboard supports the PCIe generation and interface speed of the SSD you intend to upgrade to. This will ensure optimal performance.
Understanding The Current System Configuration:
Before proceeding with the PCIe SSD upgrade, it is crucial to gather information about your system's current configuration. This will help you make informed decisions and prevent any compatibility issues.
Consider the following steps:
Identify the current storage interface: Determine whether your existing storage drive uses a PCIe or SATA interface. This information will guide your choice of the new PCIe SSD.
Check the available PCIe slots: Take note of the available PCIe slots on your motherboard. This information will help you choose the appropriate slot for your new PCIe SSD.
Assess the storage capacity: Evaluate the storage capacity of your current SSD and determine if you need to upgrade to a larger capacity PCIe SSD. This is a good opportunity to upgrade if you find your current storage space inadequate.
Backing Up Important Data And Files:
Before embarking on any hardware upgrade, it is crucial to back up all your important data and files. This serves as a precautionary measure to safeguard against potential data loss during the upgrade process.
Follow these steps:
Identify critical files and folders: Determine which files and folders are essential to back up. This includes personal documents, photos, videos, and any data related to your work or projects.
Choose a backup method: Decide on the most suitable backup method for your needs. Options include external hard drives, cloud storage services, or network-attached storage devices.
Perform the backup: Transfer all important files and folders to the chosen backup destination. Verify that the backup is complete and accessible before proceeding with the PCIe SSD upgrade.
By following these steps, you can ensure a smooth and successful PCIe SSD upgrade while minimizing the risk of any data loss or compatibility issues.
Selecting The Right Pcie Ssd
Selecting the right PCIe SSD for upgrading your computer can greatly enhance its performance and speed.
We will explore the factors to consider when choosing a PCIe SSD, including evaluating storage capacity and speed requirements, and comparing different models and brands.
Factors To Consider When Choosing A Pcie Ssd:
Storage capacity and speed requirements: Before diving into the plethora of PCIe SSD options, it's essential to evaluate your storage capacity needs and speed requirements.
Consider the following:
Determine how much storage capacity you require for your files, applications, and operating system. Assess both your present and future needs to ensure the PCIe SSD can accommodate future expansion.
Evaluate the speed requirements based on your usage patterns. Heavy gamers or content creators may need higher speeds for smoother performance, while everyday users might find a moderate speed sufficient.
Comparing different PCIe SSD models and brands: Once you have determined your storage capacity and speed requirements, it's time to compare different PCIe SSD models and brands.
Consider the following points:
Read online reviews and user feedback to gain insights into the performance, reliability, and compatibility of different models and brands.
Look for PCIe SSDs that offer features such as wear-leveling, error correction, and power-loss protection for enhanced durability and data protection.
Compare the warranty periods offered by different manufacturers. A longer warranty can provide peace of mind and indicate confidence in the product's quality.
Consider the price-to-performance ratio to ensure you are getting the best value for your investment.
Selecting the right PCIe SSD involves evaluating your storage capacity and speed requirements, and comparing different models and brands.
Configuring The Pcie Ssd
Follow these instructions to access your computer BIOS, recognize the new drive, format and allocate the SSD, and finally, set it as the primary boot drive.
Accessing The Computer Bios And Recognizing The New Drive:
Restart your computer and access the BIOS settings by pressing the designated key during the boot process. The specific key may vary depending on your computer's manufacturer (common keys include F2, Del, and F12).
Once inside the BIOS, navigate to the "Storage" or "Advanced" section using the arrow keys.
Look for an option that allows you to view connected storage devices, such as "SATA Configuration" or "Storage Configuration."
Ensure that the PCIe SSD is detected in the list of storage devices. If not, double-check the drive's installation and connection.
Save any changes made in the BIOS and exit.
Formatting And Allocating The Pcie Ssd:
Upon restarting your computer, access the operating system and open the Disk Management utility. In Windows, you can do this by right-clicking the Start button and selecting "Disk Management" from the menu.
Locate the newly recognized PCIe SSD in the list of drives. It should be displayed as an unallocated or unformatted drive.
Right-click on the PCIe SSD and select the "Format" option. Choose the desired file system (e.g., NTFS) and assign a drive letter.
Follow the on-screen instructions to format and allocate the drive. Be cautious not to format any existing drives with essential data.
Once the formatting process is complete, your PCIe SSD will be ready for use.
Setting The Pcie Ssd As The Primary Boot Drive:
Restart your computer and enter the BIOS settings once again.
Navigate to the "Boot" or "Boot Priority" section.
Look for an option that allows you to set the primary boot drive. This might be labeled as "Boot Order," "Boot Sequence," or "Hard Drive Priority."
Select the PCIe SSD from the available storage devices and move it to the top of the boot order using the designated key (usually + or -).
Save the changes made in the BIOS and exit.
Your computer will now prioritize booting from the PCIe SSD, resulting in faster startup times and improved overall system performance.
By following these steps, you can successfully configure your PCIe SSD, ensuring it is recognized by your system, properly formatted, and set as the primary boot drive. Enjoy the speed and efficiency of your upgraded storage solution!
Transferring Data To The Upgraded SSD
Easily transfer your data to the upgraded PCIe SSD with these simple steps. Upgrade your storage for faster performance and improved efficiency.
Let's explore these options in detail:
Using cloning software to replicate the previous drive's content:
One option to transfer data to the upgraded SSD is by using cloning software. This software allows you to create an exact copy of your old drive's content onto the new SSD. It ensures that all files, applications, and settings are preserved while making the transition seamless.
Cloning software offers a straightforward and hassle-free way to transfer data. Most software programs provide a user-friendly interface with step-by-step instructions, making it accessible even for non-technical users.
All you need to do is connect both the old and new drives to your computer, select the source and destination drives, and let the software handle the rest.
It's important to note that the new SSD needs to have enough storage capacity to accommodate all the data from the old drive. If the new SSD is smaller in size, you may need to manually clean up unnecessary files before initiating the cloning process.
Manually transferring files and reinstalling applications:
Another option to transfer data is by manually transferring files and reinstalling applications on the upgraded SSD. Although this method requires more effort and time compared to cloning, it provides more flexibility in terms of selecting which files to transfer.
To get started, you can connect both the old and new drives to your computer. Then, manually copy the desired files and folders from the old drive to the new SSD.
This way, you have control over what gets transferred, allowing you to eliminate any unnecessary or outdated data.
You'll need to reinstall applications on the new SSD. Keep in mind that you may need to locate the installation files or download them from the internet again.
It's a good idea to make a list of the applications you use regularly so that you don't miss any during the transfer process.
Transfering data to an upgraded PCIe SSD doesn't have to be a daunting task. Whether you choose to clone your old drive or manually transfer files, both options provide a reliable way to bring your data to the new SSD seamlessly.
Maximizing The Benefits Of Upgraded Pcie Ssd
Upgrade your PCIe SSD to maximize its benefits. Learn how to easily enhance your storage performance and speed with a simple upgrade process.
Optimizing System Settings For Improved Performance:
Enable AHCI mode in the BIOS settings: This allows your PCIe SSD to operate at its fullest potential.
Disable indexing on the SSD: Indexing can cause unnecessary read and write operations, affecting the performance of your drive.
Adjust power settings: Configure your power settings to prioritize high-performance mode, enabling your PCIe SSD to operate at its maximum potential.
Utilizing Software Tools To Monitor And Manage The Pcie Ssd:
Install SSD monitoring software: Use dedicated software tools to monitor the health, temperature, and performance of your PCIe SSD. This enables you to stay informed about the status of your drive and take necessary actions if any issues arise.
Update firmware regularly: Keep your PCIe SSD firmware up to date to ensure compatibility, performance improvements, and bug fixes.
Taking Advantage Of The Faster Storage Speed In Everyday Tasks:
Installing the operating system on the PCIe SSD: The faster read and write speeds of the PCIe SSD can greatly improve the boot time and overall responsiveness of your system.
Running resource-intensive applications: Utilize the increased speed of the upgraded PCIe SSD to seamlessly run resource-intensive applications such as video editing software, 3D modeling programs, or gaming platforms.
Transferring large files: With the upgraded PCIe SSD, you can transfer large files quickly, saving you valuable time and boosting productivity.
By following these steps, you can optimize your system settings, effectively monitor and manage your PCIe SSD, and make the most of its faster storage speed in your everyday tasks.
Upgrade your PCIe SSD today and experience a significant improvement in your computer's performance.
Conclusion
Upgrading your PCIE SSD can provide a significant boost to your computer's performance. By following the steps outlined, you can easily and efficiently upgrade your PCIE SSD to take advantage of faster read and write speeds.
This will result in quicker boot times, faster data transfer, and improved overall system responsiveness. Whether you are a gamer, a content creator, or simply someone who wants their computer to run smoothly, upgrading your PCIE SSD is a worthwhile investment.
With a bit of patience and attention to detail, you'll be enjoying the benefits of a high-speed PCIE SSD in no time.