How to Use Pcie Ssd? 6 Steps!
A PCIe SSD (Solid State Drive) is a remarkable hardware upgrade that can significantly enhance your computer's performance and speed.
If you've recently installed one or are planning to do so, this guide will walk you through the steps to make the most of your PCIe SSD.
From installation to optimizing your storage usage, we will cover it all, ensuring that you harness the full potential of this high-speed storage solution. Get ready to unlock faster data access and a more responsive computing experience with your PCIe SSD.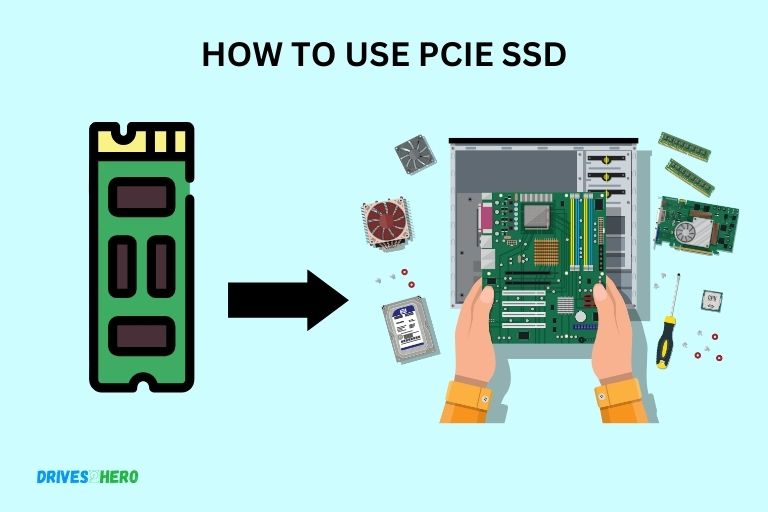 Maximizing Your PCIe SSD: A Step-by-Step Guide
Step 1: Check Compatibility
Make sure your motherboard supports PCIe SSDs. Most modern motherboards do, but it's essential to verify this compatibility.
Step 2: Install the PCIe SSD
Open your computer case.
Insert the PCIe SSD into an available PCIe slot.
Secure it with screws or fasteners.
Step 3: Boot and OS Installation
Power on your computer.
Access the BIOS/UEFI settings by pressing the designated key during startup.
Ensure the PCIe SSD is recognized in the BIOS/UEFI.
Set the PCIe SSD as the primary boot device.
Install the operating system on the PCIe SSD or clone your existing OS to it.
Step 4: Data Storage
Once the OS is installed, you can use the PCIe SSD for storing your data, applications, and games.
When saving files or installing software, choose the PCIe SSD as the destination.
Step 5: Enjoy Improved Performance
Your PCIe SSD is now ready to provide faster data access and improved overall system performance. Enjoy the speed and responsiveness it brings to your computing experience.
Step 6: Regular Maintenance
Perform regular backups, monitor the SSD's health, and keep your system and firmware up to date for optimal performance and longevity.
Using a PCIe SSD is an effective way to boost your computer's speed and responsiveness. Follow these steps, and you'll make the most of your high-speed storage solution.
Configuring Your Pcie Ssd
Learn how to easily install and configure your PCIe SSD with our step-by-step guide. Maximize the performance of your computer by utilizing the power of PCIe technology.
We'll guide you through the process of installing and configuring your PCIe SSD, ensuring smooth and optimal performance.
Preparing Your System For Installation:
Before diving into the installation process, it's essential to make sure your system is ready and compatible for the PCIe SSD.
Here are a few key steps to take before moving forward:
Confirm compatibility: Verify that your motherboard supports PCIe SSDs and check the available slot type (such as PCIe 3.0 or PCIe 4.0) to ensure compatibility.
Backup your data: As with any hardware installation, it's always advisable to back up your important files and data to prevent any accidental loss or damage.
Gather necessary tools: Prepare the necessary tools, including a screwdriver and any additional components specific to your system.
Configuring Your Pcie Ssd For Optimal Performance:
Once your PCIe SSD is installed, it's vital to configure it properly to ensure optimal performance.
Here are a few essential steps to follow:
Access the BIOS settings: Restart your computer and enter the BIOS settings by pressing the designated key (usually Del or F2) during the boot-up process.
Locate the PCIe SSD: Within the BIOS settings, navigate to the storage or boot options to find the PCIe SSD.
Set the PCIe SSD as the boot drive: Select the PCIe SSD as the primary boot drive to enable faster system startup and reduce loading times.
Enable AHCI mode: Verify that the Advanced Host Controller Interface (AHCI) mode is enabled to optimize the PCIe SSD's performance.
Save and exit: Save the changes made in the BIOS settings and exit. Your system will reboot using the PCIe SSD as the primary drive.
With these steps completed, your PCIe SSD is now installed and properly configured, ready to deliver lightning-fast speeds and enhanced performance.
Migrating Data To Your Pcie Ssd
Migrate your data seamlessly to your PCIe SSD and experience lightning-fast speeds for all your storage needs. Harness the power of PCI Express technology to optimize your system's performance and enjoy faster file transfers and application loading times.
Methods For Transferring Data To Your New Pcie Ssd:
Using cloning software for data migration:
Cloning software is a popular option for transferring data from your old drive to your new PCIe SSD. It creates an exact replica of your existing drive, including your operating system and files.
Simply connect your PCIe SSD to your computer, install the cloning software, and follow the step-by-step instructions provided.
Cloning preserves your data and system files, ensuring a hassle-free transition to your new storage device.
Transferring specific files and folders to the PCIe SSD:
If you prefer a more selective approach, you can manually transfer specific files and folders to your new PCIe SSD.
Identify the files and folders you want to transfer, such as important documents, media files, and frequently accessed applications.
Copy and paste these files and folders from your old storage device to the PCIe SSD. You can use either the drag-and-drop method or the copy-paste function.
Using cloud storage services for data transfer:
Cloud storage services like Google Drive, Dropbox, or OneDrive can also be utilized to migrate your data to the PCIe SSD.
Upload your files and folders to your preferred cloud storage service. Ensure that you have enough available space.
Once uploaded, sign in to the cloud service on your new computer or device with the PCIe SSD and download the files and folders you need onto the new drive.
Optimizing Performance And Maintenance Of Your Pcie Ssd
Optimize the performance and maintenance of your PCIe SSD with our comprehensive guide. Boost your system's speed and efficiency with these valuable tips and techniques.
Tips For Maximizing Performance On Your Pcie Ssd:
Use the latest PCIe SSD technology: Opt for the newest generation of PCIe SSDs to take full advantage of the improved performance they offer.
Allocate adequate power: Ensure that your PCIe SSD receives sufficient power to operate optimally. Check your system specifications and make any necessary adjustments.
Avoid overloading the drive: Keep in mind the capacity limits of your PCIe SSD and avoid filling it up excessively. Leaving a reasonable amount of free space can help maintain performance.
Enable TRIM: TRIM is a feature that allows the operating system to inform the SSD which blocks of data are no longer in use, improving overall performance. Make sure TRIM is enabled on your PCIe SSD.
Update firmware regularly: Manufacturers often release firmware updates that can enhance the performance and compatibility of your SSD.
Optimize OS settings: Adjust your operating system settings to optimize performance for SSD usage.
Enable AHCI mode in BIOS: Advanced Host Controller Interface (AHCI) mode allows the operating system to communicate more efficiently with your PCIe SSD. Verify that your system is configured for AHCI mode.
Consider using disk caching: Enabling disk caching can improve the performance of your PCIe SSD. However, it is important to ensure that you have a reliable power backup solution in place to prevent data loss during power outages.
Avoid unnecessary disk fragmentation: Regularly defragmenting your PCIe SSD is generally not required and can even have a negative impact on its lifespan.
Keep your system up to date: Regularly update your operating system and drivers to benefit from performance enhancements and bug fixes that may indirectly impact your PCIe SSD's performance.
Regular Maintenance Tasks To Keep Your Pcie Ssd Running Smoothly:
Perform regular backups: Regularly backup your data to prevent loss in case of drive failure or other unforeseen circumstances. Utilize either cloud-based or external storage solutions for added data security.
Clean up unnecessary files: Periodically remove unnecessary files, temporary files, or duplicate files from your PCIe SSD to free up space and improve overall performance.
Scan for malware: Use reliable antivirus software to regularly scan your PCIe SSD for malware or other security threats that could impact performance.
Optimize startup items: Minimize the number of programs that start automatically when you boot up your system. This can help reduce the load on your PCIe SSD during startup.
Check for errors and run diagnostic tests: Utilize the manufacturer's diagnostic tools or third-party software to check for any errors or perform diagnostic tests on your PCIe SSD. Address any issues promptly.
Execute firmware updates: Keep your PCIe SSD firmware up to date by regularly checking for updates and installing them as recommended by the manufacturer.
Monitoring Your Pcie Ssd For Potential Issues:
Track the drive's temperature: Keep an eye on the temperature of your PCIe SSD using monitoring software or built-in system tools. Operating within the specified temperature range ensures optimal performance and longevity.
Monitor drive health and lifespan: Use S.M.A.R.T (Self-Monitoring, Analysis, and Reporting Technology) tools to monitor the health and estimated lifespan of your PCIe SSD. This allows you to proactively identify any issues.
Check for unexpected performance changes: Monitor the performance of your PCIe SSD regularly, noting any significant changes in read/write speeds or response times. Investigate and troubleshoot any sudden declines in performance.
Address any software conflicts: In case of compatibility issues or conflicts between your PCIe SSD and software applications, ensure that you have the latest drivers and make necessary adjustments to settings.
Implement RAID for redundancy: Consider setting up a RAID (Redundant Array of Independent Disks) configuration to create redundancy and protect against data loss in case of a PCIe SSD failure.
Remember, properly optimizing the performance and conducting regular maintenance tasks ensures that your PCIe SSD operates smoothly and efficiently, providing you with the speed and reliability you expect for your storage needs.
Conclusion
Utilizing a PCIe SSD can greatly enhance your computer's performance and overall efficiency. By following the steps outlined, you can successfully install and optimize your PCIe SSD for optimal results.
Remember to select the right SSD based on your specific needs and ensure that your motherboard supports PCIe technology.
Regularly updating the firmware and drivers, as well as properly managing your data, will help maintain the SSD's longevity and functionality. Taking advantage of features like disk cleanup and defragmentation can further improve the SSD's performance.
With the increasing demands of modern computing, the speed and reliability offered by PCIe SSDs are essential for a smooth and seamless user experience.