Ssd Pcie Vs Sata Vs M 2: Which One Is Better?
When it comes to speed and overall performance, SSD PCIe significantly outperforms SATA and M.2 SSDs.
While M.2 and SATA SSDs are still faster than traditional hard drives, PCIe SSDs offer the fastest data transfers currently available.
This is because the PCIe (Peripheral Component Interconnect Express) interface has a higher bandwidth than both SATA (Serial AT Attachment) and M.2 interfaces. PCIe SSD can perform multiple parallel requests, making it exceptionally speedier.
While M.2 SSDs are generally faster than SATA SSDs, they are still slower than PCIe SSDs unless they use a PCIe interface themselves.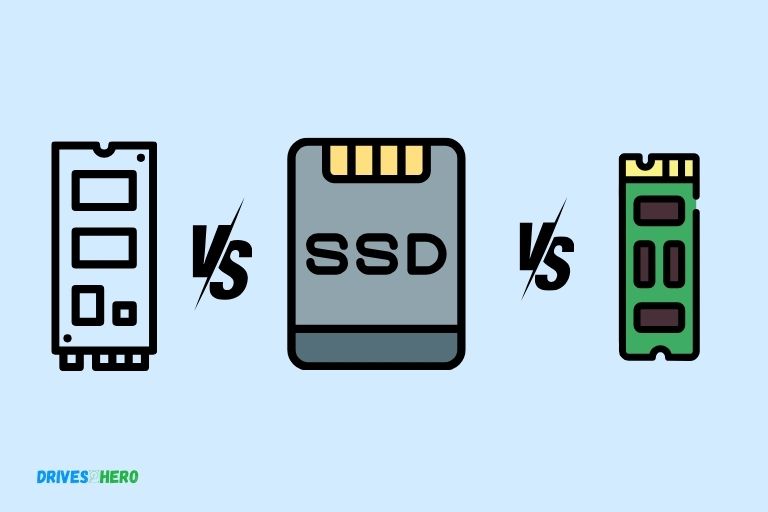 Key Takeaway
SSD PCIe (Solid State Drive Peripheral Component Interconnect express) is a high-speed interface standard for connecting storage devices to a computer's motherboard.
SATA (Serial AT Attachment) is a computer bus interface for connecting host bus adapters to mass storage devices; however, it has lower speeds compared to SSD PCIe.
M.2 is a specification for internally mounted computer expansion cards which support SATA, PCIe, and USB interfaces, making it a versatile option. It's often used for SSDs.
While all these storage options have their unique advantages, the final choice often depends on the user's specific needs, budget, and the device where the storage will be installed.
Typically, SSD PCIe offers the fastest data transfer speeds, SATA is known for its affordability, and M.2 provides flexibility with support for multiple interfaces.
The Advantages And Limitations Of Ssd Pcie
Solid State Drives (SSDs) using the PCIe (Peripheral Component Interconnect Express) interface offer several advantages over traditional SATA-based SSDs. However, they also have some limitations.
Let's explore both:
Advantages of SSD PCIe:
Speed: PCIe provides faster data transfer rates than SATA, resulting in quicker read and write speeds.
Low Latency: Reduced latency for faster data access times.
Scalability: Supports multiple lanes for scalable performance.
Parallelism: Allows for parallel data transfers, enhancing efficiency.
Form Factor Options: Compact sizes, like M.2, suitable for space-constrained devices.
Limitations of SSD PCIe:
Cost: PCIe SSDs are often more expensive than SATA counterparts.
Compatibility: Not all systems support PCIe, necessitating compatibility checks.
Limited Real-World Gains: Everyday tasks may not show significant performance differences.
Power Consumption: Some PCIe SSDs consume more power, impacting battery-powered devices.
Overkill for Casual Users: For users with basic computing needs, PCIe SSDs might be overkill.
PCIe SSDs offer significant advantages in terms of speed, low latency, and scalability. Their higher cost and potential compatibility issues should be considered, especially for users whose computing needs may not fully leverage the enhanced performance offered by PCIe SSDs.
The Advantages And Limitations Of Sata SSD
SATA SSDs, known for their affordability and widespread compatibility, offer practical solutions for everyday computing needs. Despite their cost-effectiveness, they come with certain limitations that need consideration.
Advantages of SATA SSD:
Cost-Effectiveness: More affordable than PCIe SSDs.
Compatibility: Compatible with a wide range of systems.
Ease of Installation: Simple to install and upgrade.
Power Efficiency: Lower power consumption, suitable for laptops.
Effective for Everyday Tasks: Provides ample performance for routine use.
Limitations of SATA SSD:
Lower Data Transfer Rates: Slower than PCIe SSDs.
Limited Scalability: Lacks the scalability of PCIe.
Higher Latency: May have higher latency compared to PCIe SSDs.
Limited Form Factor Options: Larger form factors may not be suitable for compact devices.
Performance Limitations: Not ideal for high-performance tasks like gaming or 4K video editing.
SATA SSDs offer cost-effective and practical solutions for everyday computing tasks, providing compatibility and ease of use. However, they may have limitations in terms of maximum speed, scalability, and suitability for high-performance applications compared to PCIe SSDs.
The Advantages And Limitations Of M.2 SSD
M.2 SSDs have gained popularity for their compact form factor and enhanced performance, yet they come with both advantages and limitations. Exploring these aspects provides valuable insights into their suitability for various applications.
Advantages of M.2 SSD:
Compact Form Factor: M.2 SSDs are small and fit into compact devices, saving space in laptops and mini-PCs.
High Data Transfer Rates: Leveraging PCIe, M.2 SSDs offer fast data transfer rates, improving overall system responsiveness.
Scalability: M.2 supports multiple PCIe lanes, allowing for scalable performance based on the number of lanes utilized.
Reduced Cable Clutter: M.2 connects directly to the motherboard, eliminating the need for additional cables and enhancing airflow within the system.
Versatility: M.2 slots support various interfaces, including SATA and NVMe, providing flexibility for different storage needs.
Limitations of M.2 SSD:
Limited Capacity for Cooling: Intense workloads may lead to thermal throttling in M.2 SSDs due to limited space for heat dissipation.
Compatibility Concerns: While widely adopted, not all systems may have M.2 slots, potentially limiting compatibility.
Cost: M.2 SSDs can be pricier than traditional SATA SSDs, impacting budget considerations.
Potential for Overheating: In high-performance scenarios, M.2 SSDs may experience overheating, necessitating additional cooling solutions.
Complexity for Upgrades: Upgrading or replacing M.2 SSDs may require more effort than swapping out traditional SATA drives, impacting user convenience.
M.2 SSDs offer a compelling blend of speed, compactness, and versatility, making them ideal for a range of applications. However, considerations such as thermal management, compatibility, and cost should guide decisions to ensure optimal performance based on specific use cases.
Factors To Consider
When deciding between SSD PCIe, SATA, and M. 2, important factors to consider include speed, compatibility, and storage capacity. These options have unique characteristics and advantages, so it's crucial to evaluate your specific needs to make the right choice for your system.
SSD PCIe vs SATA vs M. 2:
When it comes to choosing the right type of solid-state drive (SSD) for your computer, there are several important factors to consider. We will explore the key considerations when deciding between SSD PCIe, SATA, and M. 2.
It's essential to understand how these factors impact your overall performance, budget, and compatibility with your motherboard.
Performance Requirements:
Read and Write Speeds: Consider the speed at which data is read from and written to the SSD.
Sequential and Random Performance: Look for high sequential and random performance, as these factors contribute to faster data transfer and application loading times.
IOPS (Input/Output Operations Per Second): Higher IOPS values indicate better efficiency, particularly for tasks that involve simultaneous read and write operations.
Sustained Performance: Check if the SSD maintains consistent performance over an extended period, especially during intensive workloads.
Budget Constraints:
Cost per Capacity: SSD pricing varies based on storage capacity. Determine your storage needs before selecting a specific SSD type.
Cost-Effectiveness: Consider the performance benefits relative to the price point.
Future Expansion: Assess whether the SSD supports potential upgrades without significant financial burden.
Motherboard Compatibility:
Interface Compatibility: Confirm that your motherboard has the required slot or connector for the chosen SSD type.
PCIe Lanes: Check the available number of PCIe lanes on your motherboard, as this affects the performance potential of PCIe-based SSDs.
Form Factor: Consider the physical dimensions of the SSD and ensure compatibility with your motherboard and computer case.
Compatibility Issues: Research any known compatibility issues or limitations with your specific motherboard model.
By considering your performance requirements, budget constraints, and motherboard compatibility, you can make an informed decision on whether SSD PCIe, SATA, or M. 2 is the best choice for your computer system.
Keep these factors in mind to ensure optimal performance, cost-effectiveness, and seamless integration with your existing hardware.
Is M.2 SSD PCIe 3.0 Better Than SATA SSD?
When it comes to pcie ssd speed comparison, M.2 SSD PCIe 3.0 outperforms the SATA SSD. With its PCIe interface, the M.2 SSD offers faster data transfer rates, resulting in quicker boot times, shorter loading screens, and improved overall system responsiveness. So, if speed is a priority for you, M.2 SSD PCIe 3.0 is definitely the better choice.
Decision-Making Process
The decision-making process for choosing between SSD PCIe, SATA, and M. 2 drives involves considering factors such as speed, compatibility, and storage capacity, all of which play a crucial role in optimizing computer performance.
It's important to carefully assess these options before making a final decision to ensure the best fit for your specific needs.
Assessing Your Needs:
Consider your primary use for the SSD:
Gaming: Look for high-speed access to reduce loading times and improve gameplay.
Multimedia editing: Opt for larger storage capacity and faster transfer speeds.
General use: Balancing cost and performance is key.
Evaluate the level of performance required:
PCIe: Offers the fastest data transfer rates but comes at a higher price point.
SATA: Provides a good balance between price and performance.
M.2: Offers high speeds, similar to PCIe, but at a more affordable cost.
Determine the needed capacity:
PCIe and SATA: Available in a wide range of sizes, from 120GB to 4TB or more.
M.2: Typically comes in smaller capacities, ranging from 120GB to 2TB.
Consider budget constraints:
PCIe: More expensive compared to SATA and M.2.
SATA: Offers a cost-effective option without sacrificing too much performance.
M.2: Provides a balance between affordability and speed.
Comparing Specifications And Features:
Read and understand the key specifications:
PCIe: Look for the number of lanes supported (usually x2 or x4) for maximum speed.
SATA: Check for SATA III (6Gbps) for optimal performance.
M.2: Consider the keying and connector type (SATA or PCIe) supported by your motherboard.
Assess the transfer speeds:
PCIe: Offers the highest speeds, with potential read speeds of up to 3500MB/s.
SATA: Provides a maximum of 600MB/s.
M.2: Performance depends on the keying and connector type used.
Evaluate form factor compatibility:
PCIe: Requires a PCIe slot on the motherboard.
SATA: Requires a SATA connector on the motherboard.
M.2: Compatible with M.2 slots, which can be connected via PCIe or SATA.
Consider the lifespan:
PCIe and SATA: Generally have longer lifespans, with high endurance ratings.
M.2: Endurance may vary, depending on the specific model.
Considering Future Upgrades:
Assess the compatibility:
PCIe: Requires a compatible motherboard with PCIe slots.
SATA: Compatible with most motherboards.
M.2: Check for M.2 slots and the supported keying and connector types.
Plan for future needs:
PCIe: Allows for potential upgrades to faster and higher-capacity SSDs.
SATA: Upgrade options may be limited due to slower speeds and smaller capacities.
M.2: Offers room for future upgrades, but limited to M.2-compatible slots.
Consider long-term value:
PCIe: Offers the highest performance, but may be overkill for casual users.
SATA: Provides a balance between price, performance, and compatibility.
M.2: Delivers good speed and affordability, suitable for most users.
By following these decision-making considerations, you will be able to determine the most suitable SSD type whether it's PCIe, SATA, or M. 2 for your specific needs, budget, and future upgrades.
Remember to assess your requirements, compare specifications and features, and consider long-term value before making a decision.
Conclusion
When it comes to choosing between SSD PCIe, SATA, and M. 2, it's important to consider your specific needs and requirements. If you're looking for faster speeds and better performance, SSD PCIe is your best bet.
Its direct connection to the motherboard allows for lightning-fast data transfer rates, making it ideal for high-demand tasks such as gaming and video editing.
On the other hand, SATA SSDs offer a more affordable option and are still capable of providing significant speed improvements over traditional HDDs. They are a solid choice for everyday computing tasks and can greatly enhance system responsiveness.
Ultimately, the decision between these three types of SSDs will come down to your specific needs, budget, and the level of performance you require.