Ssd Pcie 5.0 Vs 4.0: Which Is The Better Choice?
PCIe 5.0 SSD offers twice the bandwidth of PCIe 4.0 SSD, improving storage performance and data transfer speeds significantly.
PCIe (Peripheral Component Interconnect Express) is an interface standard for connecting high-speed components. With every new version, the data transfer rate per lane doubles, hence PCIe 5.0 being twice as fast as PCIe 4.0.
This means if you have a SSD that uses PCIe 5.0, it will perform tasks faster and more efficiently. However, in real-world usage, this speed difference might not be noticeable, unless you are running applications that require high-bandwidth data transfers.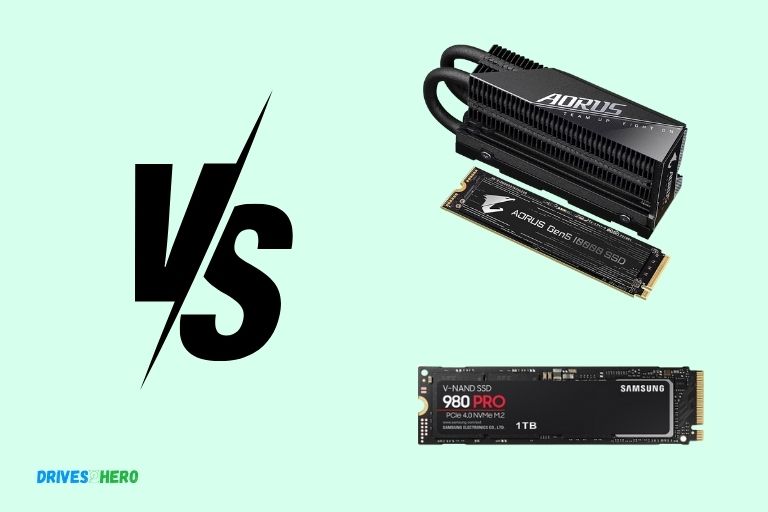 Key Takeaway
PCIe 5.0 offers double the available bandwidth compared to PCIe 4.0.
The significant increase in speed delivered by PCIe 5.0 can massively improve the performance of applications requiring high data transfer rates such as gaming, video editing, and more.
The transition from PCIe 4.0 to 5.0 requires a significant hardware upgrade, which could be a factor in its adoption rate.
However, the future of computing is moving towards PCIe 5.0, and it seems poised as the new standard for the next years.
Key Differences Between Pcie 5.0 And 4.0
The key differences between PCIe 5. 0 and 4. 0 lie in their speed and bandwidth capabilities, with PCIe 5. 0 offering twice the bandwidth and higher data transfer rates compared to PCIe 4. 0.
Bandwidth And Data Transfer Rates:
PCIe 5.0: PCIe 5.0 offers unprecedented bandwidth and data transfer rates. With a raw bandwidth of 32 GT/s (gigatransfers per second), it doubles the data transfer rate of its predecessor, PCIe 4.0.
This means that PCIe 5.0 SSDs can provide incredibly fast read and write speeds, allowing for quicker access to data and reduced latency.
PCIe 4.0: While PCIe 4.0 is no slouch, offering a raw bandwidth of 16 GT/s, it falls short of PCIe 5.0's lightning-fast speeds. Nevertheless, it still provides significant performance improvements compared to its predecessors, making it a popular choice for high-end gaming and content creation.
Compatibility And Backward Compatibility:
PCIe 5.0: One potential downside of PCIe 5.0 is its limited backward compatibility. Due to the significant increase in speed, PCIe 5.0 is only compatible with the latest hardware and motherboards that explicitly support it.
This means that if you have an older system or components, you won't be able to take advantage of PCIe 5.0's enhanced performance.
PCIe 4.0: In contrast, PCIe 4.0 is designed to be backward compatible with PCIe 3.0 and 2.0. This means that even if you have an older system, you can still benefit from the improved speeds of a PCIe 4.0 SSD, albeit at a reduced rate compared to a PCIe 4.0-capable motherboard.
It offers a level of flexibility and wider compatibility for users looking to upgrade their storage without necessarily upgrading their entire system.
Impact On Gaming And Other Resource-Intensive Applications:
PCIe 5.0: The increased bandwidth and data transfer rates of PCIe 5.0 make it an excellent choice for gaming and other resource-intensive applications.
Gamers can expect faster game load times, reduced stuttering, and smoother gameplay due to the enhanced storage performance.
Content creators dealing with large files or working on complex projects will also benefit from faster data transfer rates provided by PCIe 5.0, enabling quicker rendering and processing times.
PCIe 4.0: While PCIe 4.0 doesn't reach the same speeds as PCIe 5.0, it still offers significant performance improvements for gaming and resource-intensive applications. It allows for faster asset loading in games, smoother multitasking, and improved overall system responsiveness.
PCIe 5. 0 and 4. 0 bring notable advancements to storage devices, with PCIe 5. 0 delivering exceptional speeds and PCIe 4. 0 offering compatibility with older systems.
Here's a table outlining key information about SSD PCIe 5.0 Vs 4.0:
| Features | SSD PCIe 5.0 | SSD PCIe 4.0 |
| --- | --- | --- |
| Speed | Up to 32.0 GB/s | Up to 16.0 GB/s |
| Power | More efficient power handling | Less efficient than PCIe 5.0 |
| Compatibility | Backward compatible with PCIe 4.0, 3.x, 2.x, 1.x | Backward compatible with PCIe 3.x, 2.x, 1.x |
| Data Integrity | Advanced error detection and correction mechanisms | Standard error detection and correction |
| Cost | Generally more expensive | Generally cheaper |
| Availability | Less common | More common |
| Forward Error Correction | Enhanced Forward Error Correction (FEC) | Standard FEC |
7 Features Of SSD PCIe 5.0 Vs 4.0
Whether you require cutting-edge performance or a more versatile upgrade path, understanding the key differences between these two generations of PCIe will help you make an informed decision when choosing an SSD for your needs.
Determining The Right Choice
When deciding between SSD PCIe 5. 0 and 4. 0, it is crucial to weigh their benefits and performance. Understanding the differences between the two will help you make an informed choice that suits your specific needs.
Many tech enthusiasts and professionals are debating whether to opt for the latest SSD PCIe 5. 0 or stick with the previous generation, PCIe 4. 0. Choosing the right technology for your specific needs is crucial to ensure optimal performance and value for your investment.
Factors To Consider When Choosing Between Pcie 5.0 And 4.0
When deciding between SSD PCIe 5. 0 and 4. 0, several factors need to be taken into account.
Here are the key points to consider:
Speed: PCIe 5.0 offers double the bandwidth of PCIe 4.0, which translates to significantly faster data transfer rates. However, it is important to assess whether your applications and workloads can leverage the increased speed to justify the cost difference.
Compatibility: PCIe 5.0 is backward compatible with PCIe 4.0, but not all devices and motherboards support the latest generation. Ensure compatibility with your existing hardware setup or be prepared to invest in a PCIe 5.0-compatible motherboard.
Future-proofing: If you anticipate using demanding applications or handling large data volumes in the near future, opting for PCIe 5.0 may be a wise choice. It provides an upgrade path to accommodate faster storage technologies, whereas PCIe 4.0 might become obsolete sooner.
Budget: Price is always a crucial consideration. PCIe 5.0 is relatively new and its products tend to be more expensive than PCIe 4.0. Evaluate your budget and determine if the extra cost is worth the enhanced performance and future-proofing offered by PCIe 5.0.
Availability: While PCIe 4.0 SSDs are readily available in the market, PCIe 5.0 products may be less abundant. Assess the availability of PCIe 5.0 SSDs, considering factors such as geographical location and vendor availability, to ensure you can purchase the desired hardware.
Specific use cases: Depending on your specific use cases, one technology may offer more benefits than the other. Consider your predominant applications and workloads to determine whether PCIe 5.0's speed advantages outweigh the cost considerations of PCIe 4.0 or vice versa.
Applications And Workloads That Benefit From Each Technology
Both PCIe 5. 0 and 4. 0 boast impressive capabilities, catering to different applications and workloads.
Here's a breakdown:
PCIe 5. 0 applications and workloads:
AI and machine learning: PCIe 5.0's higher bandwidth enables faster training and execution of deep learning models.
High-end gaming: Gamers can benefit from reduced loading times and smoother gameplay with PCIe 5.0 SSDs.
Video editing and rendering: PCIe 5.0 facilitates quicker access to large video files, accelerating the editing and rendering processes.
PCIe 4. 0 applications and workloads:
Professional content creation: PCIe 4.0 supports fast data transfer, enhancing the workflow for content creators working with high-resolution images, videos, and audio files.
Database management: PCIe 4.0 SSDs can handle intensive database operations, improving overall system responsiveness.
General-purpose computing: For most everyday tasks, PCIe 4.0 provides ample speed and performance.
Price Considerations And Availability
Consider the following points when evaluating the price and availability factors:
PCIe 4.0 SSDs are generally more affordable compared to PCIe 5.0 SSDs, making them a cost-effective option for users on a tighter budget.
PCIe 4.0 SSDs are widely available in the market, with a variety of models to choose from, while PCIe 5.0 SSDs may be limited in terms of availability and selection.
Prices for PCIe 5.0 SSDs are expected to decrease over time as the technology becomes more mainstream and widespread.
When deciding between SSD PCIe 5. 0 and 4. 0, weigh the speed, compatibility, future-proofing, budget, availability, and specific use case factors.
Consider the applications and workloads that will benefit from each technology, keeping in mind the price considerations and availability in the market.
Is PCIe 5.0 SSD Faster and Better Compared to PCIe 4.0 SSD?
The pcie ssd comparison: 3.0 vs 4.0 reveals that PCIe 5.0 SSDs are faster and better than their 4.0 counterparts. With double the bandwidth, PCIe 5.0 offers impressive data transfer speeds, making it ideal for heavy workloads and demanding applications. However, to harness these benefits, your system needs to support PCIe 5.0. If not, a PCIe 4.0 SSD still provides outstanding performance for most users.
Future Prospects Of Pcie Technology
The future prospects of PCIe technology hold great potential, especially in the comparison between SSD PCIe 5. 0 and 4. 0. With its increased bandwidth and improved performance, PCIe 5. 0 is set to revolutionize data transfer speeds and enhance overall SSD performance.
Let's delve into what to expect in the coming years:
Potential Advancements In Pcie Technology:
Increased bandwidth: PCIe 5.0 is projected to double the bandwidth compared to its predecessor, reaching up to 16 GT/s (gigatransfers per second) per lane. This enhancement will pave the way for faster data transfer rates and improved performance in devices that incorporate this technology.
Higher data rates: With PCIe 5.0, the data rate per lane is expected to reach 5 GB/s (gigabytes per second). This advancement in data rates will enable devices to handle larger volumes of data in a shorter amount of time, resulting in more efficient operations and enhanced user experience.
Improved power efficiency: PCIe 5.0 is anticipated to bring about advancements in power management mechanisms, resulting in improved energy efficiency. This will not only reduce power consumption but also contribute to longer battery life in portable devices.
Impact On Storage And Data Transfer In The Coming Years:
Speedier SSD performance: PCIe 5.0's increased bandwidth and data rates will significantly boost the performance of Solid State Drives (SSDs). Expect faster read and write speeds, reduced latency, and improved overall responsiveness.
This will greatly benefit applications that heavily rely on storage performance, such as video editing, gaming, and data-intensive tasks.
Accelerated data-intensive workloads: As PCIe 5.0 facilitates faster data transfer, it will enable more efficient handling of data-intensive workloads.
This will be particularly advantageous in industries such as artificial intelligence, machine learning, and big data analytics, where processing large datasets quickly is imperative.
Enhanced gaming experiences: Gamers will rejoice with the introduction of PCIe 5.0, as it will contribute to even faster loading times, reduced texture pop-ins, and smoother gameplay.
The lightning-fast data transfer rates will enable seamless handling of high-resolution textures, complex physics simulations, and real-time rendering.
Predictions For The Future Of Ssd Technology:
Adoption of PCIe 5.0 in mainstream devices: As the technology matures, PCIe 5.0 will become more widely adopted in various consumer devices, including laptops, desktops, gaming consoles, and servers.
This will enable users to enjoy the benefits of faster data transfer and improved overall system performance in their everyday tasks.
Exploration of new form factors: The increased speed and bandwidth offered by PCIe 5.0 will likely drive the development of new SSD form factors.
These form factors will be optimized to take full advantage of the technology's capabilities, resulting in more compact, powerful, and efficient storage solutions.
Continued innovation and integration: The future of SSD technology will witness further innovations and integration of advanced features.
This may include enhancements such as intelligent caching algorithms, improved error correction techniques, and increased capacities. These advancements will contribute to even greater reliability, durability, and storage capabilities.
The future prospects of PCIe technology, especially with the introduction of PCIe 5. 0, hold immense potential for transforming the landscape of storage and data transfer.
Conclusion
The battle between SSD PCIe 5. 0 and 4. 0 has left tech enthusiasts with a difficult choice. Both versions have their own advantages and limitations, catering to different user needs.
The latest PCIe 5. 0 offers a significant boost in speed, allowing for faster data transfers and reduced loading times.
However, its compatibility with current hardware remains a concern. On the other hand, PCIe 4. 0 presents a reliable option that balances speed and compatibility.
Ultimately, the decision should be based on individual requirements and budget. As technology continues to evolve, we can expect even faster and more efficient storage solutions in the future.