Is a Sata Ssd Good for Gaming? Yes!
Yes, a SATA SSD is good for gaming. It significantly enhances the performance of the game by reducing the load times and providing smoother gameplay.
It's an affordable option that results in a noticeable improvement in your gaming experience. While a SATA SSD may not be as fast as an NVMe SSD, it still offers significantly better performance than a traditional HDD.
Gaming requires quick data access and transfer, which is where SSDs shine. They have no moving parts, unlike HDDs, which means faster data access and less chance of failure.
SATA SSDs are faster than traditional HDDs.
They significantly reduce game load times.
They provide smoother gameplay with less lagging.
SATA SSDs are more reliable due to the absence of moving parts.
A SATA SSD can significantly enhance your gaming experience through reduced loading times, smoother gameplay, and increased reliability.
Although it may not be as fast as an NVMe SSD, it's a worthwhile investment for any serious gamer due to its affordability and noticeable performance improvement.
8 Features Of SATA SSD is Good for Gaming
| Features | Reasons Why SATA SSD is Good for Gaming |
| --- | --- |
| Quick Load Time | SATA SSDs offer faster load times for games, which means less waiting around for games to start. |
| Improved Gameplay | Enjoy smoother gameplay as SATA SSDs reduce lag and stuttering issues. |
| Durability | SSDs don't have moving parts, making them less likely to fail due to physical damage. This reliability means your saved games are safer. |
| Silent Operation | SSDs are quiet, unlike traditional hard drives, keeping distractions to a minimum while gaming. |
| Energy Efficiency | SSDs use less power than traditional hard drives, saving on energy costs and allowing for cooler system operation. |
| Longer Lifespan | SSDs, on average, have a longer lifespan than traditional hard drives. This ensures the longevity of your gaming system and saves money on replacements. |
| Faster System Boot | A SATA SSD ensures your system starts up quickly so you can get to gaming faster. |
| Faster File Access | An SSD allows for speedy access and transfer of game files and assets, improving overall gaming experience. |
8 Features Of SATA SSD is Good for Gaming
Key Takeaway
SATA SSDs are considered ideal for gaming due to their faster loading times compared to traditional hard drives.
The speed and efficiency of SATA SSDs can significantly improve the gaming experience.
A SATA SSD is not just beneficial for gaming, it can also enhance the performance of other data-heavy tasks on a computer.
Despite their benefits, SATA SSDs are being surpassed by NVMe SSDs in terms of speed.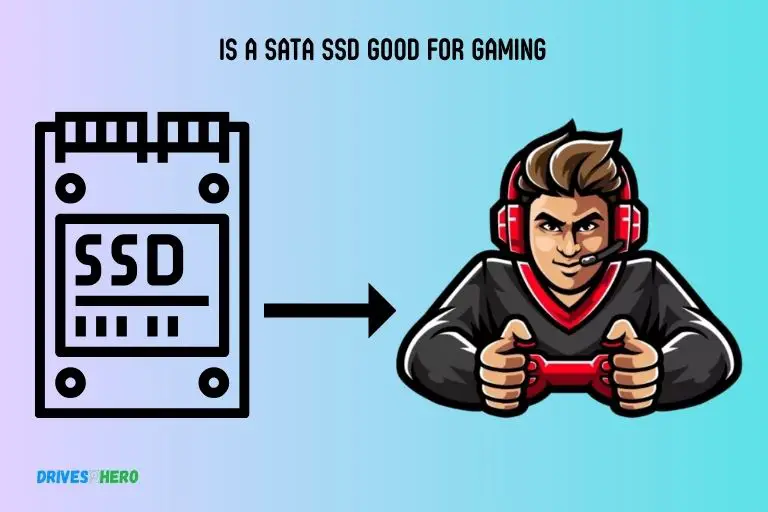 Five Facts About SATA SSDs And Their Suitability for Gaming
SATA (Serial ATA) SSDs are solid-state drives that use the SATA interface to connect to the computer's system.
SATA SSDs are much faster than traditional hard drives. They can decrease game loading times and even provide faster boot times for your system.
Different SATA SSDs have different capacities, with many ranging between 128GB to 4TB. The right capacity for gaming often depends on the size of the games being played.
One downside to SATA SSDs is they are significantly slower than NVMe SSDs, which are newer and use the PCIe interface. However, this difference in speed is often not noticeable unless you're constantly transferring large files or doing other data-heavy tasks.
When it comes to price, SATA SSDs are often more affordable than NVMe SSDs, making them a good choice for gamers on a budget.
Understanding The Basics Of Sata Ssds
A Sata SSD can greatly enhance gaming performance with its fast read/write speeds and efficient data transfer. Experience smoother gameplay and reduced loading times for a more immersive gaming experience.
Imagine this – you've just bought the latest gaming rig, spent hours researching the best graphics cards and processors, and now you're ready to dive into the world of gaming.
But have you ever wondered about the storage component that powers your gaming experience?
That's where a SATA SSD comes into play. We'll delve into the basics of SATA SSDs, how they work, and the advantages and disadvantages they offer.
What Is A Sata Ssd?
SATA SSD stands for Serial Advanced Technology Attachment Solid-State Drive.
It is a storage device that uses flash memory to store data.
SATA SSDs are designed to replace traditional hard disk drives (HDDs) and offer faster read and write speeds.
How Does It Work?
SATA SSDs use NAND flash memory technology to store data.
This type of memory is non-volatile, meaning it retains data even when the power is off.
The drive controller manages the reading and writing of data to and from the memory chips.
Advantages And Disadvantages Of Sata Ssds
Advantages:
Faster performance: SATA SSDs offer significantly faster read and write speeds compared to traditional HDDs. This means faster loading times, smoother gameplay, and reduced lag.
Reliability: With no moving parts, SATA SSDs are more durable and less prone to mechanical failures.
Energy efficient: SSDs consume less power than HDDs, resulting in longer battery life for laptops and decreased energy consumption for desktops.
Disadvantages:
Higher cost: SATA SSDs tend to be more expensive per gigabyte compared to HDDs.
Limited storage capacity: Although SSD capacities are increasing, HDDs still offer larger storage options.
Endurance: Repeated writing and erasing of data can affect the lifespan of the memory cells in an SSD.
Now that you understand the basics of SATA SSDs, you can make an informed decision when it comes to choosing the right storage solution for your gaming needs.
Whether you prioritize speed and reliability or are conscious of your budget, SATA SSDs can offer a significant upgrade to your gaming experience.
Just remember to consider the advantages and disadvantages before making your final decision.
Performance Comparison Of Sata Ssds And Other Storage Options
Sata SSDs offer excellent gaming performance compared to other storage options, ensuring faster load times and smooth gameplay.
Their high transfer speeds and low latency make them ideal for gamers seeking a seamless experience. Upgrade to a Sata SSD for enhanced gaming performance.
Sata Ssds Vs Hdds: Which Is Better For Gaming?
When it comes to gaming, choosing the right storage option is crucial for optimal performance. Two popular choices are SATA SSDs and HDDs.
Let's compare their performance to see which one is better suited for gaming:
SATA SSDs:
Fast read and write speeds: SATA SSDs offer significantly faster data transfer rates compared to HDDs. This means faster game loading times and reduced in-game lag.
Enhanced responsiveness: With their quick access times, SATA SSDs can provide a smoother gaming experience by reducing the time it takes for game data to load.
Reliability: SSDs are more reliable than traditional HDDs since they don't have any moving parts that can wear out or fail over time. This can result in a longer lifespan for your gaming storage.
HDDs:
Cost-effective: HDDs generally offer a higher capacity and are more affordable than SSDs. If you have a large game library or need ample storage space, an HDD might be a budget-friendly option.
Suitable for bulk storage: If you have less demanding gaming needs and prioritize storage capacity over speed, an HDD can store numerous games without any issues.
Sata Ssds Vs Nvme Ssds: Which Is The Best Choice For Gaming?
To further enhance the gaming experience, you might consider NVMe SSDs, which are a step above SATA SSDs in terms of performance.
Let's compare SATA SSDs and NVMe SSDs to see if the latter is a better choice for gaming:
SATA SSDs:
Solid performance: SATA SSDs already provide a significant boost in gaming performance compared to HDDs. They offer fast read and write speeds, resulting in reduced loading times and improved game responsiveness.
Compatibility: SATA SSDs utilize the standard SATA interface, making them compatible with most gaming systems without any additional hardware requirements.
Cost-effective upgrade: If you're looking for an affordable performance upgrade, SATA SSDs are a great option since they offer a noticeable improvement over HDDs without breaking the bank.
NVMe SSDs:
Unmatched speed: NVMe SSDs take game loading speeds to a whole new level. With their high read and write speeds, games can load almost instantaneously, providing a seamless gaming experience.
Enhanced performance: NVMe SSDs utilize the PCIe interface, allowing for faster data transfer rates and lower latency compared to SATA SSDs. This results in reduced in-game stuttering and improved overall performance.
Ideal for demanding games: If you play graphically intense games or frequently work with large files, an NVMe SSD can handle the high data transfer rates required by such applications.
Factors To Consider When Choosing Storage For Gaming:
When selecting storage for gaming, several factors come into play.
Consider the following points to make an informed decision:
Storage capacity: Determine how much storage space you require based on your game library and other data. Ensure you have enough capacity to accommodate your needs without sacrificing performance.
Budget: Consider your budgetary constraints and weigh the cost of various storage options. SATA SSDs are generally more affordable, while NVMe SSDs tend to be pricier but offer superior performance.
Gaming preferences: Evaluate the types of games you play and their requirements. If you focus on graphically intense games with large file sizes, a high-performance SSD might be more beneficial.
Upgradability: Assess the flexibility for future upgrades and expansion. Consider the potential for adding more storage in the future, whether in the form of additional drives or upgrading to a larger capacity drive.
Overall system configuration: Take into account your existing hardware setup and compatibility with different storage options. Ensure that your chosen storage solution aligns with the rest of your system components for optimal performance.
By carefully considering these factors, you can make an informed decision that meets your gaming needs and provides the best storage performance within your budget.
The Impact Of Sata Ssds On Gaming Experience
Sata SSDs significantly enhance the gaming experience, offering faster load times and smoother gameplay.
Their high-performance storage capabilities make them a great option for gamers seeking improved system responsiveness and reduced lag.
Faster Loading Times And Reduced Lag
With a SATA SSD, gamers can experience significantly faster loading times in their games. This means that levels, maps, and scenes load much quicker, allowing players to jump right into the action without having to wait for extended periods.
Reduced lag is another benefit of using SATA SSDs. Lag can be frustrating for gamers, causing delays in gameplay and negatively impacting the overall experience. By utilizing a high-performance SATA SSD, lag can be reduced, providing smoother and more responsive gameplay.
Improvements In Gameplay And Graphics
SATA SSDs can greatly enhance the gaming experience by improving gameplay and graphics.
Games can run more smoothly and offer higher frame rates, resulting in a more immersive and realistic experience.
Additionally, the increased data transfer speeds of SATA SSDs allow games to load faster, reducing texture pop-in and providing more detailed and crisp visuals.
Potential Limitations And Bottlenecks
While SATA SSDs offer numerous benefits for gaming, they may have certain limitations and can sometimes create bottlenecks in the gaming experience.
One limitation is the slower data transfer speeds compared to other storage options, such as NVMe SSDs. This means that in certain scenarios, the full potential of the system may not be realized.
Another potential bottleneck is the limited storage capacity of SATA SSDs compared to other options. Gamers with large game libraries or those who frequently install new games may find themselves running out of storage space quickly.
SATA SSDs have a positive impact on gaming experience, providing faster loading times, reduced lag, and improvements in gameplay and graphics.
However, they may have limitations in terms of data transfer speeds and storage capacity. Gamers should consider their specific needs and preferences when choosing the right SSD for their gaming setup.
Optimizing Sata Ssds For Gaming
Sata SSDs can enhance gaming performance by providing faster load times and improved responsiveness.
While they may not match the speed of NVMe SSDs, Sata SSDs still offer a good gaming experience at a more budget-friendly price.
Gaming enthusiasts are constantly seeking ways to enhance their gaming experience, and one surefire method is by optimizing their Sata SSDs.
These solid-state drives (SSDs) offer faster loading times and improved performance, leading to smoother gameplay and reduced in-game lag.
To maximize the benefits of a Sata SSD for gaming, it's essential to choose the right drive, configure it properly, and follow some handy tips. In this section, we will explore each aspect in detail.
Choosing The Right Sata Ssd For Your Gaming Needs
To ensure optimal gaming performance, selecting the right Sata SSD is crucial.
Consider the following factors when making your choice:
Interface speed: Look for drives that support the latest Sata interface (Sata III, also known as Sata 6Gb/s) to leverage faster data transfer rates.
Read and write speeds: A higher read and write speed results in quicker game load times and reduced texture pop-ins, ensuring a seamless gaming experience.
Capacity: Choose a Sata SSD with sufficient storage to accommodate your gaming library, operating system, and other essential files.
Endurance: Gaming can be demanding on SSDs due to frequent data transfers. Opt for a drive with high endurance to handle prolonged gaming sessions.
Brand and reliability: Stick to reputable brands known for their quality and reliability. Research customer reviews or seek recommendations from fellow gamers for a trustworthy SSD option.
Configuring Sata Ssds For Optimal Performance
Once you've selected your Sata SSD, it's essential to configure it properly to harness its full potential.
Follow these steps to optimize your gaming experience:
Enable AHCI mode: Access your computer's BIOS settings and switch from IDE mode to AHCI (Advanced Host Controller Interface) mode. This change ensures that the Sata SSD uses its full capabilities.
Update firmware and drivers: Regularly check for firmware updates from the SSD manufacturer's website. Similarly, keep your motherboard's Sata drivers up to date for optimal compatibility and performance.
Enable TRIM: Enable TRIM, a feature that improves SSD performance over time by optimizing data writing and erasing. To enable TRIM, simply open the Command Prompt and type the command "fsutil behavior set DisableDeleteNotify 0."
Tips For Maximizing The Benefits Of Sata Ssds In Gaming
Now that you have your Sata SSD and have configured it properly, consider the following tips to make the most of its advantages:
Install games on the Sata SSD: To benefit from faster load times, install your most frequently played games on the Sata SSD. This ensures quick access to game files and reduces waiting times.
Regularly clean up and defragment your hard drive: Although Sata SSDs don't require defragmentation like traditional hard drives, it's essential to periodically clean up unnecessary files to free up space and maintain optimal performance.
Avoid filling the drive to its maximum capacity: Leaving some free space on the Sata SSD helps maintain its performance and longevity. Strive to keep at least 10-20% of the drive's capacity available.
Perform regular backups: While Sata SSDs are reliable, it's always a good practice to have backups of your gaming data. Store game saves, configurations, and other crucial files on an external storage solution to safeguard against any unexpected drive failures.
By choosing the right Sata SSD, configuring it correctly, and following these optimization tips, gamers can significantly enhance their gaming experience.
Experience faster load times, reduced lag, and seamless gameplay by leveraging the true potential of Sata SSDs.
Real-World Examples Of Gamers Using Sata Ssds
Discover real-world examples of gamers utilizing Sata SSDs, highlighting their impressive performance.
Explore the benefits of using a Sata SSD for gaming, enhancing loading times and overall gaming experience.
Testimonials And Experiences From Professional Gamers:
Professional gamers often rely on Sata SSDs to enhance their gaming experience.
Here are some real-life testimonials from these experts:
Testimonial 1: One professional gamer highlighted that their game loading times significantly decreased after switching to a Sata SSD. This resulted in smoother gameplay and allowed them to gain a competitive edge.
Testimonial 2: Another pro gamer mentioned that a Sata SSD reduced the system's overall latency, resulting in quicker response times during intense gaming sessions. This improvement greatly enhanced their performance in high-action games.
Testimonial 3: Several professional gamers praised the Sata SSD's ability to handle large game files effortlessly. They emphasized how this enhanced storage capacity allowed them to install and access various games without any slowdowns.
Case Studies Of Improved Performance With Sata Ssds:
Numerous case studies have documented the notable performance improvements experienced by gamers using Sata SSDs.
Some key findings include:
Case study 1: A gamer noted a significant reduction in screen tearing and stuttering issues once they switched to a Sata SSD. This led to a smoother and more immersive gaming experience, enabling them to fully enjoy visually demanding games.
Case study 2: Another case study revealed that a game's load time decreased by an impressive 50% after upgrading to a Sata SSD. This allowed the gamer to jump into their favorite games quicker and eliminated the frustrating waiting period before gameplay.
Case study 3: One player reported improved frame rates and overall system responsiveness after integrating a Sata SSD into their gaming setup. This resulted in a more fluid and responsive gameplay experience, particularly during intense battle scenes.
Recommendations From Gaming Communities And Forums:
Sata SSDs have garnered widespread acclaim and positive recommendations from gaming communities and forums.
Users have noticed the following advantages:
Recommendation 1: Gamers lauded the Sata SSD's ability to significantly reduce in-game loading times. This improvement enhanced their overall gaming experience by minimizing downtime and providing seamless transitions between game levels or areas.
Recommendation 2: Multiple users emphasized the Sata SSD's impact on reducing texture pop-ins, allowing games to render textures quicker and more smoothly. This improvement resulted in a visually stunning gaming experience without distracting loading lags.
Recommendation 3: Gaming communities frequently highlighted the Sata SSD's impact on decreasing input lag. The improved read and write speeds of the SSD enhanced the responsiveness of in-game commands, giving gamers a competitive advantage.
Remember, SSDs can provide an exceptional gaming experience, and Sata SSDs offer a cost-effective solution without compromising on performance.
Incorporating these real-world examples, testimonials, case studies, and recommendations will help you understand the significant advantages of using a Sata SSD for gaming.
Future Trends In Sata Ssd Technology For Gaming
SATA SSD technology is continuously evolving to meet the demands of gaming, offering faster load times and improved performance.
It offers a good gaming experience with its high-speed data transfer and reliable storage capabilities. SSDs are an excellent choice for gamers, providing a smooth and seamless gaming experience.
Evolving Technologies And Developments In Sata Ssds:
Sata SSDs have come a long way in terms of technological advancements and have greatly improved gaming performance.
Here are some key developments in Sata SSD technology for gaming:
Increased storage capacities: Sata SSDs now offer higher storage capacities, allowing gamers to store more games, videos, and data without worrying about running out of space.
Enhanced data transfer speeds: With the introduction of faster data transfer protocols like SATA III, Sata SSDs can now read and write data at incredible speeds, reducing game loading times significantly.
Improved durability: Modern Sata SSDs are designed to be more durable and reliable, thanks to advanced technologies like wear leveling and error correction codes. This ensures that your gaming drive will last longer and withstand the rigors of intense gaming sessions.
Predictions For The Future Of Sata Ssds In Gaming:
As technology continues to evolve, the future of Sata SSDs in gaming looks promising.
Here are some predictions for what we can expect:
Advancements in NAND flash memory: We can anticipate the development of more efficient and higher-density NAND flash memory, allowing for even faster read and write speeds.
Introduction of PCIe 4.0: The adoption of PCIe 4.0 in Sata SSDs will offer even faster data transfer rates, further reducing load times and enhancing the overall gaming experience.
Integration of AI capabilities: Sata SSDs may incorporate AI algorithms that can optimize game performance based on individual gaming habits, ensuring a smoother and customized gaming experience.
Expansion into cloud gaming: With the rise of cloud gaming services, Sata SSDs are likely to play a crucial role in providing fast and reliable storage for streaming games from the cloud to the user's device.
Implications For Gamers And The Gaming Industry As A Whole:
The advancements in Sata SSD technology will have significant implications for both gamers and the gaming industry.
Here's how:
Enhanced gaming experience: Gamers can expect faster game loading times, reduced input lag, and smoother gameplay, ultimately enhancing their overall gaming experience.
Increased competitiveness: With quicker load times, gamers can gain an edge in online competitive gaming where split-second decisions matter. This can lead to a more leveled playing field and intense competitions.
Evolving game design possibilities: Game developers will have more freedom to create larger and more complex game worlds, knowing that Sata SSDs can handle the increased data demands without compromising performance.
Expansion of gaming platforms: Sata SSDs' improved performance will contribute to the growth of gaming platforms, including consoles, PCs, and cloud gaming services, catering to a wider range of gamers.
Sata SSDs have evolved significantly in terms of technology and performance, and the future holds even more exciting innovations.
Faster data transfer speeds, increased storage capacities, and integration of AI capabilities are just some of the developments that will shape the gaming experience for both gamers and the industry as a whole.
So, if you're a gaming enthusiast, investing in a Sata SSD can undoubtedly enhance your gaming journey.
FAQ On Is A Sata Ssd Good For Gaming
Is Ssd Or Sata Better For Gaming?
SSD is better for gaming because it offers faster loading times and improved performance.
Is A Sata Ssd Good Enough?
Yes, a SATA SSD is good enough. It offers fast speeds and reliable storage for most users.
Is Sata Or Nvme Better For Gaming?
NVMe is better for gaming due to its faster data transfer speeds compared to SATA.
Which Ssd Is Better For Gaming?
The best SSD for gaming is one that offers high read and write speeds, like NVMe SSDs.
Is A Sata Ssd Good For Gaming?
Yes, a SATA SSD is a suitable choice for gaming as it provides faster loading times, smoother gameplay, and quicker file transfers.
Conclusion
To conclude, a SATA SSD can greatly enhance your gaming experience. Its fast read and write speeds ensure quick loading times and smooth gameplay, eliminating annoying lag.
The large storage capacity allows you to store numerous games without worrying about running out of space.
Furthermore, the SATA interface is widely supported, ensuring compatibility with most gaming systems.
However, it is important to note that a SATA SSD may not offer the same blazing-fast speeds as an NVMe SSD. If you prioritize speed above all else, you might consider investing in an NVMe SSD.
Nevertheless, for the majority of gamers, a SATA SSD provides an excellent balance between performance, affordability, and storage capacity.
So, if you're a gamer looking to level up your gaming experience, incorporating a SATA SSD into your system is definitely a smart move.