M 2 Vs Ssd for Gaming ! Factors and Performance
When it comes to gaming, an M.2 NVMe SSD is the best option for faster load times and improved gaming performance compared to a traditional SATA SSD.
M.2 and SSD are two types of storage devices used in computers. While both serve the same purpose of storing data, they differ in their form factors and performance.M.2 is a type of physical connector, whereas SSD (Solid State Drive) is a type of storage technology.
The main difference between an M.2 SSD and a traditional SATA SSD is the interface used to connect to the computer. M.2 SSDs can use either SATA or NVMe interface, with NVMe providing faster data transfer speeds.
M.2 NVMe SSDs offer faster read/write speeds compared to SATA SSDs
Faster load times in games with M.2 NVMe SSDs
Smaller and more compact form factor of M.2 SSDs
NVMe interface provides better performance for gaming and other demanding applications
In conclusion, choosing an M.2 NVMe SSD for gaming can significantly improve your gaming experience by providing faster load times and reduced in-game stuttering.
While traditional SATA SSDs offer performance improvements over HDDs, the NVMe interface used in M.2 SSDs takes it a step further, making it the ideal choice for gamers looking to enhance their systems.
However, it is essential to check your motherboard's compatibility with M.2 NVMe SSDs before making a purchase.
9 Feature Comparison Between M.2 and SSD for Gaming:
| Feature | M.2 SSD | SATA SSD |
| --- | --- | --- |
| Speed | Up to 3500 MB/s read, 2500 MB/s write | Up to 560 MB/s read, 530 MB/s write |
| Interface | NVMe or SATA | SATA |
| Form Factor | 22mm wide, varying lengths (e.g. 2280, 2260, 2242) | 2.5-inch or 3.5-inch |
| Capacity | Up to 8TB | Up to 4TB |
| Price | Generally higher | Generally lower |
| Compatibility | Requires M.2 slot on motherboard | Compatible with most motherboards with SATA ports |
| Power Consumption | Generally lower | Generally higher |
| Boot Time | Slightly faster | Slightly slower |
| Impact on Gaming | Faster load times, improved game asset streaming | Adequate load times, satisfactory game asset streaming |
9 Feature Comparison Between M.2 and SSD for Gaming:
Key Takeaway
M.2 SSDs offer a significant performance boost compared to traditional SATA SSDs for gaming.
The form factor of M.2 drives allows for smaller and lighter gaming laptops and systems.
M.2 SSDs can optimize faster load times and improve in-game texture rendering.
The price range for both M.2 and SATA SSDs is narrowing, making M.2 SSDs a more viable option for budget-conscious gamers.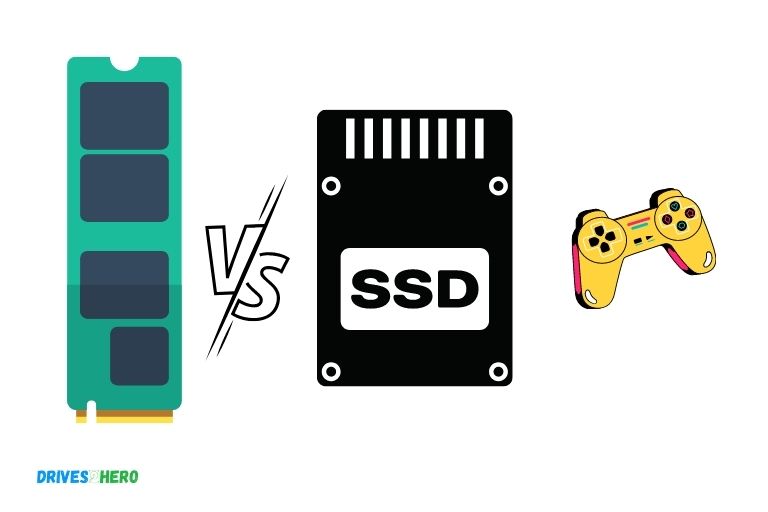 Four Facts About Using M.2 and SSD for Gaming
M.2 is a form factor for SSDs that are easily installed directly onto the motherboard, whereas SATA SSDs use cables to connect. (Source: TomsHardware)
M.2 SSDs often use the NVMe protocol, which allows for faster data transfer speeds compared to the SATA protocol used by traditional SSDs. (Source: Lifewire)
M.2 NVMe SSDs can reach sequential read and write speeds surpassing 3,000 MB/s, compared to SATA SSDs, where speeds typically cap around 550-600 MB/s. (Source: Forbes)
M.2 SSDs offer faster boot times, meaning gamers can start playing their games more quickly after turning on their systems. (Source: PC World)
Understanding The Differences Between M 2 And Ssds
Defining M 2 And Ssds
In the world of gaming, performance is everything. A gamer would expect their games to load and run without lagging or tearing. As technology continues to evolve, m 2 and ssds have become the top contenders for speed storage devices.
M 2 (ngff) is a storage device that is connected directly to the motherboard of a computer. It comes in multiple versions, including sata and nvme, with the latter being the most common for gaming. Nvme is faster than sata since it doesn't pass data through the motherboard, and that's what makes it the best choice for gamers who want the fastest storage device possible.
Ssd (solid state drives) is a device that uses flash memory to store data. Unlike traditional hdds that have spinning disks with read/write heads, the lack of moving parts in ssds results in faster access times, making it ideal for gaming.
M 2 Vs Ssds: Physical And Technical Differences
Gamers need to understand the differences between these two storage devices to make the right choice for their gaming needs.
Form factor: M 2 drives are smaller than ssds, making them suitable for laptops and other compact devices.
Speed: M 2 is faster than ssd since nvme protocol-based m 2 drives can deliver speeds of up to 32gbps, whereas sata-based ssds offer around 6gbps.
Compatibility: M 2 drives use pcie lanes, which means they are not compatible with all motherboards. Ssds, on the other hand, can be plugged into almost any computer with a sata port.
Capacity: Ssds offer more storage capacity than m 2, making them ideal for gamers who require a lot of space to store large game files.
How M 2 And Ssds Affect Gaming
Both m 2 and ssds will give gamers an edge in terms of game loading speed.
M 2 technology enables faster booting, which means you can start gaming faster.
Using an ssd means that you get to experience your game's loading sequence faster. Since games are typically loaded from storage devices, having an ssd will reduce load times significantly.
Faster loading times of games will mean that gamers can access advanced game settings faster, thereby providing an all-around better experience like clearer images and smoother gameplay.
Ultimately, ssds are the most economical option for gaming, while m 2 is preferable for enterprise systems.
Both m 2 and ssds offer impressive storage performance, but m 2 technology is currently the fastest option. Gamers need to weigh speed, compatibility, and storage needs before choosing between these two devices.
Comparing M 2 And Ssds On Performance
Benchmarking M 2 And Ssds
Solid-state drives (ssds) have been the standard storage for gaming rigs for years. But now, m 2 drives have emerged as a viable alternative.
Let's explore how these two drives perform in ideal conditions.
Understanding Read And Write Speeds
Read and write speeds are crucial to any drive's performance. It's essentially how quickly data can be retrieved and stored.
Here are a few points to consider:
M 2 drives offer faster read and write speeds than most ssds, providing an immediate boost to your gaming experience.
Ssds come in two forms: Sata and nvme. Although nvme ssds deliver faster speeds, they may be more expensive than their sata counterpart.
When it comes to gaming, nvme ssds offer marginal benefits compared to sata ssds, while m 2 drives provide a more noticeable improvement in performance.
Random Access Memory (Ram)
The connection between ram and your storage drive should not be ignored. Ram is essential for buffering stored data and providing your system with quick access to it.
Here's what you need to know:
Upgrading ram can improve gaming performance.
M 2 drives paired with higher amounts of ram may offer more significant performance boosts than sata or nvme ssds in the same configuration.
If you want the best gaming performance, m 2 drives are the clear winner. They offer faster read and write speeds and perform well in tandem with high amounts of ram. However, if budget is a concern, sata ssds are still a viable option for optimal gaming performance.
Examining The Cost Of M 2 And Ssds
M 2 vs ssd for gaming: examining the cost of m 2 and ssds
Gaming has come a long way in recent years, with the advancements in technology allowing for faster and more efficient gameplay.
One of the key components that affect gaming performance is the storage device. M 2 and ssds are two popular storage options for gamers.
While m 2 provides faster and more reliable performance, ssds are a more affordable option. We will examine their costs and weigh their performance against each other.
Price Comparison
M 2 and ssds differ in their price and storage capacity.
Here are some key points about their cost:
M 2 drives are more expensive than ssds, with prices ranging from $70 to $350, depending on the storage capacity.
Ssds are more affordable, with prices starting from $30 for a 128gb drive to $150 for a 1tb drive.
M 2 drives have a higher cost per gb, while ssds have a lower cost per gb.
M 2 drives are considered a premium option due to their advanced technology, while ssds are a more cost-effective option.
Cost Vs Performance
When it comes to cost vs performance, m 2 and ssds have their own pros and cons.
Here's a breakdown:
M 2 drives offer faster read and write speeds, allowing for quicker load times and performance. The nvme interface m 2 drives utilize is faster than the sata interface ssds use, with m 2 ssds reaching up to 7 gb/s in sequential read and write speeds.
Ssds, while not as fast as m 2 drives, offer adequate performance for gaming and general use. Ssds have a sequential read and write speed of up to 550 mb/s, which is still faster than traditional hard drives.
M 2 drives are ideal for gamers who need faster load times and transfer speeds, while ssds are suitable for gamers who are mindful of their budget without sacrificing too much performance.
Final Thoughts
Picking between m 2 and ssds comes down to your gaming needs and budget. If you have a higher budget and need faster speeds, m 2 drives are the way to go.
However, if you are on a budget and do not want to sacrifice too much performance, ssds are a great option.
With their affordability and adequate performance, ssds remain an excellent choice for gamers who need storage devices that deliver impressive speeds without breaking the bank.
Evaluating The Lifespan Of M 2 And Ssds
Evaluating The Lifespan Of M 2 And Ssds.
Are you thinking of upgrading your computer's storage? Perhaps you're confused about whether to go for m 2 or ssd. Don't worry; we've got you covered!
Here we'll evaluate the lifespan of both m 2 and ssds, highlighting their endurance rating and durability factor.
Endurance Rating
The endurance rating is the measure of how many times a specific storage device can write and re-write data before it starts showing signs of wear and tear.
Here's what you need to know:
High-end ssds can withstand up to 10,000 erase/write cycles, while mid-range ssds can last approximately 3,000 to 5,000 cycles.
On the other hand, m 2 ssds with tlc (triple-level cell) nand flash have an endurance rating somewhere between 500 and 5,000 cycles.
Slc (single-level cell) m 2 ssds can endure up to 100,000 cycles, although they usually come at a much higher price point.
It's important to note that endurance ratings don't necessarily equate to a fixed lifespan, and other factors such as usage patterns and workload can heavily influence the lifespan of a storage device.
Durability Factor
The durability factor pertains to the degree of punishment a storage device can handle without suffering physical damage or complete failure.
Here's what you should consider:
Ssds are more robust and durable compared to traditional hard drives (hdds) since they don't have any moving parts.
M 2 ssds are smaller and lighter than ssds and have better shock resistance due to their compact design.
Both m 2 ssds and ssds have operating temperatures ranging from 0-70 degrees celsius, making them ideal for use in most computer systems.
Some m 2 and ssd models have additional durability features such as drive-level encryption, built-in error correction codes, and power loss protection.
All in all, when evaluating the lifespan and durability of m 2 and ssds, it's important to consider the aforementioned factors. We hope that this helps you make an informed decision when picking the best storage solution for your gaming needs.
FAQ On M 2 Vs Ssd For Gaming
Is An M.2 Faster Than An Ssd?
Yes, m. 2 drives are faster than traditional ssds because of their form factor and interface speed.
Can You Use M.2 And Ssd Together?
Yes, you can use both m. 2 and ssds together. They can be used as separate drives or combined in a raid setup.
Does An M.2 Increase Fps?
An m. 2 does not directly affect fps. However, faster load times can improve gaming experience and reduce stuttering.
Which Is Better For Gaming: M.2 Or Ssd?
M. 2 is generally better than ssd for gaming due to its faster read/write speeds. However, it may not always be noticeable in real-world usage.
Conclusion
To sum it up, both m. 2 and ssd have their own enhancements that provide better gaming experiences. Nowadays, gaming requires a higher level of performance and speed, making a difference in the gameplay. If you're planning to purchase a gaming device, choosing between m.
2 and ssd can be challenging. It's always advisable to read reviews, do research on specifications, and check compatibility with your existing device. Sdds are more affordable, but m. 2s are an excellent choice if you need more storage space and faster read/write speeds.
Both options provide better performance than traditional hard drives. In addition, it's essential to check if your motherboard is compatible with the nvme protocol for m. 2. Choosing the right storage solution can make a significant impact on your gaming experience, so it's worth investing time in finding the perfect one for you.