Where to Find Ssd in Laptop? Ultimate Guide!
To find the SSD in a laptop, you will need to locate the storage drive compartment, which can typically be found at the bottom or side of the laptop.
An SSD (Solid State Drive) is a type of storage device that has become increasingly popular due to its fast read and write speeds.
It is commonly found in modern laptops and replaces traditional hard disk drives (HDDs). Locating the SSD in a laptop can be necessary for tasks such as upgrading or replacing the storage drive.
SSDs are faster and more reliable than traditional HDDs.
The SSD compartment is typically located on the bottom or side of a laptop.
Some laptops have an easily accessible SSD compartment, while others may require disassembly.
Always consult your laptop's user manual or manufacturer's website for specific instructions on locating and accessing the SSD.
To locate the SSD in your laptop, first ensure your device is turned off and disconnected from any power sources.
If needed, check your laptop's user manual or the manufacturer's website for specific instructions on how to access the storage compartment.
In many cases, you will find a small panel on the bottom or side of the laptop held in place by screws. Remove the screws and carefully lift the panel to reveal the SSD.
Keep in mind that some laptops may require more extensive disassembly, in which case, it is recommended to consult a professional technician to avoid damaging any internal components.
Common Locations for SSD in Different Laptops
| Laptop Model | SSD Location | Steps to Access |
| --- | --- | --- |
| Dell XPS 13 | Under bottom panel | Remove screws, lift panel |
| MacBook Pro | Inside, near the battery | Remove bottom case, locate SSD |
| HP Spectre x360 | Under bottom panel | Remove screws, lift panel |
| Lenovo ThinkPad X1 | Under bottom panel | Remove screws, lift panel |
| ASUS ZenBook Pro | Under bottom panel | Remove screws, lift panel |
| Acer Swift 5 | Under bottom panel | Remove screws, lift panel |
| LG Gram | Under bottom panel (visible through hatch) | Remove hatch, locate SSD |
| Microsoft Surface | Inside, under the heat sink | Remove back cover, locate SSD |
| Razer Blade | Under bottom panel | Remove screws, lift panel |
| Samsung Notebook 9 | Under bottom panel | Remove screws, lift panel |
Common Locations for SSD in Different Laptops
Key Takeaway
SSDs are typically located in specific compartments within laptops
The storage device can significantly improve system performance
Compatibility and form factors should be considered when locating or upgrading an SSD
Proper precautions, such as disconnecting power sources, should be taken when accessing the SSD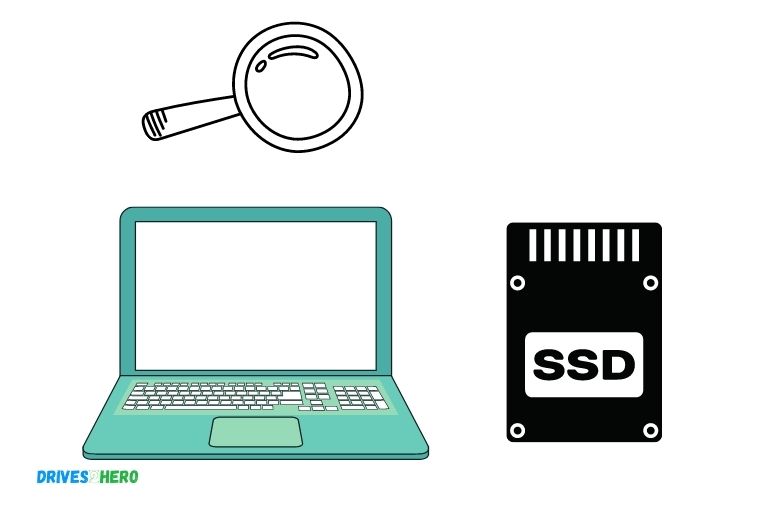 Five Facts About the Placement of SSD in Laptops
Solid State Drives (SSDs) are storage devices found in many modern laptops that use NAND-based flash memory to store data, providing faster read/write speeds compared to traditional Hard Disk Drives (HDDs).
In most laptops, the SSD is usually located under a dedicated panel that can be easily removed by unscrewing. On some models, it may require removing the entire bottom part or keyboard to access the storage compartment.
Form factors and interfaces are important considerations when locating or replacing an SSD in a laptop. Common SSD types are the 2.5-inch SATA, mSATA, and M.2, which come in various lengths and have different connectors.
Before attempting to locate or replace an SSD, make sure to power off the laptop, disconnect the charger and, if possible, remove the battery to prevent potential damage or accidental short-circuits.
Laptop manufacturers like Dell, HP, Lenovo, and Asus often provide manuals or online resources with step-by-step instructions on how to locate, replace, or upgrade an SSD. Checking your specific laptop model's documentation or website will help save time and effort.(source: pcworld.com)
Understanding The Benefits Of An Ssd In A Laptop
What Is An Ssd And Why You Need It In Your Laptop
Do you know what an ssd is? Ssd stands for solid state drive, a new type of storage technology used in computers and laptops. Ssds offer faster read and write speeds than traditional hard disk drives (hdds).
Here are some reasons why you need an ssd in your laptop:
Faster boot-up and application loading times
Improved overall system performance
Reduced power consumption
Enhanced durability and shock resistance
The Pros And Cons Of Using An Ssd In Your Laptop
Like everything else, there are pros and cons to using an ssd in your laptop.
Here are some of the benefits and drawbacks to consider:
Pros
Faster read and write speeds
Improved overall performance
Lower power consumption
Increased durability and shock resistance
Reduced noise levels
Cons
More expensive than traditional hard disk drives
Limited storage capacity
Potential compatibility issues with older systems
Why Ssds Are Better Than Traditional Hard Drives
There are several reasons why ssds are rapidly becoming the go-to storage technology for laptops and computers.
Here are some benefits of using an ssd over a traditional hard disk drive:
Ssds are less prone to mechanical failure and crashes
Ssds result in faster boot and load times
Ssds have lower power consumption
Ssds emit less heat and noise compared to traditional hard disk drives
So, if you want to improve your laptop's performance, durability, and overall speed, consider upgrading to an ssd. It may cost you a bit more upfront, but the benefits are well worth it.
Factors To Consider When Choosing An Ssd Laptop
Ssds, or solid state drives, are essential components of laptops that offer faster data access and improved performance.
Here are some key factors to consider before buying an ssd laptop:
Ssd Laptop Price: How Much Should You Expect To Pay
When buying an ssd laptop, the prices may vary based on different factors, such as brand, capacity, and performance.
Here are some estimated prices that you can expect to pay:
Entry-level ssd laptops cost anywhere from $500 to $800.
Mid-range models with better specs can cost anywhere from $800 to $1,500.
High-end ssd laptops with advanced features can cost anywhere from $1,500 to $3,000 or more.
Laptop Brand And Models That Come With Ssds
Several reputable laptop brands offer ssds as a standard feature in their models.
Here are some popular options that you can consider:
Dell xps 13: A reliable laptop that offers top-notch performance with its ssds.
Apple macbook pro: With fast read and write speeds, macbook pro is a popular choice among content creators and graphic designers.
Asus zenbook ux425: A sleek and lightweight laptop with ultra-fast ssd capabilities.
Hp spectre x360: A versatile laptop that comes with ssds as a standard feature.
Lenovo yoga c940: A premium laptop with fast ssds, ideal for productivity and multimedia tasks.
The Size And Capacity Of The Ssd: What You Need To Know
The size and capacity of your ssd play a huge role in determining the laptop's performance.
Here are some things to consider:
Ssd sizes typically range from 128gb to 2tb.
For basic tasks such as web browsing and document editing, a 128gb or 256gb ssd is sufficient.
If you need more storage for multimedia tasks such as video editing or gaming, consider upgrading to a 512gb or 1tb ssd.
Other Features To Look For When Buying An Ssd Laptop
Aside from the storage capacity and brand, there are other important features to consider when shopping for an ssd laptop.
Here are some extra features to look for:
Processor: Look for laptops with the latest processors, such as intel's core i5 or i7, for increased performance.
Ram: Make sure your laptop has ample ram for smooth multitasking and performance.
Graphics card: If you need to run demanding applications, consider investing in a laptop with a dedicated graphics card for optimized performance.
Battery life: Look for laptops with extended battery life for longer working hours.
When looking for an ssd laptop, research the specifications that suit your needs and budget. The above factors should help you make an informed decision when purchasing an ssd laptop that meets your requirements.
Where To Buy Ssd Laptops: Best Places To Shop
Are you in the market for a new laptop with an ssd? You're not alone! Solid-state drives (ssds) are in high demand, thanks to their incredible speed and reliability.
However, finding the right laptop with an ssd can be challenging, as there are many retailers and manufacturers to choose from. We'll break down the best places to buy ssd laptops, both online and in-store.
Top Online Stores To Buy Your Ssd Laptop
Shopping online is undoubtedly the most convenient way to buy a laptop with an ssd.
Here are some of the top online stores to consider:
Amazon: With a vast selection of laptops, including both new and refurbished models, amazon is a one-stop-shop for all things laptops. Plus, with their fast and free shipping options and hassle-free returns, it's no wonder why so many people turn to amazon for their electronic needs.
Best buy: This well-known electronics chain offers an extensive online store, with a wide array of laptop options. Best buy offers same-day pickup in-store, as well as free shipping on orders over $35.
Newegg: This online retailer specializes in computer hardware and software, making it an excellent choice for tech-savvy buyers. They offer a vast selection of laptops to choose from, including those equipped with ssds.
Physical Retail Stores That Sell Ssd Laptops
While online shopping may be convenient, sometimes seeing a laptop in person can make all the difference when making a decision.
Here are a few physical retail stores to consider when buying an ssd laptop:
Best buy: With over 1,000 stores across north america, best buy is a reliable place to find a laptop with an ssd. They have a knowledgeable staff on hand to answer any questions and offer a same-day pickup service.
Micro center: This chain of retailers specializes in computer-related products, including laptops with ssds. They offer a vast selection of brands and models to choose from, and thanks to their physical stores, you can see and touch the laptop before you buy it.
Refurbished Ssd Laptops: Are They Worth It?
Buying a refurbished laptop can be an excellent way to save some money, but is it worth it?
Here are some things to consider when buying a refurbished laptop equipped with an ssd:
Look for a certified refurbished laptop. These laptops have been inspected and tested to ensure they work like new.
Check the warranty. Make sure the laptop comes with a warranty, even if it's a refurbished model.
Be aware of the specifications. Make sure the laptop meets your needs and has the necessary storage and processing power for your intended use.
There are several places to find a laptop equipped with an ssd, whether you prefer to shop online or in-store.
From amazon to best buy and micro center, and even refurbished models, there is an ssd laptop for every budget and need.
How To Add An Ssd To Your Laptop
Can You Upgrade Your Laptop With An Ssd?
If you own a laptop that runs slowly or has limited storage space, you may consider upgrading it with an ssd.
The good news is that most laptops can be upgraded with an ssd. However, some newer ultrabooks and some macbooks come with a non-upgradeable ssd.
Before you begin the process, you should check to see if your laptop has an accessible ssd slot. If it does, then you are good to go.
How To Choose The Right Ssd For Your Laptop
Before you buy an ssd, you should consider some factors.
The following are important things to consider:
Ssd form factor: Laptops use 2.5-inch ssds. The form factor of the ssd should be compatible with your laptop's drive bay. Also, your laptop should be able to accommodate the height of the ssd.
Capacity: The capacity of the ssd is also crucial. If you only need to replace the operating system, a 128gb ssd would suffice. However, a larger ssd such as a 500gb or 1tb would be suitable for a more significant upgrade.
Speed: You should go for an ssd with a high read and write speed. The sata iii interface offers a maximum speed of 600mb/s, while nvme ssds can achieve 3,500mb/s.
The Steps To Installing An Ssd In Your Laptop
The process of installing an ssd in a laptop is quite simple.
Here is a step-by-step guide:
Back up your data: Before you begin, make sure to back up all your important data in case something goes wrong.
Remove the back cover of your laptop: Remove the screws securing the back cover and gently remove it.
Locate your laptop's hard drive: The hard drive is typically located in a drive bay near the center.
Remove the hard drive: Unscrew the hard drive from the mounting bracket and disconnect the sata cable.
Install the ssd in the hard drive bay: Screw the ssd into the mounting bracket and connect the sata cable.
Replace the back cover: Replace the back cover by screwing it back in place.
Tips For Troubleshooting Ssd Installation
If you experience any problems after installing an ssd, there could be several reasons.
Here are some tips to help you troubleshoot your ssd installation:
Check if the ssd is properly connected: Make sure that the cable is connected correctly and securely.
Reinstall the operating system: It could be a software issue. Try reinstalling the operating system on the new ssd.
Update the bios: Check if there is an update for the bios firmware and install it.
Recheck all connections. Sometimes, loose connections can cause problems.
By following these guidelines, you will be able to upgrade your laptop with an ssd with confidence, choosing the right ssd, installing it, and troubleshooting any issues you may encounter.
FAQ On Locating SSD in Laptops
What Is An Ssd In A Laptop?
An ssd in a laptop is a faster, more modern storage device that uses flash memory.
What Are The Advantages Of Having An Ssd In A Laptop?
Having an ssd in a laptop improves speed, reliability, longevity, and overall performance.
Where Can You Purchase An Ssd For A Laptop?
You can purchase an ssd for a laptop online or in-store at electronic retailers like best buy or amazon.
How Do You Replace A Laptop'S Hard Drive With An Ssd?
Replacing a laptop's hard drive with an ssd involves backing up data, removing the hard drive, installing the ssd, and restoring the data.
Conclusion
As ssds gain popularity, it's becoming more important to know where to find them in laptops. Upgrading to an ssd can drastically improve your device's performance and overall user experience.
You can find ssds in laptops from various manufacturers, ranging from budget options to high-end models.
Some of the best places to find ssds in laptops include online retailers like amazon, best buy, and newegg. Major laptop manufacturers like dell, hp, and lenovo also offer laptops with ssds as an option.
It's also worth noting that you can upgrade your laptop's storage to an ssd by purchasing one separately and installing it yourself or by taking it to a professional.
With the speed and reliability of ssds, it's no wonder they're becoming a popular choice for laptop users.