How Long Do Sata Ssd Last? 5 – 7 Years!
A SATA SSD, or Solid State Drive, typically lasts for about five to seven years, with a mean time between failures (MTBF) of 1.5 million hours.
The lifespan of a SATA SSD is not solely determined by time, but by the amount of data written to the drive. SSDs have a finite number of program/erase (P/E) cycles, which is typically around 3,000 to 10,000 cycles.
Usually, manufacturers provide a warranty that covers the drive up until a certain amount of data has been written to it.
The lifespan of a SATA SSD is commonly around five to seven years.
The lifespan is determined by the data written to the drive, not the passage of time.
SSDs have a finite number of P/E cycles, usually between 3,000 to 10,000.
Manufacturers generally provide a warranty that covers the SSD up to a certain data limit.
While it's true that SATA SSDs have a finite lifespan, it's essential to note that the technology continues to improve, and newer SSDs can last much longer than older models.
Plus, most people will likely replace their drives due to technological advancements long before they wear out from use.
Therefore, it's safe to say that for average users, SSD lifespan should not be a significant concern.
10 SSD Models: Average Lifespan Chart
| SSD Model | Average Lifespan (Years) | Total Terabytes Written (TBW) |
| --- | --- | --- |
| Samsung 860 EVO | 5-6 | 150 TBW |
| Crucial MX500 | 5-6 | 180 TBW |
| Kingston A2000 | 5-6 | 600 TBW |
| WD Blue 3D NAND | 4-5 | 500 TBW |
| Sandisk Ultra 3D | 4-5 | 200 TBW |
| Intel 760p Series | 5-6 | 288 TBW |
| Adata XPG SX8200 Pro | 5-6 | 640 TBW |
| Samsung 970 EVO | 5-6 | 600 TBW |
| Sabrent Rocket | 5-6 | 800 TBW |
| Toshiba OCZ TR200 | 3-4 | 120 TBW |
10 SSD Models: Average Lifespan Chart
Key Takeaway
SATA SSDs are known to last longer than traditional hard drives due to their non-mechanical nature.
The lifespan of SATA SSDs largely depends on the amount of data written on the drive and the type of cells it uses.
SATA SSDs with MLC (Multi-Level Cell) technology tend to have a higher lifespan compared to those with TLC (Triple-Level Cell) technology.
Regularly monitoring the health of the SSD using software tools and lessening unnecessary writes can extend the SSD's lifespan.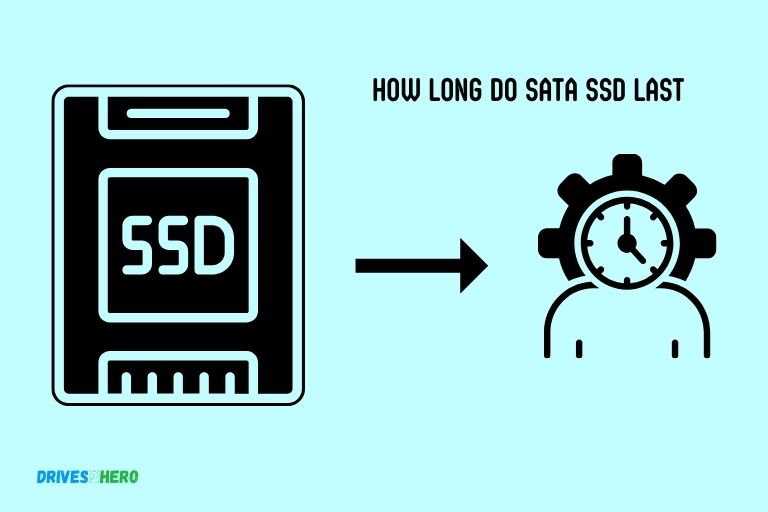 Five Facts About the Lifespan of SATA SSDs
On average, a SATA SSD can last between 5 and 7 years with normal usage. (Source: Kingston)
Extreme workloads and heavy use can decrease this lifespan significantly, sometimes down to 1-2 years. (Source: Add link)
There are typically two types of SATA SSD drives – those that utilize MLC (Multi-Level Cell) technology and those that use TLC (Triple-Level Cell) technology. MLC drives tend to be more durable and long-lasting. (Source: Kingston)
The total amount of data written on an SSD, known as the TeraBytes Written (TBW) rating, is a good indicator of the SSD lifespan. Higher TBW means longer SSD life. (Source: Seagate)
Most SATA SSDs have a designed write endurance limit, after which the drive is likely to fail. This limit is often high enough that typical consumer usage will not reach it within the expected lifespan of the drive. (Source: Crucial)
Understanding The Lifespan Of Sata Ssds
SATA SSDs have a lifespan that depends on several factors like usage, workload, and capacity. However, with proper care and maintenance, a SATA SSD can typically last anywhere from 3 to 5 years before degradation begins to occur.
It's important to keep in mind that this estimate may vary based on individual usage patterns.
SATA SSDs (Solid State Drives) have gained popularity as a storage solution due to their fast performance and durability. However, like any electronic device, they have a limited lifespan.
Understanding the factors that impact the lifespan of SATA SSDs is crucial in order to make informed decisions when it comes to investing in storage solutions.
We will explore the various factors that can affect the lifespan of SATA SSDs and discuss how usage patterns and endurance ratings play a significant role in determining their longevity.
Factors That Impact The Lifespan Of Sata Ssds:
NAND Flash Technology: The type of NAND flash technology used in an SSD can greatly affect its lifespan.
Single-Level Cell (SLC) NAND flash, for example, typically offers higher endurance compared to Multi-Level Cell (MLC) or Triple-Level Cell (TLC) NAND flash.
Endurance Ratings: The endurance rating of an SSD refers to the total amount of data that can be written to the drive before it may start to experience failures.
Higher endurance ratings are generally associated with longer lifespans.
Write Amplification: Write amplification is a phenomenon that occurs when the SSD writes more data to its NAND flash memory than is necessary.
High write amplification can accelerate wear and tear on the SSD, ultimately shortening its lifespan.
Operating Temperature: The temperature at which an SSD operates can impact its lifespan. Excessive heat can cause thermal degradation and reduce the overall durability of the drive.
It is important to ensure proper airflow and cooling in order to maintain optimal temperatures.
Power Failures and Electrical Surges: Power failures or electrical surges during write operations can lead to data corruption and potentially shorten the lifespan of an SSD.
Using reliable power sources, such as uninterruptible power supplies (UPS), can help mitigate these risks.
Comparing The Endurance Ratings Of Different Sata Ssd Models:
When choosing a SATA SSD, it is important to consider the endurance rating of the drive. Endurance ratings are typically expressed as Total Bytes Written (TBW) or Drive Writes Per Day (DWPD).
Here are some key points to keep in mind when comparing endurance ratings:
Different SSD models have different endurance ratings, so it's important to compare the specifications to find the one that suits your needs.
Higher endurance ratings generally indicate longer lifespans, making the drive more suitable for intensive workloads and frequent write operations.
It's worth noting that typical consumer usage rarely exceeds the endurance limits of modern SSDs, so most users need not worry about reaching these limits under normal circumstances.
Evaluating The Impact Of Usage Patterns On Sata Ssd Lifespan:
Aside from the factors mentioned above, the usage patterns of an SSD can significantly affect its lifespan.
Here are some considerations to keep in mind:
Workload: Heavy workloads that involve frequent write operations can put more stress on the SSD, potentially shortening its lifespan. It's important to choose an SSD that is designed to handle the workload requirements of your specific use case.
Garbage Collection and TRIM: Garbage collection and TRIM are essential features that help maintain the performance and lifespan of an SSD. These processes ensure that deleted data is properly erased and that the drive's free space is efficiently utilized.
Overprovisioning: Overprovisioning is the practice of leaving a portion of the SSD unallocated, which can improve performance and extend the drive's lifespan. This additional space allows the SSD to better manage wear leveling and distribute writes more evenly.
By considering these factors and evaluating your specific needs, you can make informed decisions when it comes to choosing and utilizing SATA SSDs, ensuring optimal performance and longevity.
Remember, understanding the lifespan of SATA SSDs is essential for maximizing their potential and getting the most out of your storage investment.
Assessing The Reliability Of Sata Ssds
Assessing the reliability of SATA SSDs involves understanding their lifespan and endurance. Knowing how long SATA SSDs can last ensures optimal performance and data storage efficiency.
How Manufacturers Ensure The Reliability Of Sata Ssds
Manufacturers of SATA SSDs employ various techniques to ensure the reliability of their products.
These techniques include:
Thorough testing: Manufacturers subject each SATA SSD to rigorous testing procedures to identify any potential issues or flaws before they are released to the market.
Quality control measures: Stringent quality control measures are in place at each stage of the manufacturing process to ensure that every SATA SSD meets the highest standards.
Robust firmware: Manufacturers develop and deploy robust firmware for SATA SSDs that helps to enhance performance and improve reliability.
Advanced error correction code (ECC): The implementation of ECC in SATA SSDs plays a crucial role in maintaining data integrity. ECC identifies and corrects errors in data, significantly reducing the risk of data loss or corruption.
Wear leveling algorithms: SATA SSDs utilize wear leveling algorithms to evenly distribute write operations across all memory cells. This prevents specific cells from being subjected to excessive wear, thus increasing the overall lifespan of the SSD.
Power loss protection: SATA SSDs are often equipped with power loss protection mechanisms to safeguard data in case of power failures or sudden outages. This feature ensures data integrity and helps prevent data loss or corruption.
High-quality components: Manufacturers use high-quality components in SATA SSDs to enhance reliability and minimize the risk of hardware failures.
Examining The Mtbf (Mean Time Between Failures) Of Sata Ssds
An important metric used to assess the reliability of SATA SSDs is the Mean Time Between Failures (MTBF). The MTBF represents the average amount of time a drive is expected to operate before experiencing a failure.
Here are some key points to consider regarding MTBF:
MTBF calculation: Manufacturers determine the MTBF of SATA SSDs through extensive testing and analysis of the drive's performance under various conditions.
Reliability prediction: The MTBF figure provides an estimate of the drive's reliability over a specific period. Manufacturers use this information to predict the expected failure rate of their SATA SSDs.
Higher MTBF, greater reliability: SATA SSDs with higher MTBF values are generally considered more reliable as they are expected to operate without failure for a longer duration.
Real-world usage may vary: It is important to note that MTBF is an estimate and not a guarantee. Real-world usage and environmental factors can affect the actual lifespan and reliability of a SATA SSD.
Monitoring and maintenance: Despite their reliability, it is advised to monitor the health and performance of SATA SSDs regularly. This can be done by utilizing software provided by manufacturers or third-party applications that provide insights into the SSD's condition.
By implementing stringent quality control measures, advanced error correction codes, and other reliability-enhancing techniques, manufacturers ensure that SATA SSDs deliver exceptional performance and longevity.
The MTBF metric provides valuable insights into the expected reliability of these drives, assisting users in making informed decisions about their storage needs.
Maximizing The Lifespan Of Your Sata Ssd
Maximize the lifespan of your SATA SSD by following these tips. Learn how long SATA SSDs can last and discover strategies to extend their longevity, ensuring optimal performance and durability.
Solid-state drives (SSDs) have become increasingly popular due to their faster performance and reliability compared to traditional hard disk drives (HDDs). However, like any technology, SSDs have a limited lifespan.
The good news is that by following some best practices and implementing regular maintenance, you can optimize the performance and lifespan of your SATA SSD.
We will explore the key strategies to help you achieve the maximum longevity for your SATA SSD.
Best Practices For Optimizing Sata Ssd Performance And Longevity:
Enable TRIM: TRIM is a critical feature that helps keep your SSD clean and maintain its performance over time. It allows your operating system to inform the SSD which blocks of data are no longer in use, ensuring efficient storage management.
Avoid filling the drive to its full capacity: SSDs perform best when they have some free space available. Aim to keep around 10-20% of your SSD's capacity free to ensure optimal performance and longevity.
Minimize unnecessary writes: SSDs have a limited number of write cycles before they wear out. Reducing unnecessary writes can help extend their lifespan. Consider disabling or minimizing disk-intensive activities like automatic defragmentation and excessive logging.
Optimize your operating system settings: Adjusting certain settings can help improve SSD performance and reduce wear. These may include disabling file indexing and hibernation, as well as enabling power management features that reduce write activity during idle periods.
Implementing Firmware Updates And Drive Maintenance:
Keep firmware up to date: SSD manufacturers often release firmware updates to address bugs, enhance performance, and improve compatibility. Regularly check for firmware updates and install them as recommended by the manufacturer.
Perform regular drive maintenance: Like any storage device, SSDs benefit from regular maintenance to ensure optimal performance. This includes running disk checks, clearing temporary files, and performing regular backups to prevent data loss.
Monitoring The Health Of Your Sata Ssd Using Smart:
SMART (Self-Monitoring, Analysis, and Reporting Technology) is a feature embedded in most modern SSDs that monitors various parameters to gauge drive health.
Monitoring SMART attributes can provide valuable insights into the condition of your SSD. To monitor SSD health using SMART, you can use third-party tools or the manufacturer's software that supports SMART monitoring.
Be attentive to any warning signs, such as excessive bad sectors or relocation events, which could indicate potential drive failure.
By following these best practices, ensuring regular firmware updates, performing drive maintenance, and monitoring your SSD's health using SMART technology, you can significantly extend the lifespan of your SATA SSD.
Implementing these strategies will not only optimize performance but also improve the overall durability and reliability of your SSD, allowing you to enjoy its benefits for years to come.
Debunking Common Myths About Sata Ssd Lifespan
SATA SSDs have a longer lifespan than commonly believed, lasting for years with regular usage. This myth is debunked by the reliability and durability of these solid-state drives, making them a reliable choice for storing data.
Addressing Misconceptions About The Longevity Of Sata Ssds
SATA SSDs, also known as Serial ATA solid-state drives, have gained popularity due to their faster read and write speeds compared to traditional hard disk drives (HDDs).
However, some misconceptions persist about the lifespan of SATA SSDs. Let's debunk these myths and shed light on the actual longevity of these storage devices.
Dispelling Fears Of Write Endurance Limitations
Myth: SATA SSDs have a limited lifespan due to the number of write cycles they can endure.
Fact: While it's true that SSDs have a finite number of write cycles, modern SATA SSDs are designed to handle extensive write operations without significant performance degradation or failure.
Here's why:
Wear leveling: SATA SSDs employ wear leveling algorithms to evenly distribute write operations across the drive's memory cells. This ensures that no specific cells are excessively worn out, enhancing the overall lifespan of the drive.
Write endurance ratings: Manufacturers provide write endurance ratings for their SSDs, indicating the number of terabytes written (TBW) that the drive can handle. These ratings are often much higher than typical consumer usage scenarios. For example, an SSD with a 500 TBW rating should last for years, even under heavy usage.
SMART technology: SATA SSDs feature Self-Monitoring, Analysis, and Reporting Technology (SMART) that monitors the health of the drive. It can provide early warnings about potential issues, allowing users to take preventive action and safeguard their data.
Exploring The Impact Of Wear Leveling On Sata Ssd Lifespan
Myth: Wear leveling leads to the premature death of SATA SSDs.
Fact: Wear leveling actually extends the lifespan of SATA SSDs by preventing specific memory cells from being overused.
Here's how wear leveling positively impacts SSD longevity:
Even wear distribution: By spreading write operations across the entire drive, wear leveling ensures that no particular cells bear excessive use.
This balanced approach minimizes wear on specific memory regions and prolongs the overall lifespan of the SSD.
Over-provisioning: SSDs typically have more memory cells than what's publicly advertised. Manufacturers intentionally reserve a portion of the drive's memory for over-provisioning, which allows wear leveling algorithms to work more effectively.
This hidden memory helps maintain consistent performance and extends the lifespan of the SSD.
---
SATA SSDs have a robust lifespan and are capable of handling intensive read and write operations. Modern SSD technologies, such as wear leveling and SMART monitoring, contribute to their endurance and reliability.
It's important to understand these facts and dispel any misconceptions surrounding the lifespan of SATA SSDs.
Understanding Ssd Failure And Data Recovery
SATA SSDs have a limited lifespan, typically lasting around five to ten years before potential failures occur. When these failures happen, data recovery experts are needed to retrieve and restore lost information.
Solid State Drives (SSDs) have become increasingly popular due to their faster speeds, better performance, and higher reliability compared to traditional hard disk drives (HDDs).
However, like any electronic device, SATA SSDs are not immune to failure. Understanding the signs of SSD failure and the steps to take when facing potential data loss is crucial.
We will explore these topics in detail and provide insights into professional data recovery options for SATA SSDs.
Recognizing The Signs Of Sata Ssd Failure
Slow performance: If you notice a significant decrease in your SSD's read and write speeds, it might be a sign of imminent failure. Tasks that used to be swift and seamless may start taking longer to complete.
Frequent crashes and freezes: If your system frequently crashes or freezes while accessing data stored on the SATA SSD, it could indicate a failing drive. Pay attention to any unusual error messages or blue screens of death (BSOD).
Disappearing files or folders: Suddenly missing files or folders without any apparent reason can be an alarming sign of potential SSD failure. It's essential to back up your data regularly to avoid permanent loss.
Error messages: If you encounter frequent error messages related to data read or write errors, it's advisable to investigate further. These errors can manifest as disk I/O errors, bad block errors, or file system corruption errors.
Steps To Take When Facing Potential Data Loss On A Sata Ssd
Immediately stop using the SSD: If you suspect SSD failure or experience any of the signs mentioned earlier, the first step is to stop using the SSD to avoid further damage. Continuing to use a failing SSD can worsen the situation and potentially lead to permanent data loss.
Check connections and cables: Sometimes, an unstable or faulty connection between the SSD and the motherboard can cause data access issues.
Ensure that all connections are secure and cables are intact. Consider trying a different SATA port or cable to identify and eliminate connection-related problems.
Run diagnostics software: Utilize reputable SSD diagnostics software provided by the manufacturer to conduct a thorough scan and identify any potential issues with the drive. This software can help pinpoint specific problems and provide insights into the health of your SSD.
Consult a professional: If you are unable to resolve the issue on your own or if your data is critical, seek professional assistance from a reputable data recovery service. They have the expertise and specialized tools to recover data from a failing or failed SATA SSD.
Exploring Available Options For Professional Data Recovery From Sata Ssds
When it comes to professional data recovery from SATA SSDs, various options are available, depending on the severity of the failure.
Here are some possible avenues to explore:
In-lab data recovery: In severe cases of SSD failure, where the drive is completely unresponsive or physically damaged, in-lab data recovery services can help.
These services have controlled environments and specialized equipment to recover data from even the most challenging situations.
Remote data recovery: If the SSD can still be detected and accessed to some extent, remote data recovery services might be an option.
Technical experts can guide you through the recovery process remotely, extracting data without the need to send the physical drive to a lab.
Data recovery software: For less severe cases of SSD failure, data recovery software might be able to retrieve your data.
These software solutions scan the SSD and attempt to recover deleted or lost files. However, they may not be as effective for physical or severe logical failures.
---
Remember, SSD failure and data loss can be stressful, but staying calm and taking the appropriate steps can increase the chances of successful recovery.
Regular backups and proactive monitoring of your SATA SSD's health are highly recommended to prevent data loss in the first place.
The Future Of Sata Ssds: Advancements And Innovations
Discover the advancements and innovations shaping the future of SATA SSDs, including their longevity. Uncover how long SATA SSDs can last and the factors that contribute to their lifespan.
Stay informed about the latest developments in storage technology.
An Overview Of Emerging Technologies In The Ssd Industry:
3D NAND: This technology revolutionized the SSD industry by stacking memory cells vertically, increasing storage capacity without compromising performance or reliability.
NVMe: Non-Volatile Memory Express (NVMe) is a storage interface that enables faster data transfer between SSDs and computer systems, significantly reducing latency and boosting overall performance.
TLC and QLC: Triple-Level Cell (TLC) and Quad-Level Cell (QLC) are NAND flash memory technologies that allow more data to be stored in each memory cell, enhancing storage capacity and cost-effectiveness.
SLC and MLC: Single-Level Cell (SLC) and Multi-Level Cell (MLC) are older but still relevant NAND flash memory technologies known for their high performance and endurance. While SLC offers the best durability, MLC strikes a balance between performance and cost.
SATA III: The Serial Advanced Technology Attachment (SATA) interface, currently in its third iteration (SATA III), is widely used for SSDs due to its compatibility with most computers and affordable price point.
Predictions For The Future Of Sata Ssds And Their Lifespan:
Enhanced longevity: Manufacturers are constantly working on prolonging the lifespan of SATA SSDs to meet the growing demands of users. Through advancements in technology and engineering, the industry predicts a significant increase in the endurance of these drives.
Continued capacity growth: As technology progresses, SATA SSDs are expected to offer even greater storage capacities. With the emergence of 3D NAND and other innovations, we can anticipate larger SSDs becoming more accessible and affordable.
Performance optimization: Despite the rise of NVMe SSDs, SATA SSDs are likely to continue benefiting from optimizations and firmware updates to deliver improved read and write speeds. This ensures that users can make the most of their SATA SSDs in terms of performance.
Decreased cost per gigabyte: As the demand for SSDs continues to rise, the cost per gigabyte is expected to decline over time. This means that SATA SSDs will become more budget-friendly while offering ample storage space.
Compatibility with legacy systems: SATA SSDs are likely to remain compatible with older computer systems, making them a reliable and versatile storage option for a wide range of users.
How Advancements Like 3D Nand And Nvme May Impact Sata Ssd Longevity:
Improved endurance: The implementation of 3D NAND allows for higher storage capacities while maintaining SSD longevity. By stacking memory cells vertically, wear is distributed more evenly, resulting in a longer lifespan for the drive.
Faster data transfer: The NVMe interface significantly enhances data transfer speeds, reducing latency and improving overall SSD performance. This optimization ensures that the drive operates efficiently, potentially extending its lifespan.
Enhanced error correction: With advancements in error-correcting code (ECC) and error recovery techniques, SATA SSDs become more resilient against data corruption and drive failures. These technologies contribute to increased durability and, consequently, a longer lifespan for the drive.
Stable performance: The combination of 3D NAND, NVMe, and other technological advancements helps maintain consistent read and write speeds during heavy usage. This consistency prevents premature wear of the drive, thus prolonging its lifespan.
As the future unfolds, SATA SSDs are set to continue providing reliable and cost-effective storage solutions to meet the needs of various users.
With ongoing advancements, including 3D NAND, NVMe, and optimized endurance, the lifespan of SATA SSDs will likely keep improving, ensuring their longevity for years to come.
FAQ On How Long Do Sata Ssd Last
Can Ssds Last 10 Years?
SSDs can last up to 10 years if used properly and not heavily worn out.
Do Sata Ssds Last Longer Than M 2?
SATA SSDs don't necessarily last longer than M. 2 SSDs. Both types have different performance characteristics.
Can A Ssd Last 20 Years?
Yes, a solid-state drive (SSD) can last up to 20 years with proper usage and maintenance.
Which Lasts Longer Ssd Or Hdd?
SSD lasts longer than HDD, making it the more durable storage option.
How Long Do Sata Ssds Typically Last?
SATA SSDs typically have a lifespan of around 3 to 5 years, depending on usage and quality.
Conclusion
The lifespan of SATA SSDs can vary depending on various factors such as usage patterns and overall wear and tear.
However, on average, SATA SSDs are designed to last for several years before showing signs of degradation.
With advancements in technology, manufacturers have been able to improve the durability and longevity of these SSDs. To ensure that your SATA SSD lasts for as long as possible, it is important to take certain precautions.
Regularly backing up your data and keeping the SSD's firmware up to date are essential practices. Additionally, avoiding excessive heat and humidity can help extend the lifespan of your SSD.
While there is no definite answer to how long SATA SSDs last, it is safe to say that they are a reliable and durable storage option.
By following best practices and taking proper care of your SSD, you can maximize its lifespan and continue to enjoy fast and reliable performance for years to come.