What Is 256Gb Pcie Nvme Ssd? A Simple Guide!
256GB PCIe NVMe SSD is a solid-state drive that utilizes the PCIe (Peripheral Component Interconnect Express) interface and NVMe (Non-Volatile Memory Express) protocol to offer superior data transfer speed and performance than typical SATA SSDs.
Its 256GB capacity provides ample storage for various data needs. PCIe or Peripheral Component Interconnect Express is a high-speed serial computer expansion bus standard.
NVMe or Non-Volatile Memory Express is a protocol designed for accessing high-speed storage media that brings many advantages compared to legacy protocols.
It reduces latency and provides faster read/write speeds. A 256GB PCIe NVMe SSD implies a solid-state drive with 256 gigabytes of storage capacity that uses this advanced interface and protocol for faster performance.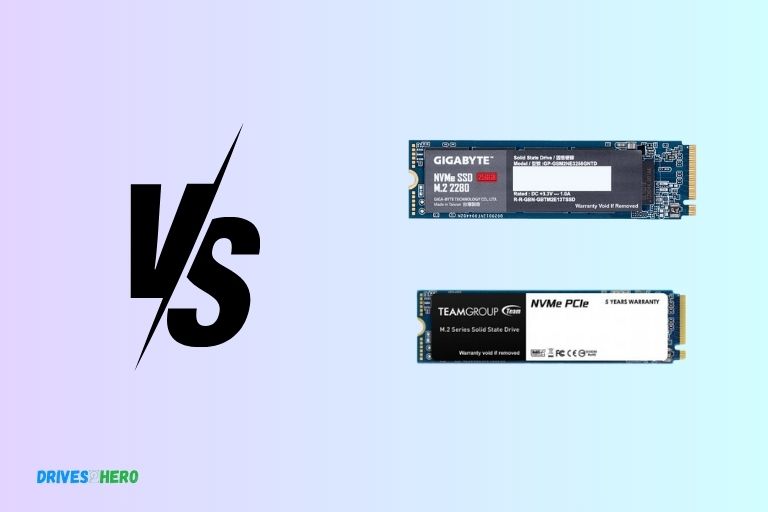 Key Takeaway
256GB PCIe NVMe SSD is a type of storage drive that uses a high-speed PCIe bus interface for faster data retrieval and storage.
These storage devices are designed for high-performance applications like gaming, video editing, and professional applications due to their fast read/write speeds.
It is called NVMe because it employs Non-Volatile Memory Express technology, which dramatically enhances the speed and efficiency of SSDs.
A 256GB PCIe NVMe SSD is an optimal choice for those who need a moderate amount of storage with high-speed performance.
Understanding The Basics
A 256GB PCIe NVMe SSD is a high-speed storage device commonly used in computers. It offers fast data transfer and improved system performance.
Introduction To Pcie Nvme Ssd Technology
PCIe NVMe SSD technology revolutionized the storage industry by providing faster data transfer speeds and improved performance. It stands for Peripheral Component Interconnect Express Non-Volatile Memory Express Solid State Drive.
Here's a table outlining key information about 256Gb Pcie Nvme Ssd:
| Feature | Description |
| --- | --- |
| Storage Capacity | 256GB |
| Type | SSD (Solid State Drive) |
| Interface | PCIe NVMe |
| Speed | Faster than traditional SSDs due to PCIe NVMe interface |
| Benefits | Improved system performance, faster boot times, quicker file transfers |
| Use Cases | High-performance computing, gaming, data analysis, professional applications |
| Durability | More reliable and durable as there are no moving parts |
| Energy Efficiency | Consumes less power compared to traditional hard drives |
| Cost | More expensive than traditional hard drives due to faster speed and greater reliability |
9 Features Of 256GB PCIe NVMe SSD
Remember, a PCIe NVMe SSD with 256Gb capacity provides improved performance, reduced latency, and increased efficiency. It offers sufficient storage for everyday use and is an excellent choice for users seeking a cost-effective solution.
Overview Of Pcie Nvme Interface
The 256GB PCIe NVMe SSD offers a high-performance storage solution using the PCIe NVMe interface. With faster data transfer speeds and improved reliability, it provides a seamless experience for users seeking enhanced storage capabilities.
Explaining The Pcie Interface And Its Advantages:
Provides a high-speed data transfer: The PCIe interface offers significantly faster data transfer rates compared to traditional interfaces like SATA.
With its ability to handle multiple data lanes simultaneously, it delivers exceptional performance, making it ideal for demanding applications and workloads.
Increased bandwidth: PCIe NVMe SSDs leverage the high bandwidth of PCIe lanes, allowing for faster reading and writing speeds. This translates to quicker file transfers, reduced latency, and improved overall system responsiveness.
Enhanced scalability: The PCIe interface supports multiple lanes, enabling seamless scalability. This means that as technology advances and the need for higher storage capacities increases, PCIe NVMe SSDs can easily accommodate these requirements.
Lower power consumption: NVMe SSDs utilize advanced power management features, minimizing energy consumption and maximizing efficiency. This not only helps to conserve battery life in portable devices but also reduces heat generation in desktop systems.
Reduced latency: The low latency of the PCIe NVMe interface ensures rapid data access, resulting in reduced loading times for applications and faster boot times for the operating system. This allows users to benefit from a more responsive and efficient computing experience.
Highlighting The Differences Between Nvme And Sata:
Interface: NVMe utilizes the PCIe interface, while SATA relies on an older, slower interface specifically designed for hard disk drives.
Speed: NVMe drives have significantly faster data transfer rates than SATA drives. NVMe can provide speeds of up to 3500MB/s, whereas SATA typically reaches maximum speeds of around 600MB/s.
Queue depth: NVMe supports a much higher queue depth, allowing for more concurrent commands and improved multitasking capabilities. SATA has a much lower queue depth, which can limit its performance in high-demand scenarios.
Command set: NVMe uses a streamlined command set optimized for flash memory, whereas SATA uses a command set more suited to spinning hard drives. This optimized command set allows NVMe drives to maximize their potential performance.
Form factor: NVMe drives are typically smaller and more compact in size, making them ideal for slim laptops, ultrabooks, and space-constrained systems. SATA drives, on the other hand, tend to be larger and bulkier in comparison.
The PCIe NVMe interface offers a game-changing solution for storage devices, with its exceptional speed, scalability, and efficiency.
Understanding The Controller And Flash Memory
The controller and flash memory are crucial components of a 256Gb PCIe NVMe SSD. They play a significant role in data transfer, error correction, and storage performance.
Let's explore their functions and the different types of NAND flash memory used in these SSDs.
Role Of The Controller In Data Transfer And Error Correction:
The controller acts as the brain of the SSD, managing data transfer between the computer and the flash memory.
It regulates data flow, ensuring efficient and reliable performance.
The controller also handles error correction, detecting and correcting any data errors that may occur during the transfer process.
By optimizing the use of memory cells, the controller enhances the SSD's overall speed and endurance.
Different Types Of Nand Flash Memory Used In 256Gb Ssds:
NAND flash memory is non-volatile storage commonly used in solid-state drives. It retains data even when the power is turned off.
Here are the different types of NAND flash memory used in 256Gb SSDs:
Single-level Cell (SLC) NAND: SLC NAND stores one bit of data per memory cell, offering high performance, endurance, and reliability. It is often found in enterprise-grade SSDs but comes at a higher cost.
Multi-level Cell (MLC) NAND: MLC NAND stores multiple bits of data per memory cell, providing a balance between performance, capacity, and cost. It is commonly used in consumer-grade SSDs.
Triple-level Cell (TLC) NAND: TLC NAND stores three bits of data per memory cell, offering higher storage capacity at a lower cost. However, it usually has lower endurance and slightly reduced performance compared to SLC and MLC NAND.
Quad-level Cell (QLC) NAND: QLC NAND stores four bits of data per memory cell, enabling even higher storage capacity. It is often utilized in consumer-grade SSDs where cost-effective, high-capacity storage is essential.
Understanding the role of the controller and the different types of NAND flash memory used in 256Gb PCIe NVMe SSDs allows you to make informed decisions when selecting the right SSD for your needs.
Considerations For Compatibility
Before purchasing one, it's important to consider compatibility factors to ensure that it will be compatible with your system.
We will discuss the considerations for compatibility when assessing motherboard compatibility with PCIe NVMe, as well as connectivity options and slot availability.
Assessing Motherboard Compatibility With Pcie Nvme:
Check your motherboard specifications: Start by checking your motherboard's specifications or user manual to determine if it supports PCIe NVMe SSDs. Look for details such as supported interface standards and available slots.
Determine the PCIe generation: PCIe NVMe SSDs come in different generations, such as PCIe Gen 3 and PCIe Gen 4. Make sure to verify if your motherboard supports the specific generation of the SSD you are considering, as this will impact the SSD's performance.
Check the M.2 slot compatibility: Most PCIe NVMe SSDs use the M.2 form factor for installation. However, not all M.2 slots on motherboards support NVMe SSDs.
Check if your motherboard's M.2 slots are specifically designed for NVMe SSDs, as some M.2 slots may only support SATA-based SSDs.
Consider BIOS and firmware updates: In some cases, a motherboard may require a BIOS or firmware update to enable compatibility with PCIe NVMe SSDs.
Check the manufacturer's website for any available updates or compatibility information for your specific motherboard model.
Consult the motherboard manufacturer or forums: If you are unsure about your motherboard's compatibility with PCIe NVMe SSDs, it's best to consult the manufacturer directly or seek advice from tech forums.
Connectivity Options And Slot Availability:
Available PCIe slots: Check the number of available PCIe slots on your motherboard. Make sure you have an open slot to accommodate the PCIe NVMe SSD.
PCIe lane configuration: Pay attention to the number of PCIe lanes available for each slot. Some motherboards might limit the speed or bandwidth of certain slots, affecting the performance of the PCIe NVMe SSD.
Compatibility with other components: Consider the compatibility of other components, such as graphics cards or network cards, that also use PCIe slots. Ensure that installing a PCIe NVMe SSD does not interfere with their functionality or reduce their performance.
Additional connectors: Some PCIe NVMe SSDs require additional connectors, such as SATA power or USB headers, for proper operation. Check if your motherboard has these connectors available.
By considering these compatibility factors, you can maximize the benefits of a PCIe NVMe SSD for your system's storage needs.
Performance Factors To Consider
When it comes to choosing a solid-state drive (SSD), the performance factors play a crucial role in determining the overall effectiveness and speed of your storage device. The 256GB PCIe NVMe SSD is no exception, offering remarkable performance benefits over traditional hard disk drives (HDDs).
Let's dive into the key performance factors you should consider before investing in this cutting-edge technology.
Speed And Sequential Read/Write Performance:
Blazing-fast speeds: The 256GB PCIe NVMe SSD leverages the PCIe (Peripheral Component Interconnect Express) interface to deliver astonishingly high data transfer rates.
With read and write speeds that outpace traditional SATA-based SSDs, this technology ensures quick and efficient data processing.
Sequential read/write performance: This SSD's sequential read and write speeds are significantly higher compared to conventional storage options.
Achieving impressive read and write rates, sequential performance enables faster loading times and smooth operation of resource-demanding applications.
Random Read/Write Performance And Iops:
Lightning-fast random access: The random read and write performance of the 256GB PCIe NVMe SSD is exceptional, enabling quick and responsive access to data. This feature proves particularly beneficial when dealing with multitasking scenarios and heavy workloads.
High IOPS (Input/Output Operations Per Second): The increased IOPS of this PCIe NVMe SSD ensures efficient handling of multiple simultaneous read and write operations. This results in faster application response times, reduced latency, and an overall enhanced user experience.
The 256GB PCIe NVMe SSD offers outstanding performance factors that set it apart from traditional hard drives.
Its speed, sequential read/write performance, random access capability, and high IOPS make it a top choice for users seeking swift and reliable data storage.
Conclusion
Overall, the 256GB PCIe NVMe SSD is a powerful and efficient storage solution that offers lightning-fast speeds and enhanced performance.
Its advanced technology, such as the NVMe interface and PCIe connectivity, allows for rapid data transfer and quick access to files, making it ideal for demanding tasks such as gaming, video editing, and content creation.
With its compact form factor, the 256GB PCIe NVMe SSD is also perfect for laptops and ultrabooks, providing users with a significant upgrade in storage capacity without sacrificing portability.
Its solid-state design ensures durability and reliability, eliminating the risk of mechanical failure commonly associated with traditional hard drives.